Culture News
Frank Underwood Possessed Kevin Spacey on Christmas Eve
In a disturbing video posted by the actor, even Spacey seems to find his sociopathic character preferable to himself.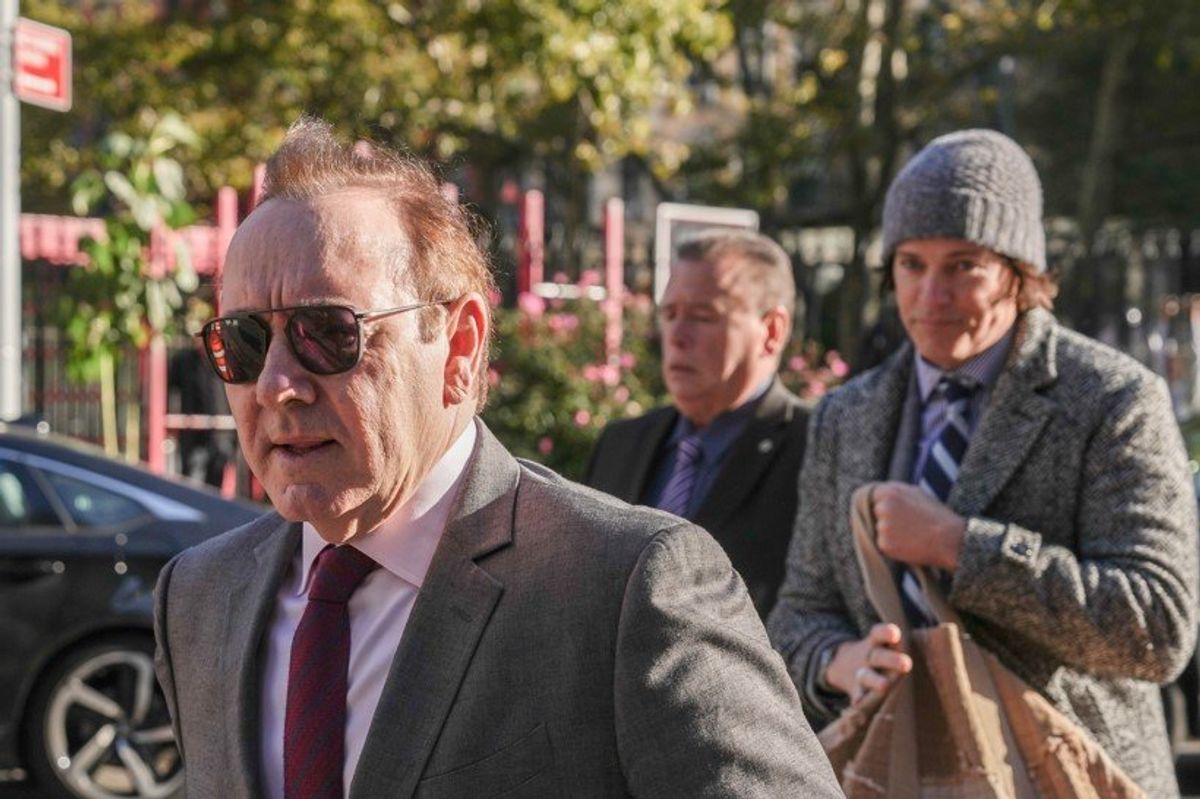 Photo by John Nacion
On Christmas Eve, Kevin Spacey finally broke his silence on the slew of sexual assault allegations made against him.
---
Bizarrely, the disgraced actor opted to do so by releasing a video of himself embodying one of his most profane, egomaniacal characters: House of Cards' Frank Underwood. More affronting is the fact that Spacey shared the post on Twitter mere hours after the Massachusetts district attorney confirmed Spacey will face felony charges of sexual assault against a teenage boy he allegedly molested in a Nantucket bar in 2016.
As brazen as it is disturbing, the post titled "Let Me Be Frank" suggests either a terrible publicity stunt or the actor has finally succumbed to the voices in his head. With 6.5 million views as of Wednesday, the video features Spacey puttering around his kitchen wearing a Santa-themed apron—while glowering at the camera and giving a menacing House of Cards-style harangue. "I know what you want," he says in the character's southern growl. "You want me back."
Let Me Be Frankwww.youtube.com
Aside from showcasing Spacey's loose grip on reality, the video serves no purpose but to loosely imply that the allegations against the actor are misleading. Spacey's accusers include actor Anthony Rapp (Rent, Star Trek: Discovery), director Tony Montana, and dozens of former coworkers who've shared similar accounts of harassment from the 59-year-old. In response to the allegations, Netflix and Media Rights Capital cut Spacey from all productions.

That leads to the defamed actor's disturbing message on Christmas Eve, with Spacey-as-Underwood defending Spacey-the-actor: "Of course, some believed everything and are just waiting with bated breath to hear me confess it all. They're just dying for me to declare that everything said was true and that I got what I deserved. Wouldn't that be easy? If it was all so simple? You and I both know it's never that simple, not in politics and not in life."
Aside from the fact that even Spacey seems to find his sociopathic character preferable to himself, the actor's monologue hinges on the suggestions that A) sexual assault is not so bad and B) sexual assault is especially not so bad if the offender also has murdered people. Spacey-as-Underwood states in the video, "All this presumption made for such an unsatisfying ending, and to think it could have been such a memorable sendoff... I can promise you this. If I didn't pay the price for the things we both know I did do, I'm certainly not going to pay the price for the things I didn't do."
He ends with a Moriarity-worthy sign-off: "Conclusions can be deceiving. Miss me?"
Fellow Hollywood figures took to Twitter to condemn and ridicule the actor's post. Actress and producer Ellen Barkin (Animal Kingdom, Oceans Thirteen) posted, "Kevin Spacey is sending a very disturbing message as he chastises his audience...if you hypocrites loved me as a murderer, why won't you love me as a sex offender? Maybe because Frank Underwood's crimes are fiction and Kevin Spacey's are not. #LostInSpacey"
Comedian W. Kamau Bell criticized Spacey's poor PR sense. He tweeted, "That Kevin Spacey video is further proof that no matter how rich and famous you get you need at least 3 people in your life who have no problem saying to you…Bruh, what the hell?"

It seems that on Christmas Eve Kevin Spacey morphed into his final form: the lovechild of American Beauty's middle-aged pedophile and House of Cards' fourth-wall-breaking sociopath. Now Spacey-the-actor (and none of the alter egos that live in his head) is due in Nantucket District Court on January 7 to be arraigned for indecent assault and battery.
POP⚡DUST | Read More...
Eliza Dushku Condemns CBS "Boys' Club" Condoning Sexual Harassment
Fortnite Sued for Dance Moves: Can You Copyright Choreography?