Culture News
Publicity Finally Forced Kevin Spacey into Court for Sexual Assault
The actor has been accused of sexual misconduct by over 30 individuals who allege similar incidents occurring over decades. Why is the actor only now facing legal charges of felony sexual assault?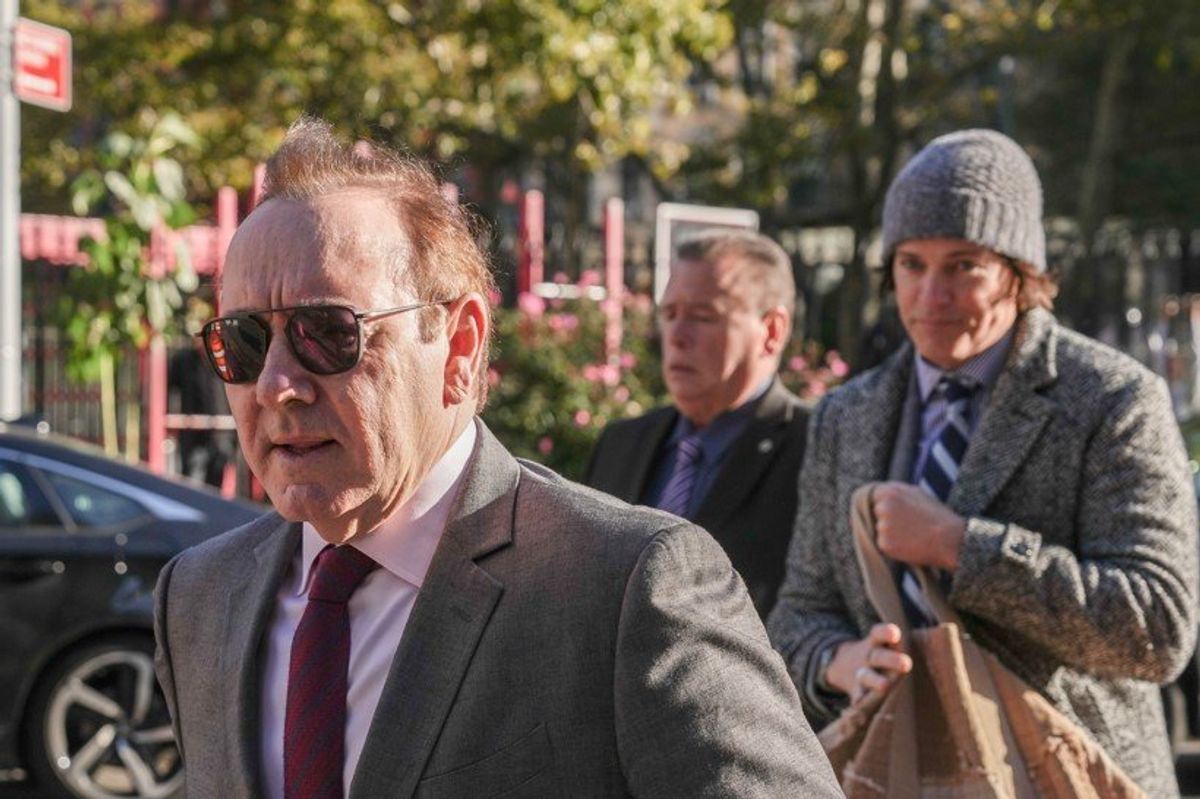 Photo by John Nacion (Shutterstock)
A small resort island, a guilty plea, and a private jet wrecked Kevin Stacey's Monday morning.
---
The 59-year-old actor appeared in Massachusetts district court to be arraigned for a felony sexual assault against an 18-year-old boy. The alleged incident took place in 2016 in a Nantucket bar, after Spacey is said to have plied the boy with alcohol in order to assault him.
The nameless accuser is the son of Boston news anchor Heather Unruh, who's pushed for the actor to be prosecuted since she revealed the details of the incident in a 2016 press conference. Unruh told reporters, "Spacey bought him drink after drink after drink and when my son was drunk, Spacey made his move and sexually assaulted him." Further statements detail that the boy told the actor, then 57 years old, that he was 21, but once under the influence, he was pressured by Spacey to attend a "private after-party." According to Unruh, an unidentified woman at the bar asked if the boy was uncomfortable, and when he said "yes" she urged him to run.

"Nothing could've prepared my son for how that sexual assault would make him feel as a man," his mother said. "It harmed him and it cannot be undone."
In a quick and wordless court appearance for arraignment, the actor pled not guilty. While Spacey's lawyers deny all criminal accusations, prosecutors say there's video evidence from Snapchat corroborating the alleged assault, which includes Spacey forcibly fondling the boy under his clothes. Spacey was given March 4 as his next court date, with the judge allowing him to forego appearing in person as long as he stays available by phone. The judge also ordered that Spacey have no contact with Unruh, her son, or their family members. After the hearing, the actor was escorted past reporters and to the airport, where a private jet was waiting.
In total, Spacey has been accused of sexual misconduct by over 30 individuals who allege similar incidents occurred over decades. Why is the actor only now facing legal charges of felony sexual assault?
Yes, the #MeToo era has been heightening awareness and helped pin down serial abusers in Hollywood. But between the burden of proof and legal statutes of limitations, incidents dating as far back as 1981 have gone unreported to the police, or–much worse, and sadly common–reports have been filed and then dismissed. The rate of accusations against Spacey gained momentum in 2017 after actor Anthony Rapp told Buzzfeed that Spacey made inappropriate sexual advances towards Rapp when he was only 14 years old. Most alleged victims are young men and boys working on set or in theaters who never reported the incident because, as one accuser told People, "It was my word against his and who is going to believe me?"
Unfortunately, by the time many of the men gave voice to the alleged assaults, the statute of limitations in those designated states had passed. Unruh's son, on the other hand, filed charges against Spacey in November 2017, merely a year after the alleged incident. With a mother vastly experienced with the press as a former anchor, publicity pushed Unruh's incident passed police red tape and legal hindrances to reach the Massachusetts district attorney's office.

After being ousted as the former lead of Netflix's House of Cards and removed from scheduled film projects, at least Hollywood agrees that Spacey is a liability. Whether or not he is a criminal sex offender will be decided by a judge this spring.
POP⚡DUST | Read More...
R. Kelly Threatens to Sue Lifetime in Response to "Sex Cult" Testimonies
Chance the Rapper Doubted R. Kelly's Accusers "Because They Were Black Women"
RELEASE RADAR | Post Malone Drops a New Single, Gives Shout Out to Fall Out Boy