Music Features
A Look At America's Most Troubled Pop Star
Let's examine the convoluted rise of Tekashi 6ix9ine: the country's most troubled pop star. Despite having all odds stacked against him, he's seemingly not going anywhere.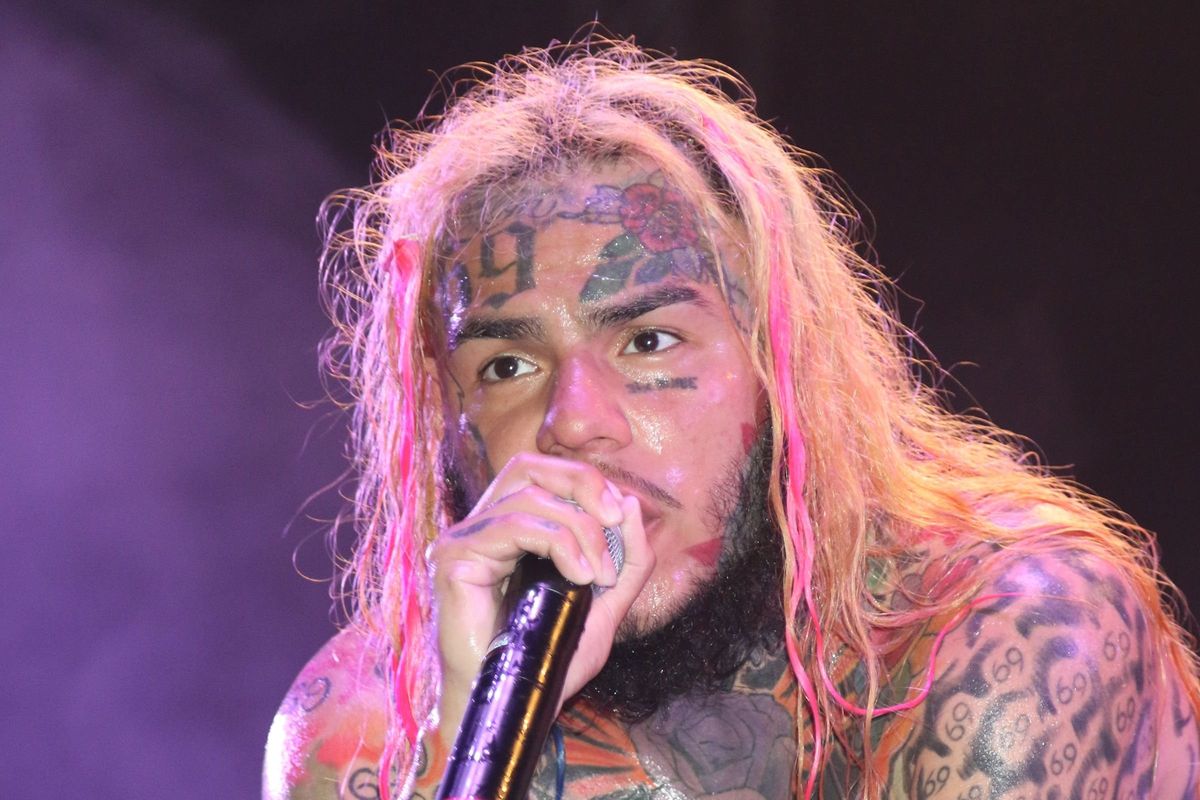 Photo by Walik Goshorn - MediaPunch- Shutterstock
At this year's Complex Con, Hip-Hop gossip aficionado DJ Akademiks invited attendees to the first-ever live taping of On The Sticks, the Internet personality's recurrent YouTube series in which he competes against "one of his celebrity friends" in NBA 2K19.
---
For this particular segment, the friend was revealed to be Bronx-based rapper A Boogie Wit Da Hoodie, the 22-year-old artist who critics often credit for rejuvenating the New York Hip-Hop scene. As the game kicked off, Akademiks was quick to ask the musician who he believed to be the "King of New York." While A Boogie didn't discredit his own influence, he passed the title on to Tekashi 6ix9ine, the Brooklyn-based Soundcloud rapper whose seemingly endless legal discord has consumed headlines since his breakout in 2016. "When it comes to the moment right now, [6ix9ine] got it," the rapper said with a wide grin.
Even for those who actively avoid pop culture, chances are everyone has stumbled upon Tekashi 6ix9ine at least once in the last few years. Dubbed by many as the "human meme," his lush rainbow hair and grotesque "69" face tattoos make him the most animated character to emerge in the Hip-Hop industry since Riff Raff, and as much as Rap classicists have discredited his authenticity, the Crown Heights rapper has continued to dominate the Billboard charts. His breakout hit "GUMMO", a loud and disorderly trap anthem backed by thick 808's and violent braggadocio lyrics, amassed over three hundred million views on YouTube and was certified platinum. His debut mixtape DAY69, which The New York Timescalled "a rough gauntlet of gun and sex talk," was certified gold and produced the gold-certified singles "BILLY" and "KEKE." His latest album, DUMMY BOY, which was released on November 27, was embroiled in a weekend-long legal dispute for the #1 album in the country after a "processing discrepancy" nearly dethroned Travis Scott's Astroworld. The project features contributions from Kanye West, Tory Lanez, Gunna, and Lil Baby, and the album's lead single "FEFE," which featured Nicki Minaj, was certified double platinum earlier this year. So in retrospect, it seems important to examine the convoluted rise of Tekashi 6ix9ine. The country's most troubled pop star, despite having all odds stacked against him, is seemingly not going anywhere.
It all began in October of 2015 when Tekashi — real name Daniel Hernandez — pleaded guilty to the use of a child in a sexual performance. According to the details of a criminal complaint which was published by Jezebel in 2017, 6ix9ine was seen in a series of videos "making a thrusting motion with his pelvis" behind a young girl and "smacking her on her buttocks" while she "engaged in oral sexual intercourse" with another man, among other acts. The rapper was granted a plea deal after a drawn-out sentencing period and was told he needed to obtain his GED and complete 300 hours of community service in order to avoid prison time. He was also told to no longer associate with members of the New York Nine Trey Bloods, the gang to which Tekashi has claimed to have strong ties. The heinous charge initiated the first wave of backlash against the artist. Trippie Redd, another popular Soundcloud rapper who previously worked with Tekashi on the track "Poles 1469," dismissed the artist as a pedophile. Prominent California rappers The Game and YG soon followed suit and also dismissed 6ix9ine as fraudulent, with the latter portraying 6ix9ine as a cowardly pedophile in his music video for "Bulletproof."
As criticism reached a boiling point, Tekashi 6ix9ine gave a now widely-circulated interview with DJ Akademiks to help clear the smoke. "I don't know her exact age, I think she was 14 or some shit like that," Tekashi said. He claimed in the video that he was "not touching the girl" and did not engage in any sexual intercourse. "I didn't rape nobody bro," he said, irritated. "The girl wasn't even raped."
While the interview diluted criticism of the artist, Tekashi's presence in headlines remained ceaseless. He was soon arrested at the start of 2018 for the assault of a 16-year-old fan, then again a few months later for driving with a suspended license, then again for allegedly assaulting the arresting officer. In April 2018, An affiliate of the rapper was also arrested and charged in connection to two shootings in Brooklyn, one which occurred at Barclays Center during the Adrien Broner fight, and another which allegedly occurred hours earlier in the streets of Brooklyn during a music video shoot. In addition, Tekashi was also named by investigators as a "known associate" of a person of interest in another New York shooting that targeted Chicago Drill rapper Chief Keef in Times Square.

In October of 2018, these cumulative arrests and accusations prompted DA officials to revisit 6ix9ine's sexual misconduct case and argue that the arrests violated the terms of his plea deal. "[6ix9ine] has failed to mature into the law-abiding citizen anticipated by the plea agreement which he signed," the DA wrote. The judge agreed to revisit the case and asked Tekashi to return to court. "Your honor, sometimes I feel like I'm behind a closed door trying to convince the world I'm a good man," 6ix9ine said at his sentencing on October 26. "I'm not committing murders, I'm not out there robbing people, and I'm not out there raping people."
Surprisingly, the judge sympathized and offered the artist four years' probation, but he reminded Tekashi it was imperative he dismantle his ties with the Nine Trey Bloods. Later that evening, Tekashi arrived at Phillips Chow on the Upper West Side to meet with the head of his record label to discuss business. Two members of the rapper's gang, Faheem Walter and Zachary Bruce, soon approached the restaurant. They demanded to speak with the rapper, but security was reluctant to let them inside. Walter allegedly left, returned with a chair, and beat the security guard to the ground. The guard opened fire amidst the attack, severely injuring Walter. "They sort of felt [6ix9ine] leaving their grasp," New York Times pop reporter Joe Coscarelli said of the incident. "[Tekashi] is now basically stuck between [following] the law and these gang members who have been his affiliates."
On November 9, supposed affiliates of 6ix9ine opened fire on a Beverly Hills mansion where Tekashi was filming a music video with Kanye West. While no one was injured, West "immediately left," halting production and leaving the crew "shaken up." In an interview with The Breakfast Club, Tekashi said of the incident, "I learned the hard way, that every blood is not your blood." Following the shooting, Tekashi said he had also fired his entire team. "The worst thing in the world is jealousy," he said. "When they look at me they just don't understand it...Treyway isn't even a thing, I invented that."
Ten days later, Tekashi 6ix9ine was arrested on federal racketeering charges and taken into custody along with five of his associates as part of a joint investigation between the NYPD, Homeland Security, and the Justice Department's Bureau of Alcohol, Firearms, and Explosives. 6ix9ine was quickly denied bail and charged with six of the group's eight-count indictment that stated he conspired as part of a "criminal organization" to traffic drugs and participate in violence against rival gang members. It was also revealed that in response to Tekashi's appearance on The Breakfast Club and dismissal of the legitimacy of Treyway, two of his former associates, whom he is now incarcerated with, actively plotted to kill him. "Now you have this 22-year-old man indicted alongside the guys who had given him street protection and credibility for the last ten months or a year, and they [now] want to kill him," said Joe Coscarelli of the arrest. As of December 9, Tekashi still remains behind bars and has denied any offerings of a plea deal. Federal authorities are confident they have enough evidence to put 6ix9ine away for life.

Despite all the madness, celebrities from all realms have praised the artist on his charitable spirit. In September 2017 the artist donated to a local school in Bushwick and gave a heartfelt speech to the children about following their dreams. In 2018, he handed out $100 bills to poverty-stricken children in Mexico and the Dominican Republic, and later that year he also helped serve food to the homeless in Chicago. On September 1, 2018, Tekashi spent the day with Franklin, a 6-year-old with terminal brain cancer, and he gave his family enough money to pay their rent for a year. "I didn't like 6ix9ine just cause of what I seen," said DJ Envy, host of The Breakfast Club. "But when I got a chance to talk to him, and see him around kids and how humble he is...I realized this kid is a good kid." DJ Akademiks is good friends with the rapper and has repeatedly said, "6ix9ine is for the kids." Before he died, XXXTENTACION came on Instagram live and said he believed "that [6ix9ine] can amount to great things." In a lengthy interview with Angie Martinez, J. Cole also came to the rapper's defense and said, "He's willing to do whatever, say whatever because he wants it that bad and in a way I kind of respect it."
"I guess what I'm hearing is an artist who is not beholden to a particular approach," said New York Times Popcast host Jon Caramanica. On the counterpoint to that maybe it indicates as a personality he's so effective that it's sort of immaterial. His core strength is how he presents, and how he presents in the kind of wild air that's around him. Is his core strength rapping? No, it never was."

Yet shouldn't it be? As the Trumpian whirlwind of Tekashi 6ix9ine continues to sweep through and change the face of New York Hip-Hop, it's frustrating that very little of his influence has anything to do with his music. Pitchfork said, "There's nothing redeeming about DUMMY BOY," while The New York Times called Tekashi "a snoozy lyricist almost wholly uninterested in the narrative, complexity or the basic tenets of rhyme." 6ix9ine's music has always played second fiddle to his image and cartoonish presence online. He thrives as a figure who can seemingly get away with anything — note that DUMMY BOY's album cover features a vibrant cartoon sketch of Tekashi, pissing rainbow colors onto the ground as he grins at the listener — yet, as Tekashi seems to finally face the consequences of his belligerent behavior, how he'll emerge from a seemingly never-ending cascade of charges is anyone's guess. If he somehow escapes these next few months unscathed, the only question left for Daniel Hernandez to answer will be: Who, now, is Tekashi 6ix9ine, and who will he choose to become?
---
Mackenzie Cummings-Grady A creative writer who resides in the Brooklyn area, Mackenzie's work has previously appeared in The Boston Globe, Billboard, and Metropolis Magazine. Follow him on Twitter @mjcummingsgrady.
---
POP⚡DUST | Read More...

Bad Suns Release Music Video for 'Away We Go'
Public Enemy's Chuck D Joins Universal Hip Hop Museum as Board Chairman
Suicidal Pete Davidson Reminds All That Mental Illness Isn't Funny