MUSIC
Riah Talks Confidence and Joy On "Heartbreak Magic"
The independent singer-songwriter discusses her dark and inviting debut EP, the culmination of her years of hard work and growth.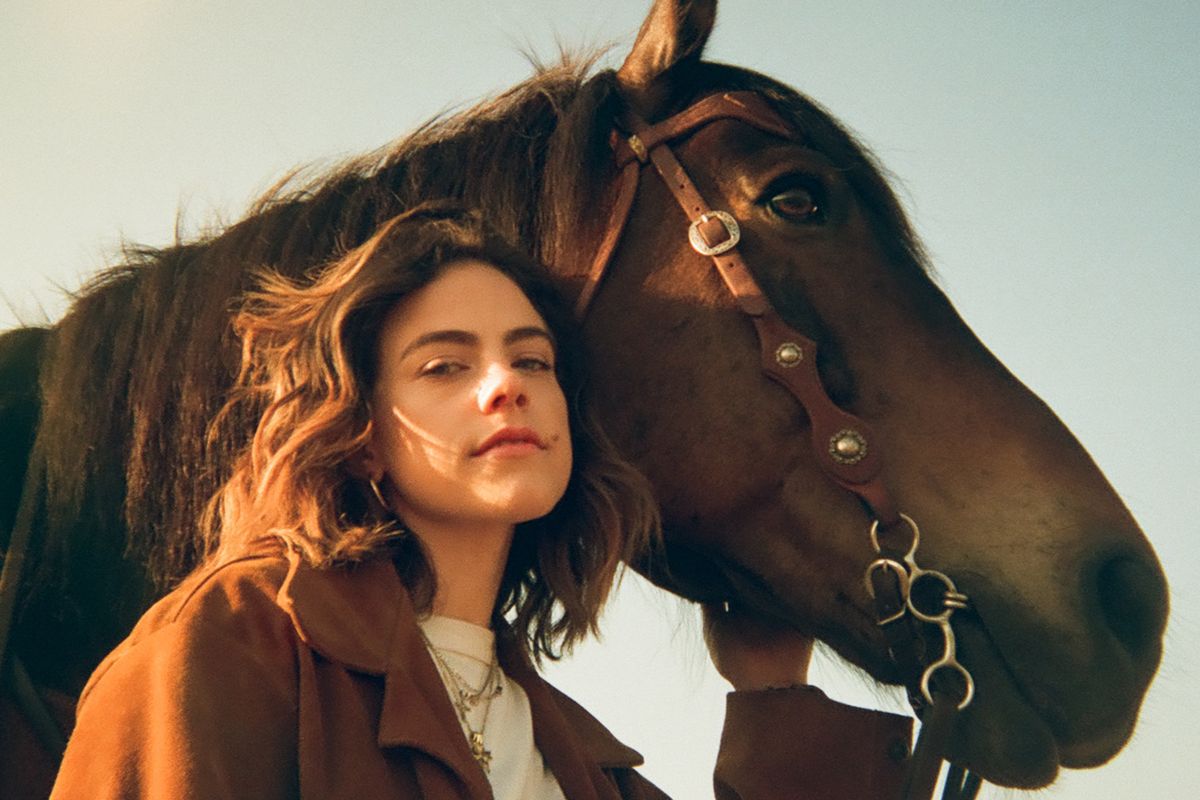 Press Photo
Riah's Heartbreak Magic feels like something of a homecoming.
---
Most of the songs on her debut EP are singles with release dates stretching years back, before Riah ever released any kind of official project. On their own, they're an interesting historical record, an invitation into the development of a growing artist experimenting with tone and mood. From the grooving hook of "Wildfire" to the bitter longing in the lyrics of "Nice" to the nostalgia-soaked bassline on the disarming "Prom"—you can picture Riah in the lab, curiously tinkering with her sound with her collaborator, Chad Copelin. Linked together and re-ordered on the EP, though, they're proof-positive of Riah's talents. Riah asserts herself quickly and completely in Heartbreak Magic's twenty minutes, and it's exciting to hear the way her musical growth has become its own story.
Heartbreak Magic is Riah's arrival in the artistic space she's been quietly building for herself for years. It's a small project, both lush and sparse at once, but that's what makes its immediate emotionality—and Riah's confidence in it—so riveting. Popdust was able to speak with Riah about how she crafted her sound and what she learned while preparing Heartbreak Magic.
First off, congratulations on the release of your first full project! What feels different about having one cohesive body of work out?
The difference for me is I've done five separate singles, so to have a body of work that has a common theme is really important. I think it tells my story, and anyone's story, just a little bit better—to have a full experience, to have a whole narrative out in the world. It's exciting, it's scary, it's new, and I think it builds the story of what I've gone through and what I'm going through. It just paints a better picture.
Considering the EP is the sum of more than a few years of work, now that Heartbreak Magic is out, what do you think the titular single does to bring all the songs together under one umbrella?
The reason I decided to do the EP now, after releasing those songs first, is me feeling more confident in who I am as an artist. There's a lot of pressure on the things that you release to represent who you are, and I felt really excited and really confident about these songs and this EP saying, "This is who I am...I know who I am, I know what I want to say, and I know what I want to sound like." I'm really proud of who they show me to be.
How do you feel now about the time it took for you to get to this point?
I wish it didn't take me so long. It's been a twelve-year journey for me in music to figure all this stuff out. I'm really grateful for it. I look back and I'm grateful I didn't rush into things. Even now, things feel like they're going fast, even though I look back and think, "This has been such a long time coming, I've taken my sweet time with all of it." I'm glad I waited until I was confident in who I am. I know that if you're not solid in who you are, things can sweep you off your feet and change the way that you sound, the way that you write. I'm grateful for the time, even though I wish it'd taken less.
The EP was co-written with Chad Copelin, your longtime collaborator. How has your collaboration helped build your sound, from your writing to your production style?
A big part of the reason that I click with him is how [his process is] so different from the way I do things. And when I started this project, I really wanted to test my limits and not stay comfortable. I wanted to feel safe, but I wanted to push myself and see what I was capable of. He really continually pushes me out of my comfort zone, and I think he's constantly pushing himself out of his comfort zone. It keeps me learning; it keeps me on my toes; it keeps me challenging my own ideas. It was so important for me to find someone like that, and it's been pretty much the biggest part of the way that I sound and the way that everything's been released, because of what he hears and the marriage of our instincts.
Your music lives in this indie-pop/synth-pop arena, a genre subsection that's only grown in popularity in the last few years (even though genres can hold artists back). Who do you feel you've been learning from when making music, regardless of genre?
LANY's a big one. Troye Sivan, Miguel. The person I listened to most growing up was Bjork. I feel like I learned a lot of my vocal style from her and my not-mainstream instinct from her. But the idea of genre feels interesting to me, being influenced by specific genres. I think the best people are influenced by everyone. Like, Miguel is one of my biggest inspirations—maybe you wouldn't be able to pull that from the music, but I think that's kind of the beauty of art. You can gather things from everyone, not just looking at the best of whatever genre you're put in, but looking at the best of every genre, the best of all art that's out there. I constantly want to be reading books and looking at magazines and listening to music that's not necessarily what I would follow. I look for things that are different from what I am so I can evolve and so that the music can evolve. I think that's beyond genre.
What is it about your sound that tells the stories you want to tell?
I want to portray reality and groundedness but also joy and a sort of carefree perspective. I think you have to be able to say, "This is real life, this is tough, and I'm going through it, too." That's how you become connected to the person on the other side of the sound, you know?
There's a position that I have about living a life of joy. I'm not gonna sit in my reality; I'm gonna try to create a better one. I'm gonna try to create a better world for everyone else. Like, "This is what's happening, but I'm not gonna stay here. I'm not a victim of circumstances or my choices. I'm gonna keep going, and keep pushing, and keep being better." You can't always say those things in a song (you can't say all that in three minutes). But that's the motivation and heart behind my creative process. That's where I feel like my drive to say what I need to say comes from. If you can make life better for yourself and for everyone else, you're not in it alone.
Riah - In My Dreams (Official Music Video)www.youtube.com
The video for "In My Dreams" dropped this summer: What went into the production of the video? What do you want it to say about you, the music you make, and the direction you want to take as an artist?
The thing that I love about that video: It was after a pretty crazy week of shows, and the last few music videos I'd put out were very dreamlike, very much a persona. With this video, I wanted to try to strip it down to something very natural. The idea of the song is that you don't know what's real or what's fake, and all these amazing feelings you have with someone end up being a figment of your imagination. I wanted it to feel like you didn't know if you're in reality or if you're in a dream. But the other side of it is that I wanted it to be true to who I was. I didn't want to be overly made-up, I didn't want the world that we were creating to be overdone. The more I move forward with music, the more I want to just be completely who I am. With every music video, with every picture, with every song, I keep getting closer to who I want to be, tearing down the walls of needing to have a persona. That was a big step for me, to try to be as close to who I am as I can,[with] as little make-up, as little production [as possible]. It's getting to the core of what I want to be, and that's just myself.