For Talae Rodden, known professionally as RICEWINE, equanimity is the key to curating good music. "I was kind of frustrated and bored living in such a small town," said the singer, who grew up three hours outside of Melbourne, Australia. "So having the freedom to pursue creative hobbies growing up like making music is something I'm really grateful for. [It] was great for my mental health." With poetic lyrics, lush guitars, and a foggy ambiance, RICEWINE's full-bodied sound teeters between reflective introspection and cautious optimism. " And for the first time, I'll say that I might, I cannot breathe out, Without exerting doubt. And I don't know what's considered to be right or what's regretful. It's hard to say you'd risk it all," RICEWINE softly warbles on "Waterfall."
Both of the singer's LP's, Flood and Mornings, carry a minimalist, tranquil aesthetic. Flood's cover boasts a cloudless sky, as lush greenery contrasts suburban power lines in a picture that paints RICEWINE's balanced and meditative sound. "Flood was the result of me exploring and seeing what sort of sound I could create with the limited musical equipment I had," the singer said. While some may have an urge to classify Flood as a Lo-Fi Indie album, Talae would prefer if you didn't. "Lo-Fi to me at the moment is a very overused aesthetic," he said. "My music was naturally Lo-Fi because I had little knowledge in mixing, and the equipment I had was terrible. I think choosing to create music that sounds worse in quality is kind of insulting to the listener."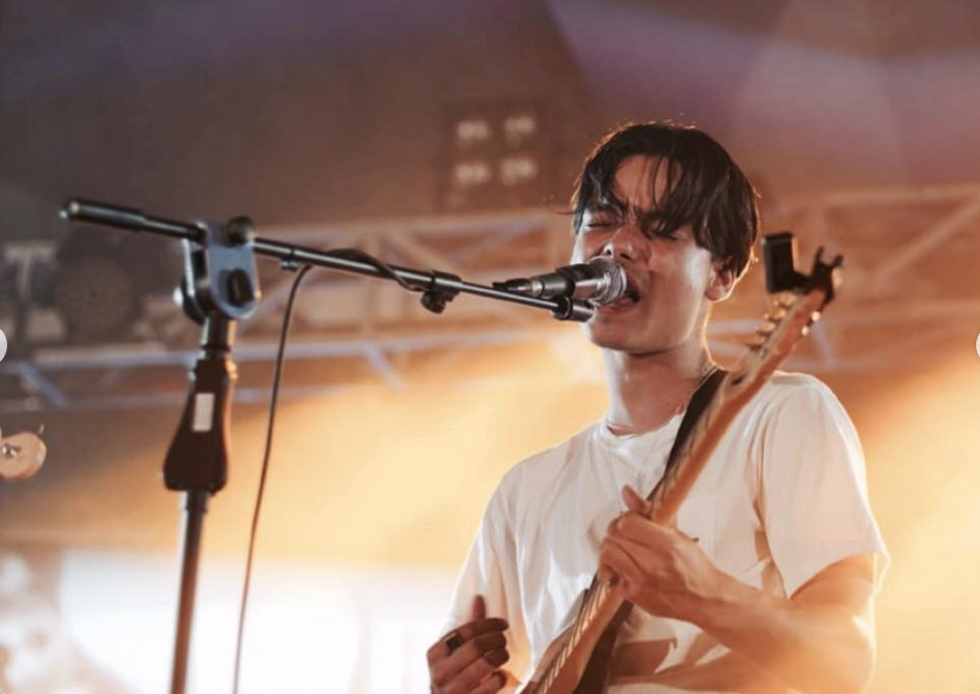 Jackson Comben, Jared Rodden, Arya Tri Prasakti
In contrast, Mornings sported a more refined sound than its predecessor, and while still Indie in nature, found Talae in a tighter, more Hip-Hop state of mind. "We can run away in my drop top, fuck a thot, I've never been able to recognize when I've got it or not," Talae spits on "Dreams/Nightmares." It was clear now that Talae refused to be put in a box. "Being able to explore different sounds is very exciting to me," he said. "Mornings was just [me] experimenting with new ideas." Yet much of Mornings remains true to RICEWINE, including the samples and album cover, which both use nature to enhance the album's ruminative atmosphere. "Nature has always played an important part in my creative process," he said. "Often when I sit at home all day trying to write a song, it sounds stale. It's so important for me to go outside before I start writing."

After a year of touring, including a headline slot at Indonesia's annual Lokatara Music Festival back in November, RICEWINE is gearing up to release his third album, Lovesick, in February. While Talae's previous two projects were a collection of random songs, the singer said he's got a more cohesive idea this time around. "With this album, I consciously made an effort to have each song follow a theme," he said. When pressed for details, he simply said, "I think that all the tracks are sonically similar, but vary enough to keep it interesting." While RICEWINE grows in popularity, Talae Rodden is just content seeing where his creativity takes him. "RICEWINE is pretty much just a byproduct of my upbringing," he said. As the next wave of breakout artists make their mark in 2019, RICEWINE's soothing Indie Pop will soon seep into listeners' hearts.
---
Mackenzie Cummings-Grady is a creative writer who resides in the Brooklyn area, Mackenzie's work has previously appeared in The Boston Globe, Billboard, and Metropolis Magazine. Follow him on Twitter @mjcummingsgrady.
---
/p>