Culture News
The president has repeatedly urged Americans to try chloroquine and hydroxychloroquine as possible treatements for COVID-19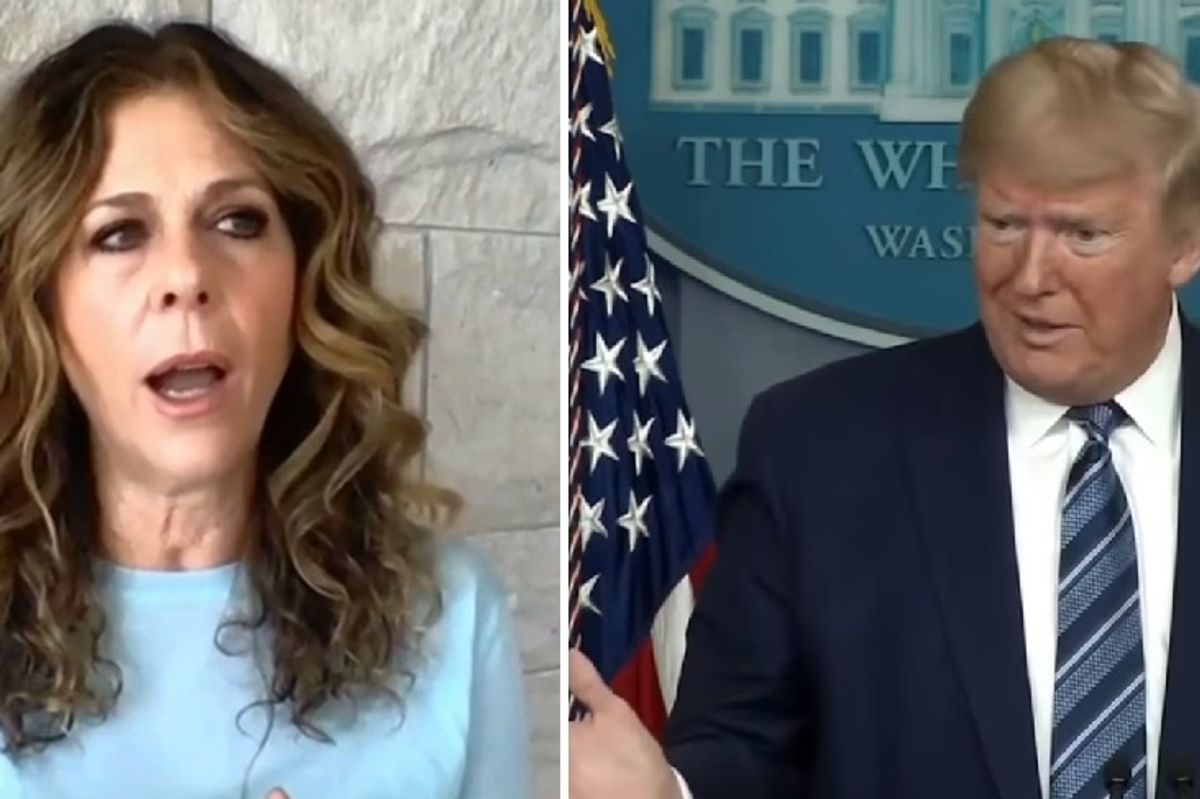 President Donald Trump has received backlash for repeatedly promoting anti-malarial drugs chloroquine and hydroxychloroquine as possible treatments for COVID-19.
While there is limited evidence to suggest that the drugs are an effective measure against the virus, that hasn't stopped Trump from promoting them as an option. At recent press conferences he has interrupted attempts to get a comment on the drugs from Dr. Anthony Fauci—a prominent member of the White House Coronavirus Task Force—and even urged Americans to try the unproven treatments, saying, "What do you have to lose? Take it. I really think they should take it."
---
'What do you have to lose?': Trump stockpiles 29-million pills of hydroxychloroquine www.youtube.com
What should go without saying is that there is quite a bit to lose, with the potential for major, even life-threatening side effects. As it turns out, actor and singer Rita Wilson got a taste of some of those side effects last month. In her first TV interview since she and husband Tom Hanks recovered from their bouts with COVID-19, Wilson revealed that she received Chloroquine as part of her treatment in Australia, and experienced what she characterized as "such extreme side effects."

Wilson experienced more severe COVID-19 symptoms than her husband and was administered the drug in the hopes that it would hasten her recovery. While she says she is unsure whether the treatment helped—"I don't know if the drug worked or it was just time for the fever to break,"—the medicine definitely had an impact: "I was completely nauseous. I had vertigo. I could not walk and my muscles felt very weak."
Though she no doubt experienced those side effects as "extreme," they are far from the worst-case scenario with these drugs. Most significantly, they have a significant potential to cause serious, lasting damage to heart tissue, a risk which President Trump has downplayed, saying that "there may be an indication that if you have a problem with your heart, you shouldn't take," these unproven treatments. In the same press conference he announced that the federal government was stockpiling millions of doses of hydroxychloroquine and "sending them all over," and he referred obliquely to the idea that medical personnel could consider "taking it before the fact."
Rita Wilson opens up about her and Tom Hanks' coronavirus recovery www.youtube.com
Last month an Arizona man died after he and his wife attempted to follow Donald Trump's advice on pre-emptive treatment and mistakenly ingested a non-medicinal form of chloroquine phosphate. In Brazil, a trial testing hydroxychoroquine's effectiveness against COVID-19 was halted after the death of several patients and a finding that high doses of the drug were associated with a severe and dangerous arrhythmia.

In her interview with CBS This Morning, Wilson said of her experience with chloroquine, "We have to be very considerate about this drug. We don't really know if it's safe in this case." It's a measured, thoughtful perspective that deserves to be amplified above the baseless, ranting speculation of our president.