Film Reviews
"Sitting in Bars With Cake": A Portrait of Platonic Love for the Loneliness Epidemic
Everyone is talking about what it means to be a friend in this era. Sitting in Bars With Cake shows us how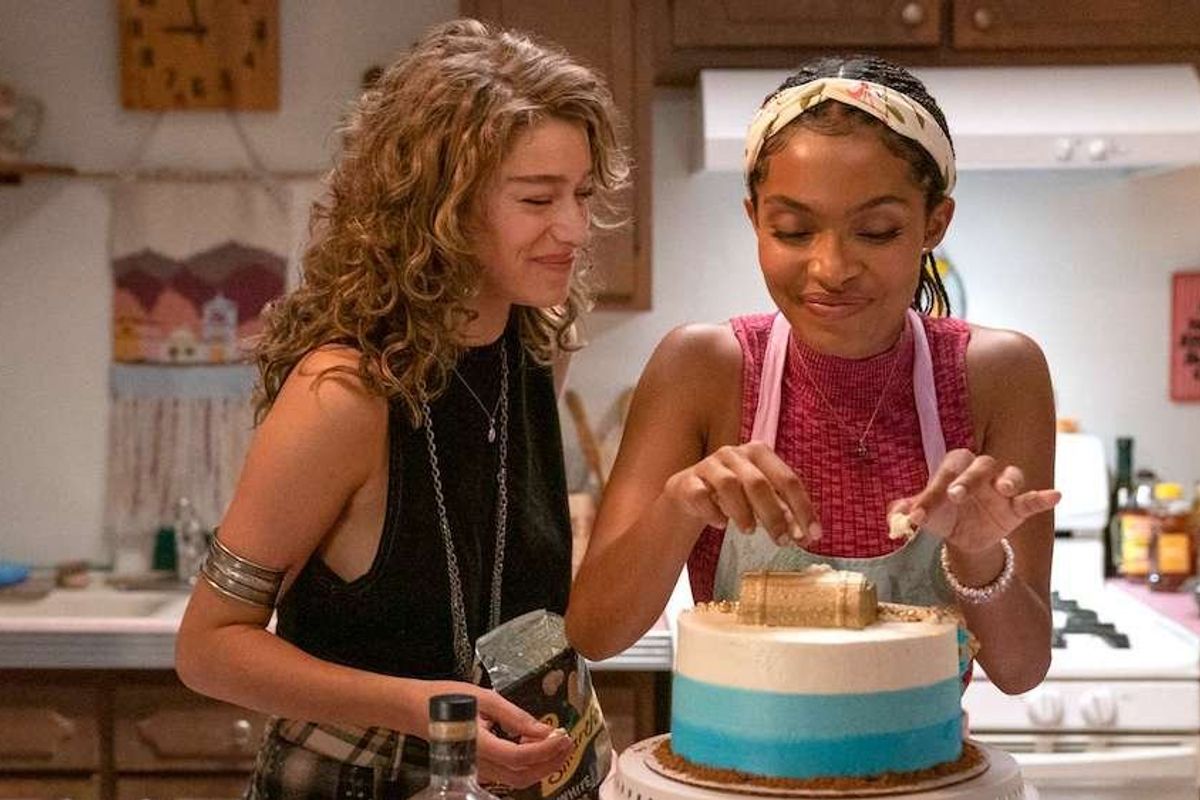 via Amazon Prime
If you were in a bar on a night out, and two girls offered you a slice of cake, would you eat it?

While this could be the premise of a Chuck Palahniuk novel (Cake, a sequel to Choke, perhaps?) or an A24 psychological thriller about eating and intimacy or something equally uncanny, the reality is in fact … based on reality.
---
Based on true events, Sitting in Bars with Cake tells the story of two 24-year-olds in Los Angeles: Corinne (Odessa A'Zion), the outgoing aspiring agent, and Jane (Yara Shahidi), her wallflower roommate, childhood best friend, and aspiring lawyer.
What is Sitting in Bars with Cake about?
When Jane — who prefers to spend her nights listening to podcasts, studying for the LSAT, and baking whole cakes as stress relief (I could never) — brings a home-baked birthday cake for Corrinne to a karaoke bar, a tradition is born. To force her shy friend out of her shell and to meet new people (especially guys) all around Los Angeles, they invent the concept of Cake Barring. Aka: sitting in bars with cake.
This quirky icebreaker brings together their friends, makes them new friends, and, most importantly, signifies a new era for the best friend pair. Things are looking bright and delicious. Until Corrine gets diagnosed with cancer.
Suddenly, the pair are braving hospital rooms together and it seems like the cake barring must come to an end. But Corrine, insisting that she needs joy now more than ever, won't let it. Thus, a year of cake in bars and tears in hospital rooms.
This new feature film from Amazon Prime Studios is heartwarming and refreshing. It feels realistically youthful — for example, the 24-year-olds actually talk like 24-year-olds —but also wise beyond their years.
Who stars in Sitting in Bars with Cake?
This whimsical tale is anchored by standout performances by Yara Shahidi and Odessa A'Zion. Neither of the pair are new actors. Shahidi has been acting since childhood in films like Butter and The Sun is Also a Star but is best known for her starring roles in black-ish and grown-ish. A'Zion is a rising star in the indie circuit in films like Fresh Kills and Hellraiser, plus a starring role in the sitcom Fam and the Netflix drama Grand Army.
Yet, I can't help but feel like Sitting in Bars with Cake is a reintroduction to both actors. Shahidi's performance is understated and mature, while A'Zion steals every scene with her magnetism and charm. Together, their chemistry creates the foundations of the friendship that we root for through its highs and lows. I see myself in them both, but most of all, I see my friends — which is the true feat of this film.
How Sitting in Bars with Cake teaches us about friendship
Remember when the young adult film and literature genres were saturated with tales of kids falling in love in cancer wards? This film grounds the genre in reality rather than romance. It's a tale of friendship, of growth, and resonates more than ever due to the phenomenon the media is calling the "friendship epidemic."
The premise is this: we all have fewer friends and, to take it further, we're all worse friends than generations past. The obvious thing to blame here is the pandemic year. Many people moved away from their friends, either temporarily or permanently, and most of us were separated with limited to no contact with our friends for over a year. Then, with the rise of remote work and our deeply set reliance on conveniences like food delivery and online shopping, people have less occasion to see friends with no more work and fewer nights out to restaurants.
This is underscored by the shifting cultural norms about what friendship is — and what it isn't. Every week a new debate surfaces all over social media: should you ask your friends to help you move? Should you ask your friends to Venmo you for gas? Should you offer guests food in your home?
And, as we redraw the lines around what relationships should look like, the influx of "therapy speak" (aka people weaponizing clinical language for self-serving purposes) is letting people get away with toxic behavior in the name of boundaries. All this to say, you could never make Friends now — they would've spent the whole time on that coffee store couch worrying about how to split the bill.
However, if you look deeper, you can see that this shift didn't start with the pandemic. It didn't even start with social media. Society has been trending towards loneliness for decades. According to Robert D. Putnam in the 2000 book Bowling Alone: The Collapse and Revival of American Community, Putnam writes about how we have become increasingly disconnected from family, friends, and neighbors.
Putnam says people sign fewer petitions, belong to fewer organizations that meet, know their neighbors less, meet with friends less frequently, and even socialize with their families less often. We're even bowling alone. And this book came out before social media really took over — so imagine the state of our social lives now.
Call it a symptom of late-stage capitalism. Call it part of the inevitable apocalypse. But it can be easy to feel hopeless about the state of our friendships. And to feel like you should have more and closer friends. Everybody feels like that, probably.
But movies like Sitting in Bars with Cake remind us that, at their core, these relationships are about love. And how powerful platonic love can be.
This film is a portrait of a symbiotic relationship — both parties taking care of each other the ways they know how. They both give and give and give to each other without keeping score or asking for anything in return. They operate on the unsaid understanding that their problems are not a burden and that their friends want the best for them — even when they're struggling or even in the middle of a fight.
This inspiring narrative is an emotional tour de force — not because of the cancer of it all. But because, like a grown-up version of a Disney movie, it reminds us of the power of friendship (the crowd awws).
So grab a friend and watch this film for a cozy night in, sharing a cake with your friends. Perfect for fall.
Watch the trailer here:
Sitting in Bars with Cake - Official Trailer | Prime Videowww.youtube.com