FILM & TV
Starz's Vida Shines a Light on Latinx Culture and Gender Fluid Communities.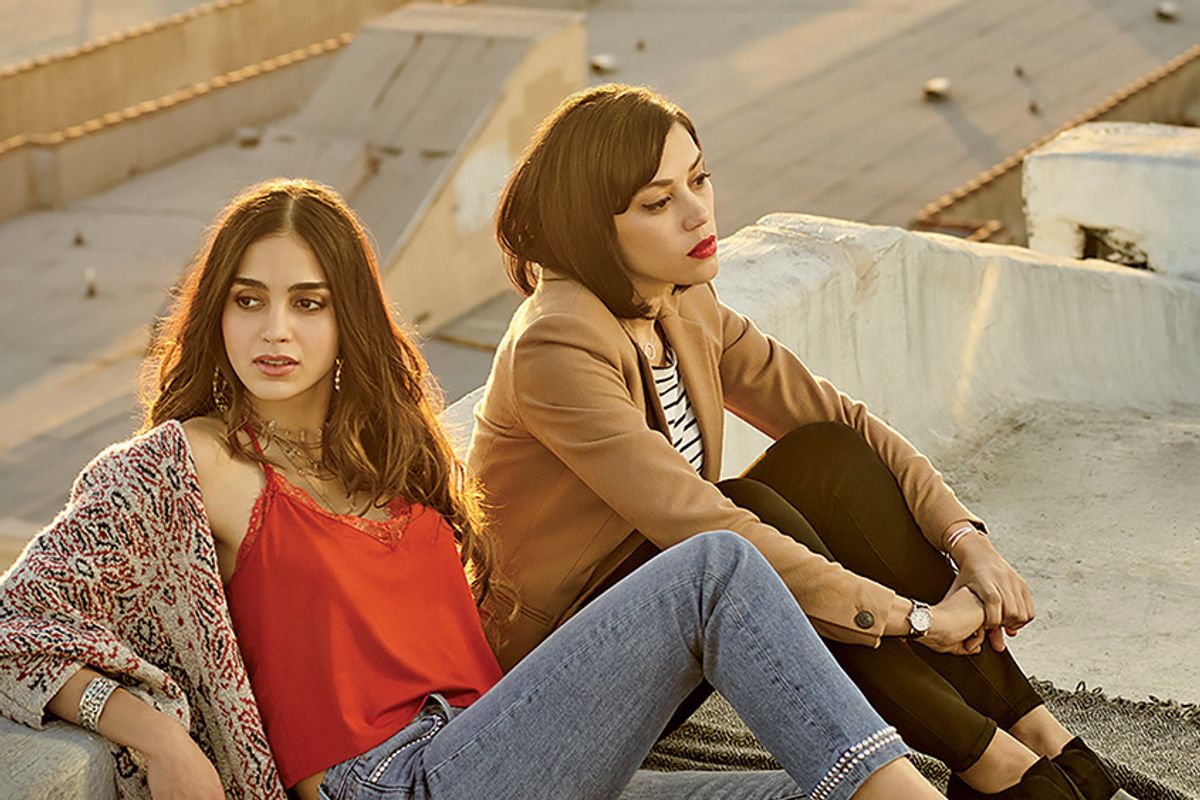 Starz 'Vida'
Vida is a socio-political commentary on Latinx queer women in Trump's America, tackling the personal and the political.

Starz has recently become a hotspot destination for female-driven dramas in a 30-minute format. Their latest offering created by Tanya Saracho is an LA-based family drama starring two Mexican-American sisters - entitled party girl Lyn (Melissa Barrera) and the reserved Emma (Mishel Prada) - who return home after their mother's passing. What follows is a typical family reunion: familial rivalry over the will, passive-aggressive aunts and uncles, and tons of flan.
Vida tackles colorism and racial divides within Latinx culture; Lyn is often ostracized for acting like a "white girl" and Emma, speaking self-taught Spanish, is often attacked for her displacement in a city openly experiencing gentrification. To locals, she represents the eraser of authentic Mexican culture. Marisol (Chelsea Rendon), a neighborhood crusader/activist fighting against gentrification and the city's burgeoning white establishments, is a suitable foil character to the sisters. To them, she's a chola one gold hoop earring away from being a caricature.
The show also features radical queer sex scenes - and there are plenty - handling same-sex scenes in ways not normally shown on TV. There's a focus on the agency both leads have with their bodies and the men and women with whom they decide to indulge. Both Emma and Lyn aren't shy about their carnal desires - Lyn goes so far to visit a tarot card reader when her partner leaves her two days after her mother's funeral.
Vida moves slowly, often dwelling on scenes that would seem gratuitous in a faster-paced drama, but part of Vida's allure is how it allows L.A. to become a character. The graffiti, local taco stands, and music enliven the script, adding an intimacy to an otherwise undemanding storyline. Musical artists like Maluca add a type of intensity to L.A.'s backdrop, and cinematographer Carmen Cabana captures the beauty of palm trees and murals lining historical neighborhoods. Lyn and Emma aimlessly try to find their place in their city, realizing their childhood home actually never felt like home. Vida, after all, is simply life in motion, the small ways culture intersects with identity politics.

Vida's writers, four queer women, dedicate a lot of screen time to the authenticity of the characters, showcasing the complex ways women interact with one another; the all-Hispanic cast of Latinx characters makes for a distinctive perspective. Vida, despite its lack of narrative heft, is emotionally poignant in its depiction of familial bonds, and it's clear the true love story is between Lyn and Emma. In their mid-twenties, they are just finally getting to know each other as sisters. "I knew it, I totally knew it," Lyn says with a cheeky smile after Emma confirms she's gay. "Then why didn't you say anything," Emma says. "God, that's so true. That's sad…we should say stuff," Lyn quips. Their connection is the heart of the show and as they rekindle their sisterly bond, it's clear that Vida is a socio-political commentary on Latinx queer women in Trump's America, tackling the personal and the political. By focusing in on micro-relationships, Vida shows how women protect each other's freedoms, allowing one another to explore their own desires and journeys in life. It's a show for women about women. It explores the changing tide of culture and gender fluid, queer, polyamorous millennials who are finally mapping out their places in the world—no matter how uncomfortable that process can be in one's youth.