MUSIC
They make up just a fraction of the many lesbian and queer musicians who are revolutionizing the industry, but you should definitely know each one of the artists on this list.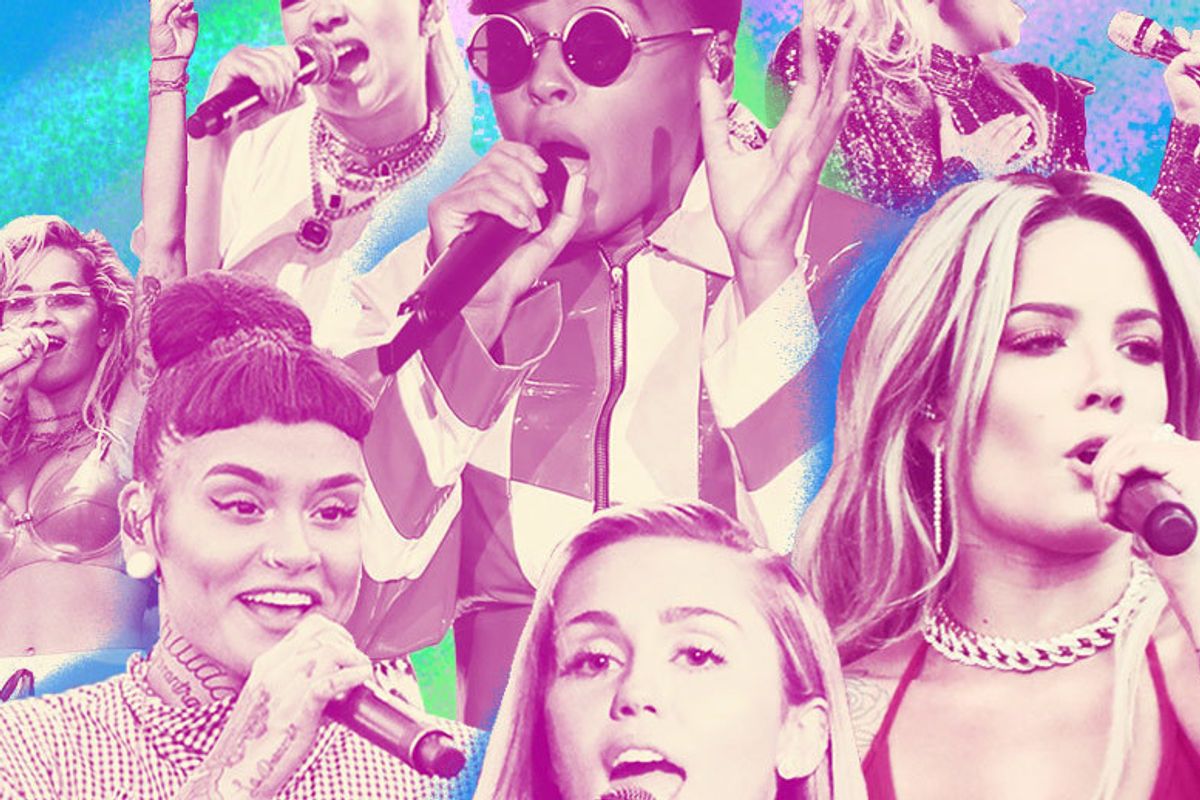 Friday was Lesbian Visibility Day, but lesbians deserve representation every day of the year—after all, they're not only around on April 26.
Here are 10 incredible queer musicians to know, each of whom has contributed to music and culture in hugely significant and inspiring ways.

1. Hayley Kiyoko

Hayley Kiyoko's exuberant pop has propelled her to the top of the charts and has made her a religious icon of sorts for queers everywhere. With her unabashedly gay lyrics and imagery, she's carving out space for a confident brand of sexuality that has long been relegated to ambiguous lyrics of even openly queer musicians.
Hayley Kiyoko - SLEEPOVERwww.youtube.com
2. Hurray For the Riff Raff
Fronted by the Bronx-born Alynda Segarra, Hurray for the Riff Raff has created a blend of Americana so sophisticated that it merits dozens of listens, and each time it will inevitably offer up different bits of wisdom. Segarra, a former punk of Puerto Rican descent, has always traversed political and personal themes and is one of the strongest voices in protest music today. Her music explores the complexity of the queer, mixed-race experience, delving into politics and mixing English and Spanish into pure poetry. Her music does justice to its complex themes, while also maintaining a sense of hope and idealism. With her album The Navigator, she took on a David Bowie-type alter ego with her own twist. "I learned I could create a character, the Navigator, who would stand at the intersection of all these identities and weave in and out," she toldThe Times. "And I related to being the alien. I began to take that as a badge of honor."
Hurray For The Riff Raff - Pa'lante (Official Video)www.youtube.com
3. Janelle Monae
Sometimes it seems like there's nothing Janelle Monae can't do. She rose to the fore with her gender-bending, androgynous appearance, only to cast off even that label in exchange for truly fluid shifts from the silver screen to the largest festival stages. About a year ago, she told Rolling Stone that she identified with elements of bisexuality and pansexuality. "I want young girls, young boys, nonbinary, gay, straight, queer people who are having a hard time dealing with their sexuality, dealing with feeling ostracized or bullied for just being their unique selves, to know that I see you," she said in an interview. "Be proud."
Janelle Monáe - Dirty Computer [Emotion Picture]www.youtube.com
4. Julien Baker
Now practically legendary in the indie folk circuit, Julien Baker made waves by speaking openly about her experiences growing up queer and Christian in Tennessee. Since then, her ingenious methods of looping, drawing spare melodies out of her Telecaster, and spinning pain into reverent poetry have made her a prominent and critically acclaimed solo artist in her own right. Plus, boygenius, the trio comprised of Baker, Lucy Dacus, and Phoebe Bridgers (both of whom also identify as queer), is one of the best supergroups of our modern era.
Julien Baker: NPR Music Tiny Desk Concertwww.youtube.com
boygenius @ Brooklyn Steel | Pitchfork Livewww.youtube.com
5. King Princess
Producer-songwriter King Princess has never been shy about her identity as a lesbian—her first tour was called "Pussy is God," and she's referenced a variety of historical and contemporary queer themes in her music. Her best song, "1950," may be referring to the Lavender Scare, when homophobic paranoia reached a peak and many queers had to hide their identities in order to keep their jobs. Despite its heavy inspiration, "1950" is full of electric joy; though its political undertones are very intentional. "I want to get to a place where the story is less about me and my face and more about what the fuck's going on this world. How I can be an active voice for gay people but also the music industry," she said to Rolling Stone. "This is the art we need right now. This is what we need right now. We're in a renaissance, and we need people to rebel, come forth and bring messages into art."
King Princess - 1950www.youtube.com
6. LP
LP's voice sounds like a mix of Bob Dylan's and Stevie Nicks'—which would be enough to merit a listen on its own—but she's also a masterful songwriter and artist, as well as an open lesbian. Having written hits for Christina Aguilera and the Backstreet Boys, she's now taking the music industry by storm with her infectious, sophisticated brand of folk-rock. Not only does she shred on the ukulele she also wears sunglasses at night and has mastered the art of suit-wearing, so if you're looking for someone to fall in love with, look no further.
LP - Girls Go Wild (Official Video)www.youtube.com
7. ROES
Formerly known as Angel Haze, ROES has just released one track— "Brooklyn"—and if their future releases are anything like that one, we're going to be hearing a lot more from them. The song is a dreamscape, evoking the likes of Frank Ocean as they layer their vocals and bars over brooding electric guitar. The rapper-singer openly identifies as pansexual and has said that they don't consider themselves any particular sex or identify with any particular pronouns, and they prefer to keep their music ambiguous so that everyone can relate to it. They've also been a staunch advocate for mental health. "If I can't say how I feel I go crazy," they told The Fader recently. "Every day I wake up and I'm like 'goddamn, you lived. You're alive again.'
Brooklynwww.youtube.com
8. Tash Sultana
The virtuosic polymath gained fame after their YouTube videos took off, and they've been touring steadily ever since. With their blend of guitar, effortless vocals, and psychedelic grit, they should be on everyone's live show bucket list. Open about their experiences with drug abuse and queerness, they also identify as non-binary, use they/them pronouns, and have often spoken about the ways music has helped them overcome challenges.
Tash Sultana - Can't Buy Happiness (Official Video Clip) 4Kwww.youtube.com
9. Tish Hyman
A formidable talent in the R&B and hip hop spheres, Hyman has collaborated with some of the biggest names in the business. Having cut her teeth on battle rap in the Bronx, she moved to Los Angeles, worked as Lil Wayne's tour manager, and started writing with the likes of Alicia Keys and Kanye West before going solo. Her vocals have drawn comparisons to Lauryn Hill, and her first release, "Subway Art," is a tribute to the twists and turns of life in the big city.
Tish Hyman - Subway Art (Official Video)www.youtube.com
10. Young M.A.
The Brooklyn-raised rapper has always been committed to being authentically herself—the M.A. in her name stands for "Me, Always"—and it seems to be paying off. She sold out her North American tour with 21 Savage, opened for Beyoncé, and her first album Herstory is a triumphant reclamation of her queer black feminist identity. She's always been openly proud of her sexual orientation, telling Vogue that once she came out, she felt she was able to move forward with her career. "I held in being sexually attracted to women for so long that once I got that out of me, the music became easy," she said.
Young M.A "Stubborn Ass" (Official Music Video)www.youtube.com


Honorable Mentions: Let us give thanks to our queer foremothers—to Tegan and Sara, Tracy Chapman, and all the many others who paved the way.
Tracy Chapman - Fast carwww.youtube.com
---
Eden Arielle Gordon is a writer and musician from New York City. Follow her on Twitter @edenarielmusic.

---
POP⚡DUST | Read More...
Welcome to Genderqueer TV: 5 Non-Binary Characters
To J. K. Rowling and "Supernatural": Queer-Baiting Isn't Creative License