TV Reviews
Teen Wolf's Tyler Posey Is a Whole Mood on Netflix's "Sugar Rush"
There's no reason to take a cupcake show seriously.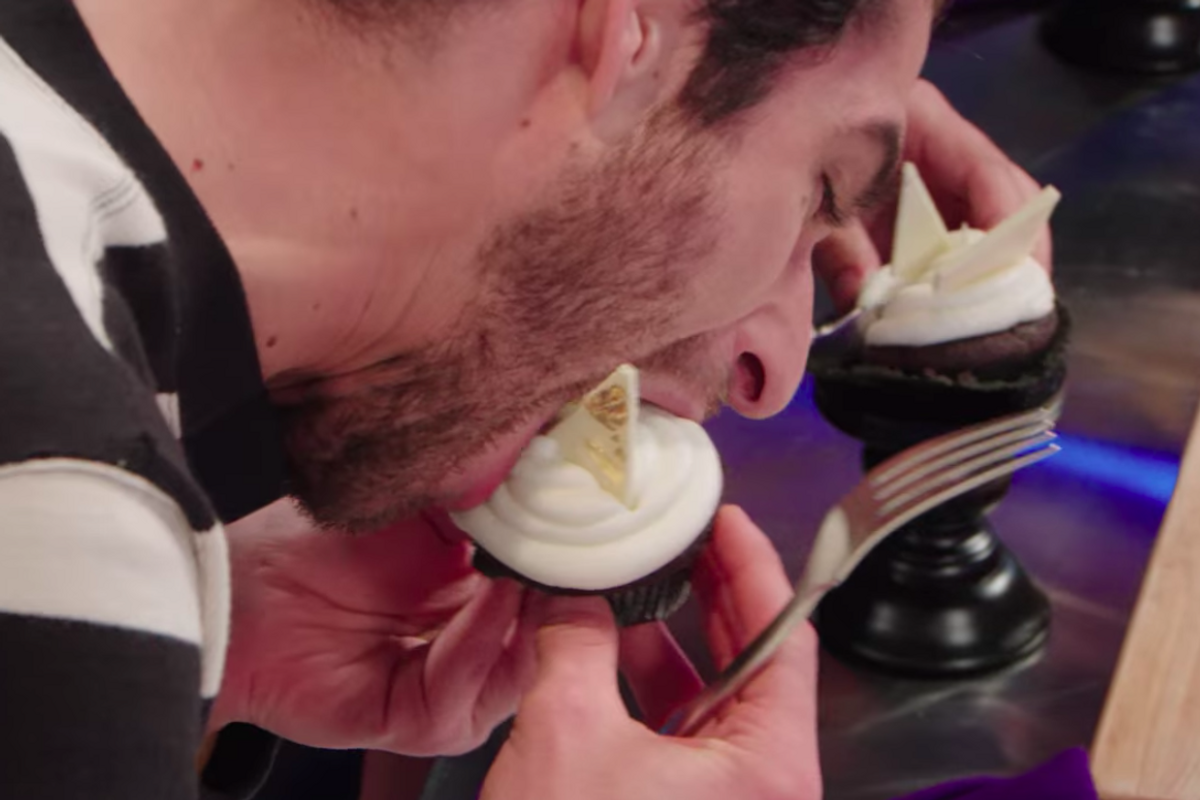 Netflix
I don't know what it is about hokey cooking competition reality shows, but apparently I love to watch them while the world is on fire.
While I don't know anyone else who readily admits this out loud, I know I'm not alone because reality cooking shows frequently make it into Netflix's "Top 10 in the U.S. Today" category. In fact, that's how I usually find these shows in the first place, and I immediately binge them in their entireties, in the background, while I play on my phone. As a side note, I wholeheartedly believe that this is the manner in which hokey reality cooking shows are designed to be watched.
---
Most recently, after wrapping up Nailed It—probably the single-best reality cooking show to-date, wherein average people fail miserably at replicating Instagram-worthy showpiece desserts—I discovered that there were brand new episodes of Sugar Rush. The headline image featured pink ice cream emerging from fried dough held in a waffle cone, and the whole thing was covered in fruity pebbles, so yeah, you could say I was sold.
Quite honestly, I didn't watch the show closely enough to get a firm grasp of the rules, but loosely, each episode features four teams of professional bakers making increasingly elaborate, themed desserts in a series of elimination rounds. (The particulars are not necessary when the primary goal is to have voices in the background that make me feel less alone, and occasionally, to glance up and see a cool cake.) What I did grasp, however, is that one of the show's main gimmicks is that every episode features a guest judge—usually an actor or comedian who appears on some other Netflix show that maybe you'll put on in the background later.

The guest judges are, undoubtedly, the best part of Sugar Rush. Whereas the two main judges are professional chefs (Candace Nelson and Adriano Zumbo) and therefore know exactly what they're looking for in any given dessert, the guest judges rarely have any idea what they're talking about. Thus, they're relegated to the uncomfortable position of comparing the quality of professional baking with culinary knowledge limited to "this tastes good." As it just so happens, people stumbling through uncomfortable social situations is my second favorite thing to passively watch.
Most of the guest judges on Sugar Rush kind of stumble through their appearances, attempting to judge the desserts as kindly and non-confrontationally as possible, which is entertaining because it's interesting to see people struggle through social situations.
But not Tyler Posey, former star of MTV's hit teen drama, Teen Wolf.
This dude comes on the show and makes it his primary goal to finish every single dessert he's given to eat in its entirety. Straight up, as soon as the host welcomes Tyler onto the show, Tyler says: "You told me not to eat all the cupcakes, but I'm gonna eat 'em all."
Tyler is informed multiple times during the show that nobody has ever done this before, as there are nine desserts over the course of three rounds, and you really only need to taste each one to judge it. The host even bets Tyler five dollars that he won't be able to finish all of the desserts. Tyler does not care. He's not here to criticize professional bakers' techniques. He's here for free cupcakes.
So while the other judges nibble little bits of cupcake to assess if there's too much bacon flavor, or whatever, Tyler wolfs down entire cupcakes (I'm sorry) and gives feedback like, "WHOA!" and "Oh my goodness!" and "I didn't know that there was gonna be stuff on the inside of it!"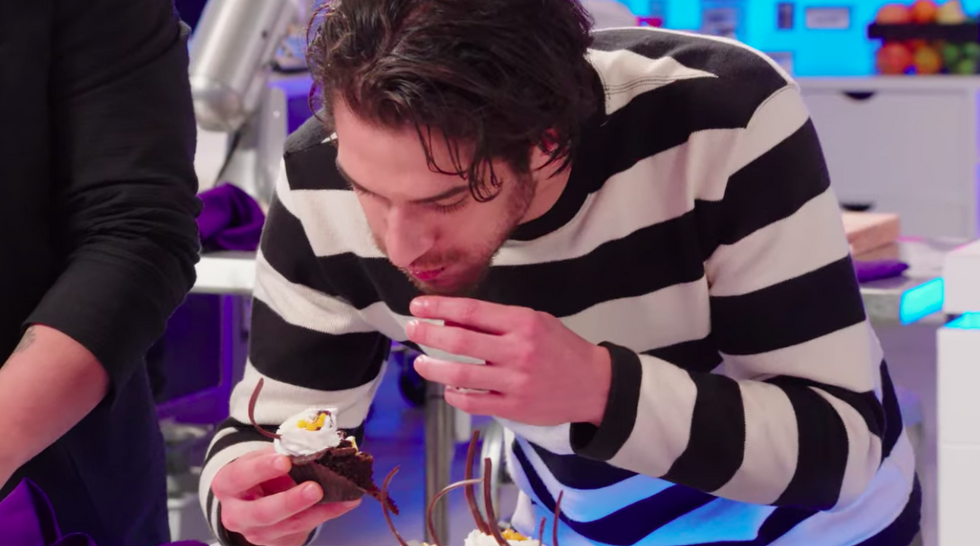 Netflix
At one point, Tyler says that his cupcakes would go down well with a glass of milk. A few minutes later, he is gulping down a glass of milk. Ultimately, Tyler succeeds in his goal, too, finishing all nine desserts and winning five dollars from the host.
Now, I just want to take this opportunity to point out that all of this—baking competition reality shows that judge the quality of cupcakes, Tyler Posey eating nine cupcakes in their entirety, and of course, writing an article about all of these things in conjunction—is so ridiculously frivolous. But then again, we need frivolity right now more than ever.
I think that's the beauty of baking competition shows. Sure, it's a big deal for the bakers involved when there's prize money on the line, but all things considered, the stakes are so low. Nobody gets hurt, and the goal isn't to laugh at anyone or bask in the drama inherent to other reality shows.
It's just people baking cute little cupcakes, and I think Tyler Posey's appearance on Sugar Rush really drives that point home. What's so wrong about enjoying silly things? Why take anything seriously that doesn't need to be taken seriously? After all, there's enough serious sh!t going on right now that we do need to spend our energy on, so when we're taking a breather, why not just chow down on cupcakes?
Tyler Posey on Sugar Rush is a whole mood, and I guess what I'm really saying is that I'm here for it.