Culture Feature
Over the last two weeks, the show has given a platform to guests who don't deserve it.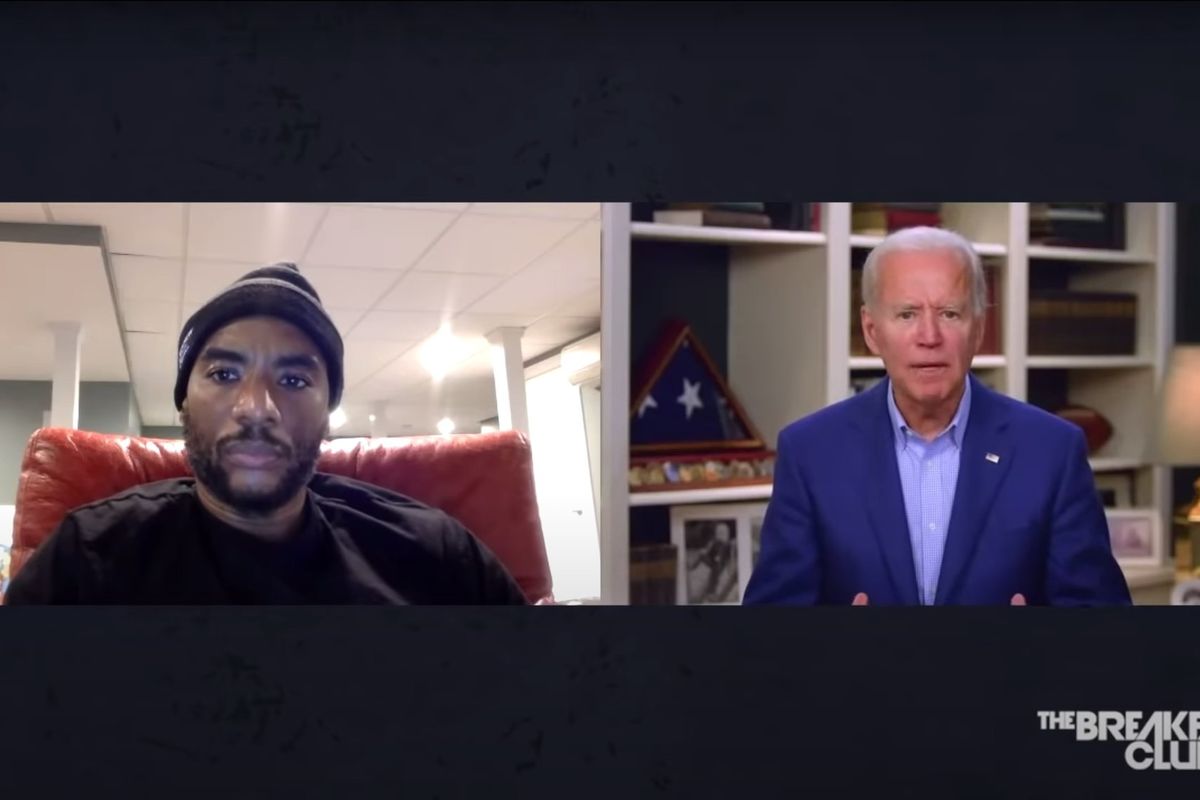 Last summer, Power 105.1's nationally syndicated radio show The Breakfast Club morphed from a long-winded cache of awkward pop culture moments to a respected stop for the 2020 Democratic nominees.
Elizabeth Warren, Kamala Harris, Bernie Sanders, Pete Buttigieg, Cory Booker, and more recently, Joe Biden, all stopped by the show last year in the hopes of connecting with young people and Black voters. The show had become a left-leaning refuge, devoid of political stuffiness, where voters could rely on the hard questions being asked and answered frankly. With more than 3 million monthly listeners on 80 affiliates worldwide, and an additional 3.3 million YouTube subscribers, The Breakfast Club has been a prominent source of news for young people. "Do you think you sucked in the first couple of debates?" asked Charlamagne Tha God–the show's infamous rabble-rouser–to Pete Buttigieg. "Nah, I thought we were good," he replied, "Do you?" "You kinda got lost in there, Pete."
---
But in the last two weeks, the show has mutated into a bizarre version of itself. The program, which bills itself as "The World's Most Dangerous Morning Show," hasn't been without controversy in the past, but recently it's hosted two extremely volatile guests. Last week, as protests against police brutality and the death of George Floyd swallowed the country, the show hosted Rush Limbaugh, the infamous white-supremacist radio host. "What really bothered me about the conversation was...I felt like it wasn't productive," Charlamagne told Stephen Colbert after the interview. "I have no problem talking to people from the other side, but I just have to feel like that's really your truth. I don't know if I got that from Rush, it felt like more of a performance."
In the interview, Limbaugh was dismissive when confronted with allegations of racism from Charlamagne and instead used the show as an additional platform to spread his white supremacist ideology. At first, he empathized with George Floyd's death, but it didn't take long for the dialogue to dissolve into racist pandering. "How do we dismantle white supremacy as a whole moving forward?" asked Charlamagne. "You'd have to define what it means to you," said Limbaugh. "I don't think there's much white supremacy going on out there…[It's] a construct of today's Democrat party." The blowback was swift, and the hypocrisy of The Breakfast Club was disturbing. Instead of raising the voices of the very culture they claim to represent, they chose to speak with a man whose life work has consistently radicalized white supremacists and been supportive of the very same racists that murdered George Floyd.
Now, just a week later, the radio show remains under intense scrutiny. Yesterday, the trio of DJ Envy, Angela Yee, and Charlamagne Tha God announced their next interview would be with Russell Simmons, the disgraced music-mogul who has racked up an inordinate number of disturbing sexual assault allegations and who fled to Bali in 2018 after stepping down from his positions at Def Jam Records (Bali currently has no extradition treaty to the U.S.). A new documentary called On the Recorddissects the allegations and interviews with Simmons accusers. It premiered on HBO Max at the end of May while Simmons fought tooth and nail behind the scenes to discredit it. When the movie was announced, Simmons and his cohorts targeted the accusers on social media and relentlessly harassed Oprah Winfrey, an executive producer on the project, until she pulled out of the documentary (Winfrey chalked up her departure to "creative differences").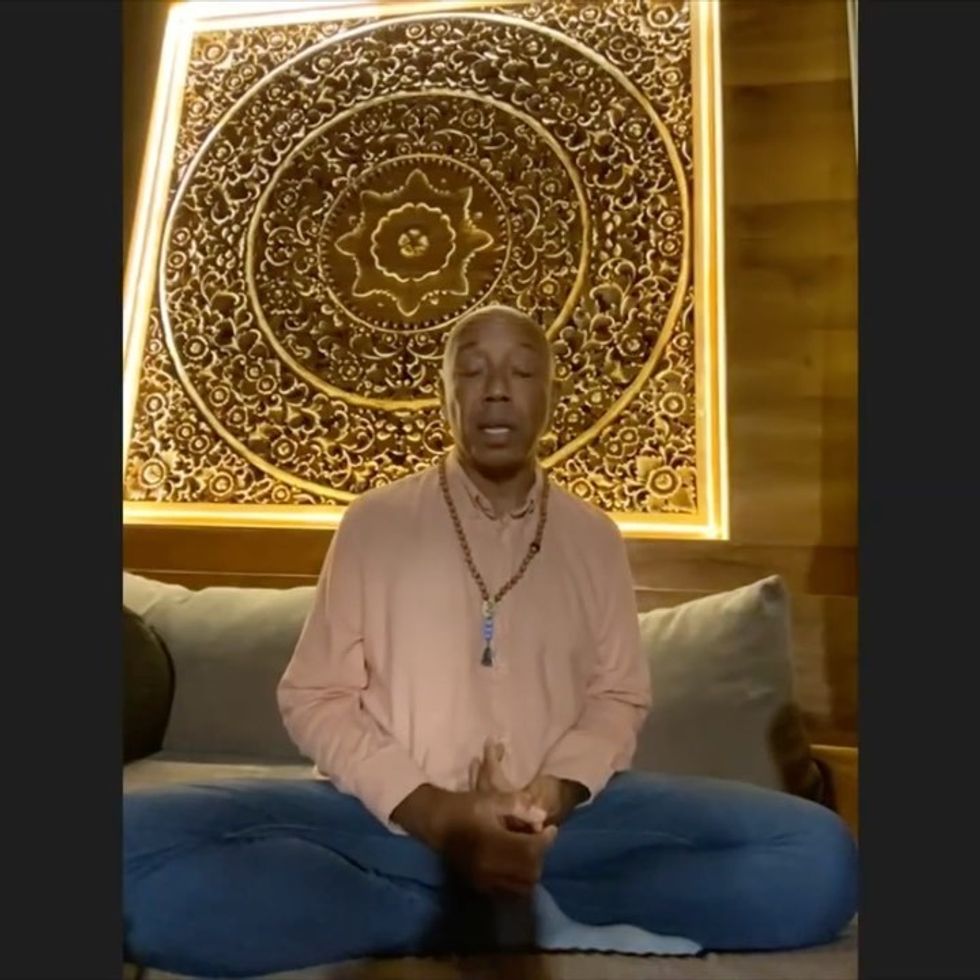 This morning's interview opened with Simmons sitting cross-legged, beads draped around his neck, in front of a gold, shimmering tapestry. He at first spoke about the spiritual and vegan lifestyle he's embraced in exile and how he merely remained in Bali because he got stuck there when COVID-19 hit the states, (he's been in Bali for over a year). "If I can contribute something to our community, it's to support them moving towards a more healthy diet and healthy choices," Simmons said as he promoted his new vegan-based dietary book "Eat to Live." "We're more likely to go vegan...than our white counterparts." His claims seem partially true, but when held up against the mire of controversy engrossing Simmons, it all felt like a marketing plug, or worse yet, stalling.
Once the "hard questions" started coming out, what transpired was what has always happened when accusers respond to #MeToo allegations: blanket denial, condemnation of the accusers, and claims that past hardships are responsible for predatory behavior. "I'm guilty of having underwritten, supported, made the soundtrack for, taken advantage of, and lived in a grossly unjust society," said Simmons. "I know what I'm guilty of, and I've been unconscious as a playboy, and [a] womanizer." He then went into more uncomfortable detail, offhandedly listing off his past celebrity love affairs. "There is no Black actress I haven't dated, and almost all of them are my friends today." He claimed that Oprah left the project amicably because of contradictory evidence presented to her by Simmons and that the accusations "should not have been printed...I could never say that someone doesn't feel victimized... I can tell you that I don't feel that I've victimized them."
The remainder of the interview frankly does more to reaffirm the accusations than discredit them and additionally reiterates other allegations that have trailed The Breakfast Club for years: that its platform gaslights women of color. At the beginning of May, Kehlani went on the show to talk about her new album. Instead, she was trailed by questions about her romantic life and her recent breakup with rapper YG after he was caught cheating. "I seen his phone, and these weren't like surface-level things, they were very deep and intricate. And I just felt like, maybe I need to take a step back," Kehlani said of the breakup. "He was cheating on you?" asked Charlamagne. "You can't forgive a little cheating?...N***** f*ck up Kehlani, that don't mean they're not good guys."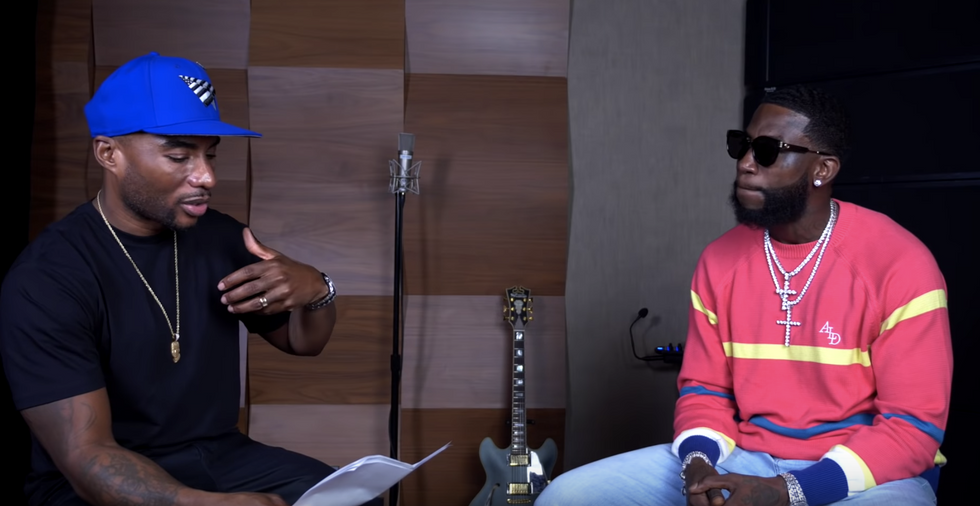 Charlamagne especially has regularly trivialized the emotions of Black women. The radio host has often preached loudly that "Black men don't cheat" and even made a song about it. In a 2011 interview with Lil Mama, he criticized the rapper for being cocky and insinuated that she hadn't accomplished enough to carry herself so highly. He came under fire again in 2016 when he tweeted that a woman of color should "use social media to create a platform to be a voice like Tomi Lahren." His co-host Angela Yee has also cryptically criticized the radio host for his handling of an uncomfortable interview he did with Gucci Mane last year. The rapper attacked both DJ Envy and Yee, shaming the latter for allegedly pursuing a sexual relationship with him. Charlamagne remained silent.
While the fate of The Breakfast Club remains up in the air, it's unsettling to watch it dissolve into a platform for racists and rapists. But the question for all of it remains: Why now? "Why? Why do you carry water for this man? Why Now?" wrote Simmons' accuser Sil Lai Abrams on Twitter. "You're all complicit in ensuring that Black women's right to bodily autonomy continues to be denied. You're also rape apologists."
An hour after the interview with Russell Simmons aired, The Breakfast Club released an additional interview with Breonna Taylor's mother, Tamika Palmer. Why not genuinely champion voices like Tamika's rather than use them to quell the inevitable backlash from a controversial interview done solely for a ratings spike? Why further politicize Black pain during a time when mutual understanding is required? The Breakfast Club has lost its way, and if recent happenings are any indication of the future, then it might be too late for the show to redeem itself.