FILM
Lulu Wang's The Farewell encapsulates the absurdity, frustration, warmth, and depth of family dynamics.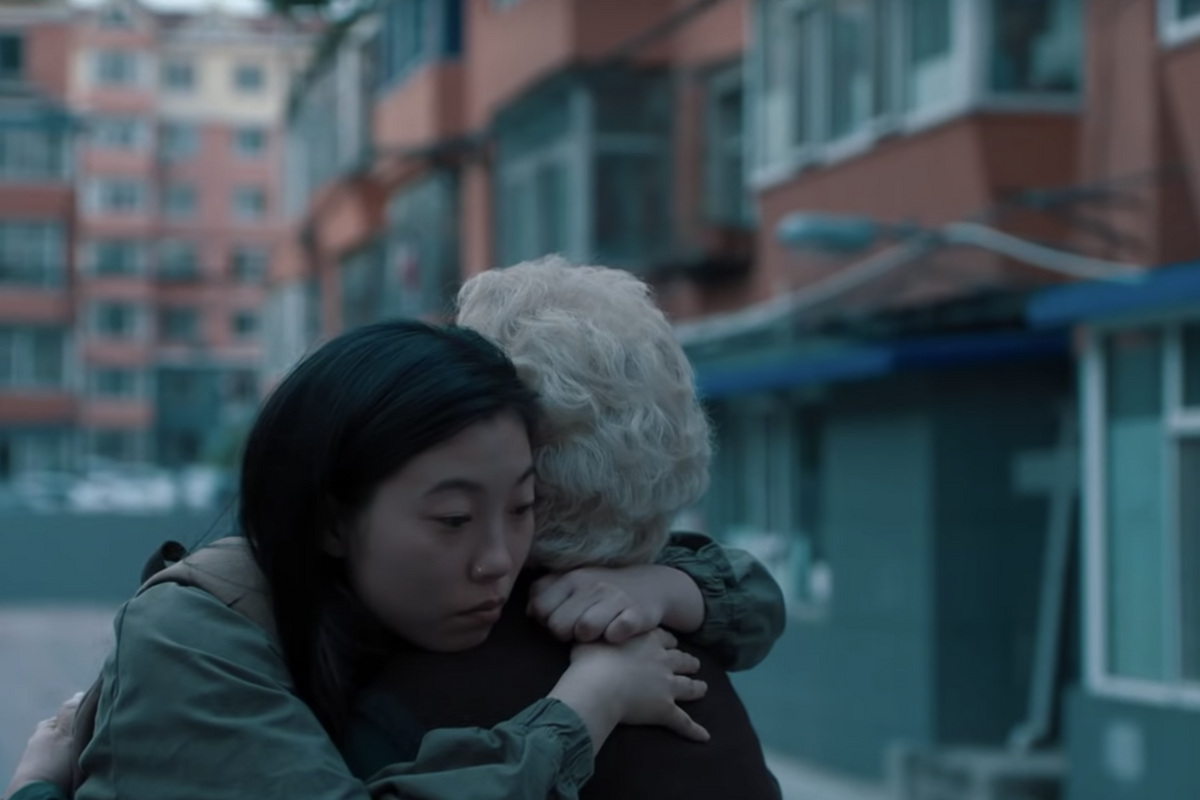 A24
In an interview with The Ringer's Sean Fennessey, The Farewell's director, Lulu Wang, explained how she wanted to prove it was possible to make a film about people who looked like her but with whom all people can identify.
The very personal story "based on an actual lie" grapples with what's culturally acceptable in the East and the West. The Farewell follows a very indie protagonist, Billi, a 30-year-old first generation Chinese-American writer living in New York City, struggling to make ends meat. Billi's life becomes more complicated when she discovers her grandmother, Nai Nai (Zhao Shuzhen), has Stage 4 lung cancer and that her parents are leaving in the morning for China to say goodbye. The catch: No one is telling Nai Nai she's sick. Sitting in her parents' bedroom, Billi's mother, Jian (Diana Lin), turns to assure her daughter, "Chinese people have a saying: When you get cancer, you die."
Initially, Lulu Wang struggled to sell the film to both American and Chinese investors. With a Chinese-American as the protagonist, The Farewell was "too American" for Chinese investors; but with the cast primarily speaking in Mandarin, the film was "too Chinese" for American investors. In America, Hollywood executives might as well have a saying, "When there are subtitles, people won't want to watch the movie."

After years of fighting to make the film, Wang considered leaving the industry—that was until she met This American Life producer, Neil Drumming. At a film festival where her 2015 short film, Touch, was playing, Drumming asked her if there were any stories she hadn't been able to tell. Their conversation spun into the creation of an episode called "What You Don't Know." The episode is on the exact story explored in The Farewell.
The movie featured the unexpected casting choice of Awkwafina (born Nora Lum) as Billi. The director didn't expect to cast the YouTuber-turned-rapper-turned-actor in the film, especially because Lum is largely known to be Korean-American. But then Wang discovered that she's in fact half-Korean, half-Chinese. When the two met, the actress immediately fell in love with the script. Lum herself was raised by her Chinese grandmother after her Korean mother passed away when she was four years old. Awkwafina's connection to the film translated into a warm, heart-wrenching performance.

The film itself is primarily set in China, with Billi spontaneously buying a flight to Changchun against her parents' wishes. The entire family is concerned that Billi will not be able to hide her true emotions about her grandmother's diagnosis and will end up revealing the truth. In China, the family has a collectivist mindset, prioritizing the unit over the individual, and the audience comes to see that perhaps there is something to be said for keeping Nai Nai's diagnosis from her. Viewers are faced with the choice between harsh honesty and protecting someone's emotional well-being, a dilemma that clearly strikes a chord with conflicted audiences.
Meanwhile, the film operates at a nexus of celebration and mourning. In Nai Nai's eyes, the family reunion is occurring because her grandson (Billi's cousin), Hao Hao, is getting married to his Japanese girlfriend, Aiko. The wedding also brings together two brothers, Billi's father, Haiyan (Tzi Ma), and Hao Hao's father, Haibin (Jiang Yongbo), for the first time in twenty years. Nai Nai is elated by her children's reunion, contrasted with her family members' sadness that this is the last time they'll see Nai Nai. While the family members attempt to maintain Nai Nai's ignorance, she is giddily planning the wedding and lovingly feeding her relatives.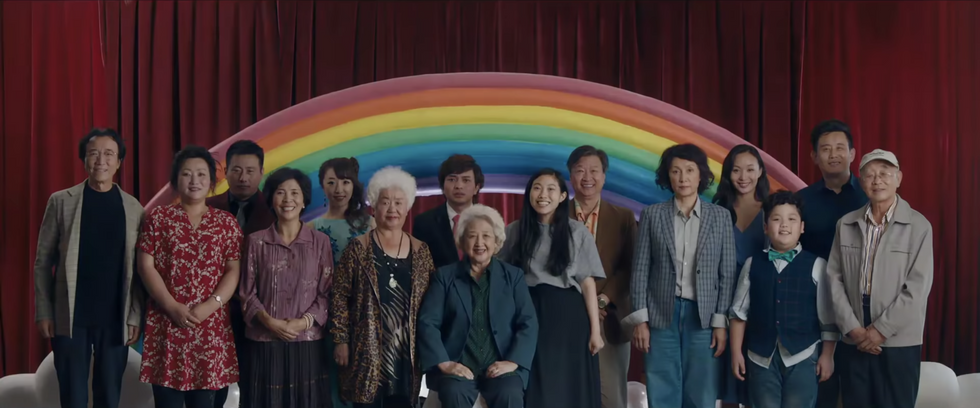 Zhao Shuzhen, who plays Nai Nai, envelops herself in the warmth and pride of a grandmother who gains purpose from her family's reunion. Shuzhen seems to miraculously embody every family member you've ever had—the one who gives sound advice, the one who feeds you endlessly, the one who questions your romantic life, the one who dishes out perfect, hilarious soundbites, and the one who acts like a third parent.

Nai Nai represents so many parents; she aspires to give her children a better life and to see them thrive as independent people. Shuzhen's performance is a heartwarming, destructive force that gives hope and draws light in a film full of despair. She adds love and much needed laughter as the film grapples with how one can enjoy their time with a loved one on the heels of an impending, final goodbye.
As Billi spends more time with her grandmother, she becomes more nostalgic for her early life in China. Recognizing that she's been away from her family all these years, Billi grows resentful towards her parents because they took her from her home country. Any first-generation immigrant can relate to the loneliness of being disconnected from their relatives and their culture. Similarly, any person can relate to longing for more time with their older relatives—wanting to know more about them and establishing a true love for one another despite generational differences. While Billi's inner conflicts come to a head, she begins to come to terms with who she is and what she values.

In the end, The Farewell accomplishes just what Lulu wanted—it's a movie any person can watch and see a reflection of their own life. Anyone who has lost a family member or felt conflicting emotions about their weird, dysfunctional, but loving family can relate to Wang's deeply personal film. Conversely, the film flourishes in the specifics of who this story is really about: a first generation Chinese-American woman, struggling to accept her grandmother's illness while growing fond of and grappling with her familial bonds and cultural roots. Lulu Wang's film harmonizes the powerful feelings of guilt, uncertainty, wonderment, merriment, and catharsis, and does so without skipping a beat.