FILM
Photo-realistic lions singing to each other is an uncanny valley experience you'll never got used to.
Disney
The Lion King "live-action" remake, visually speaking, is an artistic and technological marvel.
Every single character in this film is depicted as a photo-realistic animal, right down to the wrinkles on Timone's nose and the tufts of dirt in Rafiki's hair. Even the characters' movements are completely rooted in reality, with each digital character having weight and presence on screen so convincingly real that you honestly forget you're looking at CG characters at all. The attention to detail in this film is truly awe-inspiring.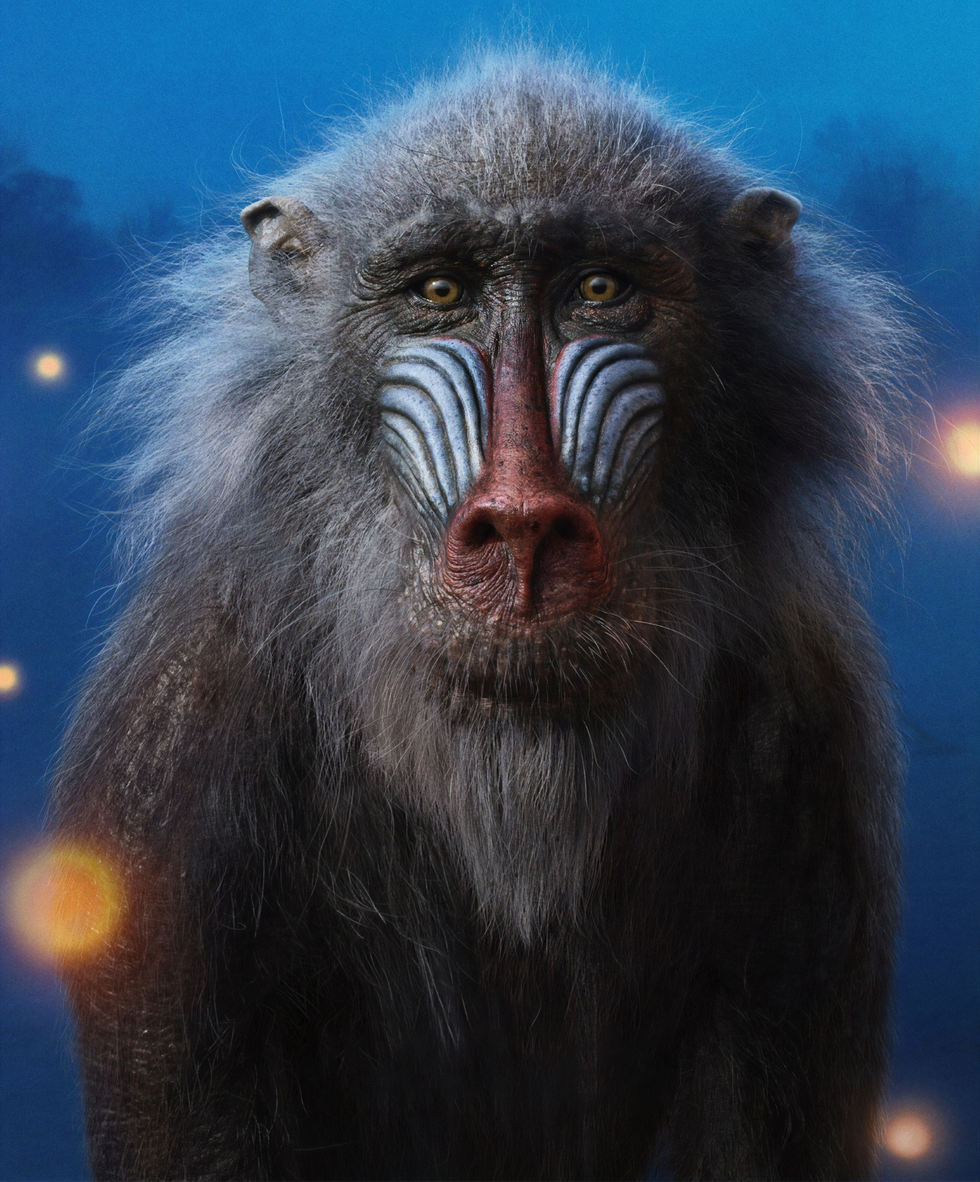 Look. At. Those. Hairs.Disney
But while the incredibly talented VFX team at Disney rooted every animal in reality, the basic demands of The Lion King story seemed to have been a secondary concern—namely, the singing and speaking. The Lion King is a musical, after all, and what we got in the 1994 original were characters who had moving lips and big, expressive eyes to illustrate their emotions and motivations—you know, the kind of thing you can do with hand-drawn animation. Since Disney decided to have a completely realistic take on these characters, a lot of that personality and expression just doesn't come across. When Mufasa and Simba are having a conversation, for example, it just looks like two lions staring at each other with human voices coming vaguely from their direction. Their mouths move up and down, but their dead, beady little eyes show nothing but emptiness. It's weird.

Which begs the question: Was this the best story to tell with photo-realistic animals? The Lion King is essentially Hamlet the musical, and most would assume that a literal lion might not be able to pull off the emotion and charisma required of a Shakespeare story. With that being said, The Lion King 2019 tries to stay beat-for-beat with the original animated classic. If you look at the original movie's runtime compared to the 2019 remake, you'll notice there's an additional 30 minutes in the remake. Most of that time goes to the first act, which was my favorite part of the movie, with baby Simba and baby Nala simply playing and romping about. Granted, this definitely dragged on way too long before we got the story really going—but c'mon. Did you see the stills from this movie? Baby Simba is cute as f**k.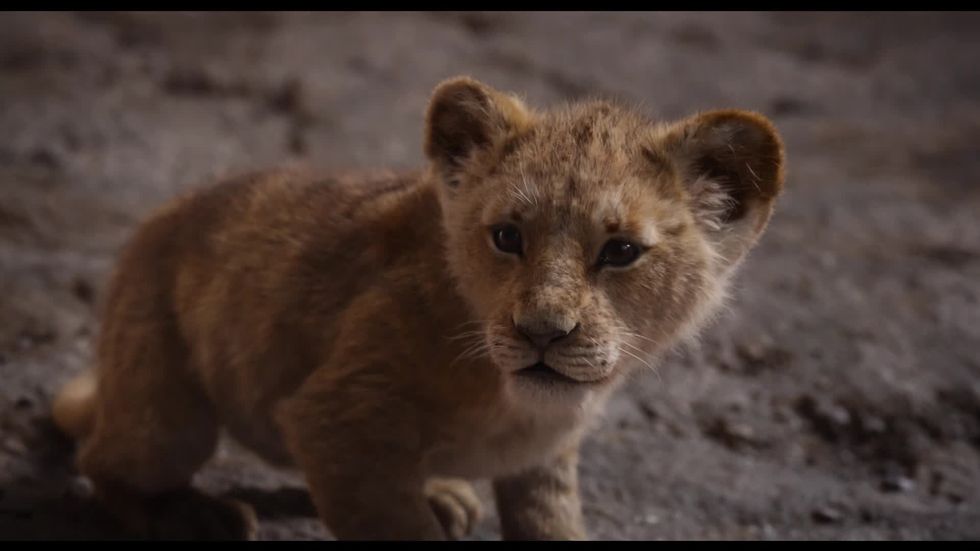 I mean...Disney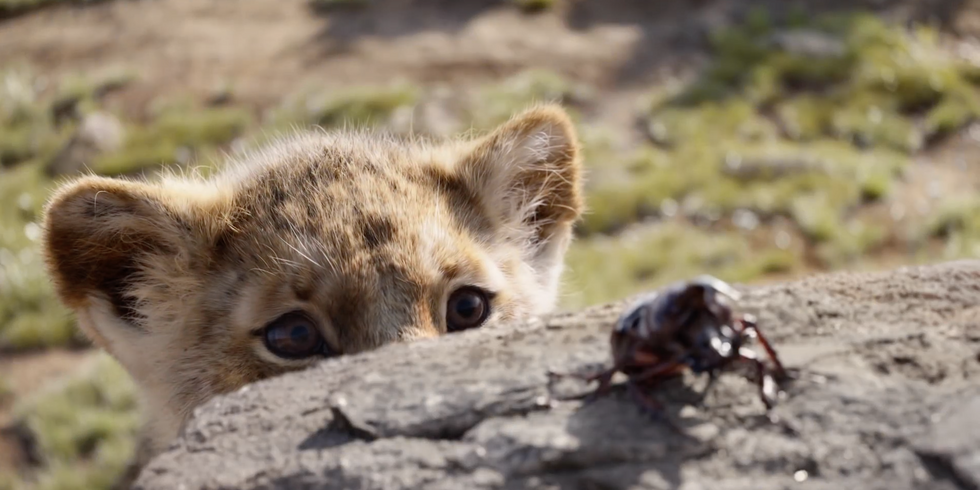 Can the whole movie be about baby Simba?Disney
There were also some character changes in this film that really elevate the experience—namely Timon and Pumbaa. Billy Eichner and Seth Rogen bring these intensely realistic characters to life in a way that's sorely missing in the remake's other performances. The two have such delightful chemistry that it made me want to just stick with them for the rest of the movie. The decision to add their off-the-cuff jokes to the script was a commendable choice from director Jon Favreau, who clearly saw the talents of these two performers and let them take the lead.
For instance, my favorite line comes at the end of the "Simba growing up" montage, right when it looks like it's going to be a shot-for-shot remake of the original. When Simba continues to sing after the music stops, Pumbaa quips, "You've gained 400 pounds since you started!" I didn't think a Disney movie could be so tastefully meta, but I was pleasantly surprised.
I just want to watch these three for two hours <3Disney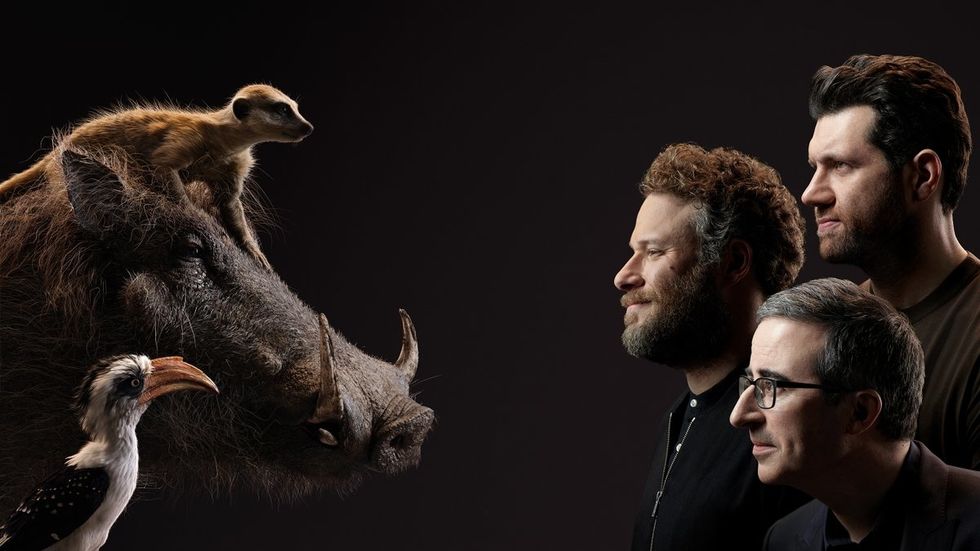 The heroes of the movie.IMDB
As for the rest of the performances, everyone is pretty good. John Oliver plays a great Zazu; but again, his performance is neutered by the fact that his character doesn't have lips: It just looks like a very normal bird flapping hysterically at lions for two hours. Mufasa is actually great, because James Earl Jones has the presence of God in his voice, so at least that loans itself well to watching a photo-realistic king of the jungle roam around the screen. Scar is also good; there have been complaints online about Chiwetel Ejiofor's performance compared to that of Jeremy Irons, but at least Ejiofor's quiet confidence is fitting for his commanding photo-realistic character. Frankly, the animated Scar had so much dimension and expression that complemented Irons' vocal articulation, you're just not going to be able to replicate that expression in CG—let's not forget when Will Smith unfortunately tried it.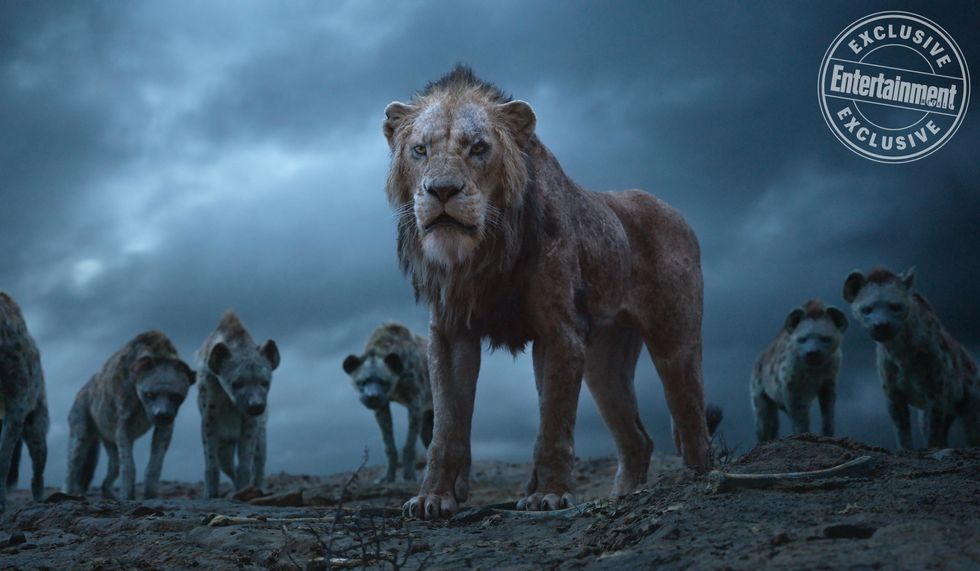 #HyenaGangEntertainment Weekly
Since this film is technically a musical, let's briefly touch on the musical performances: They're fine. It really seems like they were an afterthought, and I can't really blame Favreau for this. This biggest challenge to overcome was making literal singing lions seem convincing on screen, and I think he did the best he could. Still, the musical numbers from the original are so poorly replicated here that if they were something you loved from the original, you're going to be seriously disappointed. "I Just Can't Wait to Be King," the song that really kicks off the musical energy in the film, is very lackluster in its presentation. Remember that the hand-drawn original had colorful spectacles and dramatic actions, like Simba and Nala riding on the backs of f**cking ostriches and a cohort of zebras saluting them, culminating with a massive animal tower made of parading elephants, giraffes, gazelles, anteaters, and flamingos, with Simba and Nala standing on top! In comparison, this remake has Simba and Nala running around a pond, with those same animals there but not seeming to notice them: not really the same impact. They also dare to cut down one of the best songs from the original, "Be Prepared," to a 30-second chant, which I take personal grievance with. With the last song of the film, the quintessential "Can You Feel the Love Tonight," Faverou decided to have the whole song sung in Simba and Nala's heads, probably to avoid the awkward lip-syncing issues. It ends up feeling like a Nat Geo documentary with Beyoncé's vocals in the background.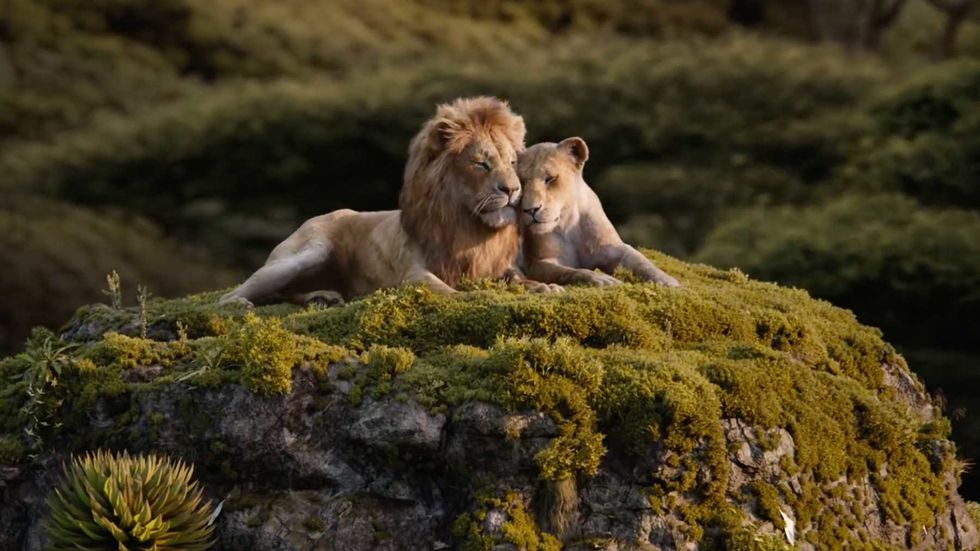 Oh look... some regular a** lions. How romantic.Disney
Surprisingly, the most disappointing performances come from Donald Glover and Beyoncé as Simba and Nala. I would guess they were both picked for their star-power and not necessarily for their voice acting abilities. Glover plays a pretty forgettable Simba, who lacks the headstrong and playful personality that Mathew Broderick brought to the original. That's not a huge gripe compared to Beyonce's performance, though. I'm honestly not sure what happened there. All of her lines are spoken as overly-enunciated statements rather than normal conversation, and it's so, so distracting. At first I couldn't understand why the first interaction between Simba and Nala is so awkward. There are long beats of painful silence between their lines, which gives you too much time to remember that you're looking at CG lions with inexplicably human voices… And then you keep thinking: "Oh, sh*t…Beyoncé's in this movie!"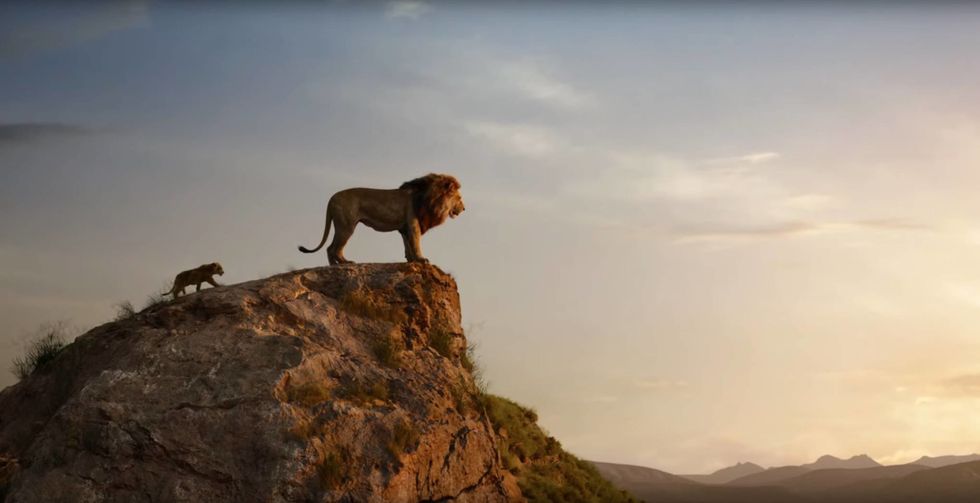 Mufasa is a badass, even in photorealism.Disney
Honestly, this movie is a lot of fun if you just enjoy it for what it is and don't expect it to capture the same wonder of the original. This movie is a big creative leap for Disney, but it's not exactly what any of us were expecting. The CG effects and character design in The Lion King 2019 are the absolute best I've ever seen, which is enough for me to want to see it again. But if you care more about seeing your beloved musical numbers and characters brought to new life on screen, you might not want to put down $15 to see this in theaters. If you've got kids, take them, and you won't be bored. But if you're emotionally invested, maybe wait for this to drop on Disney Plus in a few months. After all, this is just the latest flavor of 90s nostalgia for Disney to exploit, and amidst the company's ever-growing arsenal of remade animated classics, this one is sure to make a heap of money.

Rating: ⚡⚡⚡/5