While we'd argue that every dog is a good dog, the National Dog Show has become a wholesome Thanksgiving tradition that attempts to crown one pup the greatest out of nearly 200 breeds.
Politics and other touchy subjects might divide our families during the holidays, but there's one thing we can all agree on: Few things are better than watching a bunch of beautiful dogs flaunt their good looks and best behavior on TV. This year's king of the National Dog Show is Thor, an absolute chonker of a bulldog, originally from Peru, who now resides with his human outside of Philadelphia. Thor is two years old (though you can't tell with all those wrinkles) and weighs about 60 pounds. Bulldogs compete in the Non-Sporting Group, a diverse and competitive category of the dog show that includes the Dalmation, the Boston Terrier, the Shiba Inu, and more.
But Thor's stocky build and sweet temperament won over both the crowd and the judges, who named him Best in Show yesterday over six other finalists in their respective categories: Nick the Siberian Husky, Daniel the Golden Retriever, Maddie the Pharaoh Hound, Sophia the Old English Sheepdog, Bono the Havanese, and Blaine the Soft-Coated Wheaten Terrier. Thor has taken home a few Ws in smaller dog shows, but bulldogs have historically been overlooked and underrated at the national level. Thor's win is a victory for all the wrinkly boys out there.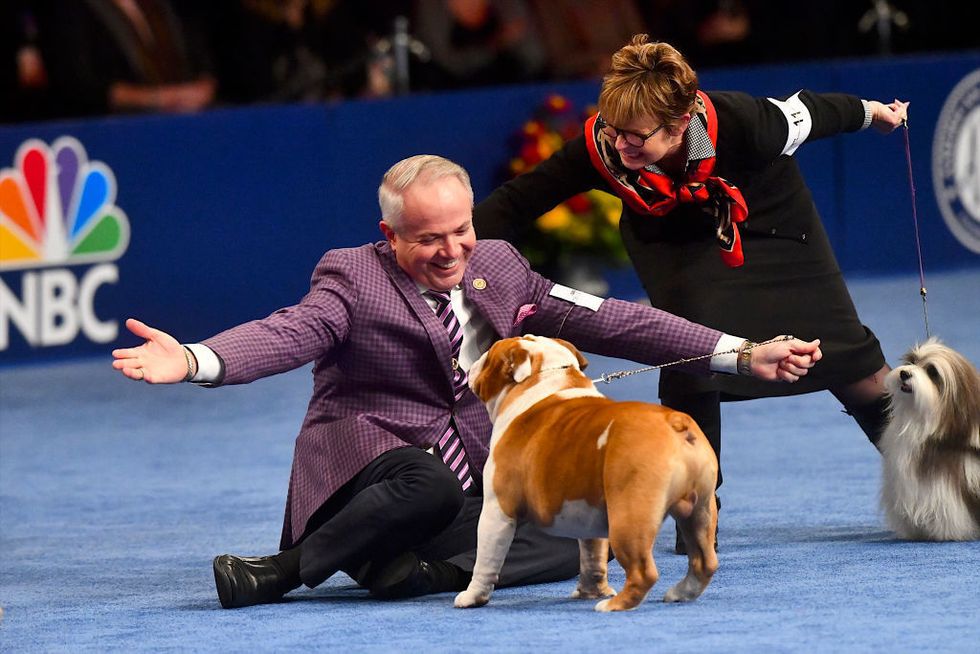 "Sometimes, up against an Afghan or some beautiful furry thing, it can be tough," Thor's owner Kara Gordon, who's been rescuing and breeding bulldogs for years, told the Philadelphia Inquirer. "But Thor is so structurally sound, when he moves—it's funny to imagine, but he sort of walks on air. Even when I walk him at home just around the corner, he walks like he's in the show ring."

Though Thor might exude majesty, his handler, Eduardo Paris, assures that he can be just as playful as the next dog.
"You should see how high he can jump," Paris said. "He loves to play with his kennel mate Chihuahuas, and he has beautiful construction. I think that's why he won."
Paris was clearly thrilled by Thor's victory, adorably going in for a hug as soon as his name was announced. Thor celebrated the best way we know how: devouring a giant, messy plate of food. We have no choice but to stan.