Thrive Causemetics is a vegan beauty brand with makeup and skincare lines available online.

Known for their Liquid Lash Extensions Mascara™, winning Allure 2020 Best of Beauty Award for Best Tubing Mascara and viral TikTok presence.
I decided to try out a range of everyday essentials from their line and see if the brand really does deliver on the hype.
Read below to see everything I got with $154 and how it worked out
Thrive Causemetics has been taking the beauty industry by storm.
The vegan, cruelty-free makeup powerhouse goes beyond products. Since their founding in 2015, they've been on a mission to help women thrive by donating millions of products and dollars to multiple causes such as women fighting cancer, surviving domestic abuse, emerging from homelessness, and women veterans. The Bigger Than Beauty™ initiative is not only admirable but Thrive Causemetics is incredibly transparent about where your money is going.
I wanted to get a better sense of the brand so I tested out the quality of their highly-rated products and some products that are still under the radar. Here's what I thought about each one.
The first product I tried from Thrive Causemetics was the Triple Threat Color Stick™.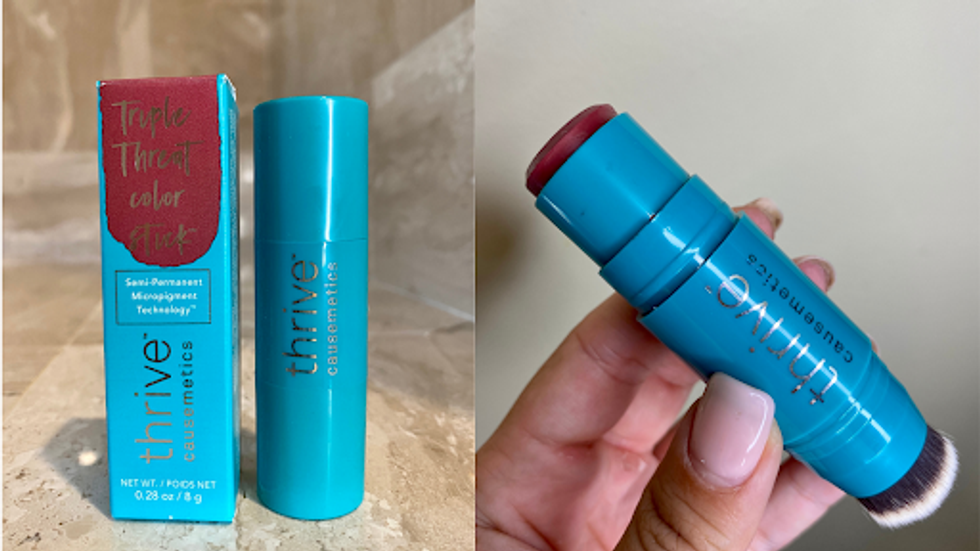 This $36 cream color stick is revolutionary. It really is a triple threat with the versatility to use on your face, lips, and body.
There are 7 shades to choose from and I went with Tessa, a berry matte color. I went straight for the lips and immediately felt a hydrating effect. Thrive Causemetics uses essential vitamins, evening primrose oil, and sunflower seed oil so this product isn't just for looks–it's hydrating.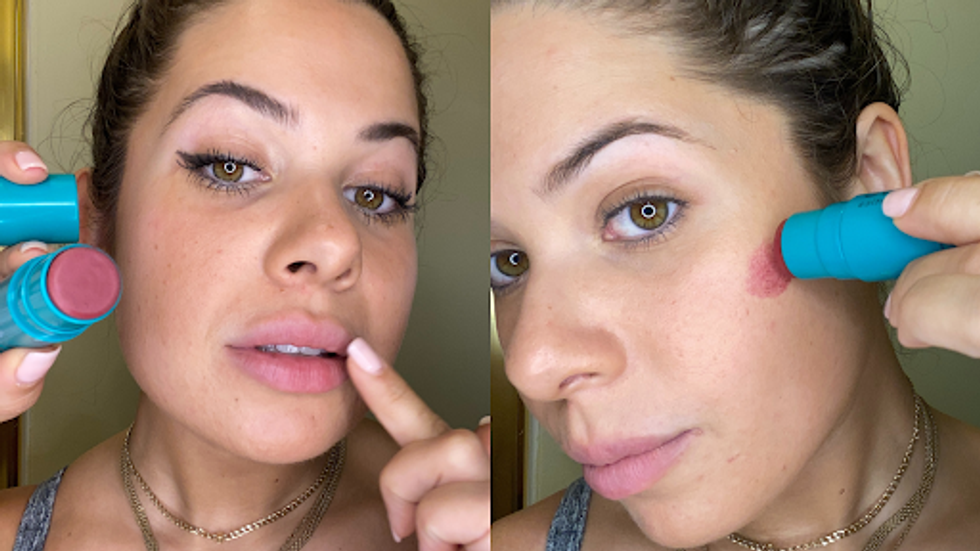 I then applied the Triple Threat Color Stick™ to the apples of my cheek. At first, I thought the berry matte wasn't a great blush for me, but then I used the Blend + Blur Sponge™ on the opposite side of the stick to soften the color. It was a glowy, natural flush in the end.
I've never been into eyebrow gels since the consistency or colors have always felt off to me, but I had to give this one a shot. I got this gel in shade, Serena (dark brunette - black), and they have two more options for those with lighter hair.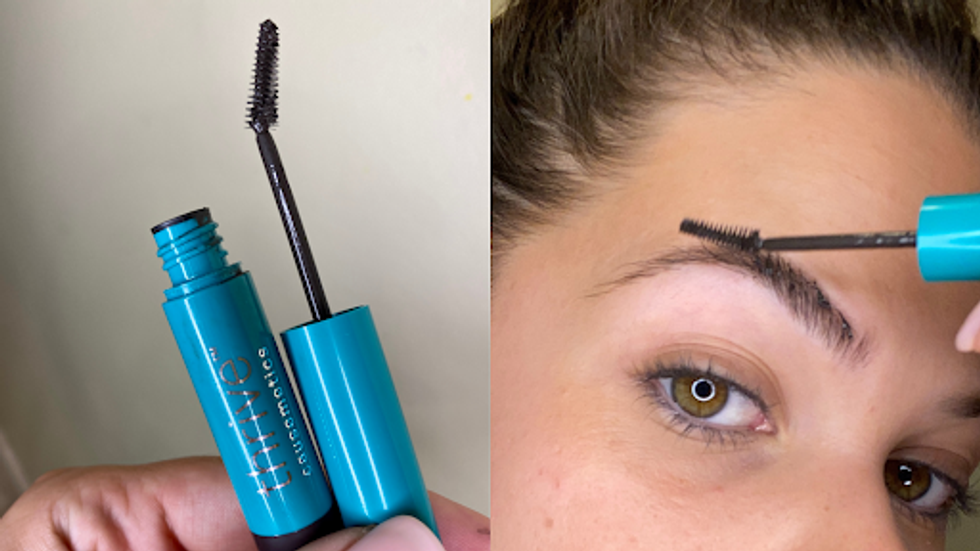 Following the site's advice, I applied the gel in the opposite direction of hair growth for added texture and color, and then combed it out. I was shocked by how natural and defined my brows looked.
I had heard of Thrive Causemetics' impressive technology but seeing it really makes a difference from the typical drug store brands.
Their Liquid Microblading Technology™ packs a punch with long-lasting effects. I can't wait to see how the gel gradually tints each hair over time with this $24 magical wand.
For years I disregarded eyeliner because I could never get it right. I took a gamble on this eyeliner, and it did not disappoint.
First off, the application was smooth sailing, gliding right onto the lid at the lash line. There are 7 shades, but I just used Lauren, a classic black matte for $22.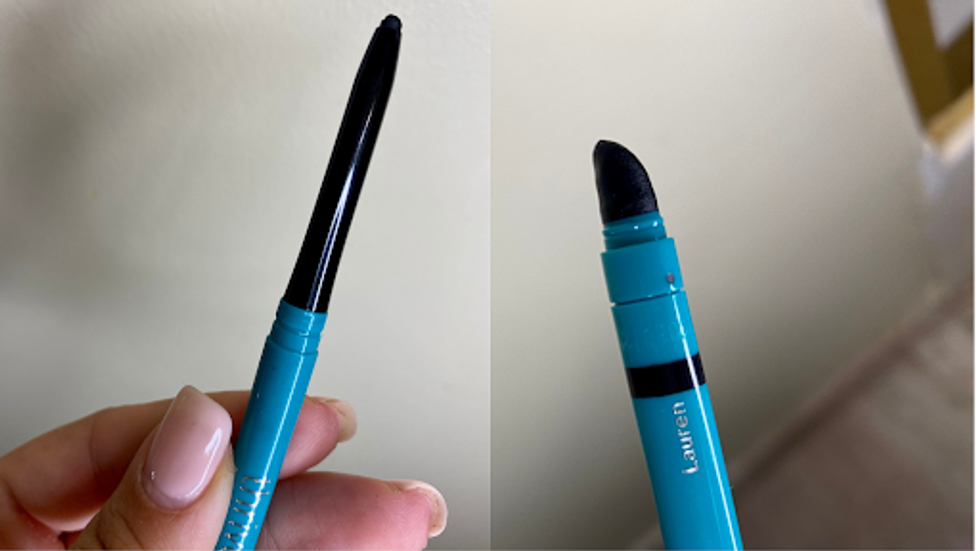 I occasionally rub my eyes (a habit I've been trying to break) and always stress about ruining my eyeliner in the process. Thrive Causemetics uses Semi-Permanent Micropigments™️ in many of their products, including this liner, so it's smudge-proof for all-day wear. It also sets in just 30 seconds, which is enough to fix any mistakes but quick enough that I don't mess it up while waiting like other liners that take forever to dry.
The angled smudge tip on the other end of the liner is excellent for a smokier style. I never would've even attempted blending out my eyeliner before Thrive Causemetics made it so easy.
Usually, I would jump to mascara next but Thrive Causemetics has another eye product that I've been dying to try. So I uncapped the Brilliant Eye Brightener™ and got started.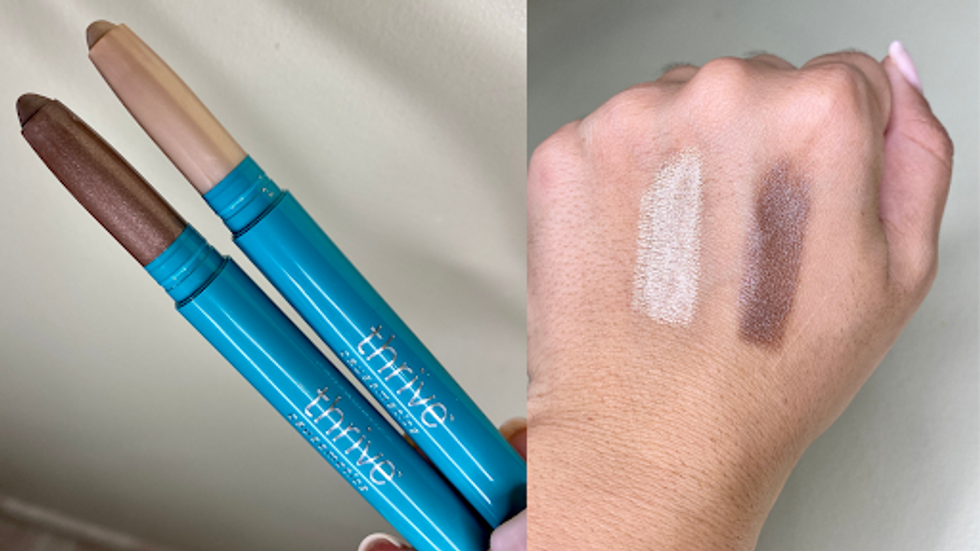 When I was looking at all 13 colors I couldn't choose just one and ended up getting Stella (Champagne Shimmer) and Muna (Mauve Taupe Shimmer) - each costing $24.
For my first look, I decided to use Stella to brighten up my eyes. Right away, the texture hit me - an initial creamy application with a powder finish. I followed their tips and applied below the brow bone and in the inner and outer corners of the eyes.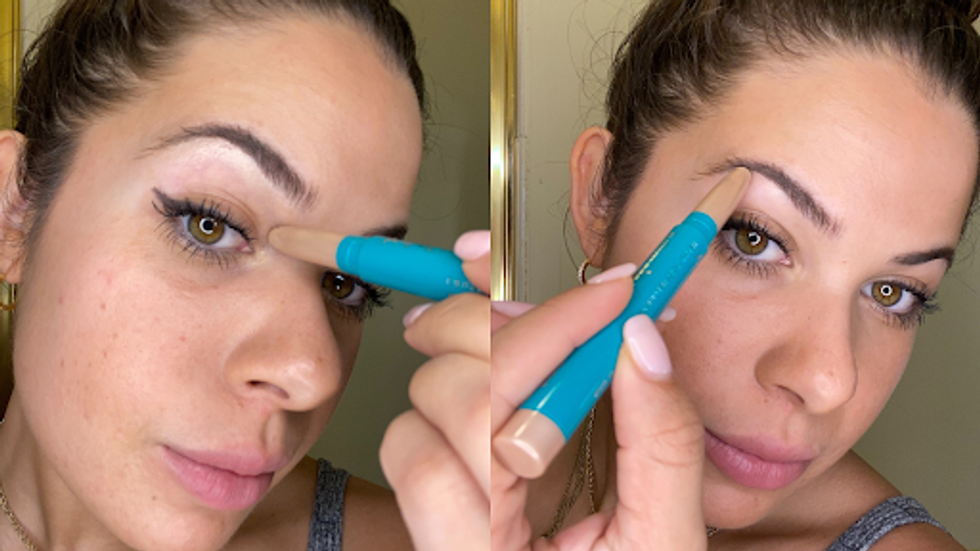 The Ring Light Technology™ had my eyes looking more awake than ever before. This is a new must-have for all my morning meetings because the application is super quick and easy.
It can also be swiped across the lid as an eyeshadow. I'm excited to use Muna for a night out and Stella for my day-to-day makeup.
To top it all off, I finally got to Thrive Causemetics' holy grail: the Liquid Lash Extensions Mascara™.
Just because it's award-winning doesn't mean a product is actually worth it … but this mascara really does live up to it's accolades. I didn't want to love it, but the results are undeniable.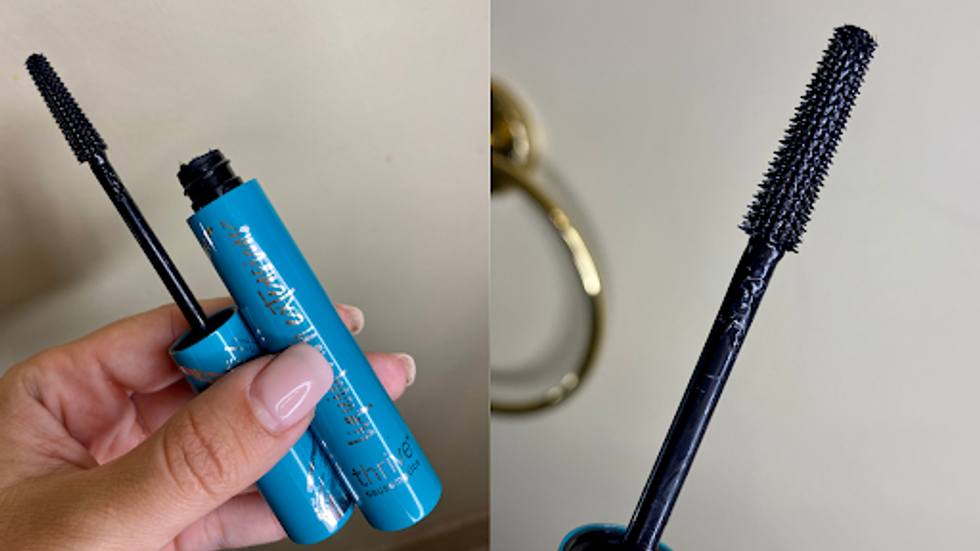 For $24, you not only get a lot of product but a ton of volume for your lashes. Just one coat gave me the effect of falsies, and its Flake-Free Tubing Technology™ lets me add on a few more without fear of clumping. Also, if you've never tried a tubing mascara before it's a game-changer. It washes right off without leaving you with any residue or raccoon eyes - why aren't more mascaras like this?!
I've always been warned that overusing mascara would damage my lashes but Thrive Causemetics utilizes nourishing ingredients throughout their entire line.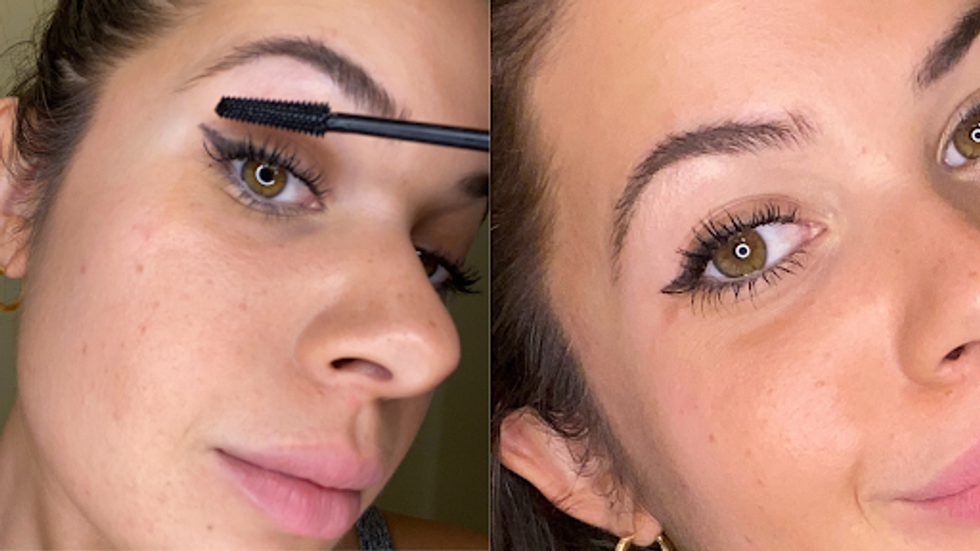 This mascara gave my lashes unbelievable curl and definition. You certainly won't find me in the drug store makeup aisle now that I can get this miracle worker delivered to my door.
The hype is real because their line is not just effective, but also great for your skin (as great as makeup can be).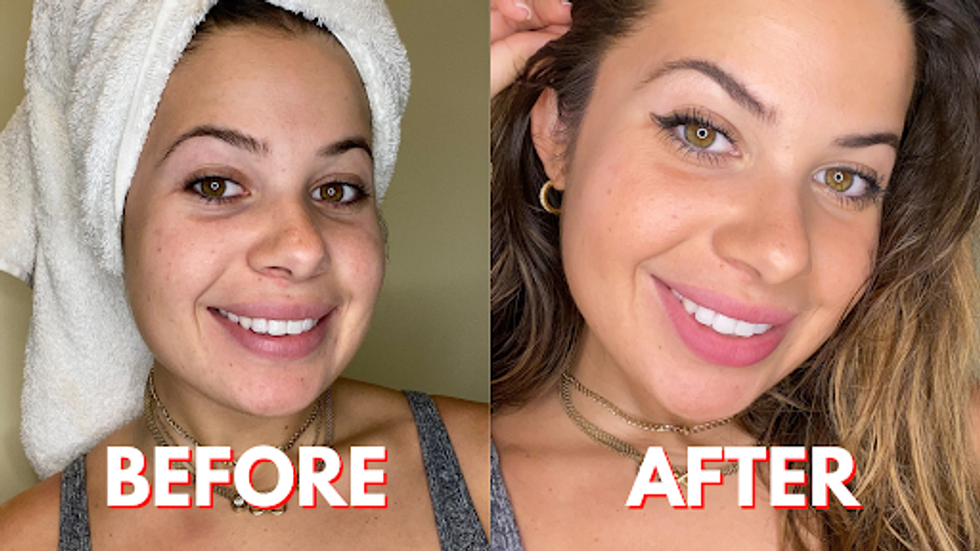 With these products, I can achieve a quick and flawlessly glowy, natural look or an all-out glammed vibe. Choose a couple of essentials to get started, and I'm sure you'll find yourself collecting all the shades in no time.
Thrive Causemetics is proof that vegan makeup works when it's done right, and I am officially a fan of this leading beauty brand. Get your haul on and discover your favorites.