Culture Feature
There was crying, there was politics, there were sparkly dresses.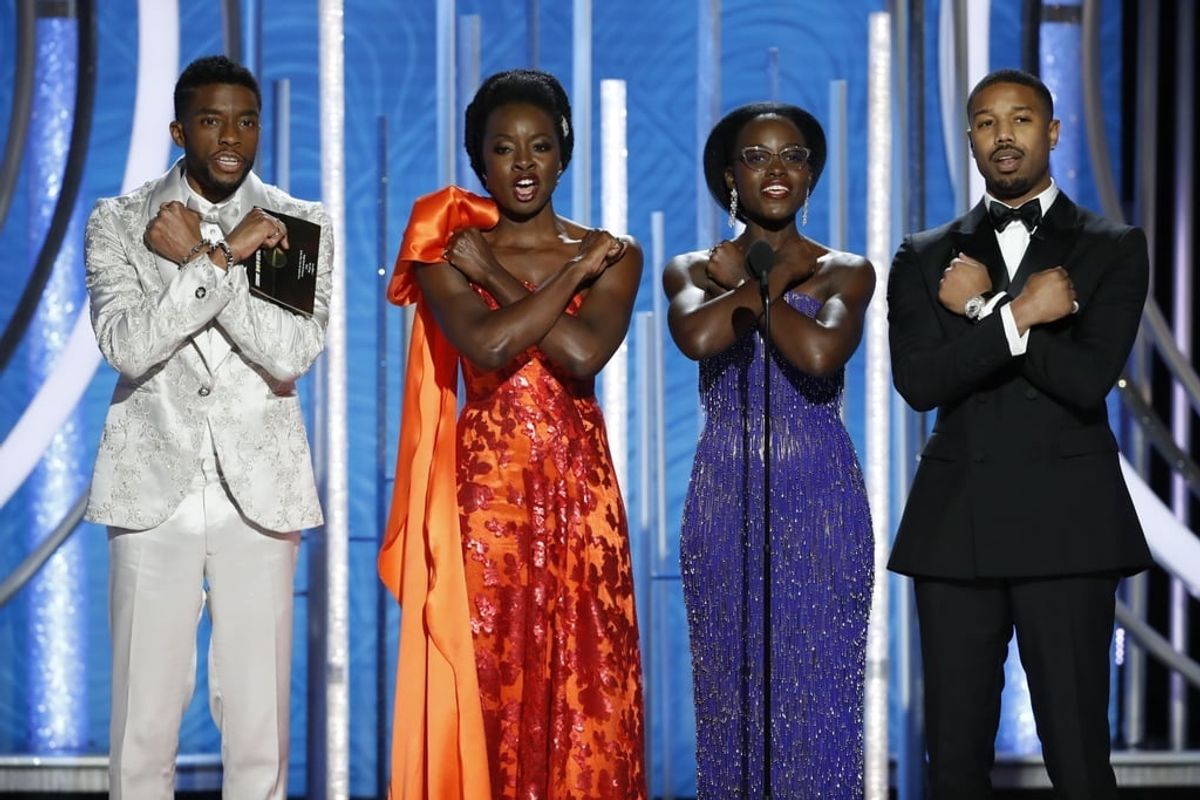 PopSugar
The 2019 Golden Globes were full of meme-able moments, here are a few of our favorites.
Regina King refusing to be played off
2019 Golden Globes: Regina King 'Beale Street' Acceptance Speech youtu.be
We hope whoever DARED interrupt Queen King with the "please stop talking" elevator music has been sentenced to the stockades. Luckily, she ignored it and continued on with her inspiring speech, vowing that in 2019 every movie she produces will have a cast and crew that's at least 50% female.

Bill Murray appearing to say "Oh No" upon seeing that Green Book won best movie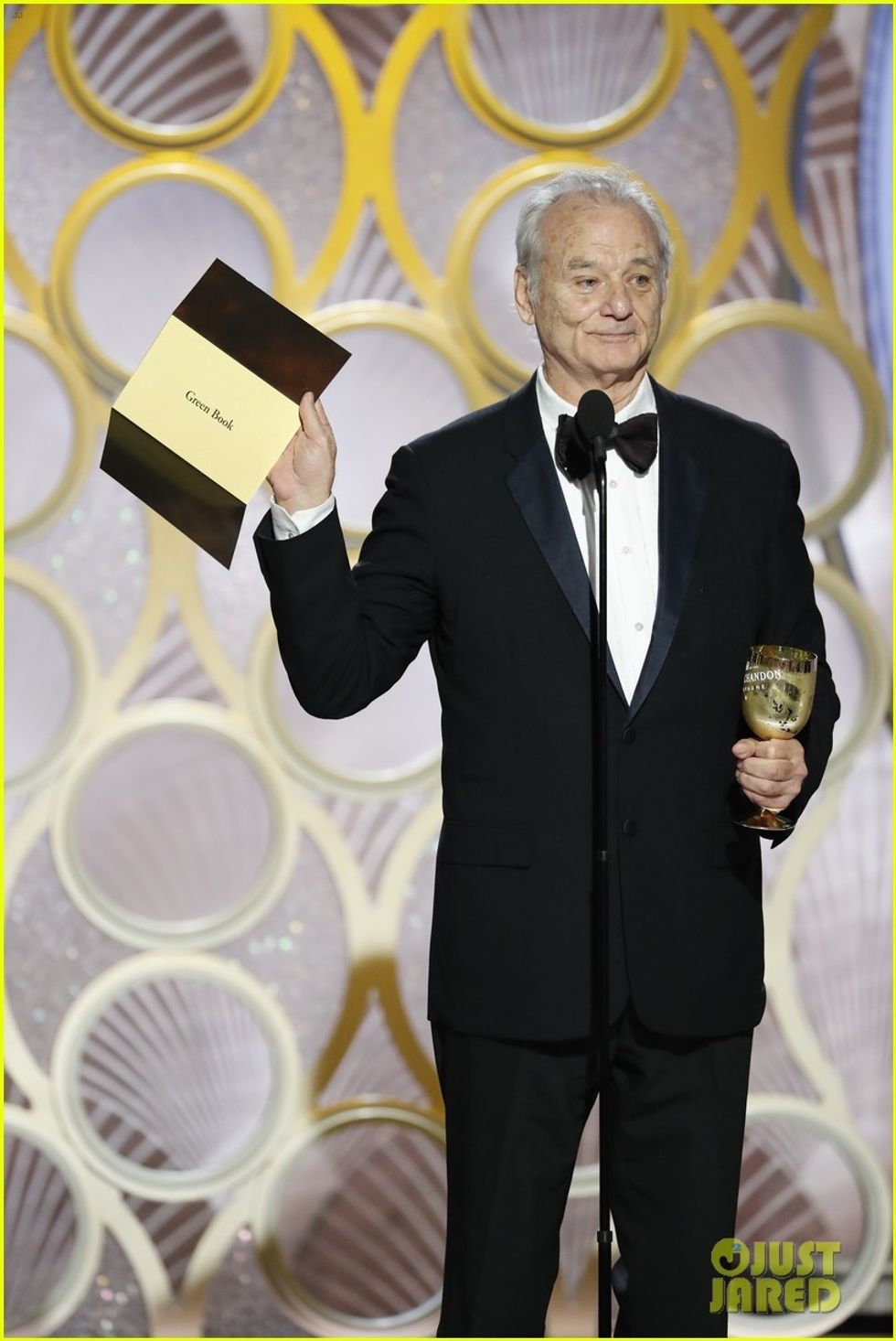 Billy Murray's dead pan is always a delight to behold, as is his "I'm too old and famous to give a shit what you think of me" attitude. Both were on prominent display at this year's Golden Globes as he announced the winner for the best musical or comedy category. He opened the card as he finished making a joke about having many friends in the category, and appeared to read the card, say "Oh no," and then announce Green Book as the winner. Given the controversy surrounding the film, we can't help but agree with Bill's take on the matter.

Carol Burnett blessing us with her presence and sparkly jacket
Carol Burnett Is Honored for Achievement in Television - 2019 Golden Globes (Highlight) youtu.be
Comedy legend and TV pioneer Carol Burnett received the first ever award named in her honor. She looked incandescent, effortlessly charmed the room, and proved why she'll always be an icon. She said in her acceptance speech, "My first love growing up was the movies. I would see as many as six to eight films a week with my grandmother, who raised me," Burnett told the crowd. "Then later when I was a teenager we got our first television set. Then I had a new love."

Olivia Colman calling co-stars Rachel Weisz and Emma Stone her "bitches"
Olivia Colman Wins Best Actress, Musical or Comedy - 2019 Golden Globes (Highlight) youtu.be
If you've seen a show or movie where the characters have English accents, Olivia Colman was probably in it. She's a brilliant actor, and now officially our favorite person because in her acceptance speech she said, "Cor blimey ... ma bitches, Emma and Rachel, thank you." Hell yeah.

Emma Stone's screamed apology
Sandra Oh: ["Crazy Rich Asians"] is the first studio film with an Asian American lead since "Ghost in the Shell" an… https://t.co/xDmBwx3rWz

— David Mack (@David Mack) 1546823376.0
At the beginning of the evening, host Sandra Oh joked about the whitewashing of Asian characters in Hollywood, saying, "It is the first studio film with an Asian-American lead since Ghost in the Shell and Aloha." In response, Emma Stone, who played a half-asian character in Aloha, could be heard in the audience yelling, "I'm sorry!" We respect her remorse, timing, and boisterousness.

Maya Rudolph and Amy Poehler being pros
Maya Rudolph Proposes to Amy Poehler - 2019 Golden Globes (Highlight) youtu.be
As precious as Sandra Oh was, her and Andy Samberg didn't mesh well on stage. Their lack of energy and chemistry was never quite as noticeable as when Maya Rudolph and Amy Poehler were at the podium, and immediately made the live/at home audience wish the SNL alum were the ones hosting. Rudolph's fake marriage proposal to Amy Poehler was such pure, enjoyable comedy, that the stage seemed to dim when the two comedians exited.
Everything Sandra Oh did all evening
2019 Golden Globes: Sandra Oh Thanks Parents During Killing Eve Acceptance Speech youtu.be
That red pantsuit, that heartfelt opening, that puffy sleeved dress! We were smitten with the Killing Eve star, and apparently the Hollywood Foreign Press was as well, since Oh took home the Golden Globe for best dramatic actress, the first asian woman to do so. After receiving the award, she thanked her parents, who were beaming at her from the audience, and they shared a heartfelt bow after she told them she loved them in Korean. The whole nation ugly cried.

Christian Bale thanking Satan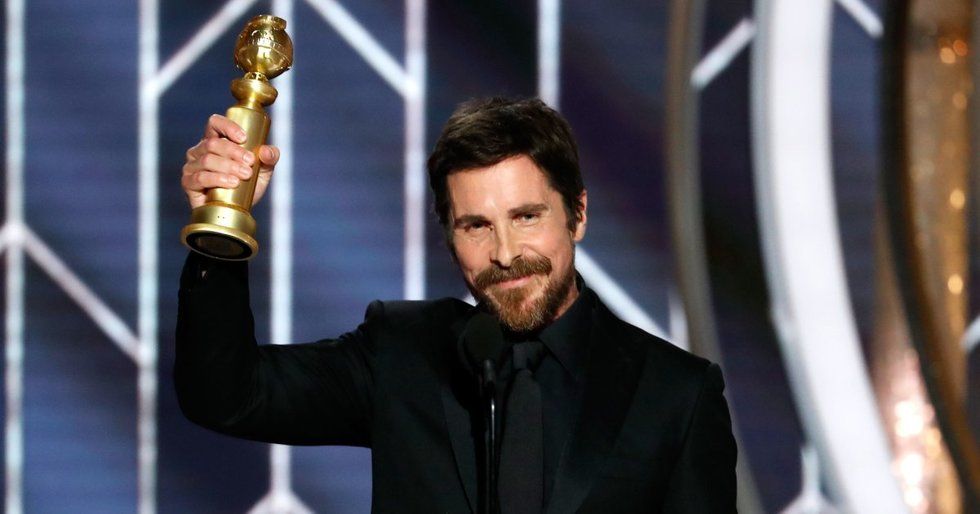 Twitter Goes Wild Over Christian Bale's Accent and Kids' Names www.usmagazine.com
While accepting his Golden Globe for best actor in a comedy for his role as Dick Cheney in Vice, Bale said, "Thank you to Satan for giving me inspiration on how to play this role." Dick Cheney's daughter is not particularly pleased about the comment, but in Bale's always surprising Cockney accent (raise your hand if you assumed he just spoke like Batman all the time) the comment was a perfect molotov cocktail of crossing the line and charm.

---
Brooke Ivey Johnson is a Brooklyn based writer, playwright, and human woman. To read more of her work visit her blog or follow her twitter @BrookeIJohnson.
---
POP⚡DUST | Read More...
Don't Try the Apocalypse at Home: Netflix Discourages Viewers from the "Bird Box" Challenge
Jordan Peterson and the Myth of the Modern Man
Kanye Begins New Year with Political Rant; Expects 4th Child with Kim Kardashian Wes