By: AWNewYork/Shutterstock; Emily Ratajkowski, NYT Best-selling Author, Entrepreneur, and Model

I once wrote about how the world was not yet ready for Revenge Emily Ratajkowski. But that was three months ago. And I – and Emily – have changed. I'm no longer fearful of a woman-scorned Emily Ratajkowski but of Bitch Era Ratajkowski.
During the three months since I initially jested that we should keep our eyes on Pete Davidson during Rata, post-divorce, it appears that no one kept their eyes on Davidson. His undefeated, unmatched, and frankly unbelievable streak of pulling continues even after he literally branded himself for Kim Kardashian. DeuxMoi has spoken, and Pete and Rata are together.
To which I say, of course. Have we forgotten her late-night appearance with Seth Meyers from over a year ago when she gushed about the Davidson effect? Where she defends him against Seth?!
"I think you're being a little mean! He's got the height. Obviously, women find him very attractive." She then continues on to say that it's only men who simply don't understand 'what that guy's got':
"He seems super charming. He's vulnerable. He's lovely. His fingernail polish is awesome. He looks good. He's great."
The devil's in the details and these details have Davidson all over them.
But the Bitch Era is about far more than just men and ass-less chaps. It's about the ability to do it all without giving a f*ck.
Ratajkowski graces the November '22 covers of both Elle UK Magazine and Harper's Bazaar where she discusses everything from babies to politics to sexism and racism. These explosive pieces mark the end of Ratajkowski as a one-dimensional poster-girl plastered all over boys' bedrooms. Here is a multi-faceted businesswoman and writer with something to say.

Her conversations continue in her recently released podcast, High Low, with a lineup – so far – including Alex Cooper from Call Her Daddy and Josh Safdie's muse, Julia Fox.
I hate to be that person that says I told you so, but I was right to be fearful of Revenge Rata – she just calls it her Bitch Era.
CULTURE
The Balenci-essies are Balenci-messies
Image via Gabriele Holtermann/UPI/Shutterstock / Balenciaga Store in New York City, United States - 29 Nov 2022
Balenciaga is no first-time offender. The infamous fashion house has been riddled with controversy for years. From its less-than-quick dealings with their Kanye West collaboration post-Ye's antisemitic comments to their blatant appropriation of Black culture.
They're also behind the $600+ Crocs Stiletto – just to provide deeper insight into how Balenciaga will do anything for the bag.
And while sometimes $2,000 bags that look like paper and $300 barrettes warrant eye rolls and 'that's showbiz baby,' this time around Balenciaga's most recent campaign passed from morally grey to morally nonexistent.
TL;DR: Balenciaga is facing major backlash for two separate ads: one featuring children with BDSM teddy bears, the other displaying a newspaper headline about a court case that asserts that child pornography isn't protected under the First Amendment. Oh, and Kim Kardashian and Julia Fox are there, too.
Their holiday '22 campaign went viral for all the wrong reasons. Children were posed with teddy bears flaunting leather harnesses and bondage-style fishnets. And in front of them were flasks, chain necklaces, and drinking glasses.
Balenciaga has since apologized for the images, stating that children shouldn't have been in the ad. But not before they dropped a separate ad for their upcoming SS23 collection in collaboration with Adidas. You know Adidas – the brand that 'would never drop Kanye'? Well . . . they did. And the brand stood to lose them $650 million dollars but lost Kanye $2 billion dollars – just something to keep you warm at night.
While on the surface the images for the SS23 weren't nearly as horrific as children with BDSM teddy bears, it's what's behind it. The photo was recently deleted from the Balenciaga site as well as the entire internet. But in it, a Balenciaga bag rests on several newspapers – one headline refers to United States v. Williams – a 2008 Supreme Court case, which held that it's not unconstitutional to forbid the promotion of child pornography.
Balenciaga has since also apologized for the ad featuring the court case, noting that they had no idea it was going to be in the ad, while simultaneously saying they believed the newspapers to be fake headlines.
While they've acknowledged they allowed several risque and tasteless situations slip through the cracks of their entire fashion house – and marketing and legal and every relevant department – Balenciaga has sued North Six, the production company that created the ad for $25 million. Balenciaga claims that North Six included the documents "without Balenciaga's knowledge or authorization." And that the production company associated the brand's good name with "the repulsive and deeply disturbing subject of the court decision."
However, North Six and the set designer for the campaign, Nicholas Des Jardins, will not go quietly into the dark night. Following the lawsuit, Des Jardins' attorney shot back to Balenciaga:
"Moreover, representatives from Balenciaga were present at the shoot, overseeing it and handling papers and props." Brankov's statement continued "and Des Jardins as a set designer was not responsible for image selection from the shoot."
While North Six states that they, "did not have creative input or control over the shoot. North Six was not on set during the final set arrangements."
And in a non-related quote, and regarding even more non-related people:
"And why is it, when something bad happens, it's always you three?"
Kim. Julia. Kanye. I'm begging.
People have begun calling on Kim Kardashian and other female faces of Balenciaga like Nicole Kidman and Bella Hadid, to denounce the brand and its most recent outrages. But not on Julia Fox's watch – or her TikTok.
Julia Fox took to her TikTok to defend Kim Kardashian, saying that asking Kardashian to speak against Balenciaga is internalized misogyny. Confused? Same. See below.
Whether or not it's internalized misogyny to hold Balenciaga and the entirety of their organization – including ambassadors – culpable is clearly up for debate. What's not up for debate is allowing major fashion houses – and those who profit from them – to skirt social and moral responsibility in the name of 'cutting edge, high fashion.'

References:
https://www.cnn.com/style/article/balenciaga-lawsu...
By Jordan Edwards

Turnstile were nominated for three Grammy Awards earlier this month, capping an unlikely two-year rise to become one of America's biggest bands. But was it really out of nowhere?
Sure, they don't have a hit radio single. "HOLIDAY" doesn't appear in a crucial Netflix series scene (it should). But a popular song on social media or streaming platforms doesn't always translate to a building a giant fanbase. Louis Theroux isn't selling out The Shrine.
Instead of charting how the Baltimore band got to this point, let's talk about why they became so popular.


Rock is Back in Style
Rock music is simply bigger now than it's been since the early 2000s. There's absolutely a right place/right time element to all this.
But just being a rock band doesn't equal popularity. Frontman Brendan Yates' voice is perfect for this era. Part Perry Farrell, part Ian McKaye, he can soar one moment and shout over a monster guitar riff the next. It's easy to listen to, and it's appealing to different types of fans.
Turnstile at the Shrine Expo Hall in Los Angeles
Building a Fanbase
This is not a case of an obscure group suddenly landing a huge TikTok hit. The band has been together for more than a decade, releasing a steady stream of EPs and albums. Their versatile sound (we'll get to that in a moment) appeals to a larger audience than something that's strictly metal or strictly punk.

They've also toured with a wide range of acts including New Found Glory and Superheaven, always with the fan experience in mind. The TV appearances opened the door that was already being pushed open.

Versatility
Many outlets, including their hometown Baltimore Sun, have labeled Turnstile "hardcore punk." While some of their songs fall into that category, the band is much more than that. One of their Grammy nominations is Best Metal Performance for "BLACKOUT." Yes, the Grammy definition of "metal" is historically flexible, but "BLACKOUT" fits the category.

It's also clear the band is fond of the 1980s. "Fazed Out," for example, is closer to thrash than any brand of punk. And of course, one of the band's signatures is the subtle use of synths and pianos. Used sparingly, it's a secret weapon that acts as a palate cleanser.

While it's not rare for band to be versatile, it's rare for a band to be versatile and authentic. Anyone can rip a Randy Rhoads guitar solo, but does it feel natural?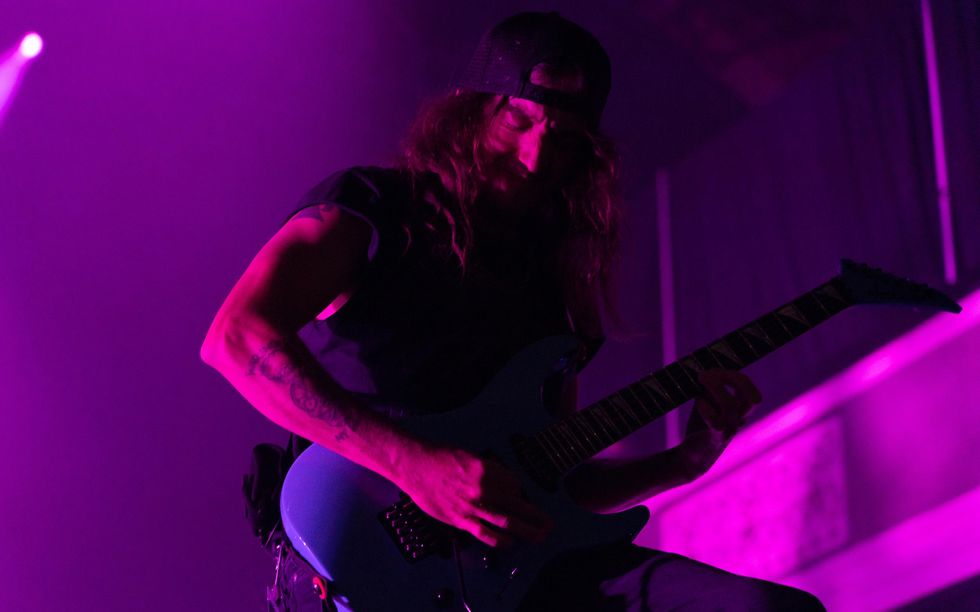 Turnstile at the Shrine Expo Hall in Los Angeles
Focus on the Music
The graphic on the banner that hangs behind drummer Daniel Fang is basically a giant pixelated dot. On stage, they mostly wear dark T-shirts and jeans. It's refreshing compared to the maximalist Y2K vibes embraced by the generation behind them, reminiscent of the flannels adopted by grunge bands. The simplicity and anonymity of that style was a response to the spandex and hairspray favored by the bands they were replacing.

Without this distraction, Turnstile has been able to perfect their distinct style.

They're Fun
The music is heavy, the imagery is dark, but the band doesn't take themselves too seriously. When we saw them in Los Angeles, the show started with a sing-along of Whitney Houston's "I Wanna Dance with Somebody (Who Loves Me)."

On Instagram and YouTube, they dedicate many of their posts and videos to fans enjoying their live show. They seem genuinely grateful for the support, knowing that their success is due to an old school devotion and love for rock 'n' roll.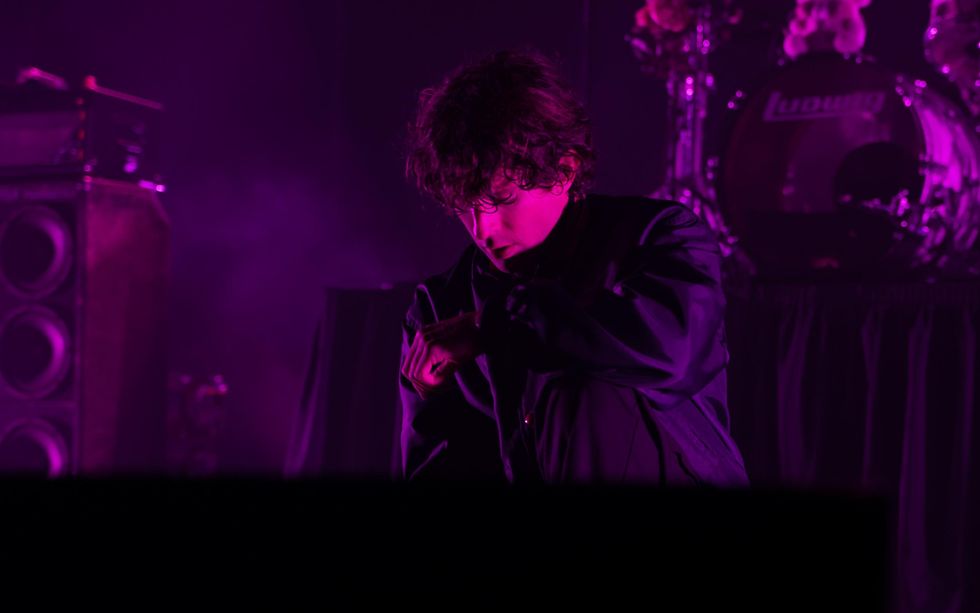 Turnstile at the Shrine Expo Hall in Los Angeles
With Grammy nods, big venues, and an upcoming arena tour with Blink-182, it will be interesting to see what the next wave of Turnstile music sounds like. Whatever they release, fans will probably love it and music nerds will (unsuccessfully) try to categorize it.

We can't wait.


TURNSTILE - BLACKOUT [OFFICIAL VIDEO]