CULTURE
I Feel Personally Attacked by the New '80s American Girl Doll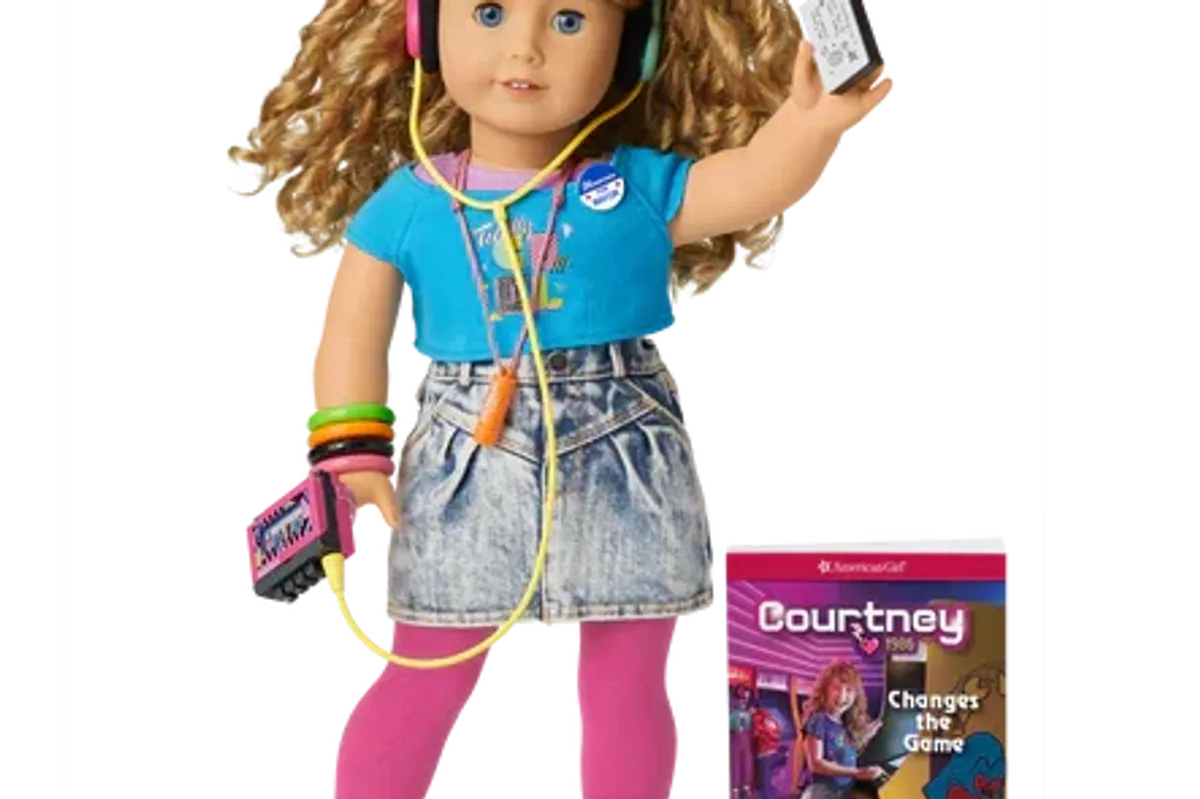 Americangirl.com
Few toys were as imperative to girls' childhoods in the 1990s and 2000s as American Girl dolls.
I vividly remember the excitement I felt when I received my first and only American Girl doll for Christmas when I was nine years old. The character was Molly, an argyle- and glasses-wearing installment of American Girl's historical series and whose storyline took place in the 1940s. Molly's father was stationed as a doctor in England while her mother worked for the Red Cross, so she spent a lot of time with her siblings and housekeeper.
After getting Molly, I'd spend the next couple of years collecting as many of her outfits as possible, while also harboring a precocious fascination with World War II and Nazi Germany. Yes, American Girl dolls were unfortunately expensive and therefore only available to well-off families—but they really taught us history!
Since 1986, the Pleasant Company (now Mattel) has manufactured a rotating cast of historical American Girl dolls, with each one representing a significant decade in American history. The first was Samantha, a wealthy girl growing up in the Edwardian era. Some of the other first American Girl dolls released were Kirsten, a Swedish immigrant; Addy, whose family escaped enslavement during the Civil War; and Josefina, who lived in New Mexico prior to its acquisition by the U.S.
But now I must be the bearer of bad news: American Girl just announced their newest character, whose storyline takes place in 1984.
American Girl is clearly running out of decades, and I feel ancient. This new character is named Courtney Moore, whose primary hobby is playing Pac-Man at the arcade. She comes wearing an acid-wash denim skirt and white leather booties that I must begrudgingly admit are extremely cute. Her accessories include a stick of LipSmackers on a lanyard and a cassette player. Let me spell that out for you: There is an American Girl doll who makes mixtapes.
But honestly, as much as they might've been a status symbol growing up, American Girl dolls did a fantastic job at getting young girls interested in history (even if it means you've been weirdly wanting to visit Auschwitz since you were in second grade). Each doll came with a corresponding series of short chapter books that taught about crucial periods in American history, like the Great Depression and the American Revolution.
American Girl dolls were fairly racially diverse, too. In 2002, they introduced Kaya, a Native American living on a reservation during the 18th century; and in 2016, they released Melody, a Black girl growing up during the Civil Rights movement. (Their Asian representation, however, leaves little to be desired.)
Having an American Girl doll got me way more immersed in the details of World War II than any of my history classes did growing up, and I'm sure my fellow former doll owners could say the same regarding their doll's assigned decade. But, while I personally was not alive in the 1980s, I do realize that the '80s were very recent.
I own clothes from the '80s. I regularly listen to music from the '80s. I have friends who were born in the '80s. I don't recall learning much—if anything—about the '80s while I was in school. And now American Girl is so casually releasing a doll who looks straight out of Stranger Things, as if to personally offend me.
Not to sound like a boomer, but this is the oldest I've felt since...last week, when I remembered there are currently students in college who were born after 9/11. But what terrifies me most is the realization that, logically, the next American Girl doll to be released will correspond with the 1990s, the decade in which I was born. Will she wear Dr. Martens and be radicalized by the music of Nirvana and Bikini Kill? I can only hope.