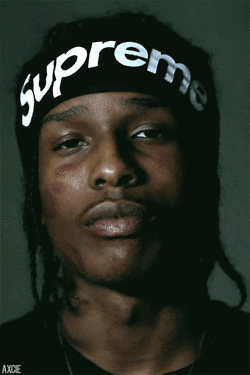 As reported by TMZ, Harlem-based rapper A$AP Rocky is experiencing a slew of human rights violations as he sits in an unsanitary jail cell in Sweden.
Flacko was taken into custody after beating on two men who had been following and harassing the group of friends. Video of the incident shows Rocky did his best to diffuse the situation. "Look, man, we don't wanna fight you, we don't wanna go to jail," he's seen telling one of the men after they struck his bodyguard with a pair of headphones, shattering them to pieces. The men continue to follow Rocky and his crew, demanding they compensate them for the broken headphones. "I understand," Rocky keeps saying, "but you hit him with it." The beating seemed well-deserved, especially after Rocky said on Instagram that the men had been "slapping girls' butts who passed [by]."
Rocky faces up to six years in prison for the assault and has been forced to sleep on a yoga mat without blankets while he is fed "inedible" food and water. Meanwhile, a mentally ill prisoner next to him continues to "smash his face" into a wall and hurl feces into Rocky's cell. The rapper has been living off of an apple a day. TMZ noted that the detainment is also a clear violation of the Vienna Convention for Consular Relations, which states that a United States citizen arrested on foreign soil is allowed to be granted a meeting with a U.S. Consulate. While Rocky requested the meeting, he was apparently denied by Swedish authorities, which is a clear violation of the treaty. When a representative was finally permitted to see the rapper two days later, their meeting was closely observed by a Swedish prison guard: a clear "intimidation tactic." Rappers have banded together to call for Rocky's release, but for now, all Rocky can do is wait.
I'm not goin nomo eitHer... #FLACKO https://t.co/oL0BUAjLIz

— ScHoolboy Q (@ScHoolboy Q) 1562621601.0
no more sweden for me, ever

— Tyler, The Creator (@Tyler, The Creator) 1562612552.0