FILM & TV
Season 2 of "Atlanta: Robbin' Season" is finally here!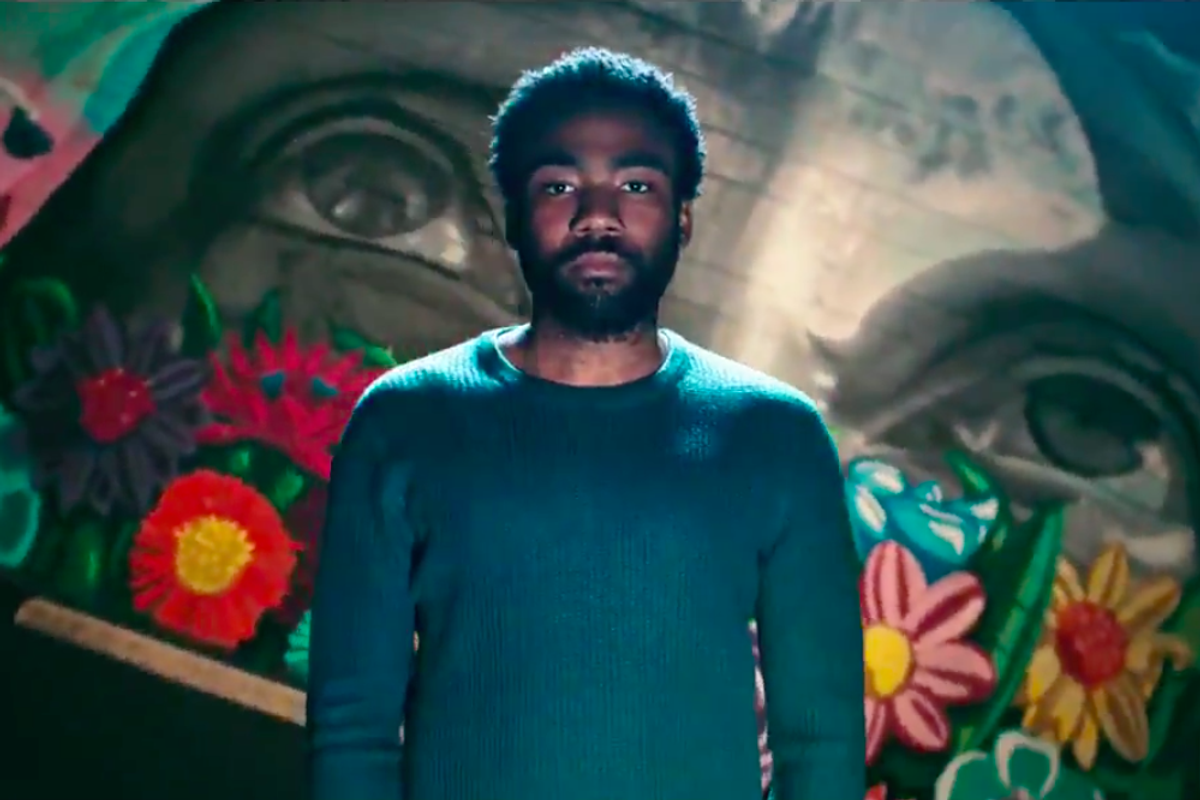 'Atlanta Robbin' Season' FX
A wise Snoop Dogg once said, "You can take your boy out the hood but you can't take the hood / out the homie."
If there's one thing Donald Glover's baby "Atlanta" is good at, it's nuance…finding truth in moments of silence. Glover knows how to communicate space in between things, people, dreams, realities—the finite space a body occupies at the start and end of a breath. Featuring a nearly all-black writers' room, cast, and production team, "Atlanta" is a show about being black made by black artists; it is not, however, a show that defines blackness, rather, how social and economic violence is imposed on black bodies as a symptom of being black. It's a show that blends surrealism with realism. It's a dark and beautiful paean to the city of Atlanta and those that live there, and ironically, it's also an outstanding comedy.
Season 1 experimented with character-themed vignettes, storylines that complimented each other like verses from an epic poem, and won Glover two Emmys and two Golden Globes. "Atlanta" is one of the only shows on TV where its characters continue to narratively develop without the audience knowing exactly how and why. It's a show that develops its ethos in lieu of linearity, and its characters are known so long as they are onscreen.
Glover took a brief hiatus from filming "Atlanta" after being cast as Lando Calrissian in the upcoming "Solo: A Star Wars Story" and touring his funkadelic soul album, "Awaken, My Love!." He also became a father—he's busy these days, partnering with his brother on another FX release, an animated series of Marvel's "Deadpool." Season 1 of "Atlanta" aired in 2016 and the long-awaited new season, "Atlanta: Robbin' Season," is two episodes in, and the show's signature dreamy spell is even more refined. The new season's subtitle refers to the city's surge of theft-related crimes during the holiday season: The first and second episode kick off with robberies, shootings, and gift card scams at the local mall, setting a darker tone compared to Season 1.
This time around, "Robbin' Season" probes success through a thematic examination of status. Alfred (Brian Tyree Henry), known locally as rapper Paper Boi, has garnered radio and club play following his first single in Season 1, but his newfound fame is a type of currency he's not economically/socially equipped to handle. Not entirely rich, nor entirely poor, Alfred cannot afford the luxuries of anonymity: having a weed dealer who doesn't sneak pictures for the 'Gram; security so he's not held at gunpoint; a manager who's not homeless; a house that's not in the hood. Status, alone, hasn't changed the quality of his life but the circumstances in which he's at risk.
Likewise, Earn (Donald Glover) questions his resourcefulness and disposability as a "manager," and Darius (Lakeith Stanfield) remains perplexed by his cosmic erudition, courtesy of weed and good vibes. Van (Zazie Beetz), Earn's on-and-off girlfriend, supports Earn when she's not plagued with the same frustration and disappointment that initially broke them up. The looming feeling that everything, at any a given moment, can crash and burn is what makes "Atlanta" such a slow-burning, intense watch; a claustrophobic energy envelops the characters, whose ambitions are delicately tethered to communities they simply cannot integrate into. A wise Snoop Dogg once said, "You can take your boy out the hood but you can't take the hood / out the homie." Paper Boi is learning this lesson in real time.
"Robbin' Season" is taking a closer look at the interpersonal disparity between friendship and business and the absurdity of being black and human in America. At its heart, "Atlanta" is a show about humanity, how people survive and the lunacy of survival and life itself. Often described as lucid, surreal, artful, (and a handful of other adjectives reserved for shows that deviate from traditional sitcoms, comedies, and dramas) "Atlanta" casts its spell again in Season 2, a hallucinatory dance with all the good and bad of humanity, and just how funny it all is when you really sit down to think about it.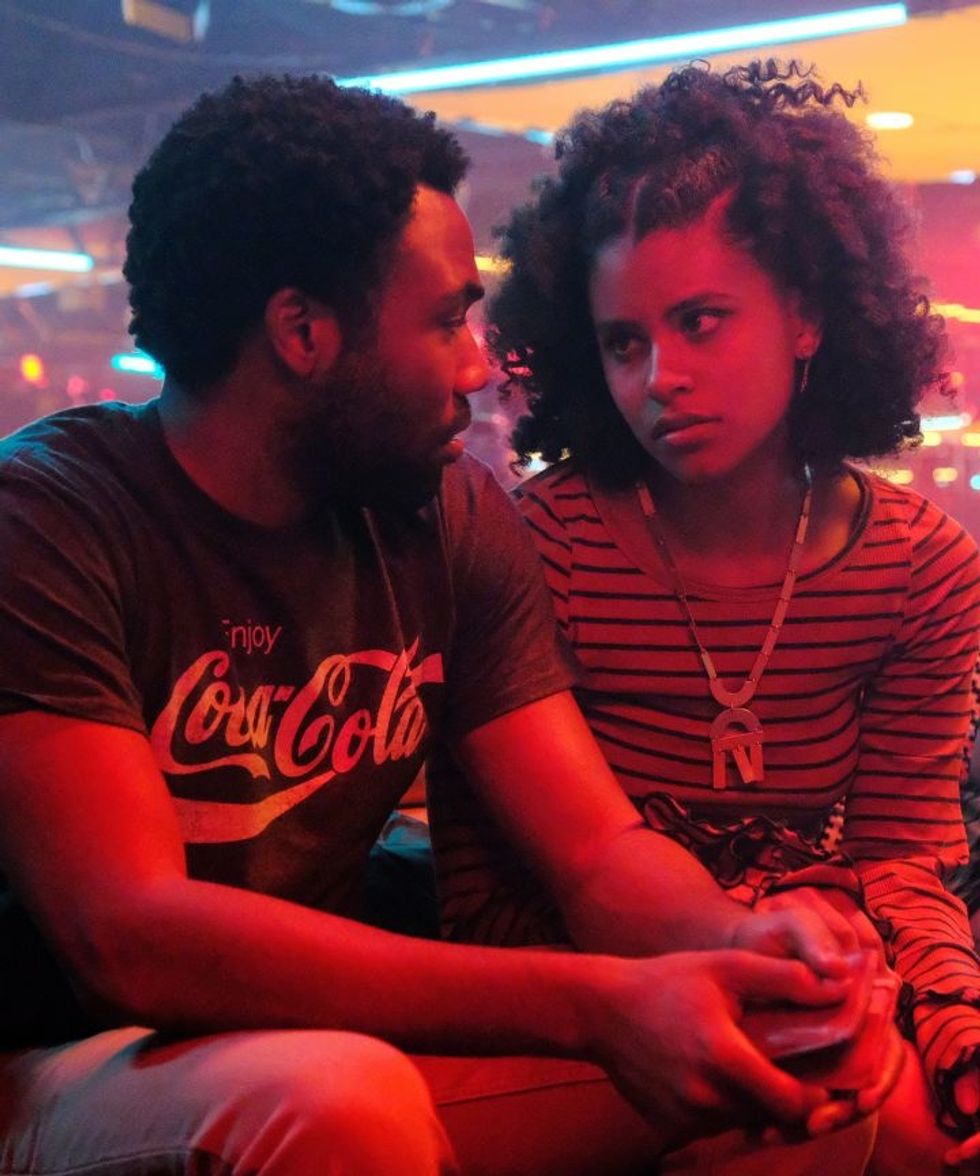 'Atlanta Robbin' Season'FX
POP⚡ DUST Score: ⚡⚡⚡⚡⚡
---
Shaun Harris is a poet, freelance writer, and editor published in avant-garde, feminist journals. Lover of warm-toned makeup palettes, psych-rock, and Hilton Als. Her work has allowed her to copyedit and curate content for various poetry organizations in the NYC area.
---
POP⚡ DUST | Read More About Film/TV...
BOX OFFICE BREAKDOWN | What's coming to theaters this weekend?
INTERVIEW | Composer Dominic Lewis
THE REAL REEL | "20th Century Women" Is As Relevant As Ever