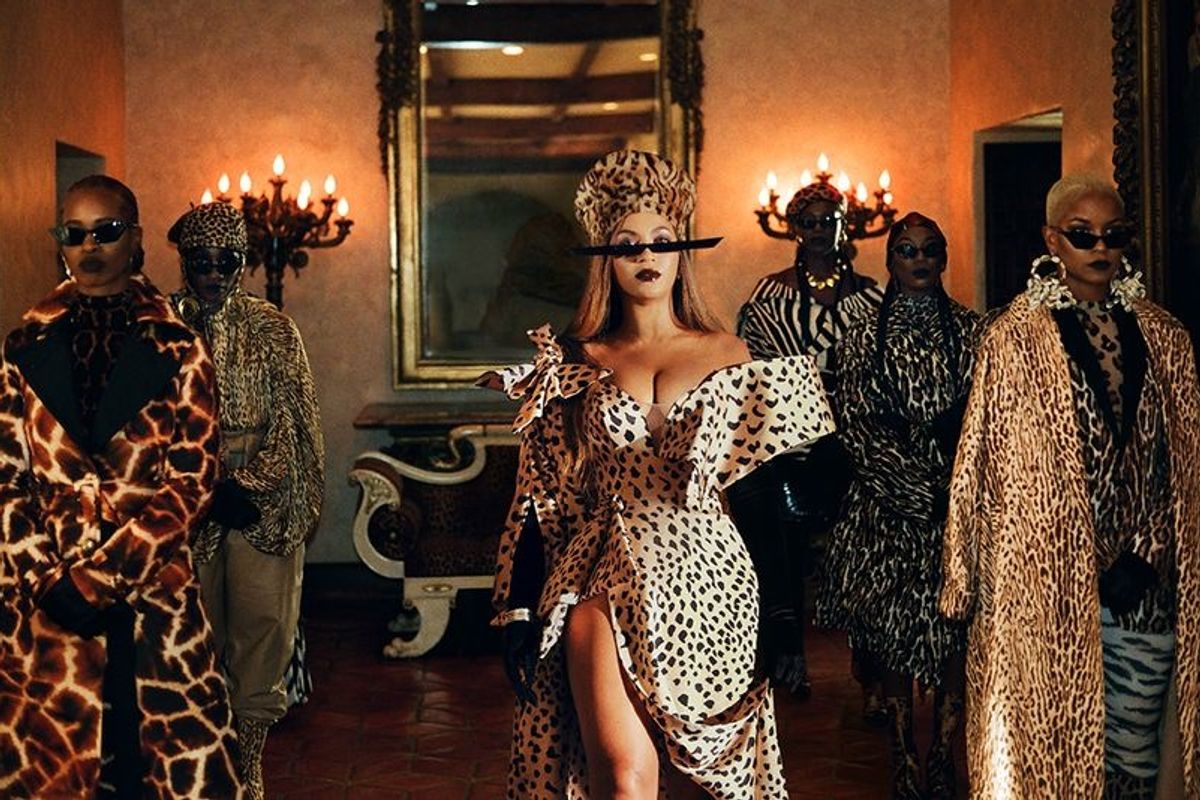 Beyoncé has released Black Is King, and as usual, her work is subtly shifting the world and inspiring millions.
The musical film dropped today on Disney+. It's a visual companion to 2019's The Lion King: The Gift, an album inspired by last year's remake of The Lion King, in which Beyoncé starred as Nala. The moment it released at 12AM PT, fans lost it with excitement.
BEYONCÉ SAVED MY LIFE. #BlackIsKing https://t.co/SY3S5kZsij

— 𝕾𝖕𝖔𝖔𝖐𝖞 𝕮𝖊𝖈𝖊 (@𝕾𝖕𝖔𝖔𝖐𝖞 𝕮𝖊𝖈𝖊) 1596226052.0
Black Is King is rooted in Black history. "History is your future," Beyoncé says prophetically toward the beginning. "One day you will meet yourself back where you started, but stronger." The film is studded with references to African history, portraying the lives of African royalty.
---
The best part about #BlackIsKing is when you watch Brown Skin Girl wondering how much you can cry before becoming c… https://t.co/0ytyw3HfEX

— amber ruffin (@amber ruffin) 1596225683.0
The visual album has taken on new resonance given the context of the last two months, as the Black Lives Matter movement and the fight against police brutality exploded into worldwide protests in the wake of George Floyd's murder.

The film is a loose retelling of The Lion King itself, except starring people instead of lions. In it, a young prince experiences a "transcendent journey through betrayal, love and self-identity," according to its liner notes. After his father is killed by a motorcycle, he runs away but receives guidance from his ancestors that help him grow and reclaim the knowledge he needs to take back his throne.
Beyoncé, Shatta Wale, Major Lazer – ALREADY (Official Video) www.youtube.com
The film was written by British poet Yrsa Daley-Ward, Jezebel culture editor Clover Hope, and Lemonade collaborator Andrew Morrow, and features more poetry from Warsan Shire, whose words peppered Lemonade.

"These timeless lessons are revealed and reflected through Black voices of today, now sitting in their own power," read the announcement. "'Black Is King' is an affirmation of a grand purpose, with lush visuals that celebrate Black resilience and culture. The film highlights the beauty of tradition and Black excellence."
The music itself is a collage of great artists, ranging from Childish Gambino, Kendrick Lamar, Pharrell, 070 Shake, Tierra Whack, Jay-Z, Blue Ivy Carter and Jessie Reyez, as well as African artists including Wizkid, Shatta Wale, Burna Boy, Mr Eazi, Tiwa Savage, Tekno, Yemi Alade, Busiswa and Salatiel.
The film has the Internet catching fire, celebrating the film's incredible costumes and its surprise cameos. Among the film's greatest gifts was the presence of Beyoncé's daughter Blue Ivy, who makes many cameos throughout and shows off her impressive dance skills during the song "My Power." (She also sings on "Brown Skin Girl.") Jay-Z also made an appearance (as the adult Simba), first appearing as he rolls up to the family mansion in his Bentley. The family's estate makes multiple appearances in the film, as does the family themselves. Other cameos include Naomi Campbell, Pharrell, Jessie Reyez, Lupita Nyong'o, Tiwa Savage, Tierra Whack, and many others.
Beyoncé's fashion, style, and costuming is another highlight. Spearheaded by designer Zerina Akers, the film's costume design is a blend of traditional African fashion trends and modern ones, made their own by Beyoncé and her powerhouse hive of companions.
Beyoncé gave us LOOKS!! #BlackisKing https://t.co/V9oZhiIdiK

— 🦄 (@🦄) 1596184536.0
Beyoncé in custom ashistudio. this embroidered couture piece took 70 hours of work, the exotic feathers were indiv… https://t.co/4nhygJfYdK

— posh 11/7 🦂 (@posh 11/7 🦂) 1596218483.0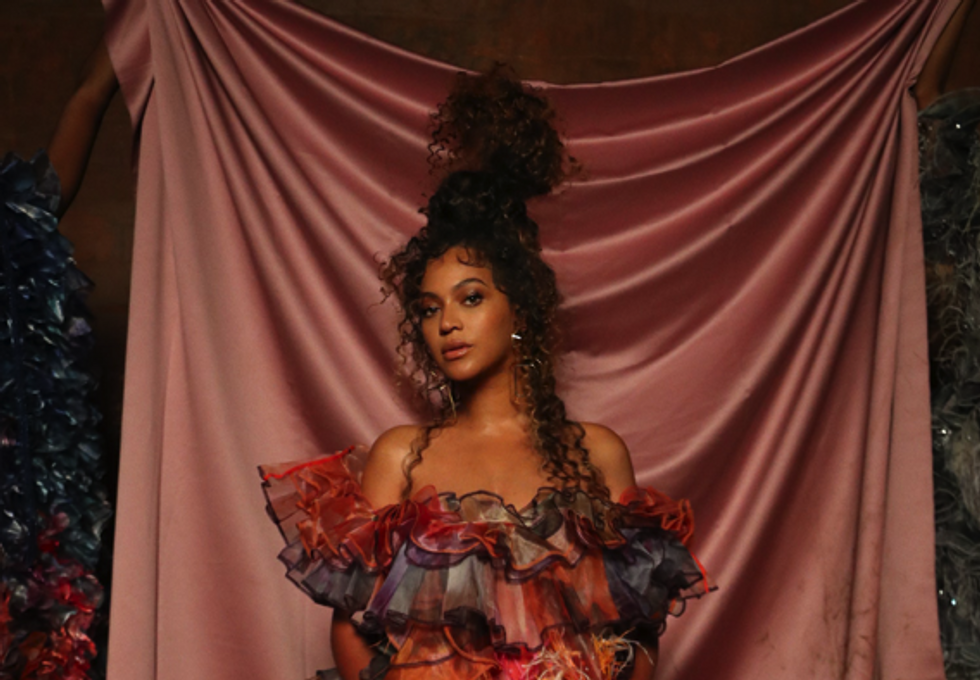 BeyoncéANDREW WHITE/COURTESY OF DISNEY +
The continent of Africa is also a major central focus, and the camera lavishes love on the continent, showcasing its gorgeous terrains, forests, waters, cities, and oceans. The film features models from across Cameroon, Ghana, Nigeria, South Africa, and many more nations.

It's so full of stunning imagery, artistic genius, and cultural relevance that certainly dissertations will be written about it, but Black Is King is also a celebration of people, designed to inspire kids and orchestrated to alter an entire narrative, destroying stereotypes and literally re-calibrating history. Only Beyoncé could pull off such a feat, but she does it by working in thousands of old stories, new stars, and modern and ancient themes, braiding them together into a truly triumphant achievement. All hail our truest queen.
From Your Site Articles
Related Articles Around the Web