CULTURE
The convicted sexual assaulter isn't backing down.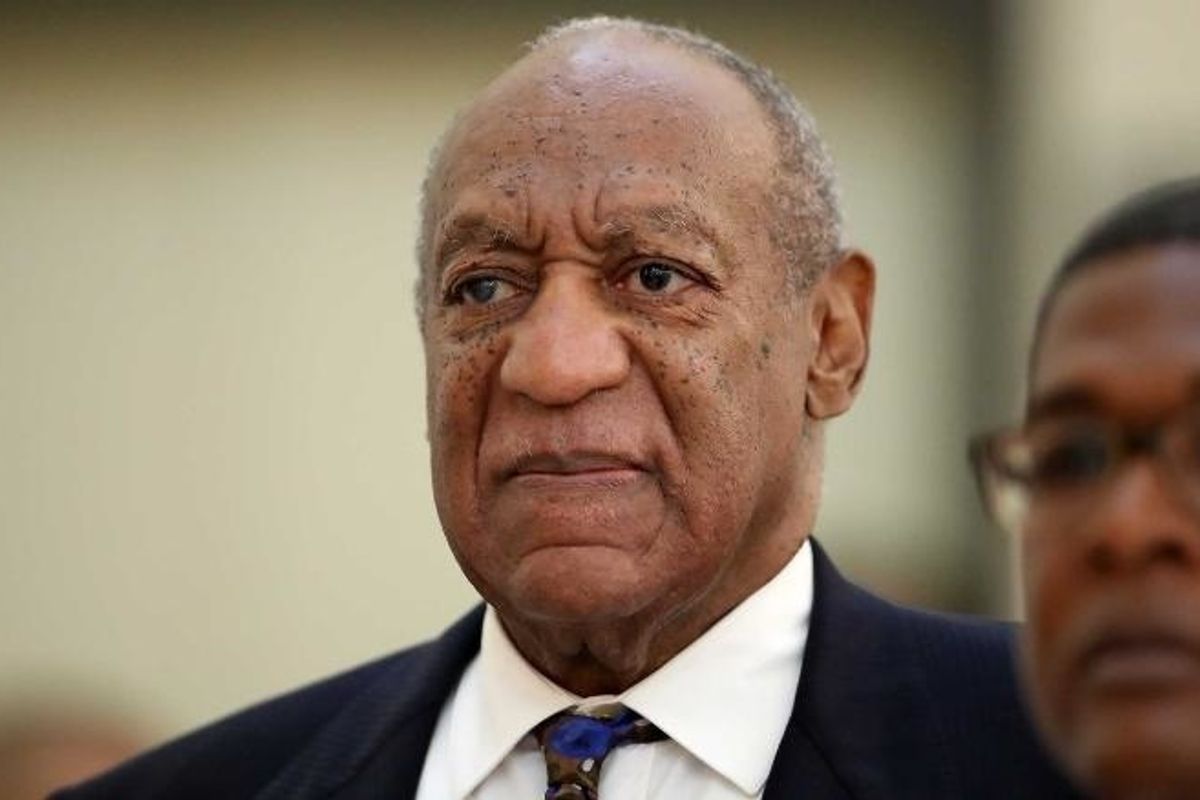 In 2018, Bill Cosby was convicted of drugging and sexually assaulting Andrea Constand—just one of five women who accused Cosby of sexual misconduct.
Cosby's lawyers have called these women "party girls," "pathological liars," and "robbers," claiming they're only in this case for potential financial gain. Though there have been years of rumors and allegedly dozens of victims, the famed 82-year-old comedian is still arguing that he's the victim in this situation and that the entirety of the case has been a sham. Recently, Cosby gave his first interview since beginning to serve his 3-to-10-year sentence in a maximum security penitentiary in Pennsylvania.
"It's all a set up. That whole jury thing. They were imposters," Cosby told Black Press USA.
Cosby received no special treatment during his interview. His spokesman, Andrew Wyatt, was also on the line, and Cosby's calls were limited to 15 minutes in accordance with the penitentiary's restrictions.
"It's all political," he argued. During his time in prison, Cosby has often spoken at meetings for Mann Up, an inmate reform program for African American men. In the interview, Cosby positioned his incarceration as an issue of racism and the disproportionate imprisonment of black people compared to white people. Though that gap is shrinking, the unfairness of the justice system against people of color is still a massive issue—however, for Cosby to blame his incarceration on race alone and continuously claim he's never committed sexual assault is entirely misguided and, frankly, disgusting.
We absolutely need criminal justice reform, especially as it pertains to race. But if Cosby wants to talk statistics, let's discuss how less than 5 percent of perpetrators in sexual assault cases get incarcerated. Let's discuss how about three out of four sexual assaults go unreported. And if Cosby wants to talk race in sexual assault cases, let's talk about how 22 percent of black women have been raped. Let's talk about the increased risk of domestic violence among black folks in the LGBTQIA+ community. Let's talk about sexual assault survivors like Cyntoia Brown, who at 16, shot and killed a man who picked her up for sex; she was tried as an adult and sentenced to life in prison. And let's talk about the exclusion of black women's experiences in studies of sexual assault on college campuses, and how these survivors are too often discouraged to come forward, especially if their rapist was a black man—largely in part to men like Cosby, who position it as a race issue in all the wrong ways.