Culture Feature
The singers latest workout post raises some confusing questions
On Wednesday Britney Spears revealed that she hadn't been in her home gym in six months because she had previously "burnt it down."
In an Instagram post the "Toxic" singer explains that at some point she left two candles unattended and "one thing led to another," and the next thing she knew she walked past the gym to see the interior being engulfed in flames. The room has apparently been out of commission since then, and now that it's restored to a functional state—cleaned, repaired, painted?—Spears writes that she has "only two pieces of equipment left lol and a one-sided mirror gym."
---
At 38, she looks as fit as ever, and after explaining the situation, she goes on to demonstrate the workout routine that she's adapted to her new set-up, shifting to an outdoor yoga routine halfway through and noting that she prefers working out outside.

In older posts Spears' home gym was populated by a healthy variety of equipment, so her description certainly makes it sound like the fire did some real damage. That said, TMZ reports that, according to an inside source, the "candle incident," was not quite as dramatic as Spears' "burnt it down" phrasing suggests. That makes sense, considering the seeming lack of flammable material in her gym—there's only so much that two candles can do. But it's still surprising that the fire, whatever the size, didn't make headlines at the time.
Adding to the mystery of the situation is the fact that, while Spears' gym does look sparser than it used to, there are at least three large pieces of equipment visible in her current setup, and they seem to be suspended in the infinite space between two mirrored walls. So… What is she even talking about?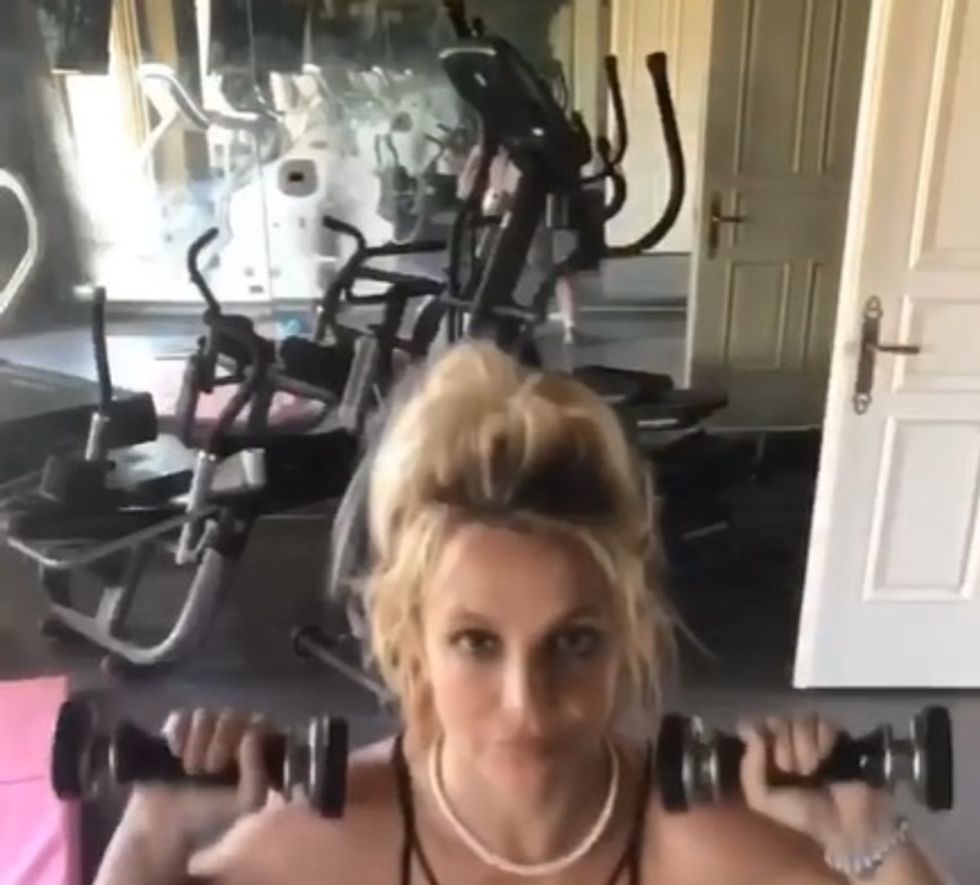 Is she exaggerating the situation to make an excuse for not working out? Considering how often she posts videos of herself dancing, doing yoga, etc. that hardly seems necessary—it's honestly impressive that she's able to do any of it so soon after she audibly broke her foot this February. Maybe she's just losing her mind in her current state of isolation—she has previously expressed how hard it is to be social distancing apart from long-time boyfriend, actor Sam Asghari. Is such a seemingly innocent workout video actually evidence that she's losing her grip on reality?

The more you delve into questions like these, the more it makes sense that so many of Britney's fans believe that she is being held captive and communicating secret messages through her posts. But the responsible thing is to let these things go, stop prying and dissecting every detail and just give her the privacy that she's requested (while we're at it, we can also take her advice by participating in a general strike). People miscommunicate all the time. Britney is fine...probably...we think.