CULTURE
The Charmin Bears Commercials portray a terrifying dystopia.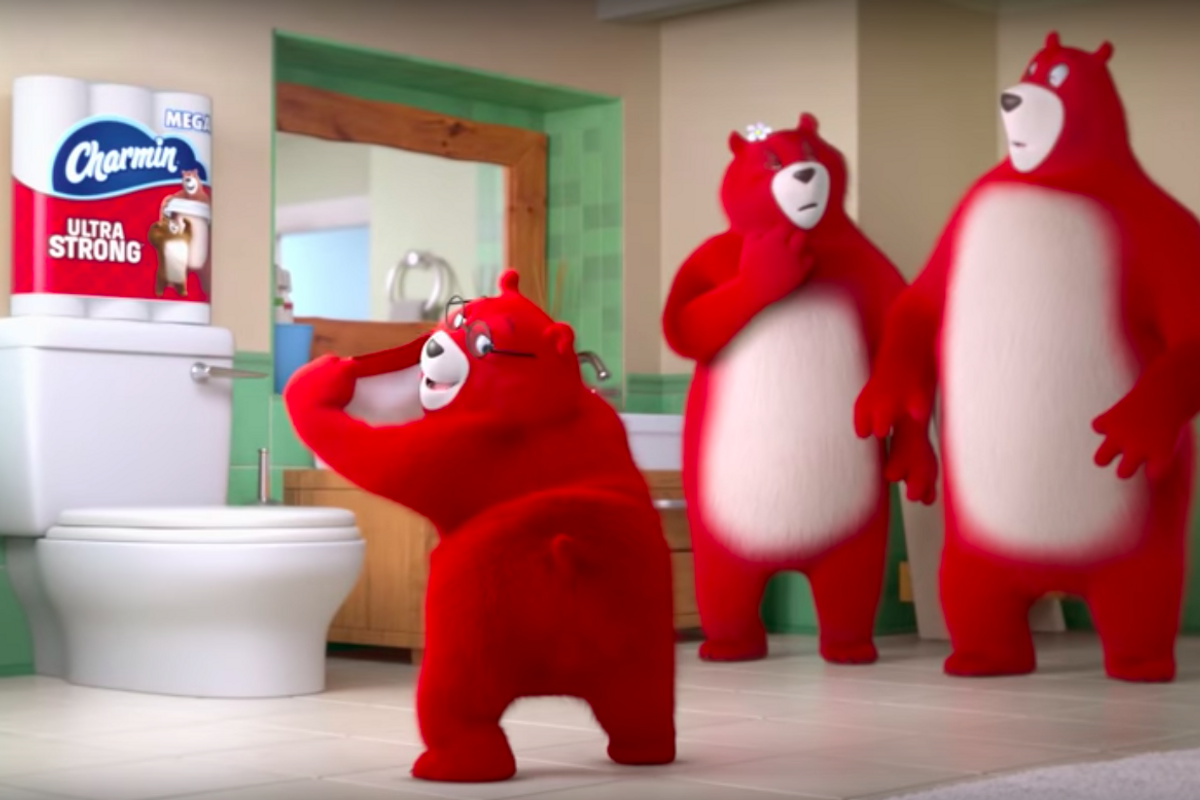 Charmin
When people imagine dystopian nightmares, they typically jump to fundamentalist-controlled governments or societies wherein technology has gone too far.
But the most terrifying dystopia on television isn't The Handmaid's Tale or Black Mirror. It's the society portrayed in the Charmin Bears Commercials: a hellscape so deceitfully lighthearted that it airs in the middle of even the family-friendliest programming.
Assh*le Inspection in the Family: Abusive Parenting
In a recent Charmin Bears commercial, Mama and Papa bear hem and haw over picking up a pair of underwear discarded on the bathroom floor. Enter Junior Bear to save the day. The bespectacled cub slides into the bathroom, picks up his used underwear, and proceeds to brag about the underwear still being clean, singing, "'Cause my heinie's clean / Oh yeah, I'm Charmin clean," while exposing his assh*le to his smiling parents.
Even Charmin Bear Cubs Know Charmin Ultra Strong Just Cleans Better | Charmin® Ultra Strong™ www.youtube.com
The Charmin Bears have been around since 2000, and throughout the past two decades, their commercials have firmly established a grotesque world order revolving around assh*le inspections.

"What is assh*le inspection?" you may ask. Great question.
In the Charmin Bears universe, asshole inspection is a practice whereby bears inspect other bears' assh*les for little chunks of stray toilet paper. Yes, this a real, established, concept in the Charmin Bears canon.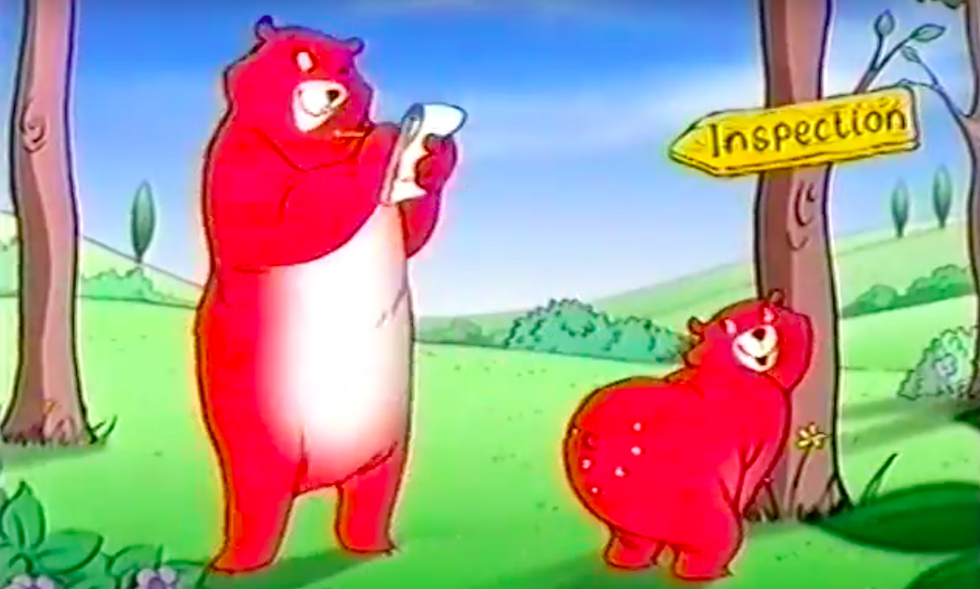 Charmin
No, I have no idea why they do this, but it can't be overstated how much of a core element assh*le inspection is in these Charmin Bears' lives. They inspect each others' assh*les constantly. Literally anything Junior does seems to be a perfect excuse for the parents to look at his assh*le.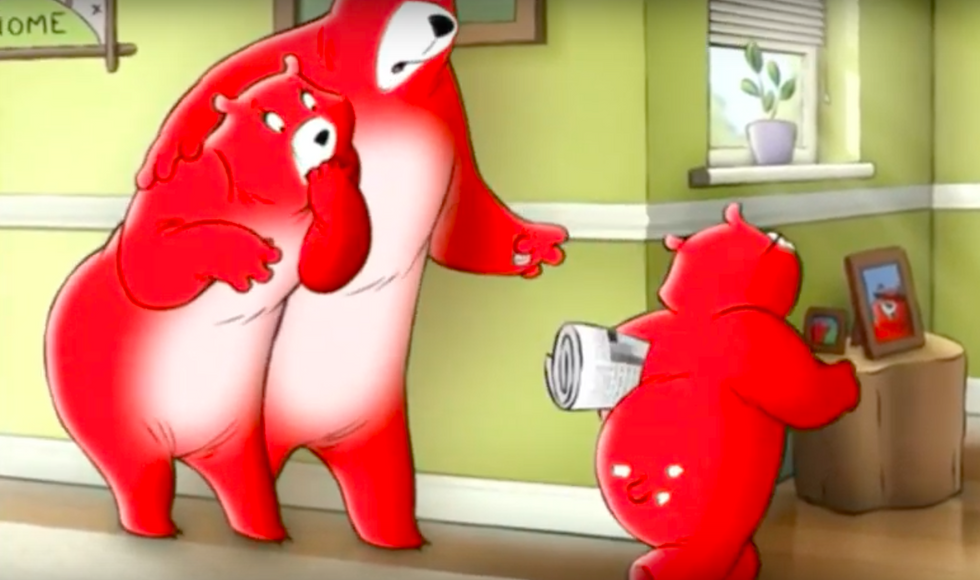 Charmin
Junior tries on a silly robot costume? Great time to check out his assh*le.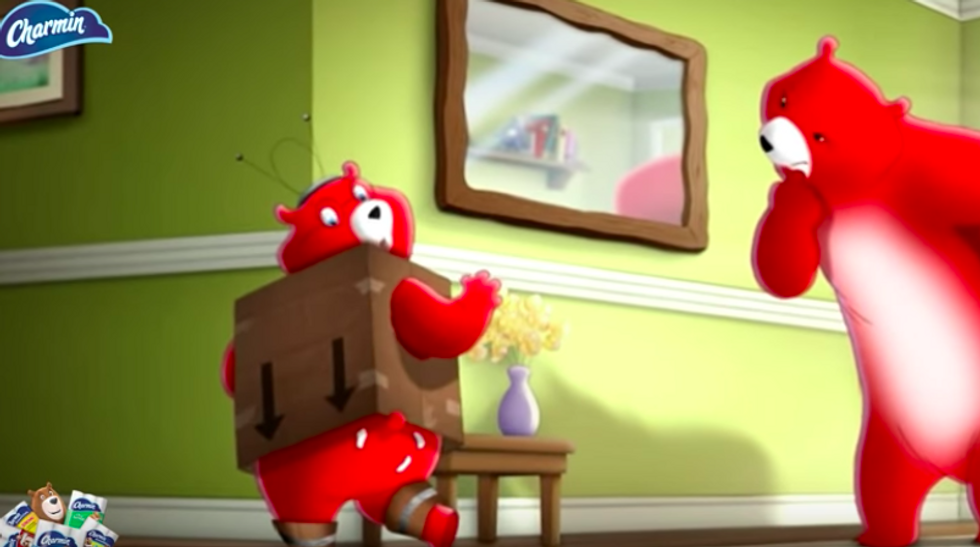 Charmin
Junior dresses up for a fancy dinner? Assh*le check.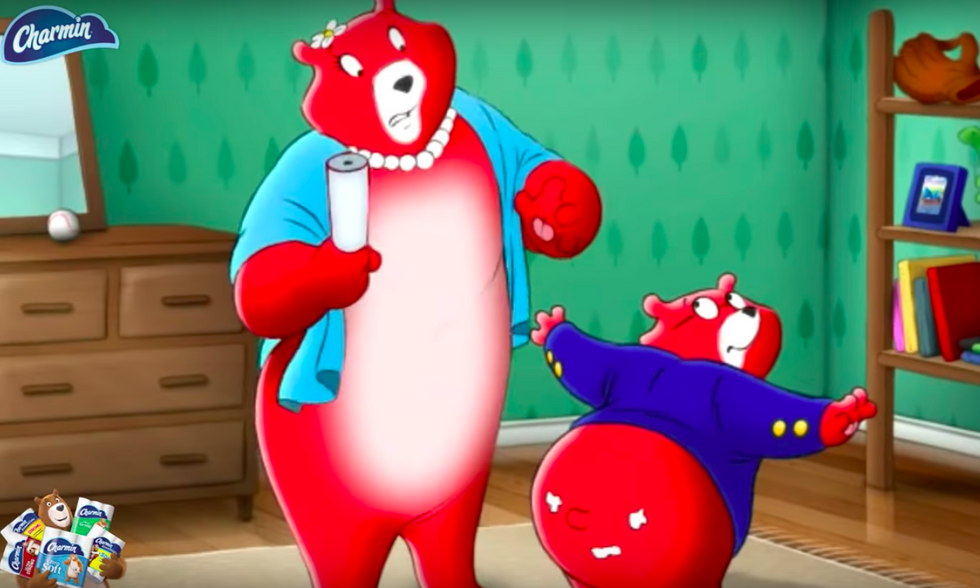 Charmin
Junior plays football with dad? You know that's an assh*le check.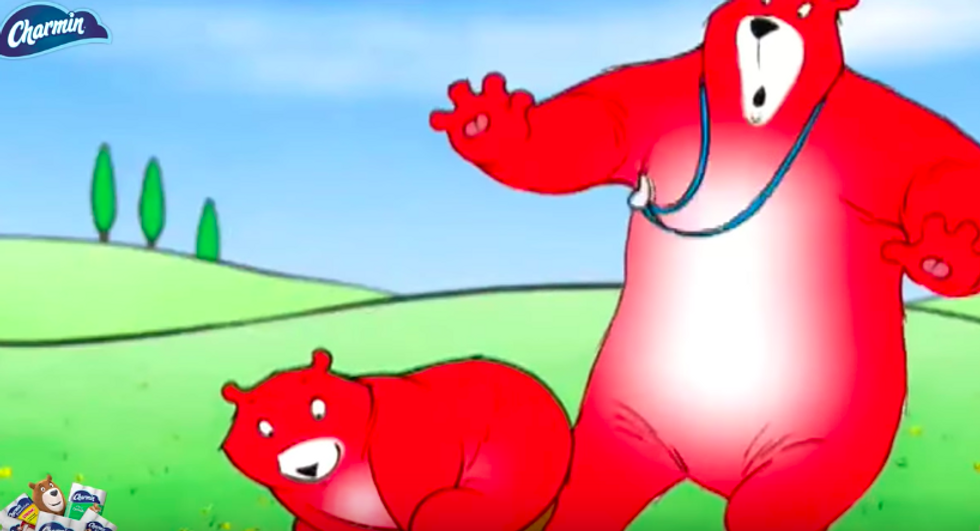 Charmin
Oh yeah, we get that assh*le check from dad's POV, too.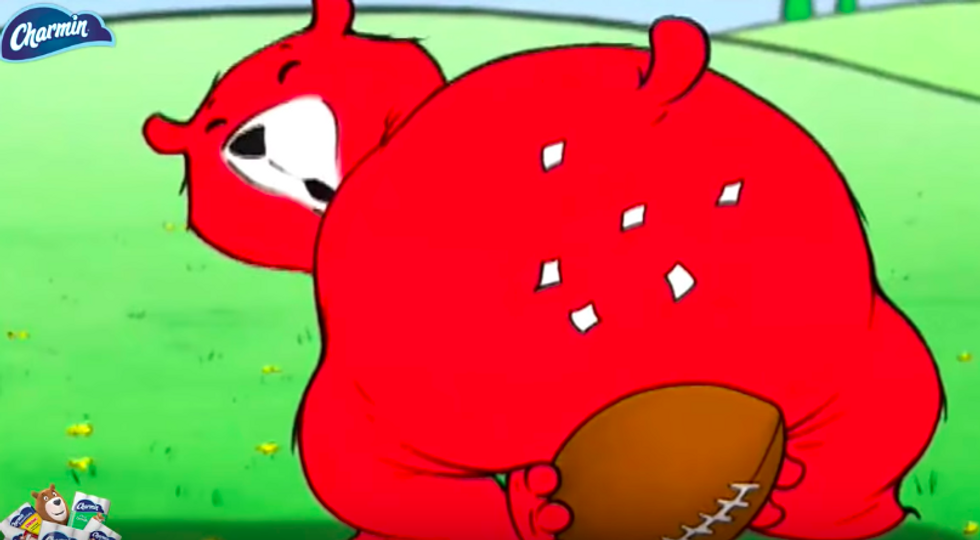 Charmin
The parents are pathological about cleaning Junior's asshole. Upon spotting the slightest hint of toilet paper, Mama Bear will break out a feather duster, a lint roller, or even a vacuum cleaner, which she then uses to attack Junior's butt.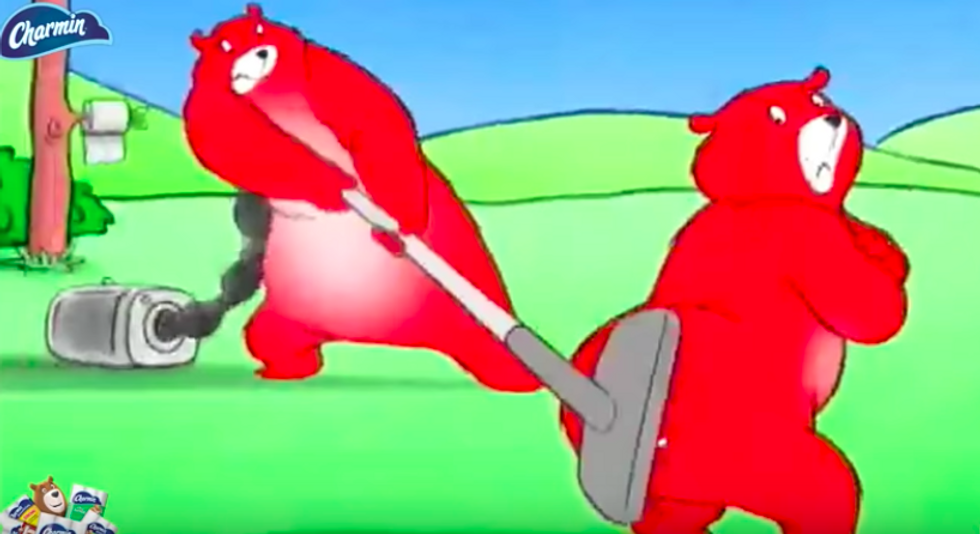 Charmin
They even go so far as to burst into the bathroom while Junior is still inside just to point out the chunks of toilet paper floating around his assh*le.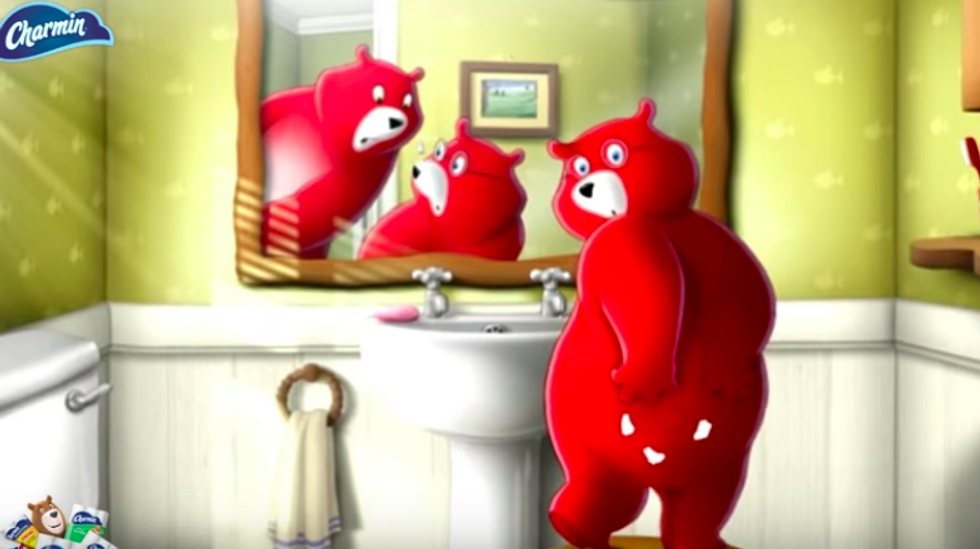 Charmin
One could easily categorize the Charmin Bears' behavior as abusive; and undoubtedly, it's done lasting damage to Junior's psyche. Junior is so hyper-aware of his assh*le that he oftentimes contorts his own body into painful positions just to screen himself for tiny bits of paper.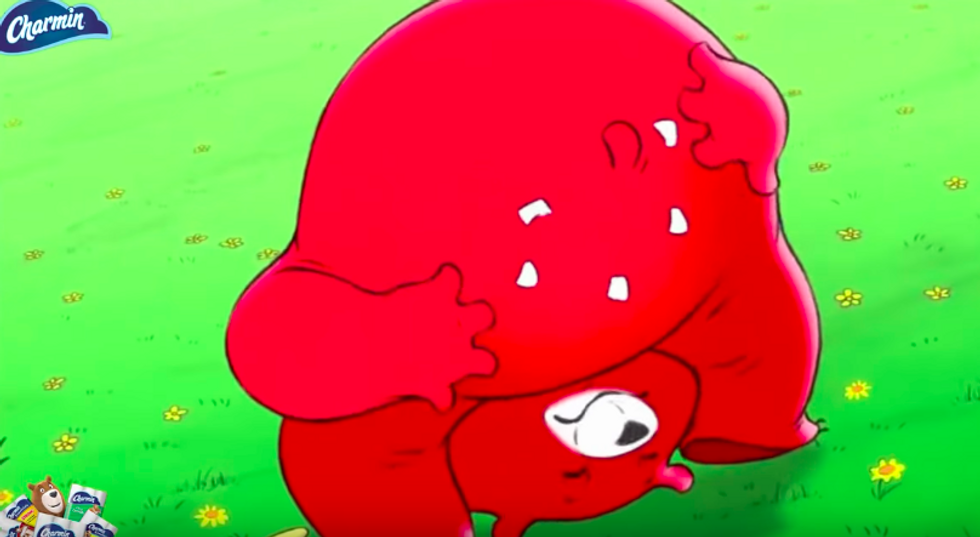 Charmin
He even carries a mirror around with which he can gaze at his own assh*le in the hopes of avoiding his parents' psychotic wrath.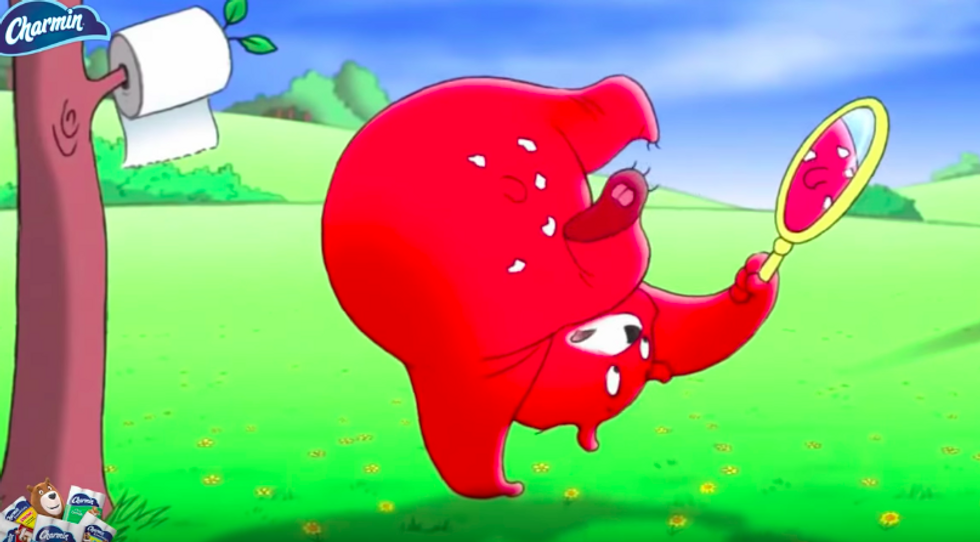 Charmin
Disturbingly, the commercials seem to present this assh*le inspection practice as a universal standard, with the narrator making claims like, "You can't pass mom's inspection with lots of pieces left behind," and "You can always measure the growth of your children by the way they clean themselves in the bathroom," as if every mom is picking through their middle schooler's butthole for little bits of TP.

Although, to be fair, Mama and Papa Bear seem confident showing everyone their own assh*les, too. When Mama Bear exclaims, "Beautiful view" during a family beach vacation, Papa Bear hardly skips a beat, shoving his assh*le directly in her face––an act she seems to greatly admire.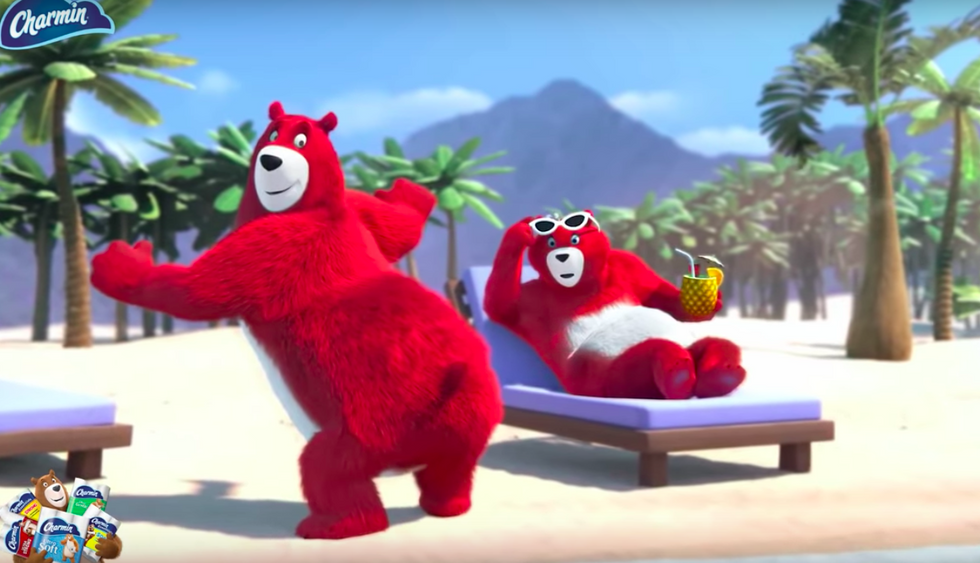 Charmin
Assh*le Inspection as Culture: Race and Politics
While the familial aspects of Charmin-brand assh*le inspections are certainly troubling, the cultural aspects are where the true terror lies. As it turns out, it's not just this one family in Charmin Bear world that's obsessed with assh*les. It's everyone.
In one commercial spot featuring Junior hanging out with his friends, we discover that the Charmin Bears' social hierarchy literally revolves around who has the cleanest ass*hole. As the boys play video games, one of them brags about how Charmin makes his butt so clean that he can wear his underwear two days in a row. The boys proceed to bully one boy whom they've deemed "Skids," presumably because he leaves sh*t stains everywhere he goes. Junior and his friends point and laugh at Skids, clearly the lowest on their totem pole because he has the dirtiest assh*le.
(It's worth noting as an aside that underwear comes up very frequently in the Charmin commercials, and yet none of the bears are ever actually seen wearing underwear. In fact, one might imagine that in the Charmin Bears' world, wearing underwear might be the equivalent of wearing adult diapers, as it suggests an inability to properly clean one's assh*le.)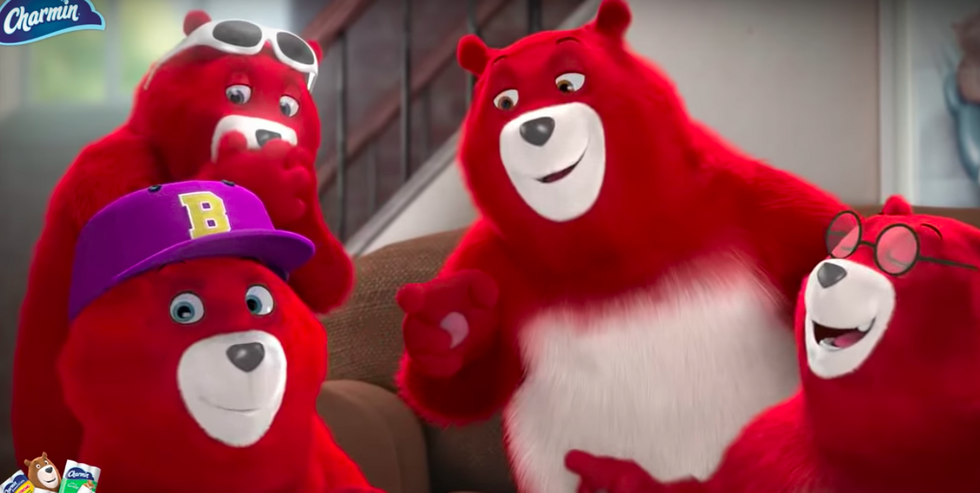 Charmin
But perhaps the starkest and most troubling portrayal of Charmin assh*le inspection culture is the airport commercial. In this spot, we witness a TSA agent screening Papa Bear's assh*le for toilet paper scraps before allowing him into the terminal. The implications are horrendous.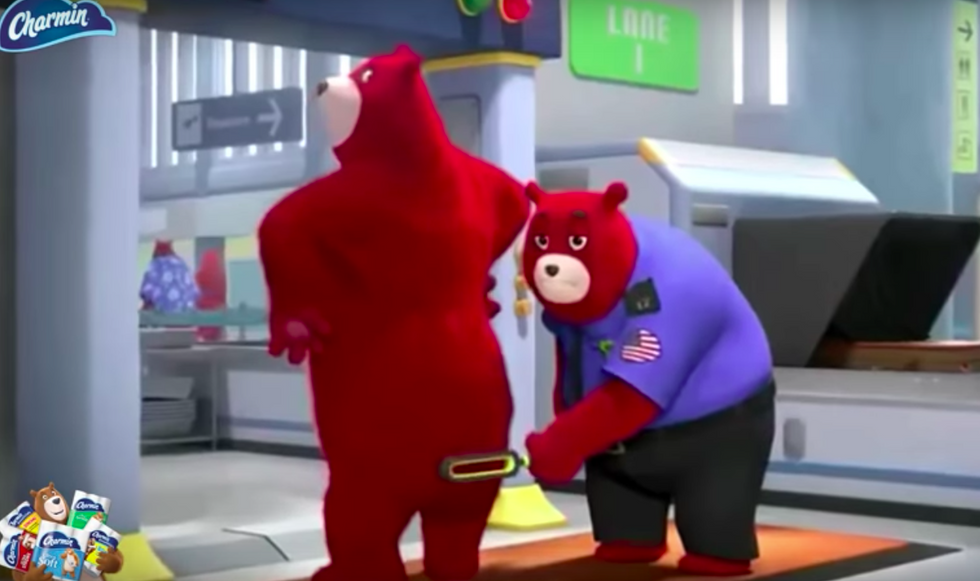 Charmin
What kind of society is this where bears need to have their assh*les inspected before they can travel? What series of events occurred before airport assh*le inspection was enacted into law? Did a bear board a plane with an overly sh*tty assh*le and accidentally create a medical emergency mid-flight due to the poo poo stench? What else could have possibly happened? Also, the TSA bear is wearing an American flag patch, suggesting that Charmin assh*le inspection world is actually America, and we can't discount the possibility that Charmin is advocating for the real-world implementation of assh*le inspection policies.

Perhaps it's no surprise that in the Charmin Bears' dystopia, political campaigns also revolve around assh*le inspections. To be clear, the blue bear's platform is "Ultra Soft" on assh*les and the red bear's platform is "Ultra Strong" on assh*les. Assh*le inspection is legitimately the only thing in this entire world that any of these bears care about.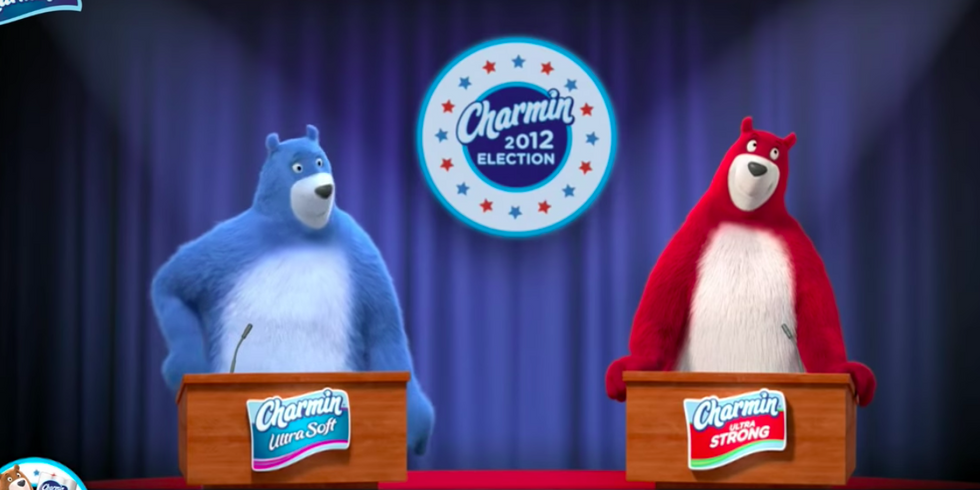 Charmin
Their entertainment clearly revolves around assh*le inspection, with a night at the theater amounting to watching a bear monologue about Charmin's toilet paper while displaying his assh*le to a crowd.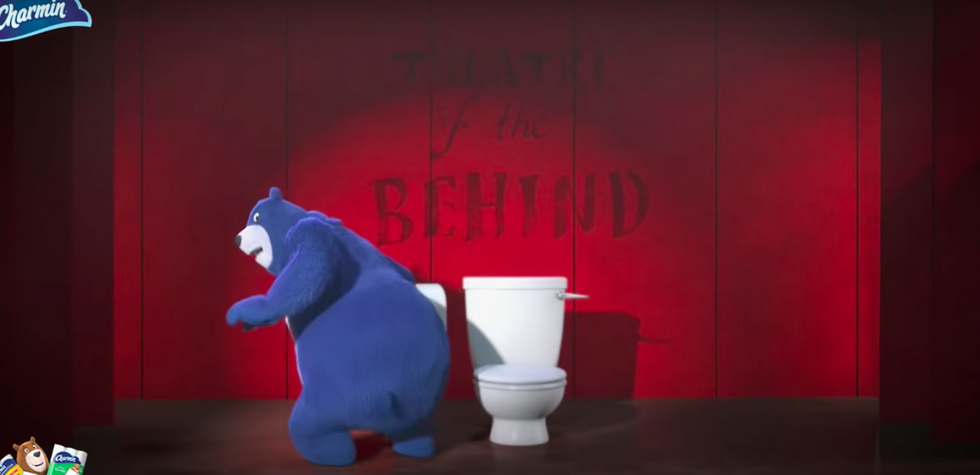 Charmin
Assh*le inspections even seem to be the predominant reflector of racial disparities in the Charmin universe. While the red and blue Charmin bears always use the "softest" or "strongest" top-shelf TP, there's also a family of orange bears who only buy the cheaper "Charmin Basic" line.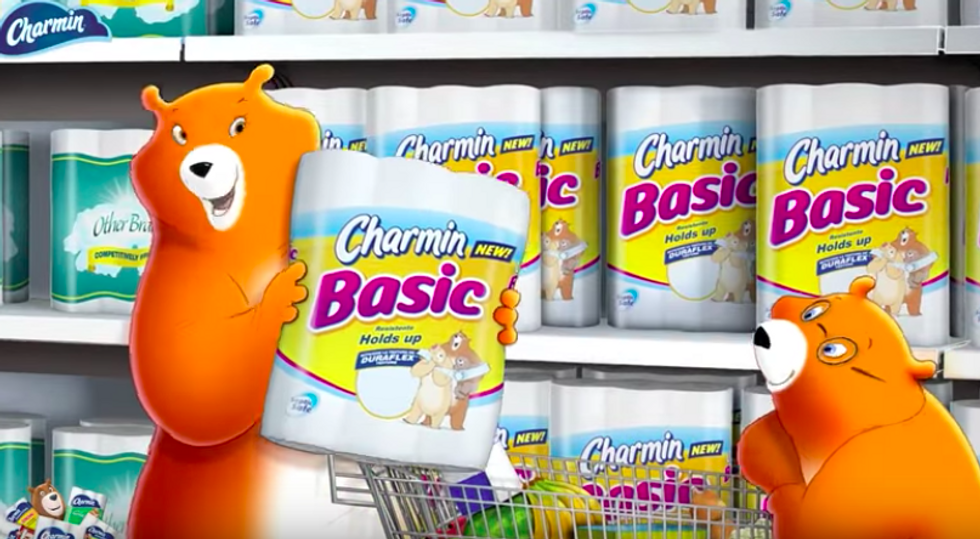 Charmin
In these commercials, one of which depicts the orange Mama Bear refusing to buy her son expensive breakfast cereal, Mama Bear always boasts about her thrifty ability to buy decent toilet paper for not much money. The orange bear commercials also seem to air for targeted demographics in Spanish-language; and as such, it seems obvious that the orange bears are racially coded.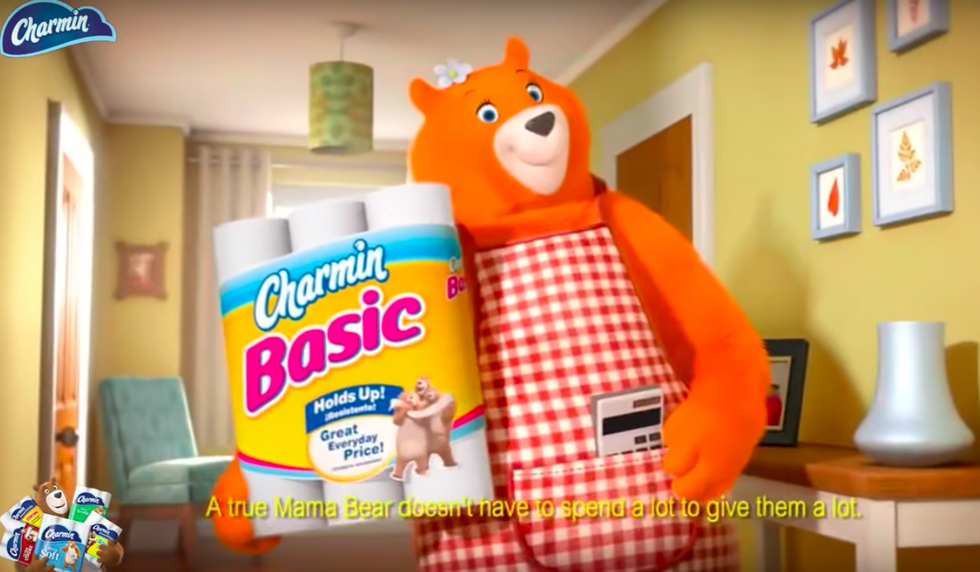 Charmin
Given the Charmin-world implications, it unfortunately seems possible that orange Charmin Bears, with their cheaper toilet paper, might have a harder time passing assh*le inspection, and therefore advancing in society, than their red and blue peers.

But politics and racism aren't the only complex aspects of culture that Charmin Bears bastardize.
Charmin as a Fetish: WTF?
Lest they forget one last core element of the human experience often explored in dystopian literature, Charmin Bears aren't afraid to tackle sexuality. And if you guessed that the sex lives of Charmin Bears revolved around assh*le inspection, you would, of course, be correct.
Take, for instance, a commercial spot wherein a blue bear, who presumably just wiped her assh*le, dances to a song full of double-entendres about "grinning cheek to cheek." Yes, she's so happy that her assh*le is smiling.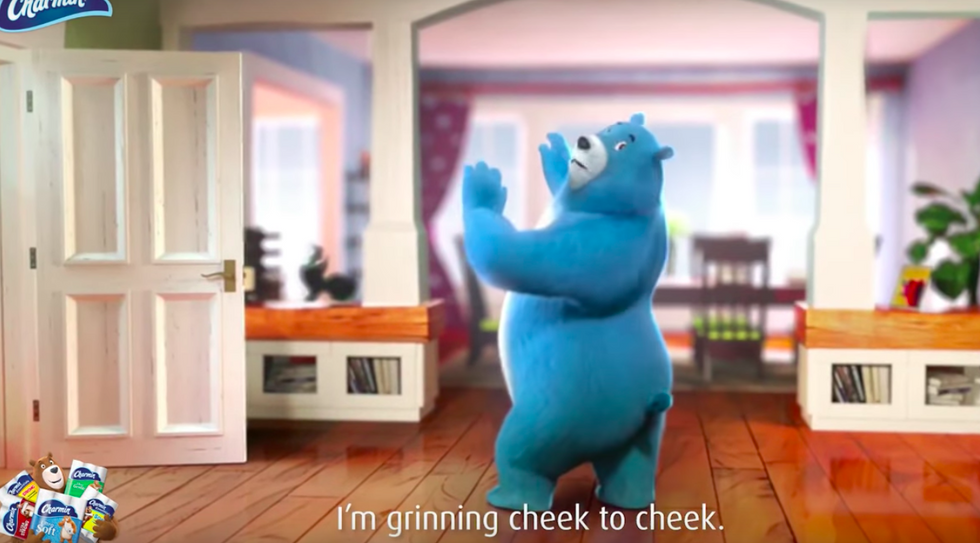 Charmin
As the lyrics, "Charmin Booty Smile, I got a Charmin Booty Smile" blare, obviously implying that her butt crack is clean, we cut to a red bear engaging in some hardcore voyeurism. He's standing in the doorway watching her with his mouth open. Look at his expression. There is literally no other explanation than that the red bear is sexually turned on by the blue bear's clean assh*le.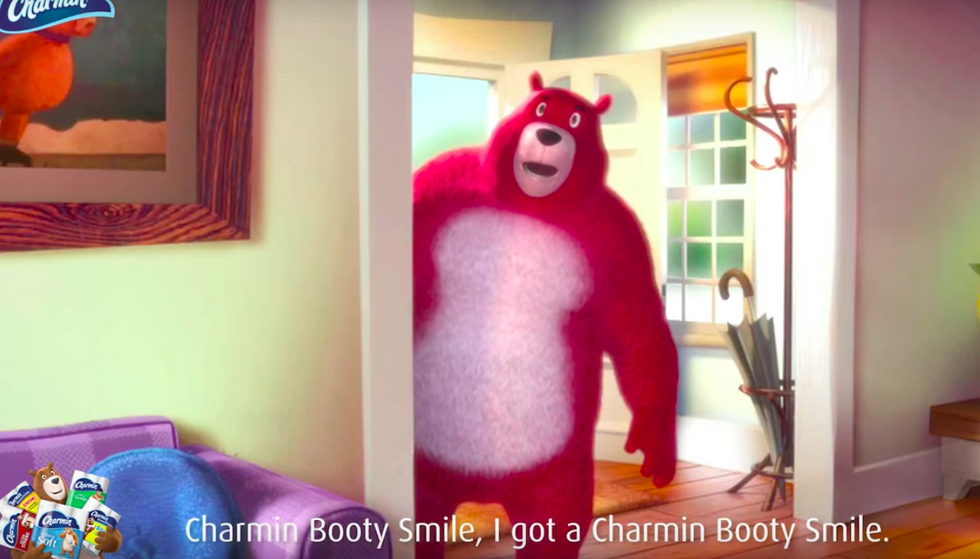 Charmin
Stanger, though, is the commercial officially titled "Charmin Bears Can't Keep Their Paws Off Toilet Paper." Here, Mama and Papa Bear actually fondle a package of toilet paper in tune to a crooning cover of the 1945 love song "Till the End of Time," featuring the lyrics, "You'll always be my lover till the end of time."
Charmin Bears Can't Keep Their Paws Off Toilet Paper | Charmin® Ultra Soft™ www.youtube.com
This act is so, so, so clearly sexual for them. I don't know if I've ever looked at anyone as lecherously as Mama and Papa Bear seem to be looking at each other as they rub the toilet paper.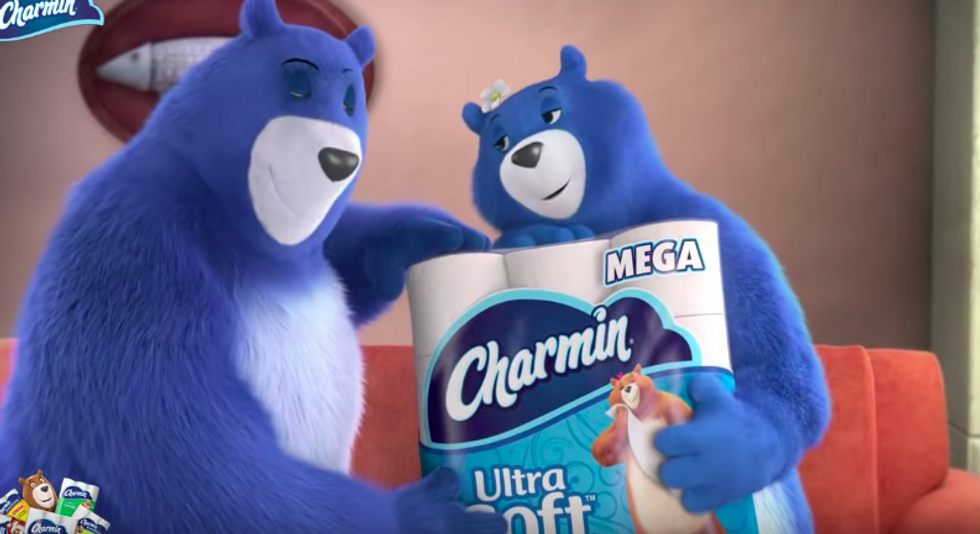 Charmin
But wait. It's not just Mama Bear and Papa Bear. Oh no, sexually rubbing toilet paper is a family affair for these assh*le inspection-obsessed bears in the lunatic world of Charmin Bears commercials. Yes, these Charmin Bears are straight-up engaging in a toilet paper orgy in a mainstream commercial.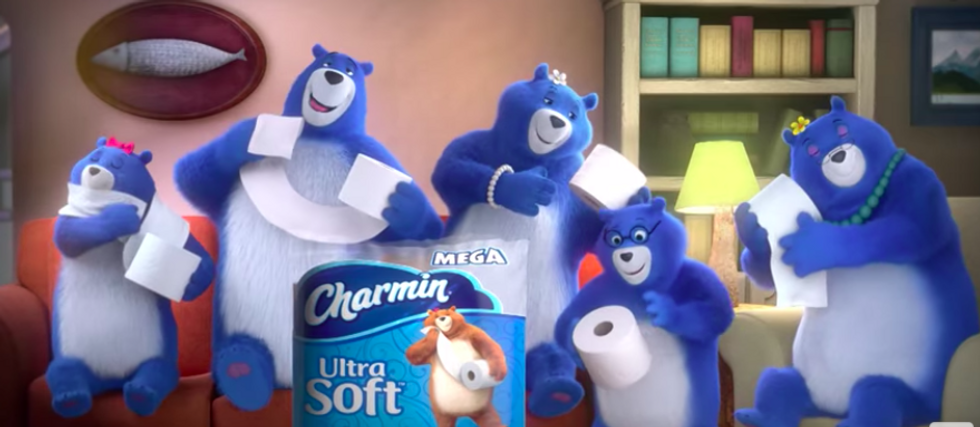 Charmin
Look at Papa Bear's face.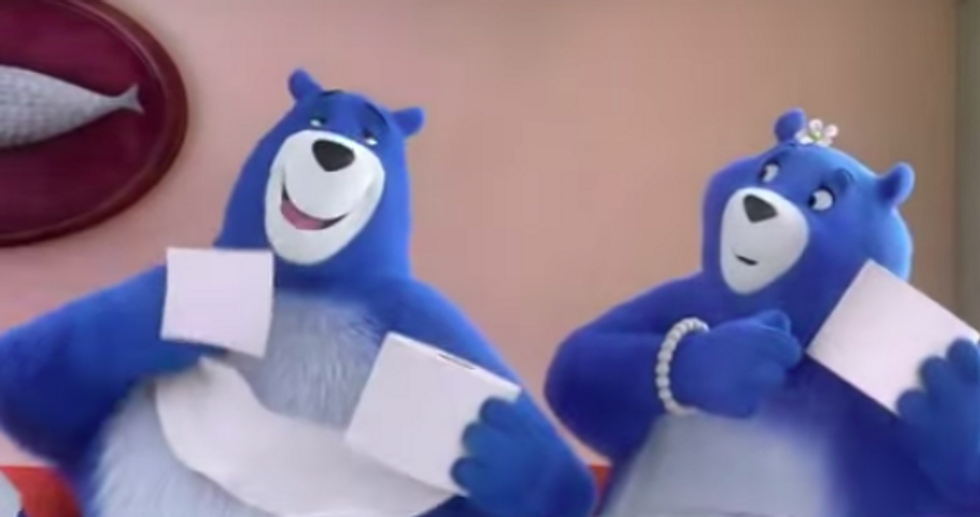 Charmin
Even Mama Bear is like, "Whoa, wtf dude?" Papa Bear is basically doing an Ahegao face over toilet paper.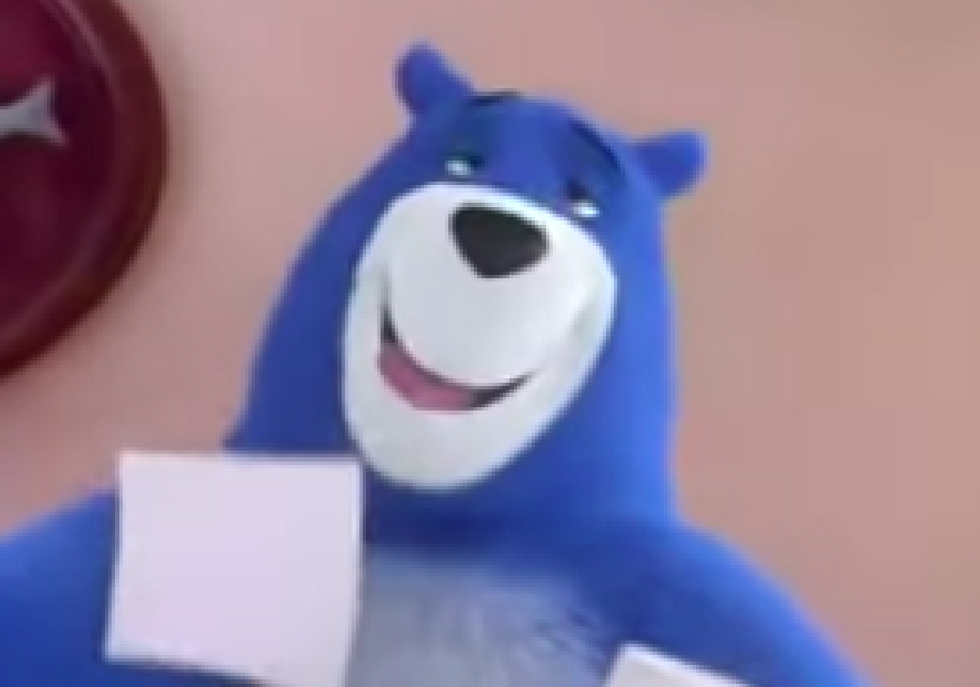 Charmin
The commercial ends with a record scratch and Mama Bear standing up to declare, "Okay, this is getting a little weird."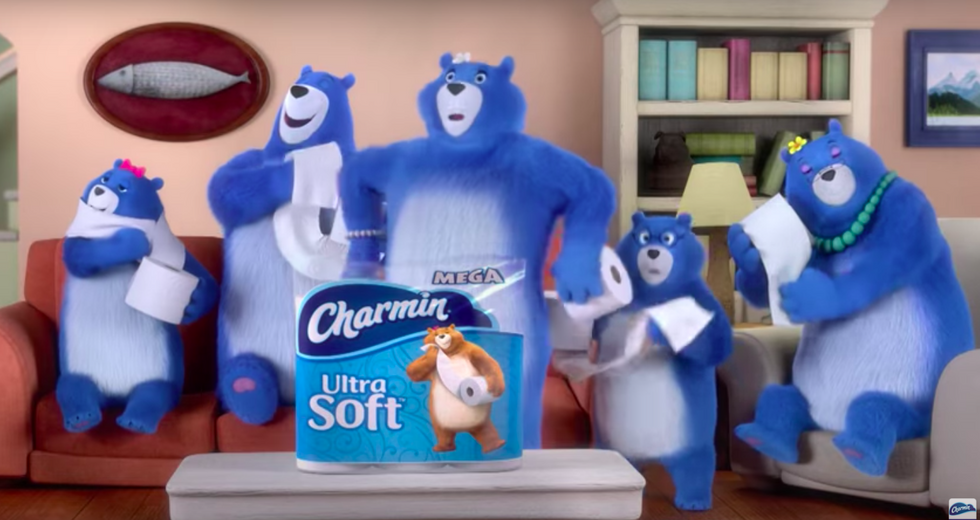 Charmin
Gee, Mama Bear, do ya f*cking think?
For Christ's sake, the lunatics at Charmin have created a spanning canon of commercials revolving around bears who incessantly gaze into one another's assh*les and now, after a family toilet paper orgy, they finally declare that "this is getting a little weird."
This has been weird the entire time. Traumatic even. Assh*le inspection is not an established thing. I have no idea where the psychopaths at Charmin got that idea, but again, for the people in the back, ASSH*LE INSPECTION IS NOT A THING. The Charmin Bears need to be stopped at any cost. If we let Charmin continue on their path of destruction, the cost of a clean heinie might be far too much to...bear. #StopTheCharminBears