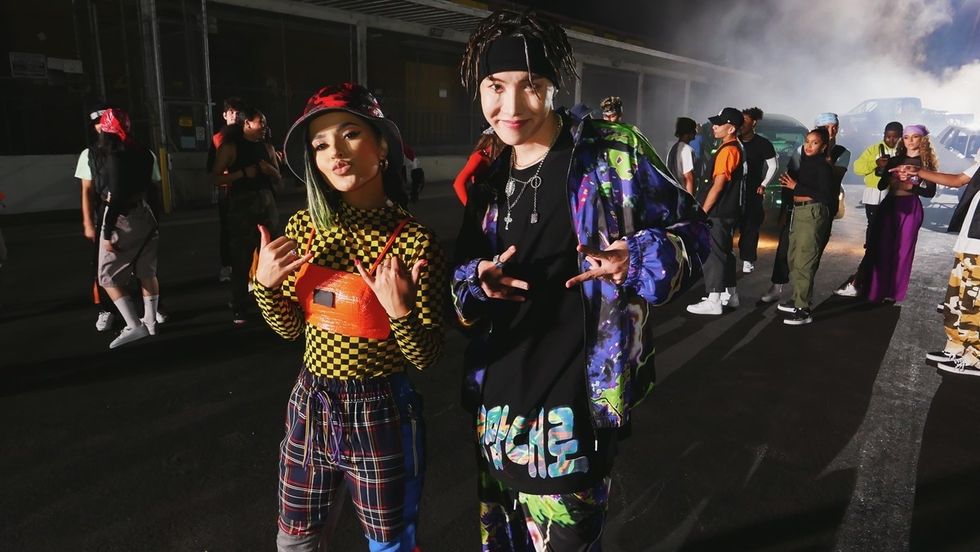 Jung Hoseok (J-Hope of BTS) and Becky G just released their new collab, "Chicken Noodle Soup," and it's straight fire.
The song pays major homage to Webstar and Young B's classic hip hop track of the same name, which was the first song J-Hope learned to dance to. In their modern version, the chorus is still in English, but J-Hope raps in Korean and Becky G raps in Spanish. The music video also features 50 dancers of different nationalities, making this one of the most diverse, multicultural collabs ever made. No wonder "Chicken Noodle Soup" is going viral.
j-hope 'Chicken Noodle Soup (feat. Becky G)' MV www.youtube.com
But the point is: I think it's really important to take a moment to just appreciate J-Hope's hips. Like damn. That boy can move.
THE AMOUNT OF POWER HE HOLDS. AM I A JOKE TO YOU SIR? #ChickenNoodleSoup @BTS_twt https://t.co/szfwFvwDcN

— CNS 🍜 (@CNS 🍜) 1569596446.0
Obviously as the dance captain of BTS, J-Hope is an incredible talent. But his hips here are like...next level. Hoseok gyrates with a smooth intensity that probably should be studied by physicists in the name of scientific advancement. He walks like he's literally floating.
Even surrounded by tons of other professional dancers, J-Hope is a beam of dancing light, flowing and flapping like the patron saint of chicken noodle soup. HOW DOES THIS MAN FLOAT?
Okay. I'm done freaking out now. Except no I'm not, because there's also a Chicken Noodle Soup Challenge and now I need to learn the dance, too.
How does J-Hope twist like that? Who gave him those hips? Insane.
Of course, the best part of the #CNSchallenge is that all the BTS boys are going to join in to show their support. In fact, V and Jungkook already dropped their vids.
정국이랑 태형이도 함께 추는 치킨누들숲🍗🍜 #CNSChallange https://t.co/zHW4IBlH7s

— JK VOICE (@JK VOICE) 1569585805.0
Get ready for a whole lot more Chicken Noodle Soup, but more importantly, a whole lot more of J-Hope's hips because that's what I'm here for now.