MUSIC
She's the Voice of a Generation, Offering Up One of the Most Iconic Songbooks of all Time.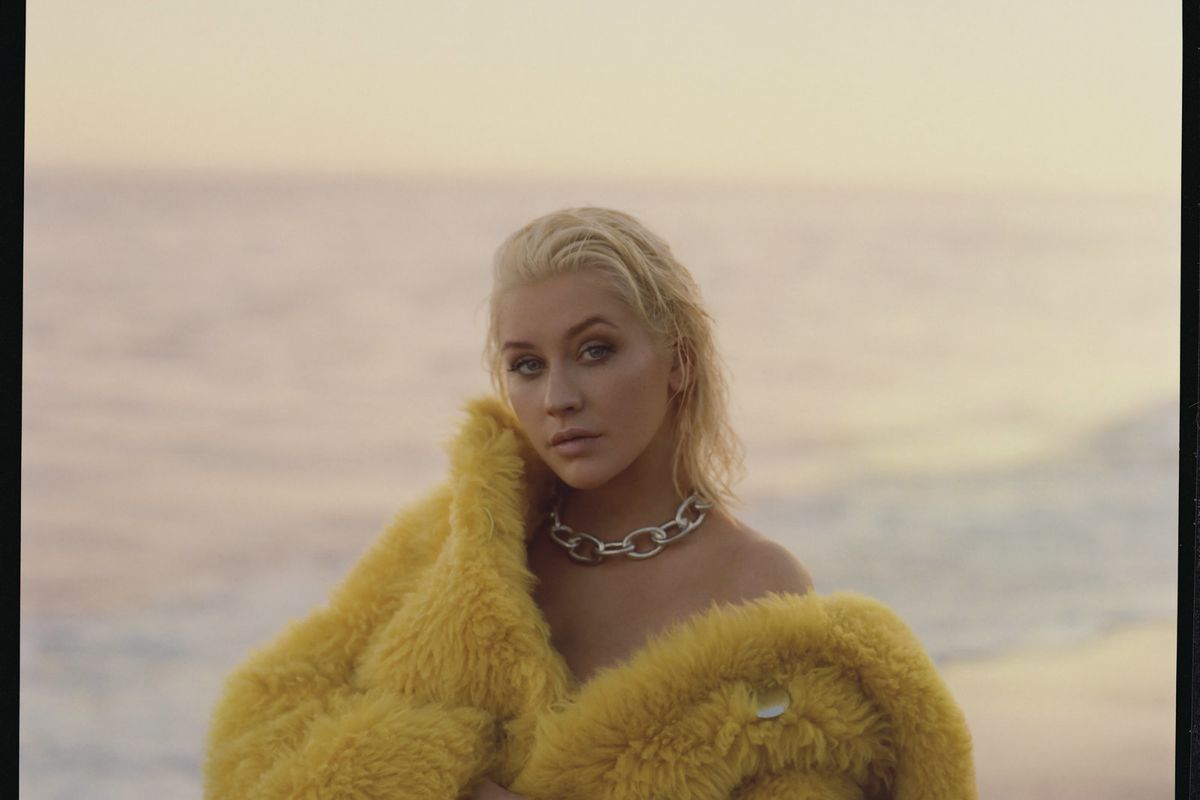 Luke Gilford
Xtina can basically sing anything.
Christina Aguilera is the voice of our generation. Since arriving in the late '90s with the sultry "Genie in a Bottle," a cut from her self-titled debut record, she went on to shake up contemporary pop music in a big way. Her voice is both angelic and a force to be reckoned with ⎯⎯ she'll make you cry on her ballads and fist-pump ferociously on her anthems. Through six non-holiday studio albums, ahead of her long-awaited comeback disc, Liberation, the pop star helped mold an entire generation of music, steeped in her soaring vocals, sass and class, and her willingness to push the envelope.
Below, we've compiled our picks for 10 Best Christina Aguilera Songs. Take a look:
---
"Fighter" (2002's Stripped)
Armed with fire in her eyes, strictly arena-rock guitars and unwavering swagger, Aguilera unleashes all hell. "Fighter" is a modern classic, employing signature power notes while also pushing the stylistic envelope. She rises like a phoenix out of the ashes, shakes off the remnants and barrels ahead with a thicker skin and a resolve to never settle for less. "Thanks for making me a fighter," she spits. The grisly tune plays as a kiss-off to an ex and a reminder that tough times only serve to strengthen her will.
"Candyman" (2006's Back to Basics)
Evidence of her genre-blurring sensibility, on "Candyman," Aguilera mingles scatting, jazz, doo-wop, and jaunty bubblegum-pop. Even with such a classically-structured composition, double entendres are still buried deep within the lyrics. "I met him out for dinner on a Friday night / He really had me working up an appetite," she sings, utilizing candy's allure for lust. "He had tattoos up and down his arm / There's nothing more dangerous than a boy with charm." The kicker comes on the hook, of course, "He's a one stop shop, makes the panties drop / He's a sweet-talkin', sugar coated Candyman..."
"Blank Page" (2012's Lotus)

2012's Lotus is an underrated gem, way ahead of its time. It garnered lukewarm reviews, but it contains some of her most masterful performances. "Blank Page" is a stark, searing piano ballad which witnesses some of her most accomplished vocal nuances of her career. At times, she tears mountains apart, and in other moments, she weaves a brittled and silky web. What more can we say?
"Ain't No Other Man" (2006's Back to Basics)
Lauded as her best album to-date, Back to Basics up-ended pop music in a major way. "Ain't No Other Man" is the cream of the crop, and rightfully so. The bodacious anthem blends throwback doo-wop with a funky modern groove. "I told my mother, my brother, my sister and my friend / I told the others, my lovers, both past and present tense / Every time I see you everything starts making sense," she sings, framing the song in her post-marriage world. It's not necessarily a "love song" by specific terms, but it does contain plenty of schmaltzy emotions.
"The Voice Within" (2002's Stripped)

As a weathered anthem about rising above adversity, Aguilera advises young girls not to "hide," she sings. "You'll never change if you just run away / Young girl, just hold tight / And soon you're going to see your brighter day." The staunch, sweeping power-ballad serves as a reminder that the storms are only fleeting, and the sun will crest the horizon soon enough. On the hook, she urges to look inward for the strength, "When there's no one else, look inside yourself / Like your oldest friend / Just trust the voice within / Then you'll find the strength that will guide your way / If you learn to begin / To trust the voice within."
"Genie in a Bottle" (1999's Christina Aguilera)
The pop superstar set the precedent early on for her sex-positive image. From the scratchy percussion to warped piano and synths, "Genie in a Bottle" is as infectious as it was nearly 20 years ago. Using the image of the classic genie from Aladdin as a point of culture reference, she flips the meaning into sexual stimulation. "If you wanna be with me, baby there's a price to pay / I'm a genie in a bottle, you gotta rub me the right way," she coos. "If you wanna be with me, I can make your wish come true / You gotta make a big impression, I gotta like what you do."
"Beautiful" (2002's Stripped)
Perhaps her most well-known ballad, "Beautiful" is another highly-charged empowerment song about pulling out of the darkness. Through self-reflection, Aguilera spins a universal web of self-acceptance and inner beauty, carved in her own insecurities and journey to renewal. "I am beautiful no matter what they say / Words can't bring me down / I am beautiful in every single way," she affirms, over a smooth choral of strings. "Yes, words can't bring me down, oh no / So don't you bring me down today."
"Lady Marmalade," featuring P!nk, Lil' Kim, and Mya (2001's Moulin Rouge! soundtrack)
It'd be a tragedy not to include one of the great all-women collaborations of the modern era. A cover of the 1974 Patti LaBelle hit, the reimagined version fuses old school soul and funk into a sassy and spirited blend. "Touch of her skin feeling silky smooth / Color of cafe au lait, alright / Made the savage beast inside roar until he cried," Aguilera warbles in between production flourishes and background wails.
"You Lost Me" (2010's Bionic)
Piano ballads are Xtina's bread and butter, but this Bionic standout is downright haunting. In the aftermath of a breakup, which resulted from her beau cheating, the embers are hard to extinguish. "I feel like our world's been infected / And somehow you left me neglected / We've found our lives been changed / Babe, you lost me," she caterwauls over blustering strings and ivory.
"Hurt" (2006's Back to Basics)
The last thing Aguilera said to her father before he died was that she hated him. It's something she regrets to this day. And more importantly, she never had time to apologize. So, she wrote this searing, orchestral-enriched ballad about the could haves, would haves and should haves. "Oh, I'm sorry for blaming you / For everything I just couldn't do / And I've hurt myself by hurting you," rings out the chorus, undeniably blistered, tattooing the pain right on the listener's skin. It's a stunning, raw and evocative performance and remains Aguilera's most honest.
---
Jason Scott is a freelance music journalist with bylines in B-Sides & Badlands, Billboard, PopCrush, Ladygunn, Greatist, AXS, Uproxx, Paste and many others. Follow him on Twitter.
---
POP ⚡DUST | Read More…
INTERVIEW | Sheppard Shoot For The Stars With New Album, 'Watching the Sky'
READY TO POP | Allie X, Camille Trust & More Tear Through Torrential Balladry
INTERVIEW | Owl City Sheds Whimsy For Stunning Honesty On New Album, 'Cinematic'