MUSIC
The Pop Sextuplet Discusses Homesickness, Crafting a Bigger Sound, and Favorite Arena-Feeling Albums.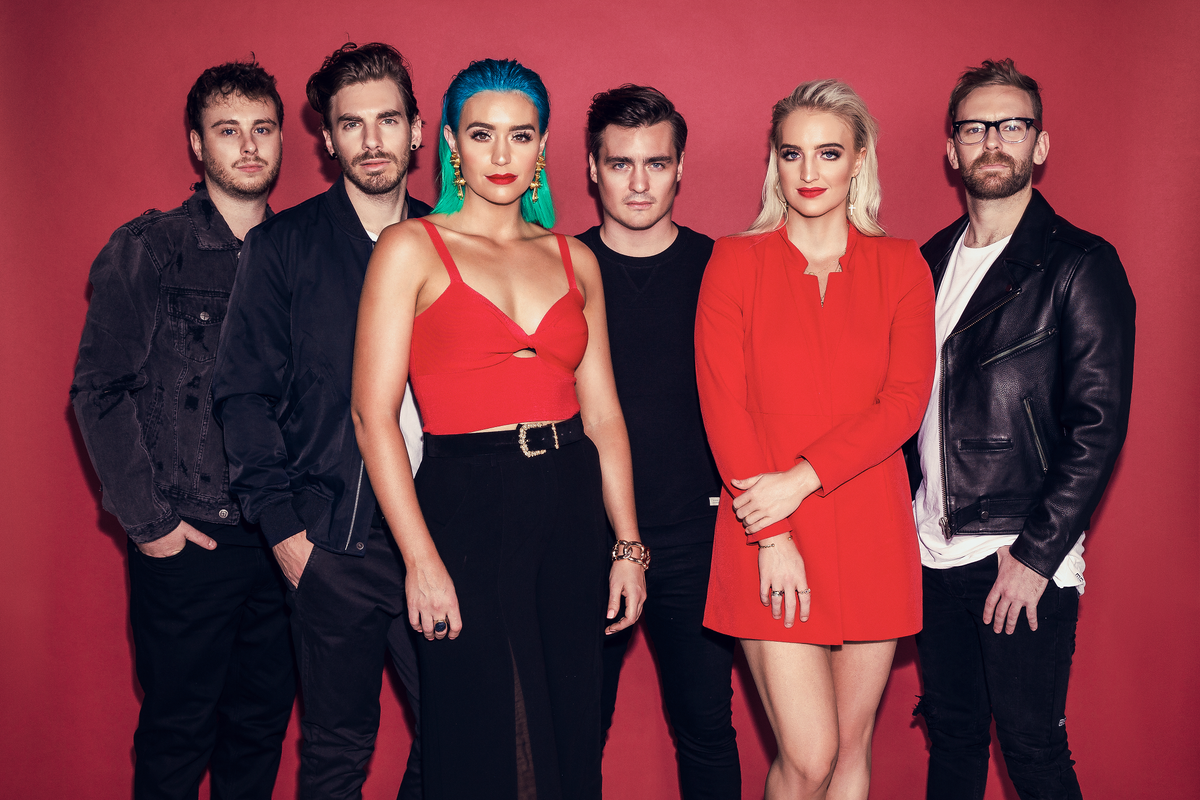 Peter Brew-Bevan
The pop group positions themselves for utter greatness.
The sharp blades of grass stuck to the back of my neck. The greenery swept down and away from my bare feet underneath the sun's penetrating rays. The clouds tumbled across a baby blue background like a toddler trying to find their way through a fuzzy blanket of carpet. My mind wandered through a lush landscape of shape-shifting figurines; sometimes I saw an elephant trampling along; other times, a kitty was curled up in deep slumber. No one goes through their life without trying to pick out shapes in the marshmallow clouds, at least once. You step outside of your body, and you let your imagination gallop across the ether extending in all directions above you.
Pop sextuplet Sheppard culls a similar childlike wonder in vast strokes with their new record, aptly titled Watching the Sky, out today. Steeped in both warm and cool tones, wrapped in their signature larger-than-life production, and aimed at capturing the electric energy of a stadium show, the record pieces together feelings of personal evolution, homesickness, and lost love.
The effervescent single "Coming Home," with pummeling drums that knock the wind out of your lungs, lingers on that feeling of returning home after a long stretch on the open road, while "Call Me Up" is a groovy, updated version of Billy Joel, pinned with delicious finger snaps and an innocent ache. "Every big idea begins with allowing yourself a moment to stop and daydream. We chose to represent that idea with the simple image of laying in the grass looking up at the sky, making shapes out of clouds," bandmate George Sheppard tells Popdust about the album's name, which is further deepened by glistening arrangements.
"The album cover itself is actually a real photograph of a glass cloud, which is supposed to be a metaphor for the elegance and fragility of a dream. The opening instrumental of the record serves as that beautiful moment you leave reality behind and begin to let your imagination take over. We wanted to welcome the listener into our 'dream world,' so to speak," he continues.
The dream-like state runs far and wide across a tall-standing 14 tracks. While the record is, generally, a flighty, upbeat and sunny affair, there are several moments of levity, emotionally-charged compositions that bring them back down to earth. The downright viscerally-devastating "Live for You," which is the album's best vocal, and "Sorry" (both songs land at the center of the record, coincidence?) allow the group ⎯⎯ rounded out by Amy Sheppard, Emma Sheppard, Jay Bovino, Michael Butler, and Dean Gordon ⎯⎯ to flex a more sobering perception.

Musically, they plant their heels in crafting an expansive sound, unchained by physical boundaries. "We didn't really limit ourselves to the types of sounds exactly and the record is actually quite stylistically diverse. We just wanted everything we put on the record to sound interesting, fun and big," says George Sheppard. "We wanted to write songs for stadiums ⎯⎯ soaring group vocals, emotional harmonies, thumping drums, reverberated guitars, blissed out pianos and synths. We wanted the record to feel new but somehow familiar at the same time."
From "Edge of the Night"s funky, stunningly-absorbing nature to the gritty opening riffs of "Choke" to the beachy build of "I Was Lost," Watching the Sky is as gloriously untamed as it is scrawled in intimate, grounded lyrics. Once again, Sheppard demonstrates an impressive understanding of contagious melodies and how to deliver a complete set that feels as calculated as it does fizzy and satisfyingly liberated.
Below, the band breaks down how the record came together, truth in pain and favorite arena-feeling albums.
In an interview with Black Book, you stated you made this album with live touring in mind. Did you find that opened you up, creatively, in a different way than before?

George Sheppard: I wouldn't say it opened us up, creatively, as much as it just allowed us to harness our creativity in a more focused way. [2014's debut album] 'Bombs Away' was a huge learning curve for us. When we were writing and recording that album, we had much less of an idea of who we were as a band, who our audience was, what kind of venues we'd be playing. We had no way of knowing that the album would spawn an international hit and that we'd eventually end up playing to 100,000 people at Rock in Rio, Brazil. There were moments we'd be up on these massive stages thinking to ourselves, "This is not the song for this kind of environment." This time around, we're much more prepared. We're more experienced in front of an audience, and we know so much more about what does and doesn't work, so we've been able to get more intricate and detailed with a particular vibe.
Did that approach ever feel like a hindrance?
George Sheppard: Not at all! In fact, it was a breath of fresh air once we discovered exactly who and what Sheppard was. It's much easier to play darts when you can see the bullseye.
With the single "Coming Home," you capture the feeling of arriving back home after a stint on the road. What other feelings or moods were you wanting to depict with this record?
George Sheppard: Although there's a lot of reference to homesickness, there's also a lot of themes of escapism on the record. "Castaways" is about the desire to get completely lost somewhere, that wanderlust we all feel from time to time. "I Was Lost" deals with escapism in a different way; it's about alcoholism and the devastation that it can cause those who love you. There are also themes of bravery and not being afraid of failure which gets touched on in the track "Choke," and of course, love and heartache get their turn in tracks "Live For You" and "Hometown."

Listening to the record front to back, "Coming Home" almost feels like it could have been the name of the album. Was that ever in consideration?

George Sheppard: [laughs] Yeah you're right. It totally could have been! But no, we never considered it as the name for the album. We're still very much an album-focused band, so we wanted the name to be something unique that made you think. Something our audience had to try and figure out the meaning of.
Is there a song on the record for you that captures the feeling of living your dream?

George Sheppard: Hmmm...actually, not really. There are plenty of songs about the side effects of living your dream and the pros and cons of the music industry, but none that are about living the dream itself.
"Edge of the Night" is one of the groovier numbers on the record, especially the deep, throaty vocal line. How did this vibe develop?
George Sheppard: As much as I hate to admit it now, "Edge of the Night" actually started out as a bit of a joke song. Something we did purely for fun, to try make our friends laugh. We had had a few rough days of unsuccessful writing. Everything we came up with was starting to sound a bit boring and same-same, so we decided to shake things up and write something we thought Sheppard would never release. We ended up making this throwback funk song based around this hilarious voice changer we discovered. Once we had those ridiculous lyrics in the chorus, we spent the afternoon playing around with Juno synths and vintage pedal-driven bass lines and orbited all of it around this notion of using your weekend to get completely buckled.
We had absolutely no idea when we were recording it that it would make it onto the album, let alone become a single, but the song ended up resonating with a lot of people ⎯⎯ that idea of having a super rough week at work and using the weekend to completely let yourself go. It was unique and fun, and it tied in very nicely with the themes of "escapism" we had begun establishing for the album.
"Choke" is another standout, giving off all these warm fuzzies. What's the backstory for this one?
Jay Bovino: I've always been a shy and somewhat socially awkward guy, so I thought it would be cool to write a song that both pokes fun at the predicament but also encourages myself, and people like me, to rise to the occasion. So many amazing moments in life are made from acting in the moment and missed by hesitating. As I've gotten older, I've managed to decrease that time between seeing an opportunity and seizing it, by not trying to process all the possible outcomes and just doing it. Life is made up of these moments. You know what will happen if you don't do it...nothing. But you don't know what could, if you did.

"Live for You" is a stunning ballad soaked in vulnerability ⎯⎯ from where does that pain come?
Amy Sheppard: "Live for You" was written after a close friend told me her relationship had broken down and that she was completely shattered. Most people have or will experience the same feeling at some stage in their lives. I've been there, and at the time, I was completely devastated. I thought I was going to be miserable for the rest of my life. I was inspired to really capture how it feels to be told that someone you live for doesn't love you anymore. You start to have irrational thoughts like, "I'll never be happy without this person in my life, so I will do anything or change anything about myself in the hope that they'll fall back in love with me." It's also about the harsh reality of coming to terms with the fact that you can't make someone love you when they don't.
On "Sorry," there's a lyric which reads: "I'm afraid to face the truth / Every day, a new excuse / So I end up placing the blame on you." Do you feel you ever did face the truth here?

Jay Bovino: I suppose to write "Sorry" in the first place I had to face the truth. But accepting the truth is one thing, learning from it is another, and that is yet to be seen.

I imagine writing "Sorry" was pretty cathartic? What did you ultimately learn from that situation and in writing this song?
Jay Bovino: Songwriting has always been a cathartic experience for me, but I guess writing "Sorry" was the Taj Mahal of catharsis, as it isn't referring to one person but every failed relationship I've ever had. So, it was my way of trying to explain why I was the way I was, and that it wasn't anyone but me that needed to change.

What are some of your favorite albums that make you feel like you're watching the artist play a giant arena?
George Sheppard: "Viva La Vida" and "Mylo Xyloto" by Coldplay have always been huge ones for us. The way they use their instruments, layering strings with ethereal pads and synths is totally mesmerising. Kings of Leon's "Come Around Sundown" is another favorite. They always manage to make it sound like they're playing on a gigantic stage. The band Foals does the same thing ⎯⎯ specifically their song "Inhaler." And I know it's an odd choice for a pop band's influence, but I think Radiohead is the most interesting and pioneering band of our generation. Their album 'King of Limbs,' specifically, really showed me that it's possible to make an experimental, complicated record that is still accessible and easy to listen to.
---
Jason Scott is a freelance music journalist with bylines in B-Sides & Badlands, Billboard, PopCrush, Ladygunn, Greatist, AXS, Uproxx, Paste and many others. Follow him on Twitter.
---
POP ⚡DUST | Read More…
READY TO POP | Allie X, Camille Trust & More Tear Through Torrential Balladry
INTERVIEW | Owl City Sheds Whimsy For Stunning Honesty On New Album, 'Cinematic'