Last night, the Warriors beat the Rockets sans Chris Paul and secured their fourth straight trip to the NBA Championship.
Down by as many as 15 points early on, the Warriors dominated the second half, dropping 33 points in the third quarter alone. Still, the game was less a Warriors' win than a Rockets' loss, as the latter managed to miss a record-breaking 27 straight three-pointers, and did a horrible job managing the game. It was as if Houston – more specifically Eric Gordon and James Harden – had suddenly developed an allergy to driving the lane. Kudos to the Warriors for making it, but come on:
While the Warriors conquered the Western Conference with a bevy of three pointers from its roster of all-stars, the Cavaliers took a different route. Legend has it that at the start of the 2017 season, there were only four players on the Cavs' roster: Lebron James, Kevin Love, Isaiah Thomas, and JR Smith. Tragedy struck when just fourteen games into the season, the Cavs' dryer broke, and General Manager Kody Altman revealed that the team had no money to replace it. After watching his team play one game in damp uniforms, Altman made the difficult decision to trade Thomas to the Los Angeles Lakers. In a press conference following the move, Altman said "I know we traded Kyrie Irving for [Thomas], but there's just no way we can let our players go out there sopping wet. The decision hasn't sat well with some of the guys, but the fact remains: the Lakers had a dryer and we needed one. I stand by my decision."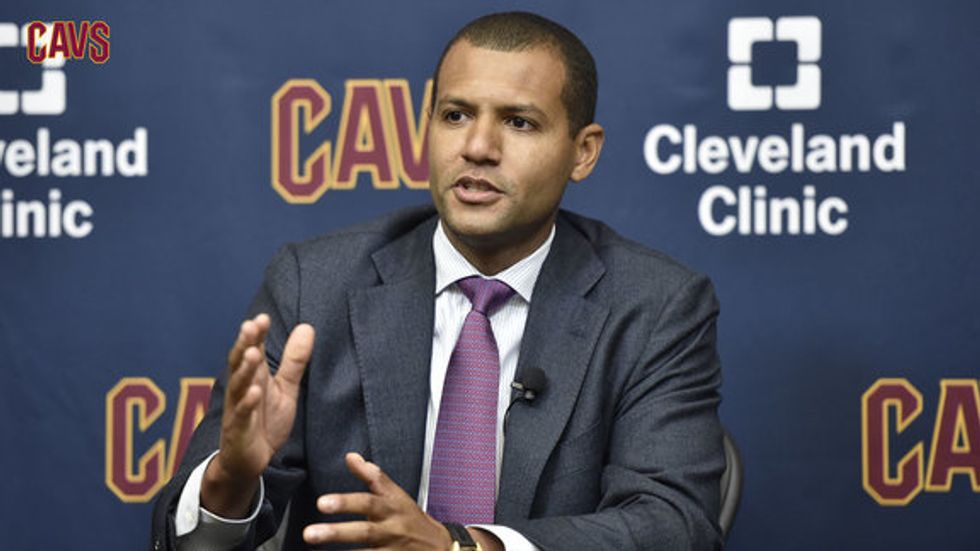 Kody Altman explaining his decision to trade Isaiah Thomas for a Kenmore Washer-Dryer Combopuplist.com
Altman, however, had a plan. He had seen George Hill taking shots on an old hoop behind a Sacramento Home Depot and decided to give him a chance. "The hoop was pretty rusty and was missing its net. It definitely wasn't regulation size. But hell, George looked great out there. 8 foot rim, 10 foot rim, what's the difference? The guy was dunking," Altman said later. Following this move, Altman headed south to L.A., where Jordan Clarkson was working as a bar back, and convinced him to join the team as well. Altman's biggest achievement however, was the signing of Kyle Korver, who was living in a retirement community in Boca Raton, Florida. Korver stipulated that he would only come back to the NBA if his live-in nurse, Jeff Green, was allowed to join the Cavs as well. Altman reluctantly agreed, and brought his new team back to Cleveland to meet with their captain, Lebron James.
"When I saw those guys walk into practice," James recalled "I honestly thought they were from a laundry company. I actually handed Jeff Green a sack of dirty towels. Then I recognized Kyle [Korver]. He did not age well."
"These guys were terrible." Coach Tyronn Lue lampooned, "Lebro...I mean I, had a really hard time coaching them and getting them up to the NBA level. It took us six months of rehab just to get Kyle [Korver] to play without his walker. The guys we already had weren't much help either. Kevin [Love] was still learning how to dribble at this point, and JR [Smith] was always drunk. Frankly, it's a miracle we made the playoffs."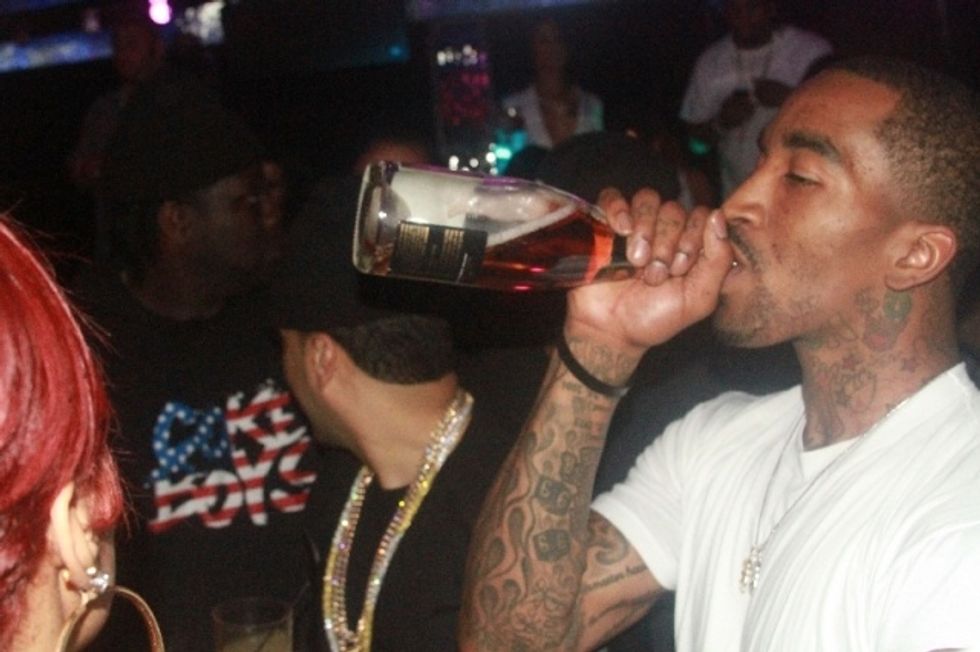 JR Smith twitter.com
But they did make the playoffs, and won the first round in a grueling series with Indianapolis that went all seven games. When they headed Toronto, beleaguered and exhausted from the first round, spirits were pretty low. After a close OT win Lebron and his Misfits (as they came to be called) were gassed. "There was no energy in that locker room," said Coach Lou. "We were cooked, and even I was convinced that a reverse sweep was coming our way." Then, a miracle happened. Out of nowhere, Tristan Thompson showed up in the Cavaliers' locker-room.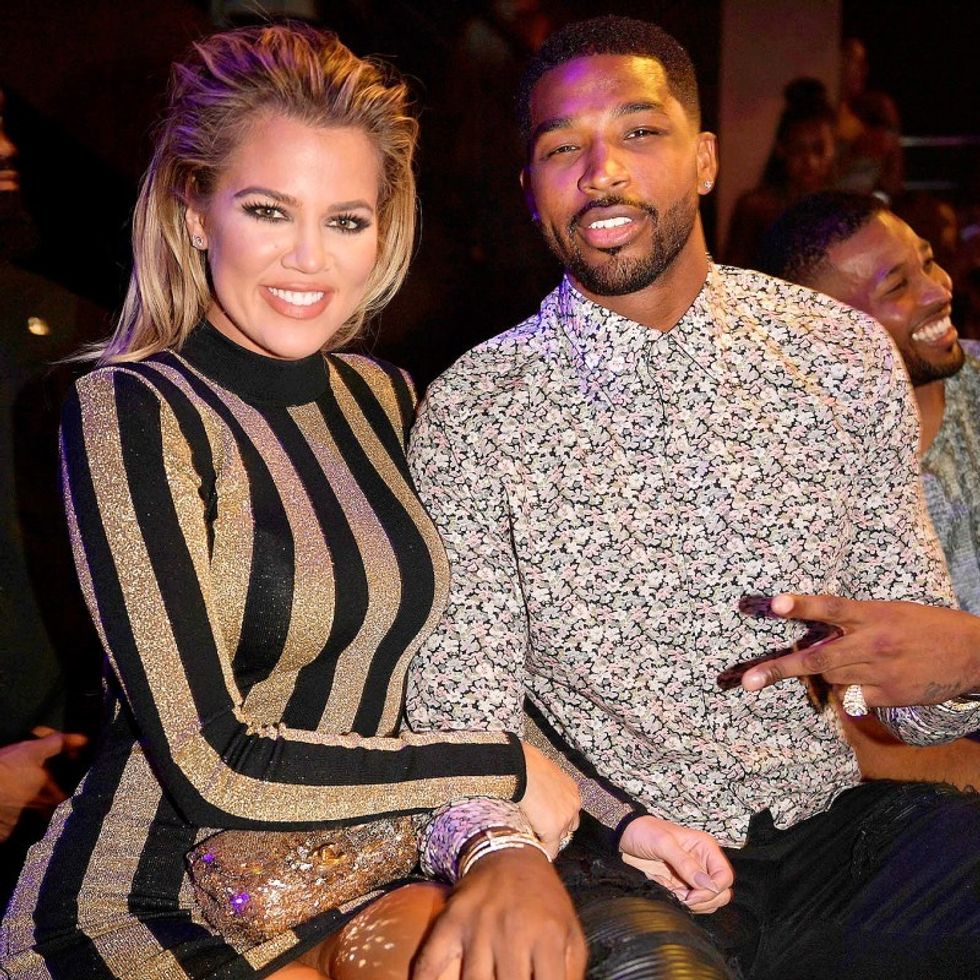 Tristan Thompson with one of his many girlfriendssomtom.net
"I couldn't believe it was him. [Thompson] spent most of the season cheating on all of his pregnant girlfriends. We hadn't seen the guy in months." JR Smith said between swigs of Hennessy.

"I just remember looking up and feeling an intense joy, like there was a chance we could actually go back to the championship this year," Kevin Love remembered, his eyes welling with tears.

"Tristan brought a lot of energy to locker room. I only had to average 34 points a game for us to win that series against Toronto. When your team can help you out like that, it's huge." said Lebron
After beating the Raptors, the Cavs kept the gravy train rolling and managed to upset the Celtics, a team whose best player graduated high school in 2016, in the Eastern Conference final. Now, the only thing that stands between this team of basketball enthusiasts and the NBA title are the Golden State Warriors, the best basketball team of all time. Prediction: Cavs in seven. We're all about to witness the greatest upset in NBA history.
---
Matt Clibanoff is a writer and editor based in New York City who covers music, politics, sports and pop culture. His editorial work can be found in Inked Magazine, Popdust, The Liberty Project, and All Things Go. His fiction has been published in Forth Magazine. -- Find Matt at his website and on Twitter: @mattclibanoff
---
POP⚡DUST | Read More…
THE OPTION | The Stafford Effect
THE OPTION | Catalan Independence and What It Means for Barcelona Soccer