Music Reviews
Conor Oberst and Phoebe Bridgers Want You to Join Their Cult
A surprise new album by folk-rock duo Better Oblivion Community Center presents images of a fractured, damaged world, with hints of hope and religious iconography thrown around for kicks.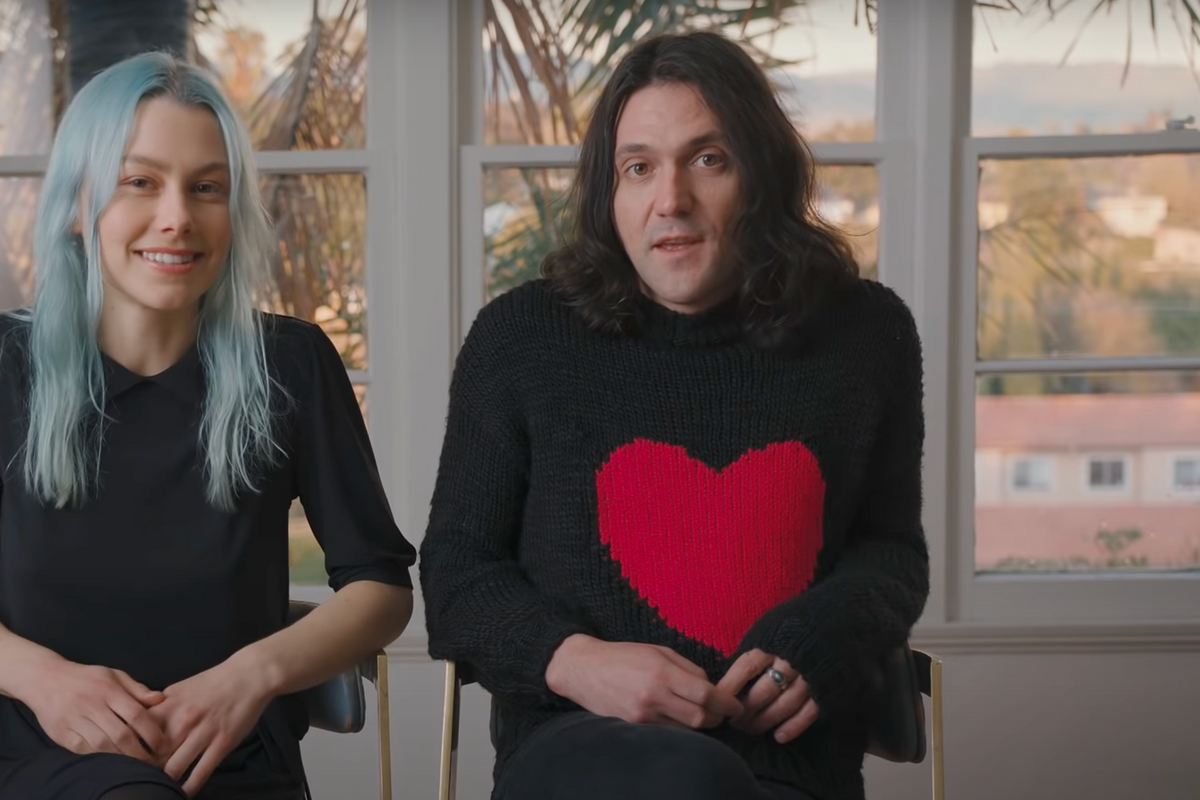 via youtube.com
"My telephone doesn't have a camera," begins the first track of Better Oblivion Community Center, the surprise album released this week by Phoebe Bridgers and Conor Oberst.
"But if it did I'd take a picture / of the man on the off ramp / holding up the sign that's asking me for help."
Thus begins an album that's as much about not seeing and not feeling as it is about seeing and feeling too much. That first song, Didn't Know What I Was In For, is a spiraling traipse through a world saturated with news reports about unimaginable tragedies ("got my arms strapped in a straightjacket / so I couldn't save those TV refugees" sing Bridgers and Oberst later in the song). Throughout its ten tracks, the album finds two of folk's modern saints grappling with apathy in the face of a burning world.

Or maybe it's not that serious at all. Better Oblivion Community Center seems designed to invite speculation while also laughing at how intensely it's being scrutinized. That's characteristic of Bridgers, whose melancholic tunes are often cut with biting wit.
At its heart, Better Oblivion revolves around the question of whether or not music or anything we do matters at all, but its frequently upbeat, jangly indie-rock stylings give its hefty subject matter a sense of rhythm and motion. "I wanted to talk about how stupid music is," Bridgers told Rolling Stone of the idea that inspired Didn't Know What I Was In For and ultimately the rest of the album. "I wanted to talk about how awesome music is, and how depressing it is, and why we all make music if it doesn't last forever."

Bridgers, the 24-year-old breakout indie star whose album Stranger in the Alps was released in 2017, met Oberst—the 38-year-old Bright Eyes and Mystic Valley Band frontman—when opening for him on tour, but she'd known about his music long before harmonizing to Lua onstage. She started listening to Oberst in eighth grade, walking around her middle school hallways with Bright Eyes lyrics written on her Converse.
Flash forward a decade or so, and Better Oblivion Community Center was born out of haphazard songwriting sessions in LA. "I'd never had the experience of writing a full record with another songwriter like this," Obersttold Rolling Stone. "The whole experience was just what the doctor ordered for me to get excited about music again." Oberst, long a central player in the sad-folk scene, seems to have found a kindred spirit in his friendship with Bridgers. They wrote most of the album together, sometimes even forgetting who wrote what.

The duo followed the album's surprise release with a video for "Dylan Thomas." Directed by Michelle Zauner of Japanese Breakfast, it's a surreal, cult-inspired dreamscape that features a blindfolded Bridgers and Oberst, towering angels, shadowy figures wearing VR-masks, and a strategically placed Juul at the video's climax. It seems to invite speculation, both luxuriating in its theatricality and also possibly critiquing mass media's cult of personality.
Better Oblivion Community Center - Dylan Thomaswww.youtube.com
A lot of the album's content verges on cultural critique, while at the same time remaining vague enough to stay universal. "All this freedom freaks me out," drones Oberst on "My City," a line that could refer to America's twisted idea of freedom or his inability to chill.

Perhaps some of this vagueness is intentional, part of the album's brand. Before the release, the duo shared a variety of strange, cult-like promotional materials, including a telephone number leading to an odd message and a bus station advertisement bearing the duo's moniker and advertising a "free human empathy screening." Their debut performance on Colbert featured occult symbols and more ads promising services like "Sacred Crystal Implanting and Removal."
So what is the Better Oblivion Community Center, exactly? A metaphor, certainly—for solidarity amidst the storm of the modern world? A cult promising transit to an alternate dimension? An indie-folk duo playing on the Internet's tendency to overanalyze and cling to any entity that promises deliverance?

"At this moment in time everyone is feeling a little impending doom, like oblivion is just around the corner," Oberst explained to NME. "But the idea of the community center means that you're not alone in it. We're all going through this moment in time together, so maybe it's not all doom and gloom in there. Maybe there's some hopefulness in that community concept."
In this era of looming disaster, it's tempting to seek oblivion via any available avenue—but there's also the pressure to open our eyes to the weight of our shared responsibility as human beings. The intense friction that stems from the convergence of these two forces seems to bubble over into Bridgers and Oberst's frenetic compositions. There's a push-pull between desires for rebirth and fear of nothingness, a desperate hope that there's more to existence than what we can see and a suspicion that the angels down the avenue might just be sheets tossed by the wind.

It seems that, regardless, it'll be easier if we face our fate—be it evolution or end times—together. BOCC is heading out on tour in March, and their shows promise to be the ideal venues in which to bond with like-minded seekers of better oblivion, if only for the night.
---
Eden Arielle Gordon is a writer and musician from New York City.

---
POP⚡DUST | Read More...
"Kill Me, Daddy": Venom vs. Ted Bundy vs. Joe from "You"
Despite Explosive Fame, Dodie Remains Focused