Music Features
Elvis Presley Was a Sexual Predator, and It's Weird That People Still Mourn Him
Today would be the late rockers 86th birthday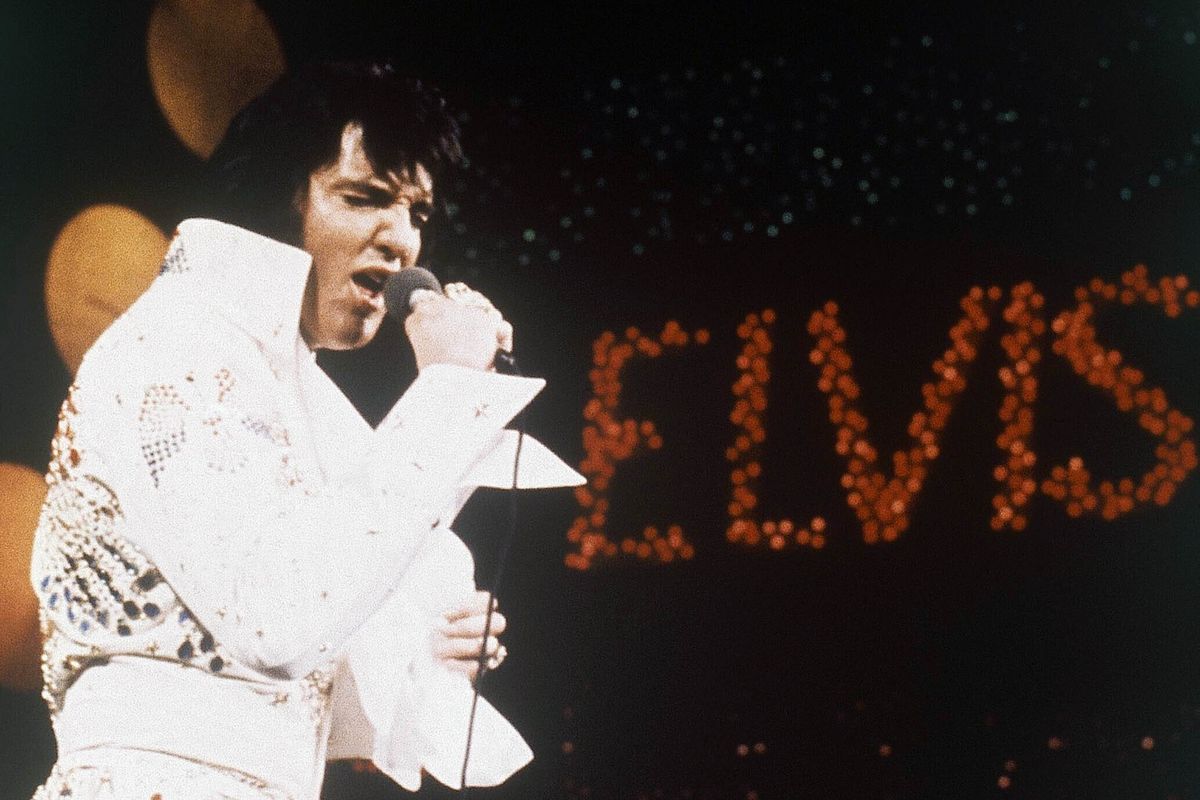 Uncredited/AP/Shutterstock
Elvis Presley's seedy past is now common knowledge among music critics and historians, so why did so many people still flock to honor the late singer on the recent anniversary of his death?
Hundreds of people took to the singer's Graceland estate yesterday to catch a peep of Presley's gravesite and leave behind mementos to honor their idol. The late rocker made his first ever public appearance in a talent show in the Mississippi Alabama Dairy Show on this day in 1945.
But countless accusations of abuse and sexual predation have mounted against the singer for years, not to mention that he regularly appropriated Black culture to strengthen his status as the "King" of a genre that was never his to begin with. Aside from the fact that Elvis ripped off his entire swagger from Chuck Berry, the exploitation of Willie Mae Thornton, who originally created "Hound Dog," was especially heinous.
---
Presley paid Thornton a mere $500 for his cover of the breakout single, and it since became one of "the most litigated and contentious tracks in history." Many believe that reparations are still owed to this day, but cultural appropriation aside, Elvis was one of history's most problematic musicians for a slew of other reasons.
In his 2014 biography, titled Elvis Presley: A Southern Life, acclaimed southern historian, and author Joel Williamson wrote that Presley was never without a gaggle of teenagers at his beck and call.
In the biography, Williams detailed a tumultuous tour life filled with pedophilic sex. Presley was said to have kept a group of three 14-year-old girls with him while on the road. They would often "pillow fight, tickle, wrestle, and kiss Elvis," who was then 22. One of his then-girlfriends named Dixie Locke, who was 15 at the time, would only wear outfits picked out by the "King of Rock and Roll" himself.
Elvis's wife, Priscilla, was herself a child bride, a 14-year-old who was preyed on by Presley while he was a 24-year-old serving in the military in Germany. In Priscilla's memoir, Elvis and Me, the late singer's ex-wife detailed how he was a man who grossly coveted virginity. He was so obsessed that he mentioned on the couple's wedding night that "he had never been able to make love to a woman who had a child."

"It was as if [her] virginity was another thing Elvis strangely and sorely needed to maintain," Williamson wrote. The memoir also detailed that the couple did everything short of penetrative sex long before they were married, and even that has been long disputed.
It was clear early on that the singer had an insatiable appetite for sex and partying. As noted in Child Bride: The Untold Story of Priscilla Beaulieu Presley by Suzanne Finstad, the "Hound Dog" singer installed a two-way mirror in the Palm Springs mansion he shared with Priscilla so that he "could secretly spy on couples having sex during lavish parties with showgirls." Inevitably, Priscilla became fed up with Presley's antics and cheated on him.
Priscilla Presley eventually told her husband about the affair, and he raped her as punishment. "This is how a real man makes love to his woman," he cried out. The duo finally separated in 1972, and he went on to date Ginger Alden, who detailed in her memoir, Elvis & Ginger, that he regularly threatened her with firearms, and once he even shot at her for refusing to get him more yogurt.
While COVID-19 cases have continued to rise across Tennessee, 720 people were granted access to the Graceland grounds last August for a personal up-close view of Elvis's estate. Social distance measures were in place; but still, doesn't it feel weird that hundreds of people risked their lives to pay homage to an abusive womanizer?