CULTURE
Oprah Winfrey also removed her interviews with James Safechuck and Wade Robeson from YouTube, in the latest development in the Michael Jackson allegations saga.
In the HBO documentary "Leaving Neverland," James Safechuck claims he was abused by Michael Jackson between 1988 and 1992 in a room inside a railway station on Jackson's California ranch.
However, a new aerial photo has revealed that the train station was not actually built until 1993.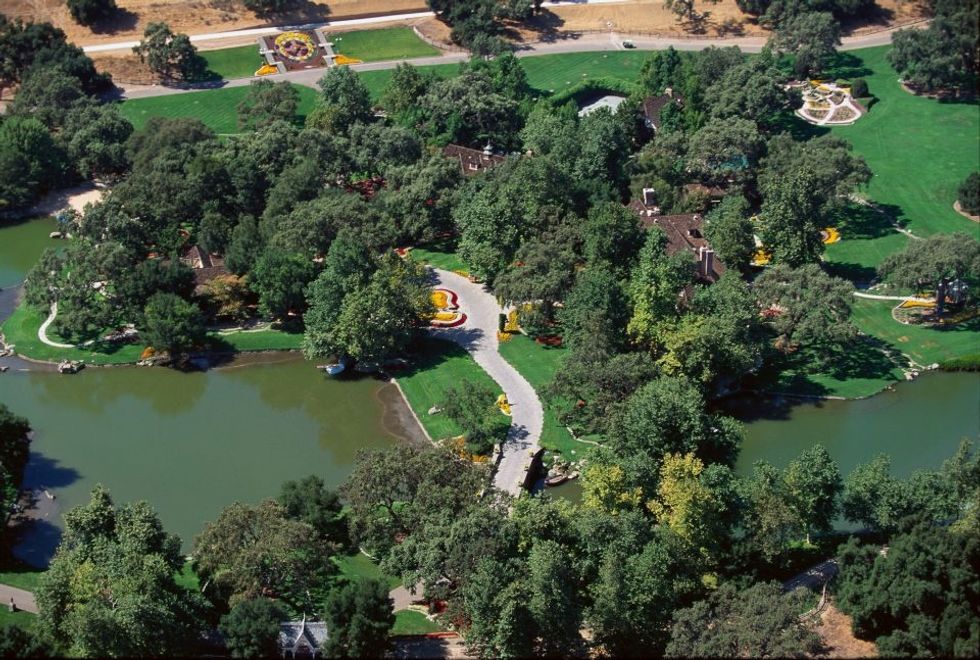 The 1993 GETTY photograph. Image via The Sun.
The director of "Leaving Neverland," Dan Reed, tweeted his support for Safechuck soon after the photo's reveal.
One of Jackson's biographers, James Sullivan, also alleged that there was a train station on the estate in 1990—but his description was questioned by fellow Jackson biographer Mike Smallcombe, who asserted that Sullivan never actually visited the ranch and instead based his description on a 2003 video.

Smallcombe tweeted, "A handful of people are citing something in Randall Sullivan's book saying Neverland's train station existed in 1990. Sullivan assumed the station was there then—his description of what Neverland might have looked like to visitors then, is based on a 2003 sheriff's dept video." Sullivan also sourced the construction permits for the 1993 train station, which proved the building work was approved in September '93.
Since the image's reveal, HBO has announced that it will be pulling the documentary from its services this week, though it was originally supposed to remain through September. However, this might be because of the Estate of Michael Jackson's aggressive lawsuit against the service, which began back in early March.

In addition, Oprah Winfrey has removed her extensive interviews with James Safechuck and Wade Robeson from her YouTube channel. During the emotional, three-hour conversations, mostly broadcast to an audience of sexual abuse survivors, she said, "don't let anybody in your world make it about what Michael Jackson did or do not do. It's about this thing, this insidious pattern that's happening in our culture that we refuse to look at." She still received harsh blowback for the interviews, which largely avoided questions about factual evidence. As of this week, the interviews have been removed from her channels along with her tweets that were critical of Jackson.
Many have speculated that Winfrey's actions are part of an attempt to temper the backlash; for example, Jackson's brother, Jermaine, called her out online for "taking #LeavingNeverland at face value, shaping a narrative uninterested in facts, proof, credibility." Some have also speculated that she might be trying to safe keep her new partnership with Apple's streaming service.
Oprah Says 'Sorry' For Michael Jackson Slander Deletes All Neverland Tweets www.youtube.com
Regardless of the truth, there's a dizzying amount of money, power, and tangled storylines at play in this case, and it's unlikely we'll receive definitive answers anytime soon.
---
Eden Gordon is a writer and musician from New York City. Follow her on Twitter @edenarielmusic.

---
POP⚡DUST | Read More...

In Honor of Nipsey Hussle's Legacy, a Look at Other Hip-Hop Artists Who Are Making a Difference
Every Time Jameela Jamil Has Taken Down the Kardashians' Toxic Diet Culture