MUSIC
Steven Van Zandt is sick. While he recovers, let us pay our respects.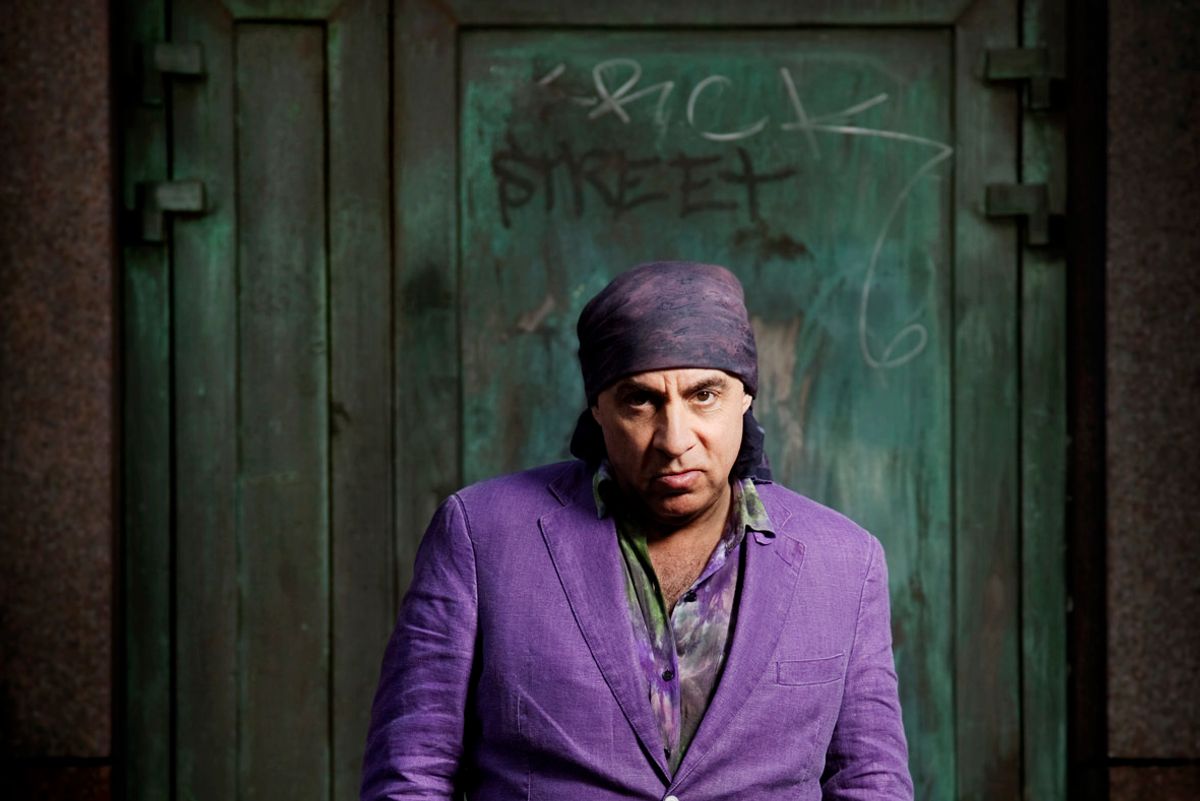 In 2004, music was on the verge of a full-on shift towards pop.
Chris Brown and Rihanna were both set to release their debut's within the year, and thanks to bands like All American Rejects and The Fray, a more melodramatic, pop-infused sound had permeated rock music. Steven Van Zandt, the actor, songwriter, producer, activist, and legendary musician was emboldened by this change. "That was the beginning of the war," Steven Van Zandt told a New York Times reporter in 2004. "How could our culture have gotten to the point where we have a format for everything except rock 'n' roll?"
This awkward Van Zandt interview is everythingwww.youtube.com
Van Zandt has maintained the same flourish and colorful swagger since he was a teenager. His fashion, much like his career, is that of a cultural chameleon. He has continued to find creative ways to remain part of the conversation both musically and otherwise, often doing whatever it takes to stay relevant, all while dawning his signature silk headscarves and an endless range of tie-dye button-ups, eye shadow, and antique, rustic jewelry. He wanted to host a two-hour radio show dedicated to Garage Rock in 2004, but because of the social climate, syndicators had no interest. As a response, Van Zandt started his own radio show, "Little Steven's Underground Garage," and distributed it himself. He employed a small staff and pushed the show out of his actual garage.

Two years later, the show was playing across 136 stations, with Van Zandt becoming an executive producer of three channels for Sirius satellite radio, including one for garage rock. Then, in 2004, he created and hosted the "Little Steven's International Underground Garage Festival" on Randalls Island, with headliners including Iggy and the Stooges and The Strokes. Van Zandt almost single-handedly revived garage rock in a time when the genre's mainstream popularity had severely waned.
Little Steven on Lettermanwww.youtube.com
"You're responding emotionally to something," Van Zandt said of rock and roll's importance. "Bits of information come through, so, suddenly, you find yourself learning about Eastern religion [from the Beatles] or about orchestration. Learning about literature from Bob Dylan."

In 2007, Van Zandt started a program called TeachRock through his Rock and Roll Forever Foundation. It was the first-ever "School of Rock," with lesson plans such as "The Birth of Rock," "Songs That Defined History," and "The Indians That Rocked The World," offered for free to educators for grades K-12.
Van Zandt has been a musical trailblazer since his youth. He met Bruce Springsteen when they were both teens in New Jersey, and they hit it off right away. "If you had long hair, you were friends. If you had long hair and you were in a band, you were best friends – which was the case with us," he told Rolling Stone. Springsteen was Van Zandt's best man at his wedding, and he has been an integral part of Springsteen's recording processes. During his Born To Run sessions, Van Zandt casually stopped by to help Springsteen with a few songs, and, on the spot, created the funky horn arrangement that defines "Tenth Avenue Freeze-Out." To this day Van Zandt is an imperative member of Springsteen's E Street Band, only stepping away a handful of times for even more badass obligations.
Bruce Springsteen - Tenth Avenue Freeze-Out (The River Tour, Tempe 1980)www.youtube.com
He took a break from the band in 1984 to create Artists United Against Apartheid, a group created with producer Arthur Baker to protest Apartheid in South Africa. The group curated the compilation album Sun City with the help of 52 other musicians. It was one of the first musical collaborations of major recording stars intended to support a political cause. The project raised over half a million dollars.

He then took another break from music in 1999. David Chase, who was beginning to cast The Sopranos, had seen Van Zandt induct The Rascals into the Rock and Roll Hall of Fame in 1997. Chase thought Van Zandt's speech was hilarious and that he was a natural-born actor. Despite his lack of acting experience, Chase called him up and asked him to play Tony Soprano. "HBO said no," Van Zandt said. "They were like, are you nuts?" So instead, Chase cast him as Tony's right-hand man Silvio Dante. Van Zandt dominated the role and was able to star alongside his wife, Maureen Van Zandt, who occasionally played Dante's wife, Gabriella. From there, Van Zandt began an unexpected career in acting. While dabbling in a few other projects, Van Zandt eventually went on to co-write, produce and star in Lilyhammer, Netflix's first-ever original series. "On my first promotional tour, I had to explain to people what Netflix was," Van Zandt said of the show. "I was like, 'Well it's kinda like Blockbuster but they're makin' their own stuff now."
The Sopranos - Silvio Calls Out Tonywww.youtube.com
Whenever there's a cultural shift, Van Zandt is at the forefront. In every sense, he is an embodiment of rock and roll. He was married to his wife by Little Richard while Percy Sledge sang "When a Man Loves a Woman;" he is best friends with Paul McCartney and Ringo Starr; he manages his own record label and created the first two original music channels for Sirius XM radio.
When a cultural figure has loomed so large for so long, it's especially heartbreaking to see him begin to succumb to the consequences that come with having such a packed schedule for so long. Earlier today, Van Zandt was forced to cancel a majority of his current tour due to sinusitis, and he was absolutely crushed by it, to say the least. The 68-year-old has never canceled shows before, and for someone so passionate about music, it's a heartbreaking thing to see. This journalist frankly hopes Van Zandt is being cared for by God himself, lying on a cloud, as Iggy and The Stooges reunite and play unreleased B-sides from their Fun House days. Van Zandt is a pioneer and a hero. Get well soon, Little Steven, rock and roll needs you.