FILM
On the first episode of Reunited Apart, Josh Gad brought the cast and creators together to reminisce and discuss possible sequels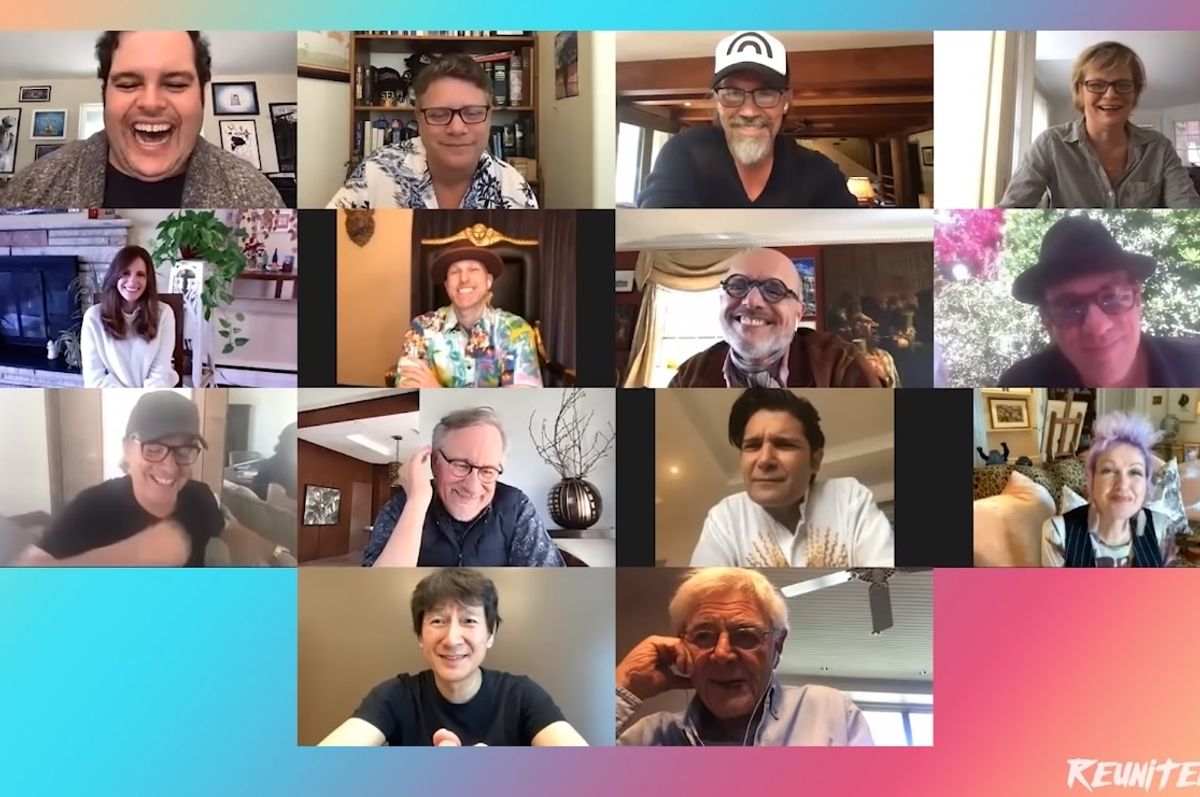 "Reunited Apart"
On Monday actor Josh Gad released the first episode of his new Internet show, Reunited Apart.
Each episode will feature the cast and creators of a different classic show or movie getting back together over video chat in support of a good cause—in this case the Center for Disaster Philanthropy. Unfortunately the show may have already peaked, because the first episode focused on one of the most impressive cast reunions of all time. It brought together nine of the stars, screenwriter Chris Columbus, director Richard Donner, executive producer Steven Spielberg, and even singer-songwriter Cyndi Lauper, from the classic 1985 adventure movie, The Goonies.
---
Among other topics—like Sean Astin's recent role in his daughter's school play and various impressions of Sloth—Gad coaxed the group into discussing the possibility of a sequel. As it turns out, it's a prospect the creators have frequently returned to over the last 35 years, but it has never manifested because of the particular challenge of living up to such a beloved movie.
The Goonies Are Back!! | Reunited Apart with Josh Gad www.youtube.com
As Steven Spielberg put it, "The problem is the bar that all of you raised on this genre. I don't think we've really successfully been able to find an idea that is better than the Goonies that we all made in the 80s." Richard Donner, who was celebrating his 90th birthday, also noted the challenge of recapturing the magic of the original film's cast, asking, "How are you going to find seven miserable kids like this again that are all new and fresh?"

While he was obviously teasing, the reality of wrangling seven high-energy child actors through the making of the original was undoubtedly a stressful experience for Donner. As Steven Spielberg recounted, Donner was desperate to get away by the end and escaped to his vacation home in Hawaii as soon as production wrapped—only to find those same seven kids waiting in his living room, having been flown out by Spielberg as a prank.
Josh Brolin, who played Brand, explained that the cast had strewn their clothes all about Donner's home and were lounging around when he got there—"I think someone ended up in his bed." And Martha Plimpton, who played Stef, recalled that when Donner saw them all there he "dropped to his knees, he turned white as a sheet. I thought we'd given him a coronary."
Maybe that kind of shenanigan is the real reason we haven't seen Spielberg and Donner come back together for a sequel. Whatever the reason, Spielberg joked that fans will just have to keep watching the original another 100 times, but there may be another option soon. Currently Spielberg's production company, Amblin Entertainment, is producing a TV show that aspires to put a new spin on the classic story. Fox recently ordered a pilot for the untitled drama about three kids and a substitute teacher having their own adventures while trying to produce a shot-for-shot remake of The Goonies.
I rival @joshgad as ultimate fan of #TheGoonies. For the last 9 years I've been secretly writing PART 2 for fun. It… https://t.co/oo1JhNDPZj

— Adam F. Goldberg (@Adam F. Goldberg) 1588013087.0
With any luck the show will be greenlit and fans will have a new way to relive the hunt for One-Eyed Willy's treasure, but there is another option if that doesn't pan out. Adam F. Goldberg, creator of The Goldbergs, responded to the reunion by revealing that he's been secretly writing a Goonies sequel for nearly a decade and called it his "masterpiece." He even had a meeting scheduled with Donner before the lockdown went into effect. Previously Goonies stars Sean Astin and Corey Feldman had pitched a concept for a sequel that was deemed "too expensive," but Goldberg may have better luck.

Of course neither of these prospects are sure things, so for now fans will just have to check out Reunited Apart, donate to the Center for Disaster Philanthropy, bask in Josh Gad's tribute to the truffle shuffle, and don't give up hope for a sequel—because Goonies never say die.