Opinion
Misogyny Disguised as Misery: We Need to Talk About Hobo Johnson
It's time we acknowledge the emo rapper's repeatedly sexist subject matter.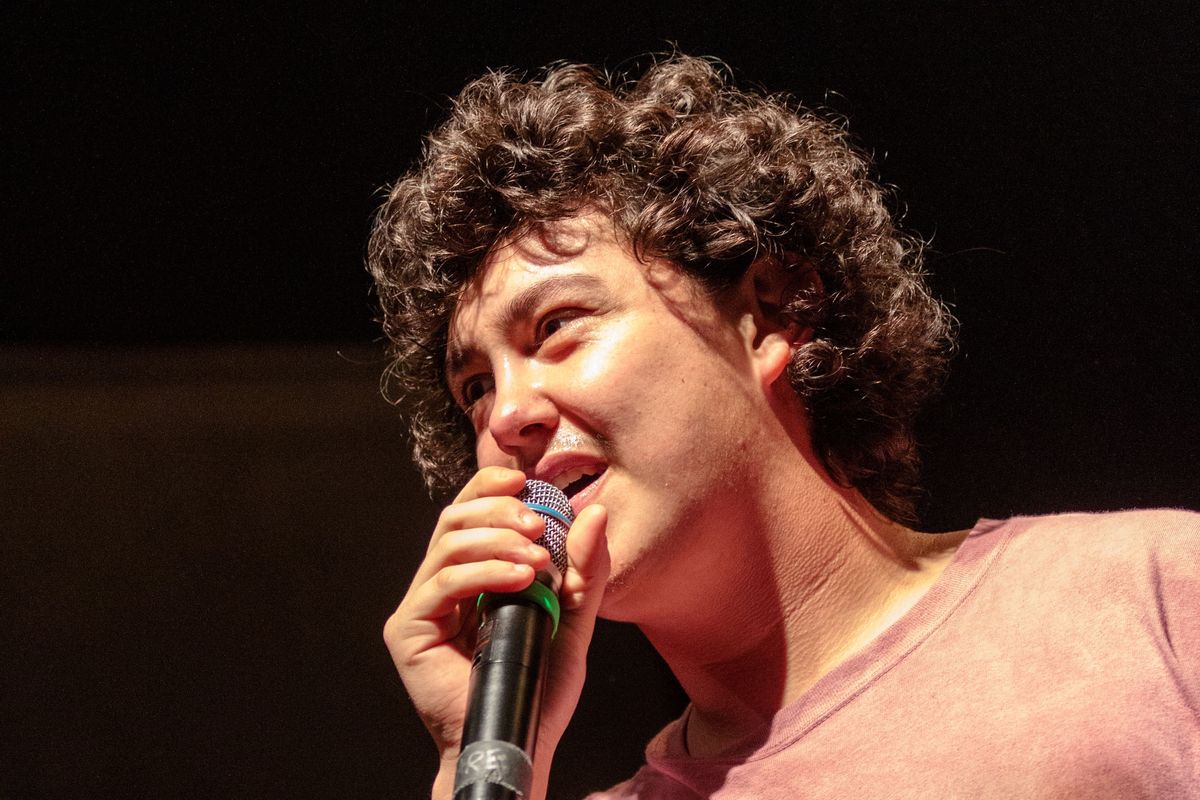 Photo by Wayne Fox (Shutterstock)
Note: This article mentions non-violent sexual assault that some readers may find disturbing. The alleged victim later recanted her statement on January 29, explaining that the incident was a misunderstanding between her and her friend, who shared the original Tweet referenced below.
In 2018, a YouTube clip of a Californian quasi-rapper by the stage name of Hobo Johnson went viral.
---
The video, an entry for NPR's Tiny Desk Contest, depicted a dorky, socially anxious 20-something and his band, dubbed the Lovemakers, performing a song called "Peach Scone" in a backyard. The lovelorn tune fuses minimalistic folk-rock with Johnson's slam-poetry style delivery which, more often than not, sounds like he's on the verge of tears. "She is like the nicest person I've ever met in my whole life / And I'm sure you know it 'cause you sleep next to her every night," goes one of the song's most bitter couplets.
Nearly two years and 17 million views later, Johnson is now arguably one of the most polarizing acts in the "emo rap" universe—if not the most outwardly hated. Though many media outlets praised Johnson for his vulnerability and outspokenness on mental health issues, an equally prominent portion of listeners swiftly labeled him an incel (short for involuntary celibate, a descriptor for men who blame their inactive sex life mostly on women alone rather than their own personality flaws). "My ex knows why my last one's my last one / Hey, guess why? It's all my stupid f--king actions," Johnson croons on "February 15th." "I'm gonna be alone forever."
This week, Hobo Johnson's name trended on Twitter because of a (now retracted) accusation. "Hobo Johnson has genital herpes," a now-private user alleged in a tweet. "This is nothing to be ashamed of, except he took off the condom while having sex with my friend, without her knowing, after one of his meet and greets. That's assault and he knowingly gave her herpes." But later the woman in question tweeted: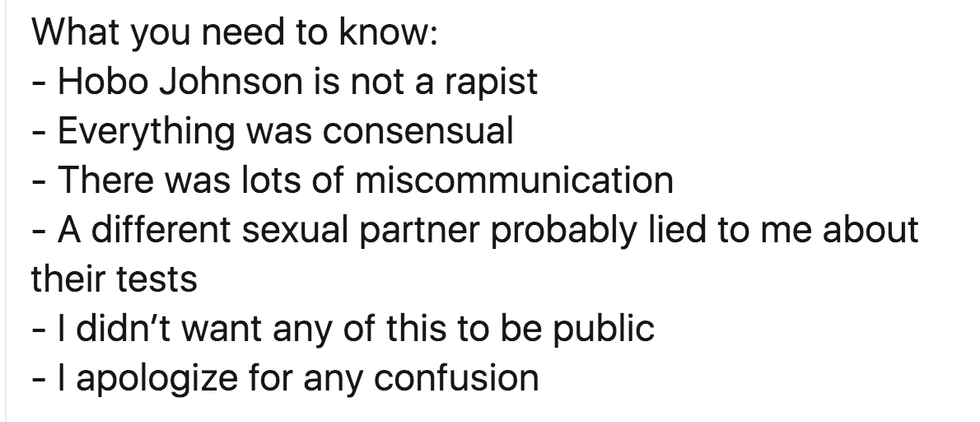 Though there are currently no laws in the U.S. that prohibit secretly removing a condom during sex—or "stealthing," as it's so cutely been nicknamed—the act is widely considered a form of non-violent sexual assault. Though the statement has since been backtracked and we'll never know for sure what happened, it's worth pointing out that in the original tweet's responses, Johnson received backlash that cited his previous behaviors and the subject matter in his songs. This incident underscores a trend of misogyny that exists in many men under the guise of radical male sensitivity.

In a track from his 2017 album The Rise of Hobo Johnson, Johnson pleads: "Mario's never getting some, and Link's never getting some / So why would princesses love me?" Somehow, he manages to incriminate himself and imply that video game damsels owe sex to their saviors in one fell swoop. "You know, it's something that I'd do / Like not text back for a day or two," he digresses on "Mover Awayer," a song about the anger he feels over the girl he likes moving away. "She deserves someone better, but / Every single guy she's ever loved to me sounds really f--king dumb." One of the worst offenders is "Sex in the City," a song featuring a chorus that earnestly speculates "sex in the city probably feels really really nice."
In other moments, it's evident that Johnson means well; he pretty explicitly denounces police brutality in "Demarcus Cousins & Ashley," and repeated references to his parents' severed marriage are likely to console listeners who are children of divorce. But if those same young children think Hobo Johnson exemplifies healthy relationships and sincere expressions of love beyond childish desires to "get some," then we're in a world of trouble. No matter how he treats women in real life, his artist persona and the attitudes he expresses in his music pose real dangers with potentially nauseating consequences.