Music Features
Jemima Kirke and Alex Cameron's "Marlon Brando" is Brilliant
Jemima Kirke and Alex Cameron teamed up and created a whole new type of music video.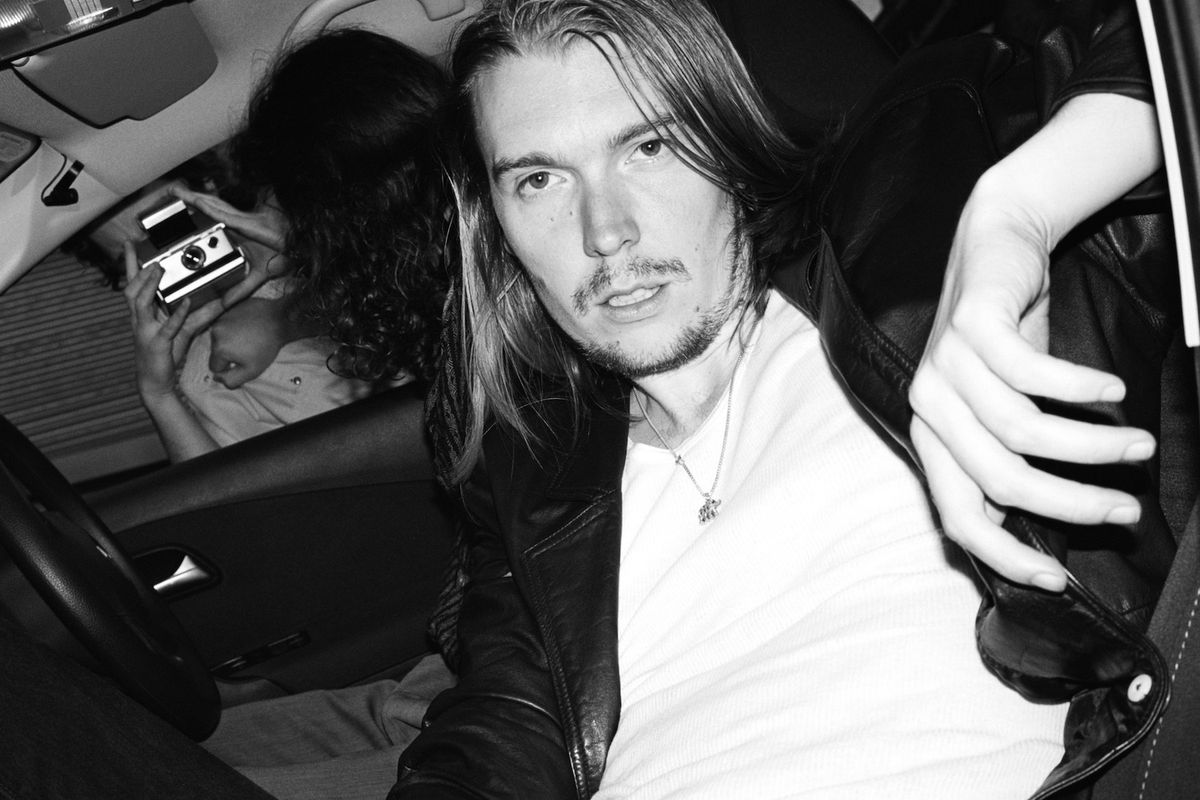 Chris Rhodes
Alex Cameron's new music video (short film?) is something of an anomaly. Directed by his girlfriend, Jemima Kirke ( Girls, Maniac), the video for "Marlon Brando" shirks the contents of the song and instead creates a meta-narrative around the production of its music video, focusing instead on the kind of person the song might be about. Cue fictional director John Brearly (John Early), a recent winner of Cannes Film Festival's Un Certain Regard competition. From the offset, Early's character is a flailing example of an unexceptional creative who's let moderate success swell his ego. The film opens with Early waxing poetic on his theories about the karmic repercussions of wearing a seatbelt and is quickly followed by one of the most uncool/uncomfortable attempts at climbing into a loading dock ever captured on film.
The short intersperses bits of Cameron's song throughout, using it more as transitional material than subject matter. Kirke zooms on Early, as he throws around out-of-context references to Terrence Malick and talks demeaningly to the dancers and his starry-eyed PA. Eventually, the bottom falls out, and Early's thin veneer of kindness disintegrates when his helpful PA screws up his ice cream sandwich order.
Alex Cameron - Marlon Brandoyoutu.be
"It's just a cookie? If you wanted to be more honest with me, you could have told me it was a third of an ice cream sandwich. I think that would have been a little more accurate given my expectations," Early murmurs seconds before his breakdown–one that culminates in him shouting through tears, "I miss my friends from college!"

This scene, not the synth-laden chorus nor Alex Cameron's goofy-sincere dancing, is the climax of the video. It's here where the roiling mixture of narcissism and rage that hides just beneath the surface of the New York film scene is exposed. While the song's lyrical narrative highlights an easily recognizable type of toxic masculinity, Kirke's short film narrows its gaze, instead focusing on a particular type of douchebag: the Brooklyn film snob. From the outset, Early is pretentious. He's pseudo-intellectual, the kind of guy who uses "which" instead of "that" as a determiner, someone who holds a book of poetry on the subway but never seems to read it. His pedantry is a cover, not for stupidity, but for what the stupidity would be if he didn't have an NYU education. Namely, chauvinism. This is the genus of fuck-wit that Kirke so elegantly dissects in her short film. Her painting of Early is a sort of stretched realism, but he's not a cartoon. He's a slightly exaggerated version of the type of person every 20-something New Yorker knows in his or her personal life.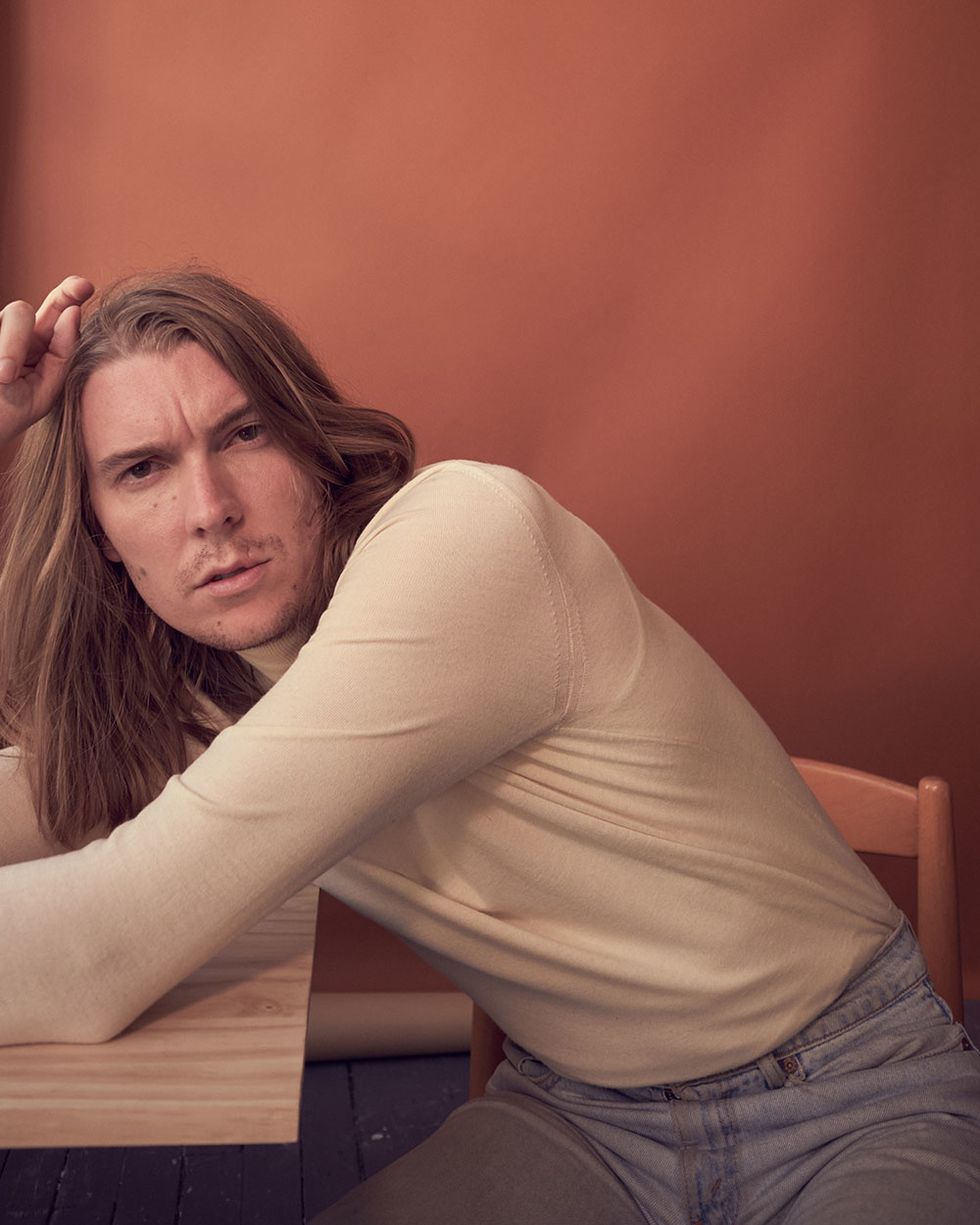 Alex Cameron in MonroweJACK O'CONNOR (Style by LexyRowe)
For Cameron's part, the video wouldn't be possible without his song, and his uncharacteristic performance as the straight man is what makes Early's antics pop. This isn't to say the film was without Cameron's distinct charm. The final shots of the video show Early crying as Cameron shuffles and scoots over a strangely lit white backdrop. His hair is still slicked back. He's still cool in the most uncool way. Maybe it's a testament to the absurdity of the video that the man dancing in leather sweatpants seems to be the only sane person in the room. Either way, Kirke and Cameron have once again created something special together.

---
Matt Clibanoffis a writer and editor based in New York City who covers music, politics, sports and pop culture. He currently serves as Lead Editor for Gramercy Media. His editorial work can be found in Inked Magazine, Pop Dust, The Liberty Project, and All Things Go. His fiction has been published in Forth Magazine. Find Matt on Twitter: @mattclibanoff
---
POP⚡DUST | Read More...
Black Actors Share Stories of Being Ignored by Stylists
Foals Throw Apocalyptic Dance Party on New Album
Obviously Rich Parents Pay for their Kids to Get Into College