Culture News
#JodieComerIsOverParty has been trending on Twitter for hours.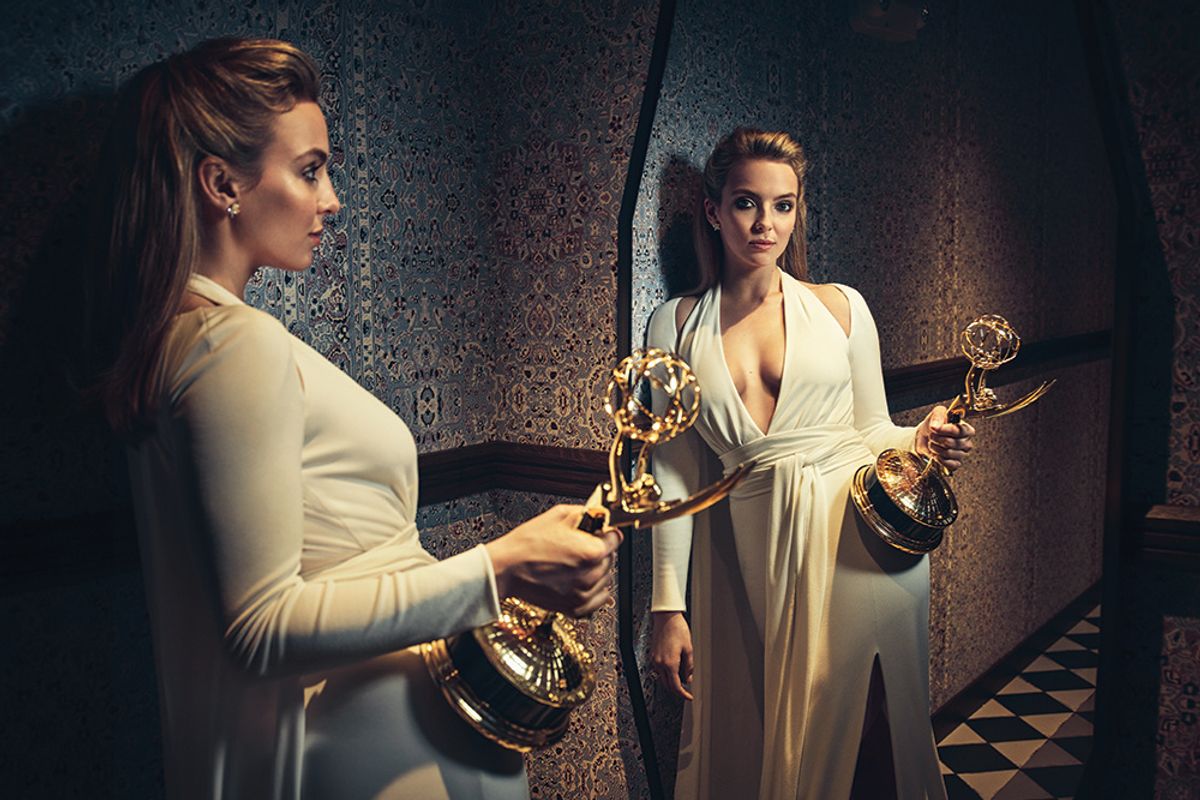 It's exhausting to try to formulate an opinion on the morality of every celebrity the Internet takes it into its hive-mind to cancel.
Most recently, #JodieComerIsOverParty started trending on Twitter. Why? Because she MIGHT be dating a man who supports Donald Trump. Given Comer's role as Villanelle, a queer woman, on the hit show Killing Eve as well as her vocal support of causes like Black Lives Matter and LGBTQI+ rights, fans were quick to accuse the actress of hypocrisy.
---
As Newsweek reports, "One angry tweet with more than 1,000 likes reads: 'Jodie Comer dating a Trump supporter, while she's portraying an LGBT character and reading poetry as an "ally" is not only wrong but disgusting. Also her posts about BLM now look like performance activism.'"
jodie comer apparently dating a trump supporter is so on brand for a white woman "ally" i can't find it in me to b… https://t.co/sjL9wE0Sk5

— shanly ( ◠‿◠ ) (@shanly ( ◠‿◠ )) 1594184917.0
jodie comer chatting to her friends about this boy she met in america. https://t.co/mt7vwCUC8K

— jen (@jen) 1594195859.0
Many users specifically referenced Comer's collaboration with Amnesty International for Pride Inside—an online festival set up by Amnesty International, UK Black Pride, ParaPride, Gendered Intelligence, and Stonewall—calling her contribution "performative allyship."
For #PrideInside: Award-winning actress and LGBTI+ ally Jodie Comer reads the beautiful first letter from Vita Sack… https://t.co/e5ZYrztiQw

— Amnesty UK (@Amnesty UK) 1594058440.0
While it's obvious that the LGBTQIA+ community in particular feels betrayed by Comer's supposed passive support of Trump's bigoted policies and racist, misogynistic, and homophobic rhetoric, many other fans leapt to her defense.
so everyone is cancelling jodie comer for dating a republican...yet no one knows if the name they have matches up t… https://t.co/OnSa3aofzw

— 𝑐ℎ𝑎𝑟𝑖𝑠 𝑡ℎ𝑒 𝑓𝑟𝑖𝑒𝑛𝑑𝑙𝑦 𝑔ℎ𝑜𝑠𝑡⚢ #BLM (@𝑐ℎ𝑎𝑟𝑖𝑠 𝑡ℎ𝑒 𝑓𝑟𝑖𝑒𝑛𝑑𝑙𝑦 𝑔ℎ𝑜𝑠𝑡⚢ #BLM) 1594206837.0
Logs on to twitter. Wonders who is cancelled today. Ah, the insanely talented Jodie Comer for *checks notes* allege… https://t.co/GqHP8LTFj3

— MrsKrabapple (@MrsKrabapple) 1594201059.0
Regardless of where you stand on the issue, it's worth noting that the evidence that Comer is actually dating a Trump supporter is exceedingly scarce.

Comer confirmed in an interview for British Vogue in April that she was in a relationship. When asked about being in love, she stated: "I'm very much in it. I think love's the best. I'd been single for a while and just kind of going with the flow and doing my thing. That's the thing, isn't it?" She went on, "When you're relaxed and letting the universe do what it's doing, things kind of fall into place. Which is very much what happened."
This admission spiked fan's curiosity, who soon came to believe—mostly based on Comer's Instagram stories—that she's dating an American named James Burke. The evidence that he's pro-Trump is decidedly minuscule and includes a screenshot of his supposed voter registration, showing that he's a registered Republican.
Other evidence includes the fact that he's following Donald Trump on social media, that his dad has an American flag in his Instagram bio, and that he has a "'Murica" themed Spotify playlist. None of this concretely (or even vaguely) actually suggests Burke is a Trump supporter.
If you know anything about American voter registration, you'll know that many voters first registered in high school, choosing their political party affiliation before actually engaging in politics in any real way. Not only that, but many registered Republicans don't actually support Trump and only stay affiliated with the party in order to have a say in primary elections, either as a reflection of the values the less-radical version of the party used to stand for or simply because they haven't bothered to change their party registration. Additionally, plenty of anti-Trump voters take pride in their identity as Americans; that Burke and his family seem to be patriotic is not inherently indicative of conservative attitudes.
Perhaps even more importantly, we don't even know for sure that this is the man Jodie Comer is dating. If she is dating a man named James Burke, then we certainly don't know if that's even his voter registration, Spotify, or father.
Admittedly, it's decidedly hypocritical if Comer is actually dating a person who is flagrantly racist, misogynistic, or homophobic while she's touting progressive views and claiming to be an ally to people of color and people within the LGBTQIA+ community. But we have essentially no evidence that that is the case; and until we do, judging Jodie Comer's dating life is a useless and ignorant venture.
Not only that, but one has to wonder if public opinion would be so negative if a progressive male celebrity was reportedly dating a Republican woman. As has been pointed out in cases like the relationship between Florence Pugh and Zach Braff, people are quick to judge the dating lives of women, while taking on a "boys will be boys" attitude regarding male celebrities relationships.
Even if Jodie Comer is dating a Republican, is it really any of our business?