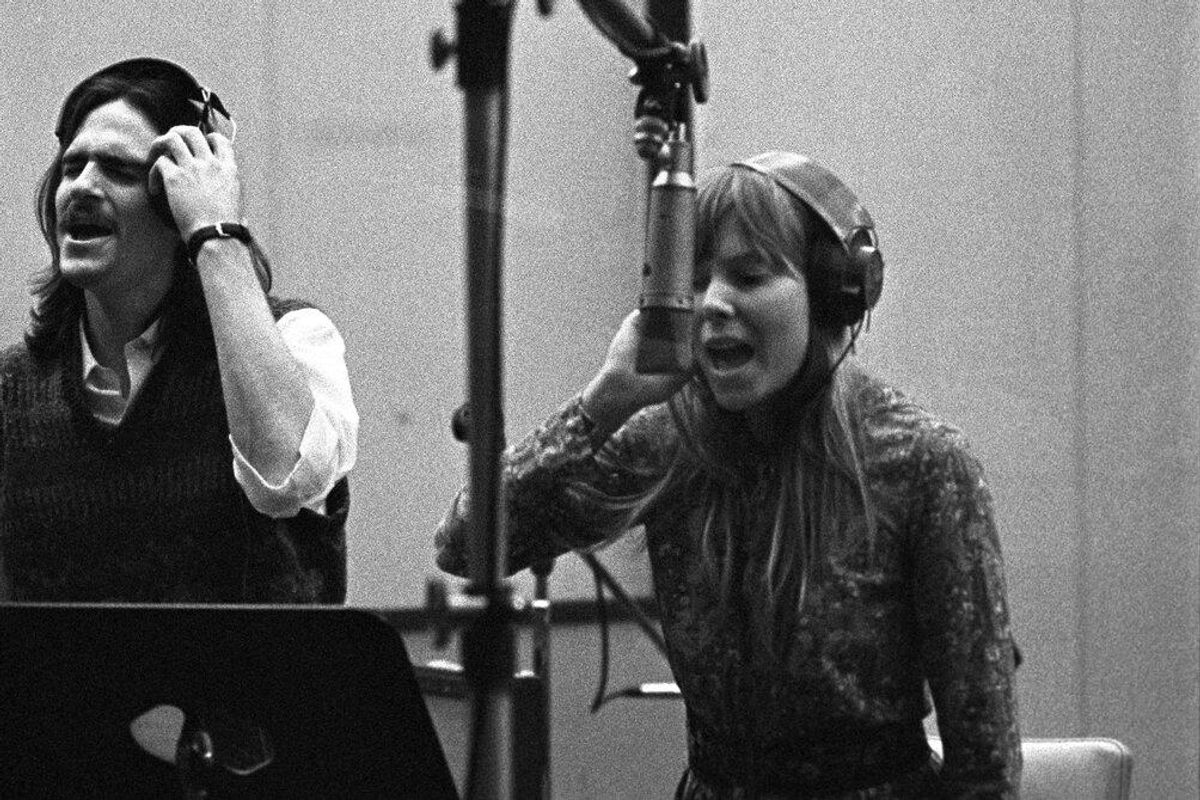 Jim McCrary/Redferns/Getty Images
Joni Mitchell's classic album Blue first tore through the emotional defenses of listeners 50 years ago today.
To commemorate the album's release, her label has dropped Blue 50, an EP that features five previously unreleased recordings from the album. Among the tracks featured are a demo version of "A Case of You" that features unreleased lyrics. There are also demos of "River" and "California" and another version of "Urge for Going," which was eventually released as the B-side track for "You Turn Me on, I'm a Radio."
---
Most significantly, the album features a song called "Hunter," which was cut from Blue but which Mitchell sometimes performed live. This is the first time the studio version of the song has been released.
Hunter (Blue Sessions)www.youtube.com
The EP is a prelude to the box set Joni Mitchell Archives Vol. 2: The Reprise Years (1968 To 1971), which will be released on October 29th. The set will contain unreleased songs and a live 1968 set at Le Hibou Coffee House in Ottawa, Ontario, recorded by Jimi Hendrix.

Blue was first released in 1971, and it has remained a classic ever since then. The album is half mystical and half crystal clear, notable for its relatability and its inscrutability — its humanness and its alienness, which comes in the form of Mitchell's superhuman talent.
And yet on the album, she is sublimely, brokenly human. A year before the album's release, Mitchell had fled a marriage proposal and embarked on a world tour, traveling to Spain, Greece, and France with her dulcimer in hand. Full of suspended chords and conflicted emotions, the album produced from these travels still shines as a deceptively simple, infinitely giving piece of work so many years later.

"The Blue album, there's hardly a dishonest note in the vocals," Mitchell herself said of the work. "At that period of my life, I had no personal defenses. I felt like a cellophane wrapper on a pack of cigarettes. I felt like I had absolutely no secrets from the world and I couldn't pretend in my life to be strong. Or to be happy. But the advantage of it in the music was that there were no defenses there either."
The album has a way of making its listeners peel back their defenses, too. "I can't listen to Joni Mitchell in a room with other people, or on an iPod, walking the streets," Zadie Smith wrote. "Too risky. I can never guarantee that I'm going to be able to get through the song without being made transparent — to anybody and everything, to the whole world. A mortifying sense of porousness. Although it's comforting to learn that the feeling I have listening to these songs is the same feeling the artist had while creating them."
Blue has been written about and analyzed so deeply that trying to do justice to it here would be a fool's errand. It's been deconstructed as the beginning of Mitchell's jazz phase, deeply influenced by Miles Davis and his Kind of Blue. It's influenced countless musicians and artists — 25 of them spoke to The New York Timesto celebrate its 50th anniversary, and reading about how much Blue means to each one of them, you start to get some idea of how vastly important this album has been to so many people.
"Joni made everything feel beautiful," says musician Mustafa in a reflection on the song "Little Green." "She's telling truths that people haven't confronted yet, like love and hope and sorrow all happening at once. And she just finds a way to help someone navigate it."
Blue is the kind of album that's there in the quiet places, that appears in the dead of night, at the end of the line, to guide you back to the present over and over again. "With Blue, Mitchell fully realized her authority; she rewrote the stories of her own life, not only in words, but by finding music that would make each word sound differently," writes Ann Powers for PR. "That's why, every time a listener turns to Blue, the path of desire and disappointment and slowly accruing wisdom the songs lay out appears in slightly different form; the songs remain in that present tense in which they were created. Maybe it's impossible to know what happened when Joni Mitchell made Blue because every time the record plays, it's still happening."
Here's to another 50 years of this album's intimate, omnipresent wonder.