New Releases
12-year-old Keedron Bryant's "I Just Wanna Live" is a modern protest anthem.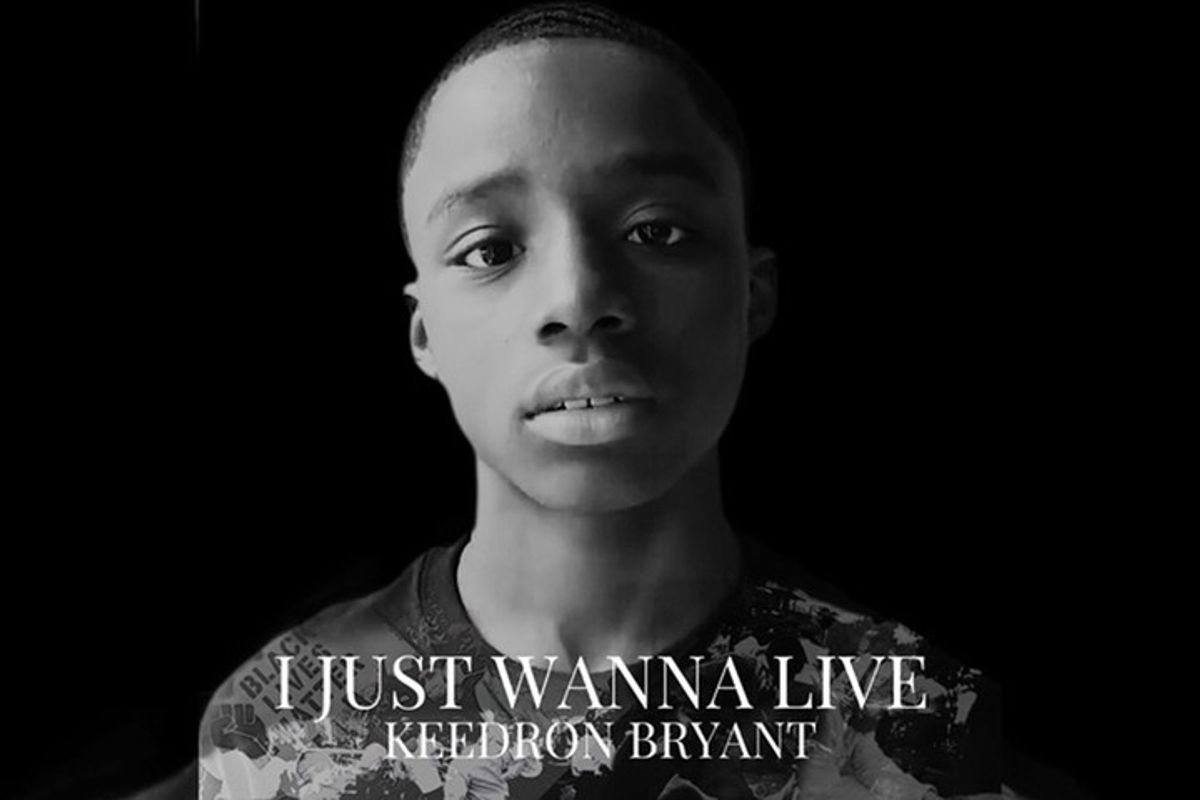 "I'm a young Black man doing all that I can…" begins the original a cappella clip of Keedron Bryant's protest song, "I Just Wanna Live."
The song was written by Bryant's mother one day after the video of George Floyd's murder at the hands of police officers rocked the world and sparked protests around the globe. The video went viral, moving people around the globe and resonating with the rage and pain people were feeling and still feel today.

The moving track has earned Bryant a record deal with Warner Records and it's officially released today, on the 155th anniversary of Juneteenth.
But despite the success that the song has earned Bryant, the song's inherently tragic message has many people lamenting the fact that it had to be released at all.
---
"I'm a young black man / Doing all that I can / To stand, oh but when I look around / And I see what's being done to my kind / Every day, I'm being hunted as prey," Bryant sings.
---
In an interview on the Today Show, Bryant explained the meaning behind the song. "I felt sad that I have to sing that because it's unfair that we can't go out and, like the song says, live," he said. "I just want to live. We can't go out and enjoy life and not be afraid, fear that something is going to happen to us, so it was really sad to have that feeling."

On an episode of iHeart Radio's Musicology with Tim Kash, which aired on Quibli this Wednesday, Andra Day mourned the song's tragic message. "He has such a bright spirit," she said after the performance. "You really are just a beacon of light and a beacon of hope. You can see that God has put that in you so powerfully. I just think about his mother. I'm looking at him, this beautiful baby, and the fact that his mother even has to think about this — we should not have to sing these lyrics. I hate that you have to sing that, but I love you and I appreciate you for singing it."
Musicology | Tim Kash Interviews Andra Day and Keedron Bryant | Quibiwww.youtube.com
A Mother's Prayers: Keedron's Mother Johnnetta Bryant Pens Her First Song
Bryant's mother, Johnnetta, was moved to write her first song after seeing the video of George Floyd's death.
"The moment when [George Floyd] cried out for his mom really pierced my heart. I knew in that moment that we are facing a very bad problem and that we need divine intervention," she said. "I knew that I wanted to be able to share something with Keedron that is going to help him understand what's going on in the world... I began to pray, and so I said, 'God, this world needs help like never before. So I went into meditation because I needed understanding, I needed strength. I also looked at [like] I need to be able to give my son some wisdom that's gonna help him to be able to live and to be confident in this world, and I knew that it could only come from God. This fight is spiritual as well. I went into prayer and God spoke to me and gave those words to me."

She had never written a song before. "I actually just finished five songs," she said. "I never would have considered myself to be a songwriter, but I do know that God speaks to me. What he gives me is necessary and in season. He's doing a new thing in me. I'm humbly so grateful for it."
Her son, Keedron Bryant, was born in Sicily, Italy, and has been performing music since he began performing in church at five years old. "It just makes me feel good," he said to Complex. "Music could change your life, and it makes me feel free and happy." Bryant recently competed in NBC's reality TV show Little Big Shots and has known he wanted to be a singer since he was seven.
Team, take a moment to listen to this young man @keedronbryant put the gift God gave him to good work. Amazing. https://t.co/iOaWNB3J7X

— Ray Lewis (@Ray Lewis) 1592168224.0
Though his breakthrough song came from a place of pain, 12-year-old Keedron hopes it will bring joy and transformation into the world. "Black people can't really live and enjoy life on Earth without having fear in their minds and being afraid. I feel that the world needs to see that Black people are treated unfairly, and that we can't live life and enjoy it. That's why I did the video, to bring hope in the world," he said.

Messages of Defiance and Solidarity: Barack Obama, Warner Music, and Others Share Support
Many celebrities have expressed their support for the young singer's video and its message. His song garnered support from Barack Obama, Lupita Nyong'o, LeBron James, Janet Jackson, Eva Longoria, gospel great Kirk Franklin, and many others.
In a statement about George Floyd's death, Obama cited the song as an example of the anguish the world was collectively feeling about the event. "Another friend of mine used the powerful song that went viral from 12-year-old Keedron Bryant to describe the frustration he was feeling," said the former president. "The circumstances of my friend and Keedron may be different, but their anguish is the same. It's shared by me and millions of others."
My statement on the death of George Floyd: https://t.co/Hg1k9JHT6R

— Barack Obama (@Barack Obama) 1590768414.0
The original a cappella version was so powerful that it inspired producer Dem Jointz to create music for the vocals. "It just moved me to create music around his vocal," said the producer. "It was so much energy coming from the video alone, it was just easy for me to produce around that."

Jointz, who has produced for Rihanna, K-pop group NCT 127, Dr. Dre, Anderson .Paak and many others, was impressed by Keedron's talent as well as his mother's songwriting chops. "She has an untapped talent," Jointz said of Johnnetta's work. "She was anointed by God and it came from her heart."
The re-work of the song inspired Chris Atlas, head of marketing at Warner Records, to take notice. "I was like, 'Wow this is an amazing song.' We should be a part of making sure the world hears this on a larger capacity but then also donate proceeds from the song to the right cause," he said. "That's actually giving back and using music as a healing mechanism, which I truly believe it is."
Warner Records will reportedly be donating 100% of the song's profits to the NAACP. The label will also be matching every stream of the song on Amazon Music with a $1 donation to the foundation for the first 24 hours of its release up to $50,000.