MUSIC
The Mississippi-born rapper and producer strikes a balance between his roots and the future of rap on his latest album.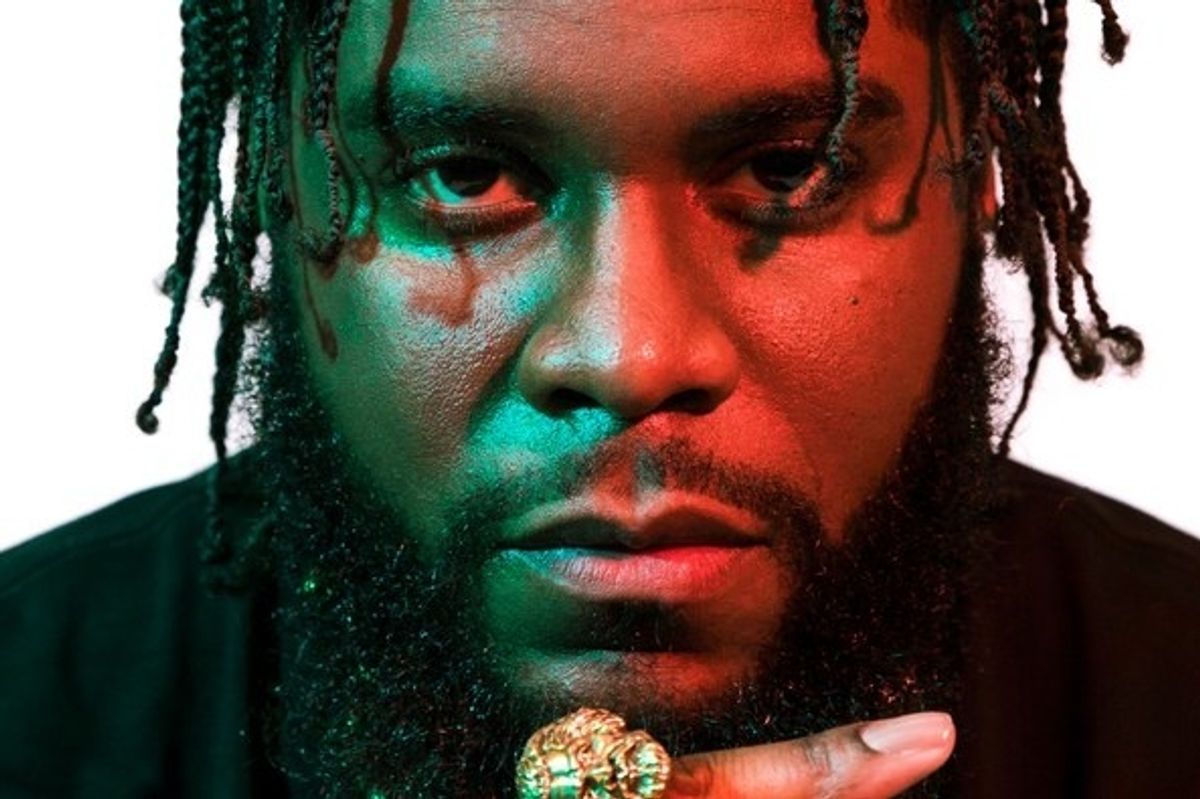 Between the years of 1997 and 2007, southern rap was unavoidable.

In the wake of a bloodsoaked war for hip-hop dominance between East and West Coast rappers, Southern artists quietly rose to prominence. As tensions escalated, Tupac Shakur was gunned down in Las Vegas on September 7, 1996. He died from his wounds six days later. A little over a year afterwards, on a chilly March morning in 1997, The Notorious B.I.G. was murdered in Los Angeles, behind enemy lines. Following these back-to-back tragedies, many feared that the very foundation of hip-hop might crumble. In a 2014 interview for Music Times, Nas reflected on the culture's darkest age: "Those two things hit me real hard, because I knew both of them [...] what they meant to the art form can never be redone, can never be replaced [...] And when those two guys passed away I thought [it] was the end of rap."
Meanwhile, two little-known emcees in Atlanta were poised to change the game forever with their refreshingly fun and funky Southern sound. Not only did Outkast keep lit the torch of hip-hop in its hour of direst need, they also contributed greatly to redefining the genre's increasingly polarized sound—which, for the majority of the '90s, existed in two extremes: the gritty street griots of NYC and the G-Funk stylings of gangsta rap artists from South-Central LA. They offered something brand new by laying out the blueprint for another regional sound in hip-hop, that of the Dirty South. In the years to follow, radio waves were bombarded with new and unique artists like T.I., Ludacris, Lil Wayne, Master P, Trick Daddy, Three 6 Mafia, and Mystikal, as well as (more recently), J. Cole, Killer Mike, and Big K.R.I.T.
K.R.I.T., however, found his beginnings at the tail end of the Dirty South's commercial reign. His 2006 mixtape, Hood Fame, garnered him some well-deserved recognition, prompting some high-profile guest spots on albums like Curren$y's major label debut, Pilot Talk, as well as Wiz Khalifa's critically acclaimed mixtape, Kush & Orange Juice. From there, K.R.I.T. quickly rose through the ranks of rap as an emcee and producer, often praised for the ways in which he rapped like T.I. (raw, lyrical, and quintessentially Southern), yet his beats were reminiscent of the late Pimp C (heavily rooted in '70s funk grooves and trap drums).
Big K.R.I.T., unlike some of his Dirty South contemporaries, has been able to adapt and evolve in order to survive the modern hip-hop landscape, which is seemingly always in flux. And his latest album, K.R.I.T. Iz Here, is yet another testament to that rare propensity for longevity.
In terms of production, K.R.I.T. Iz Here is a far cry from his early work. There are certainly elements of that iconic Dirty South vibe thrown in throughout, particular on songs like "M.I.S.S.I.P.P.I.," a horn-driven ode to his roots (and succeeding despite great adversities), On this track, K.R.I.T. raps, "Daddy worked up on a train / Momma always had brains, she a teacher now / You knowin' how we get down / So stop with all them bullshit moves about where I come from…"
He raps about fighting his way out of poverty so he could help his parents and his community find reprieve from struggle, demonstrating all the while a wealth of lyrical growth since the days of Hood Fame, skillfully bobbing and weaving through rhymes with the grace and patience of a veteran boxer. "Proud parents, black parents, my parents," he rhymes, "They standin' on the same steps that they supposed to / In the same place that they supposed to / And I'ma keep raisin' 'em higher and higher / And the biggest house I can find, I'ma buy it and buy / I'ma keep tryin' and tryin' to make 'em proud and all."
Other standout moments on K.R.I.T. Iz Here, though, see the rapper and producer solidifying a new voice—one for which he began laying down the foundation with 2017's critically acclaimed, 4eva is a Mighty Long Time. On much of …Iz Here, K.R.I.T. has traded in that signature Dirty South sound for beats that could be characterized as echoing that classic late '90s/early aughts East Coast aesthetic. Songs like "K.R.I.T. Here," "Make it Easy," and "Everytime," for example, rely heavily on smooth and flourishing soul samples—which make for unexpected and interesting backdrops to K.R.I.T.'s Mississippian, drawling flow.
There is a third ingredient, too, in this eclectic mix of hip-hop's multifarious and ever-shifting sounds. Songs with a more contemporary trap feel are darkly synth-laden and pummeled with speaker-shaking 808s; bangers like "I Made It" (featuring Yella Beezy), "Believe," "Prove It" (featuring J. Cole), and "Addiction" (featuring Lil Wayne and Saweetie) all showcase K.R.I.T.'s ability and eagerness to put his own spin on not only where rap has been, but also where rap appears to be headed.
Like Outkast did before him, Big K.R.I.T. is bridging a chasm in rap—again at a time where the culture is fractured and segmented, albeit to a much lesser degree. At a point in hip-hop history when the Dirty South has all but faded from the conversation, Big K.R.I.T. is here to keep it from disappearing, to open the doors for the Southern emcees and producers of tomorrow to bring their roots into whatever new terrains hip-hop traverses in the years to come.
K.R.I.T. IZ HERE