FILM & TV
Despite its two wins, Greta Gerwig is still missing one important title.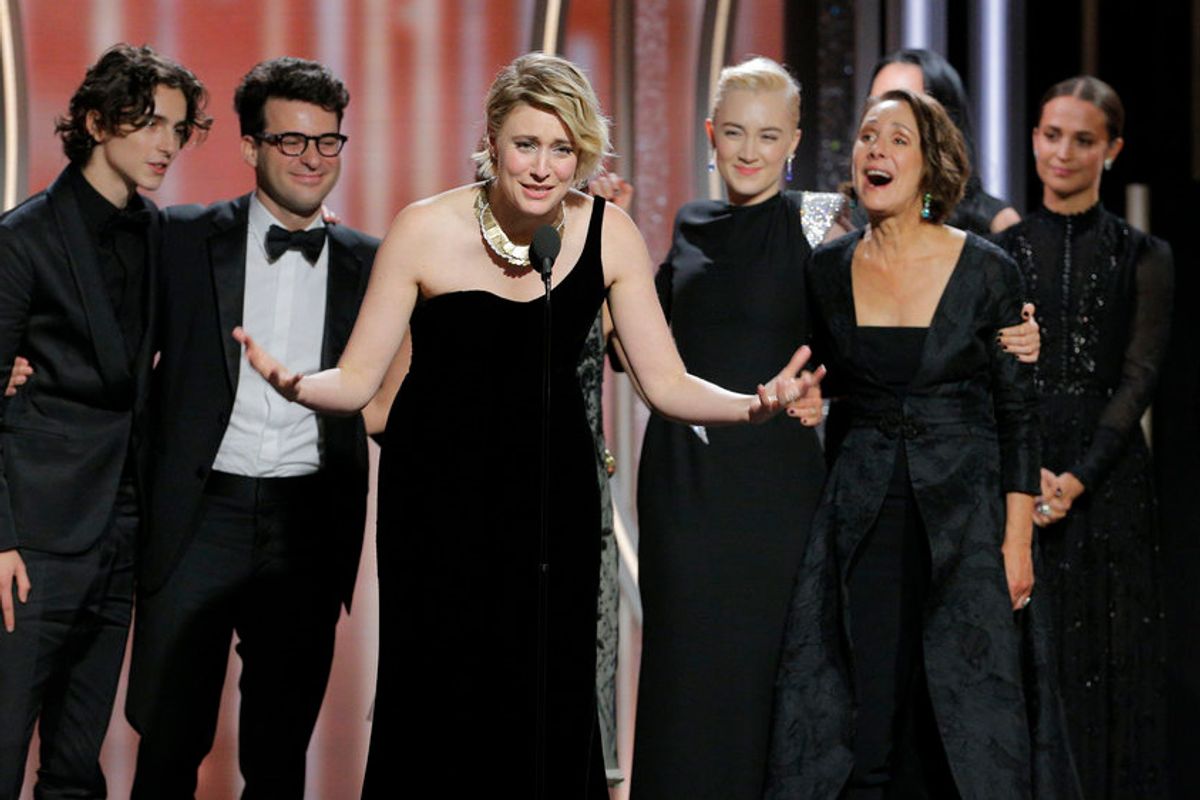 It's been quite a year for female-empowering movements, and at the Golden Globes it was no different, with the touching story of "Lady Bird" sweeping up awards for Best Musical or Comedy and Best Actress in a Musical or Comedy.
The Greta Gerwig-directed film (her first, in fact) has been making rounds for it's vulnerabilities and heartbreaking sincerity when it comes to a mother's love for her daughter - and the very real fact that she, as all daughters do, must leave home to find her own. It's been so widely critically-acclaimed, in fact, that it became the first film to achieve (and maintain) a perfect 100 score on the film critic website, Rotten Tomatoes. It stars Saoirse Ronan, who longs to break free from the confines of her hometown of Sacramento, California (the same place Gerwig calls home). "I think that it's inevitable that those stories won't get told if you don't have female creators," Gerwig told CNN earlier this year. "But I do think that it's important to tell these stories because on a very basic level, as Virginia Woolf said, 'Men don't know what women do when they're not there.' So we need to tell the stories of what we're doing when they're not there. Otherwise, they will go completely undocumented."
Gerwig was notably shut out of the Best Director category - and everybody knew it. Actress and presenter Natalie Portman was quick to note, "here are the all-male nominees." In a world where Film Critics Society named "Lady Bird" best picture, and the National Society of Film Critics dubbed it the best film of 2017, it seems almost impossible that Gerwig did not at least receive a nomination for her first big-time director role. In a world where the majority of the Golden Globes room praised the Times Up movement, it's abundantly clear that the same energy of supporting women does not, in fact, apply to the nominations themselves.
The Sacramento-born director was not the only woman who was snubbed for the category. "Mudbound", the film that's been as widely-praised as the rest of the Best Picture nominees, was directed by Dee Rees, who was also snubbed by the Hollywood Foreign Press Association. Barry Jenkins, before directing "Moonlight", stated this to IndieWire a while back: "I'm probably going to get in trouble for saying this, but I've always felt like I can tell the difference when I'm watching a film directed by a woman," said Jenkins. "I just feel like the metaphors are more eloquent, by which I mean they don't shout as much. Even for myself, when I try to make a movie with a message, it's clear I'm trying to make a movie with a message, whereas when I watch a Lynne Ramsay film or a Claire Denis film, it's the metaphors you can feel — Lucrecia Martel, especially."
While I don't necessarily agree that there are differences in directing based on gender, Jenkins statement highlights the work of women who manage to put something more than personal on the big screen. Gerwig's work deserves to be recognized, and when it comes to those who are not taking women seriously into the conversation - like the Hollywood Foreign Press Association - it's time to say, time's up.
---
Vanessa is a music and culture writer. Follow her on twitter.
---