B.S.
This is the lord's day. There is no body shaming on the lord's day.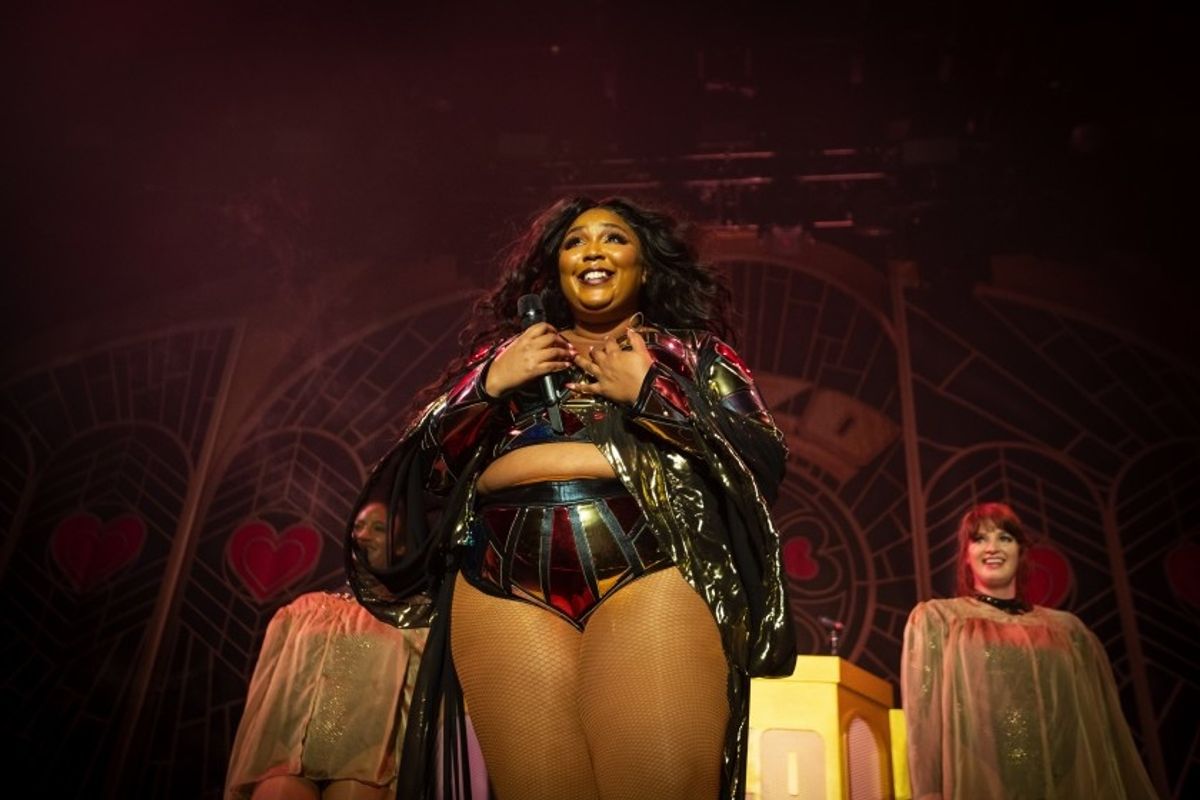 First, God created the heavens and the earth; second, he made the sea and the animals; and then, he created people.
God quickly realized he'd made a mistake with the "people" recipe, so he tried again, a few billion years later, and thus was born the gift that is Lizzo. If there is anything that proves the presence of a loving and sentient god, surely it's Lizzo in all her flute-playing, note-hitting, body-positive glory. But, apparently, some would disagree.
On Sunday, Rapper and businessman Diddy hosted the "world's biggest dance-a-thon" on his Instagram account in an effort to raise money to benefit healthcare workers in underserved areas. Many big names and excellent dancers joined in, including Jennifer Lopez, Alex Rodriguez, and, of course, Lizzo.
As is her trademark, Lizzo started to twerk while Diddy's sons danced on his Instagram live stream. Diddy quickly shut it down, shouting, "Whoa, whoa, whoa!" jumping into the frame and stopping the music. "It's Easter Sunday, let's play something a little more family friendly." Lizzo appeared to be, understandably, embarrassed and said, "Sorry, sorry, sorry! Let's do something fun. Well, don't play that kind of... play something I can bop to."
P Diddy ain't SHIT 😭 When Lizzo started twerking he brought that to an end with the quickness but had nothing to sa… https://t.co/W13J0bVHV1

— Grandson 🐐🇬🇭🇨🇮 (@Grandson 🐐🇬🇭🇨🇮) 1586766277.0
If Diddy had found Lizzo's dance moves too suggestive for his sons, that would be one thing. But he soon proved that the twerking wasn't the problem when model Draya Michele danced similarly on the dance-a-thon just a few hours later.
"You killed that!" Diddy told Draya. "I think that was one of the top performances."
Twitter users, rightfully, had issues with Diddy's hypocrisy.
You all hate that Lizzo expresses herself the way she does yet have little to no objection when that same expressio… https://t.co/Cd2iyza8Zi

— Ahmad K. Khan, Ph.D (@Ahmad K. Khan, Ph.D) 1586764505.0
I just gotta say diddy stopped Lizzo twerking but didn't do the same when Draya did. And then ppl don't wanna belie… https://t.co/F7xEnDUTbg

— enormouspotato (@enormouspotato) 1586782458.0
It's obvious that Diddy shutting down Lizzo's dancing had nothing to do with it being "the Lord's day" and everything to do with fat phobia. Online backlash was so severe that he later tried to excuse himself by claiming that he stopped Lizzo because of the song she chose: "When I stopped the music, it was 'cause it had a lot of curses in there," he posted on Instagram. "Not 'cause she was twerking. She's one of the best twerkers in the world, okay? So, let's keep that clear. You are allowed to twerk on Easter. There was a lot of cursing in the record and I don't need child services knocking on my door right now." Cursing on Instagram has never brought child services to anyone's door, but okay, Diddy.
It's sad that some people still can't see the divine miracle that is the female form in all its many variations—especially the holy gift of Lizzo's butt. Of course, so close to Easter, all we can do is pray for Diddy's hypocritical, fat phobic soul and twerk our hearts out, no matter what size we are.