Jack Ro
On a snowy Thursday evening, I visited Armada Music's new office in Flatiron, New York to meet up with two of the labels rising stars.
Andrew Fedyk and Joe Depace, an EDM Pop duo known as Loud Luxury, were in town to celebrate the success of their latest single "Body," which had just been certified gold in the US and surpassed 500,000 online streams. I arrived to celebratory balloons, a fancy meat and cheese spread, and framed plaques marking the achievement.
Fedyk was visibly excited by the celebrations, and before we even sat down he showed nothing but childlike enthusiasm when discussing the pair's new-found fame. Meanwhile, Depace remained relatively calm and soft spoken. It quickly became clear that Loud Luxury is a balancing act, with both members bringing a vastly different energy to the table. "Creatively, we've always been very in sync," Fedyk said. "And we started from the ground up, so we both know we're at our strongest when we're together." The duo had spent the evening thus far schmoozing with label executives, and while eager to celebrate and discuss their success, they were still in obvious disbelief about their sudden rise. "There was always that anxiety in the back of our mind when we started putting out music," Fedyk said. Depace nodded in agreement, adding, "I don't think I'll ever stop feeling like, 'Whoa I can't believe we're here.'" He smirked, "but you gotta fake it 'till you make it, ya know?"
In January of 2018, three months after the release of "Body," the duo was set to kick off their residency at The Grand, a luxurious nightclub in Boston, when freezing weather threatened to derail their opening night. "We were convinced that if anyone came out it would be a miracle," Depace said. To their surprise, the two friends walked on stage that night to a full house, with fans frantically screaming every word to their latest single. "It was in that moment that we knew people connected with this song," Fedyk said.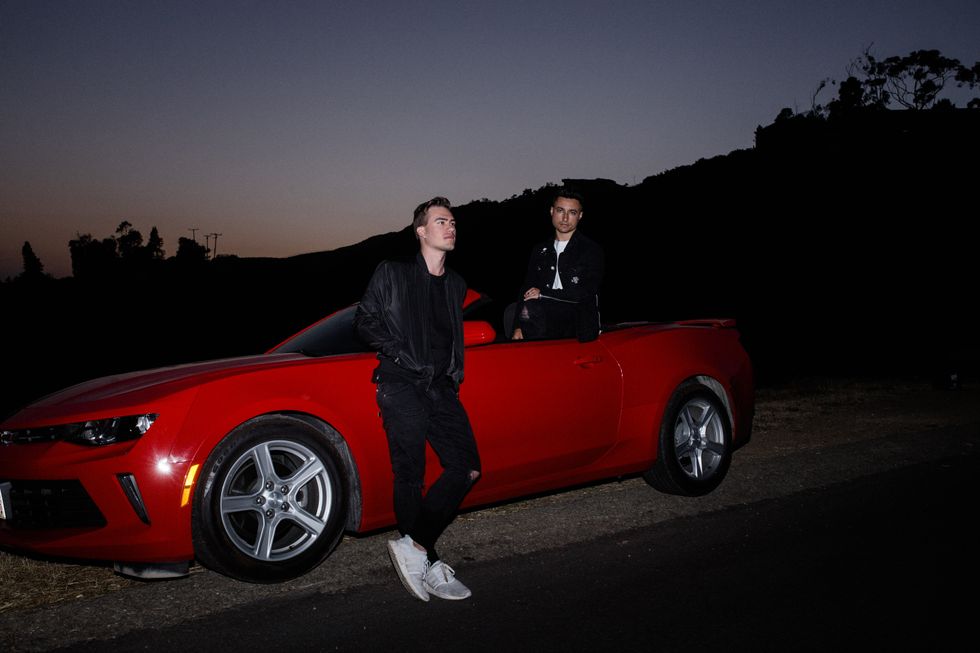 Jack Roy
From there, the artists noted that the track was beginning to creep onto the radio, and praise from dance icons like Tiesto, Martin Garrix, and Oliver Heldens soon followed. "We were watching ["Body"] so closely when it came out," Fedyk said, "and if it had ever dropped on the charts or anything we would have immediately been like 'ok this is done, it's all over.'" As of now, the track sits at No. 7 on Billboard's Hot Dance/Electronic Chart. "It just doesn't let go," Fedyk said in disbelief as he made himself a plate of cheese and veggies. "So in 2019 we're making sure to just follow our instincts, and lean into what made 'Body' such a success."

The duo capitalized on their good fortune with the release of "Love No More," a funk-infused pop song featuring underground R&B singer, and fellow Canadian, Anders. The collaboration originally served as a remix of an Anders deep-cut, which Fedyk said had "potential" but wasn't "super strong." Depace added, "we really wanted to take the track and just give it a massive makeover, and now [Anders] actually only performs that version." The single has over a million views on YouTube and is set to be the duo's next hit.
Loud Luxury x anders - Love No More (Official Music Video) youtu.be
In addition to their success with fans, Loud Luxury has also been nominated for four Juno awards and is set to make their debut on the main stages of Lollapalooza and Tomorrowland this summer. With no plans to release an album quite yet, the duo is just trying to move forward without getting too overwhelmed by the spotlight. "With an album, we wanna make it special rather than slapping a bunch of songs together," Fedyk said. "We're just gonna take it all one day at a time." As we said our goodbyes, the duo slowly returned to the party. They continued to shake hands, smile politely, and chat with people that they clearly barely knew, but who seemingly knew them very well.

---
Mackenzie Cummings-Grady is a creative writer who resides in the Brooklyn area, Mackenzie's work has previously appeared in The Boston Globe, Billboard, and Metropolis Magazine. Follow him on Twitter @mjcummingsgrady.
---
POP⚡DUST | Read More...
Please Help, I Liked Ariana Grande's New Album Way Too Much