TV Reviews
One of the best things about Love on the Spectrum is the way in which it portrays how autism really is a spectrum.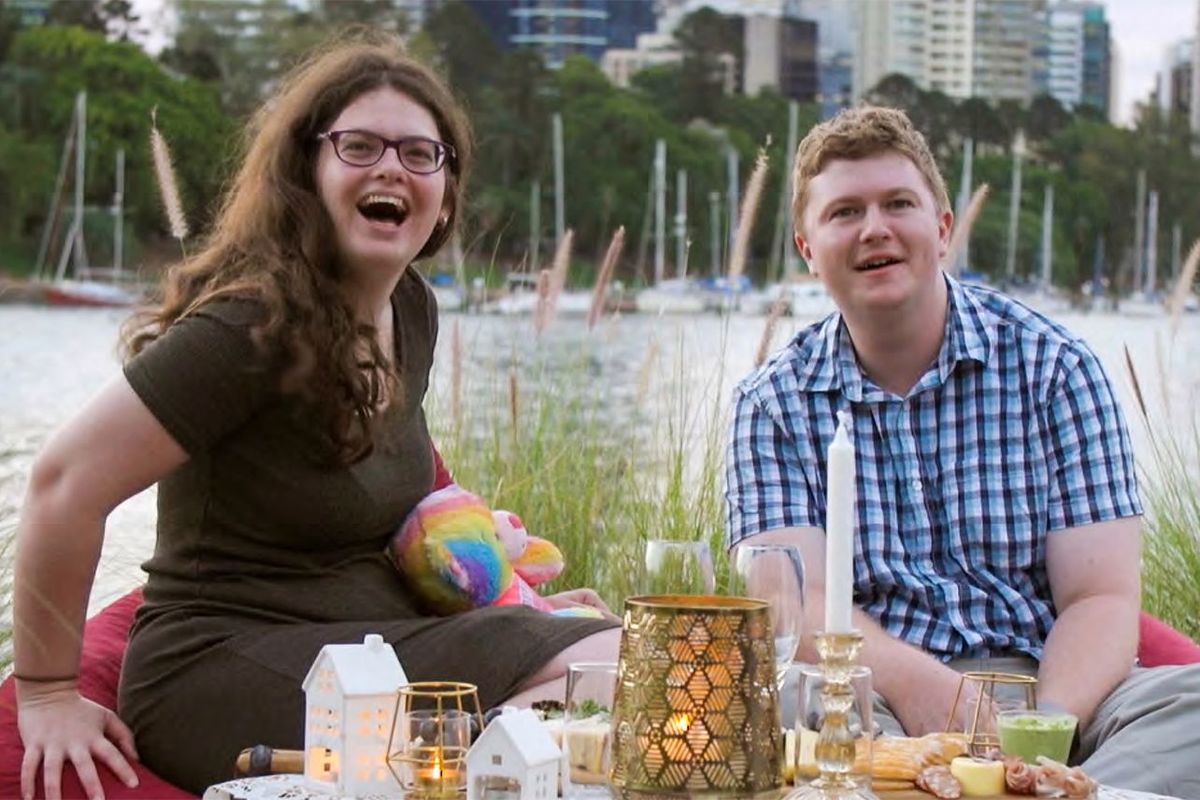 Netflix
As an autistic person, I hardly ever see people like me on TV.
Typically, media representations of people with autism are, at best, well-meaning blunders. At worst, autistic people are simultaneously fetishized and patronized. Us autists are sweet, awkward beings, and pure of heart–kind of like dogs, with limited brain capacity aside from our savant interests (which, of course, we all have)—at least according to Hollywood.
The biggest reason behind the laughable excuse for autistic representation in media is the fact that, while Hollywood is more than happy to tell stories about autistic people (The Good Doctor, Atypical, etc.), they don't care in the least about actually letting autistic people speak for themselves.
Neither of the aforementioned shows have a single autistic writer on staff, and one of the writers on The Good Doctor straight-up conflated being in a wheelchair to having autism, saying: "The story is about autism, but in my mind, it's a story about a disabled character." This is especially wild considering a large portion of the autistic community explicitly does not consider themselves "disabled," but rather "neurodiverse."
These knowledge gaps about autism are especially frustrating when media's depictions of people with autism are the primary means by which many neurotypical people come to understand us, and the issue could be solved by literally just hiring one g*ddamn autistic writer for your show about an autistic person.
All of which is to say: Netflix's new reality dating/kind-of-docuseries, Love on the Spectrum, is a breath of fresh air.
---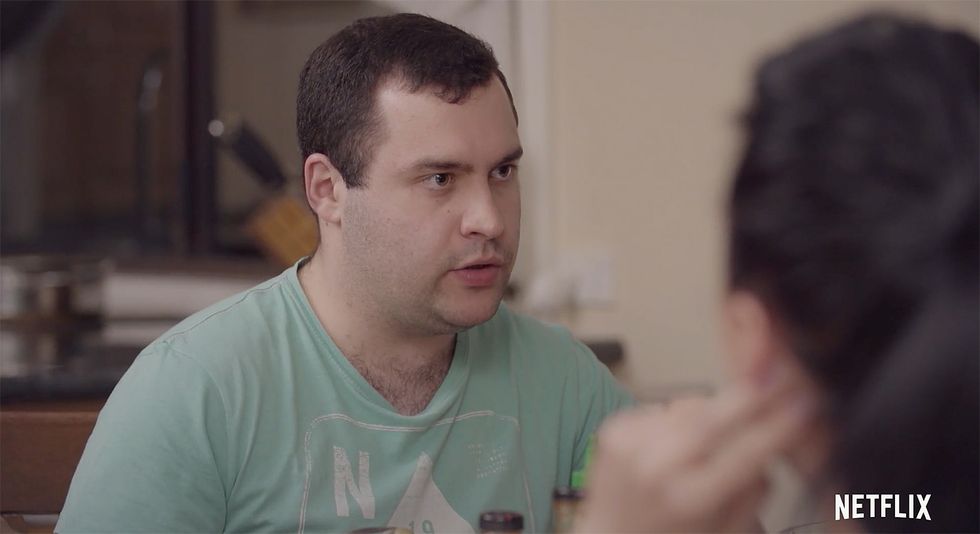 Netflix
Love on the Spectrum, which was filmed in Australia, follows a number of young people on the autism spectrum who are navigating the complex world of dating and romantic relationships.

It's a great topic because, as I can tell you from firsthand experience, pursuing relationships as someone with autism can be a real nightmare. Conversing tactfully, discerning body language, and understanding the unspoken rules of...well, everything...does not come naturally (at least not for me).
But that doesn't mean people with autism don't want to have relationships. We get lonely, and we desire love, too. Also (and this is important): We are not simple-minded animals. We're complex, fully-developed individuals whose brains are just wired a bit differently than the majority of other people's.
One of the best things about the show is the way in which it portrays how autism really is a spectrum. By giving its subjects the room to breathe and speak for themselves about their own experiences, interests, and desires, Love on the Spectrum shows that autism doesn't manifest in one specific way. (It's worth mentioning that, while it's always hard to know how much pushing, prodding, and influence any given reality show forces upon its subjects, the young adults in Love on the Spectrum seem open, honest, and comfortable being on camera.). Autistic people aren't checklists of symptoms. In fact, there are as many different variations of autism as there are individuals with autism.
Standouts from the show include Olivia, an actress who isn't afraid to call out anyone who tries to stereotype her; Michael, a 25-year-old man attempting to find the love of his life; and Thomas and Ruth, a young couple, both on the spectrum, who have recently moved in together.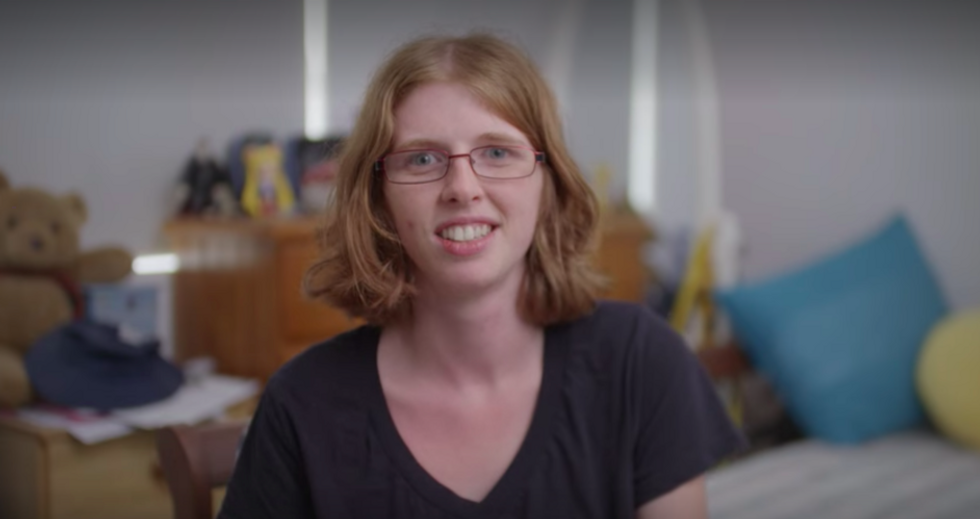 Netflix
Love on the Spectrum also does a nice job depicting some of the realities of dating with autism. It doesn't shy away from awkward silences during dates or moments when someone doesn't know what to say and loses confidence in the situation. It shows moments of anxiety and failures. For anyone with autism who might be watching the show and contemplating their own dating experiences, I think this footage is amongst the most important.

The reality of dating, especially for people with autism but probably for most other people too, is that there's a lot of awkwardness. Things don't always go smoothly. That's okay. You learn from your failures, and no matter how many tries it takes, finding love is possible. Autism may pose a major barrier in your dating life, but you can overcome it. I know this from personal experience, as I've been in a successful relationship for the past 8 years.
If there's one major complaint I have about Love on the Spectrum, it's the fact that none of the couples or dates involve an autistic person paired with a neurotypical partner. On the one hand, neurodivergent-neuroatypical relationships might be a lot rarer than neuroatypical-neuroatypical pairings, but we exist (again, hello!), and I would have been very interested in seeing how the show handled the topic. More inclusion of LGBTQ+ people with autism (the show only has one main subject, Madi, who considers herself bi) would have been nice, too.
Still, it's hard to complain too much when there are so few shows in the first place that even give autistic people the opportunity to appear in front of the camera.
Love on the Spectrum
isn't perfect, but it's an amazing step towards the kind of representation and normalization of autism that I hope to see in future media.
From Your Site Articles
Related Articles Around the Web