New Releases
Matt Lovell's enchanting new video takes inspiration from Wes Anderson and the days of youth.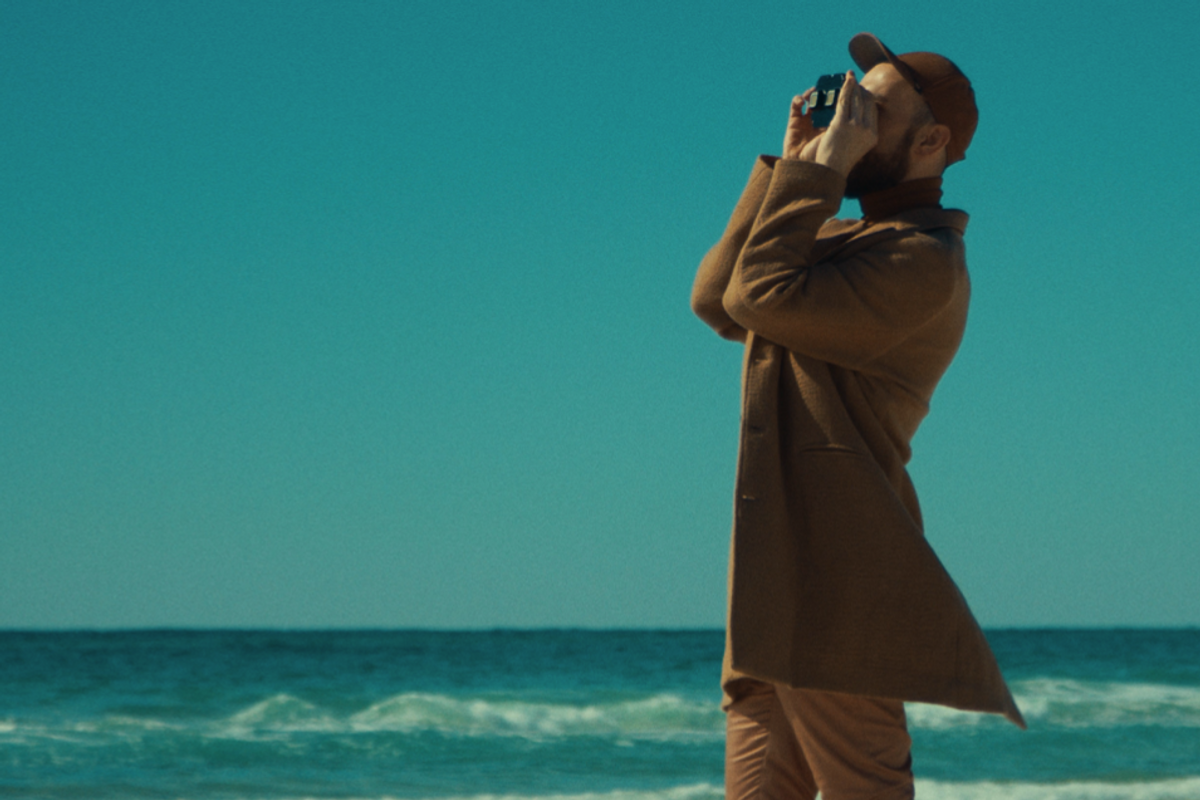 Nicole Poulos (via Sideways Media)
Need some escapism? With his magnificent new video, Matt Lovell has you covered.
"Alligator Lilly" is the second single from Lovell's forthcoming LP, Nobody Cries Today. Inspired by Wes Anderson films and the ominous allure of Florida beaches, it's full of eye-candy visuals and striking, hypnotic imagery. The video begins with Lovell alone, walking on a beach next to a glittering sea. Slowly, he begins to shine like the ocean waves, donning a diamond-colored outfit and eventually (with the help of some digital enhancement) his body becomes the diamonds themselves. It's a celebration of beach living, of solitude and creativity and communion with nature's beauty.
Matt Lovell - Alligator Lilly (Official Music Video) www.youtube.com
Sonically, the arrangement is soulful and simple but laden with teasing moments of dreamy synths that briefly open up the track to a more psychedelic plane. Thematically, the song explores the dichotomy between innocence and danger that defines so much of youth. "Someone once told me that they couldn't tell if this song was really innocent or really risqué. And that's exactly what 'Alligator' has been from the moment we sat down to write it," Lovell said.

He wrote the song with two friends, Mandy Cook and Tim Jackson, when they were living near the Gulf of Mexico in Florida's panhandle. "One day we were driving along the coast and passed a lake covered in lily pads—so many of them that you could hardly see the water," he said. "When we noticed the lake was called Alligator Lake, we laughed about what a strange juxtaposition of danger and beauty this was. I started singing the opening lines 'Alligator Lilly, twinkle in your eye, tide is rolling in pulled by the moon up in the sky.' Mandy gasped and we were like two kids in that moment." They drove back to their friend Tim's house and told him they wanted to write a "silly song about lost virginity."
The product was a joyful and exuberant single, a celebration of seduction and freedom, both spiritual and physical. In the days of social distancing, it feels like a time capsule of a former era, when we could just touch each other without risk—a time that will certainly come again, but that seems far away. "To me, it's actually a song about innocent fun. In that era of our lives, Mandy and I lived like two Peter Pans," Lovell remembered. "I'll certainly always look back on this period of several months and remember it as one of the brightest in my life. We had quit our jobs, left our apartments, said goodbye (for then) to boyfriends, and there we were. We woke up every day, walked on the beach, and wrote and recorded with our dear friend Tim every morning. Most days we would finish this whole routine by lunchtime, and spend our afternoons in local thrift stores or at one of our favorite tourist trap restaurants (there is no shame in a little kitsch). When I listen to 'Alligator Lilly,' I can hear all of that. Every bit of innocence, all the love, the unbridled sunshine, and zest for life that the three of us possessed in those days."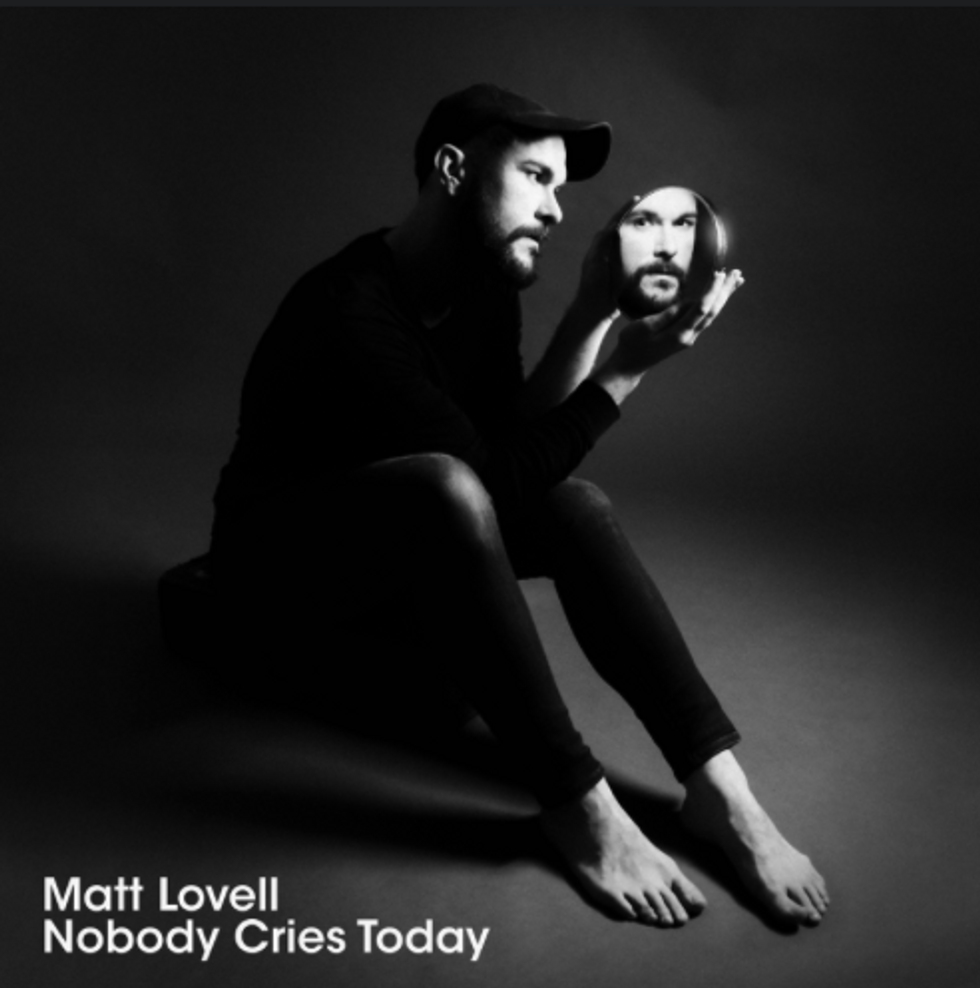 Many of us have moments of our lives that pass by quickly when they're happening but take on something like a religious significance in hindsight's glow. Those moments where we experienced total freedom, where we had nothing holding us back and where time seemed like an illusion and youth felt eternal—those are the kinds of moments that "Alligator Lilly" lovingly remembers, celebrates, and invites back in.

The journey to this heavenly place wasn't quite as smooth as the video implies, and Lovell's experience writing his album Nobody Cries Today was a long and winding road. "In a way, Nobody Cries Today has actually been my teacher. As I have written these songs, each of them has been like a tiny rowboat to get me from one day to the next," he said. "These songs have witnessed me in the years that I was in the throes of trying to find acceptance for myself and for the world I'm living in. As a gay man of southern origin, this proved to be a tall order."
The songs have taken on deeper significance over the past few years. They were almost all written before Lovell's life changed forever when he was shot and nearly lost his life. "All but one of these songs were recorded in 2016—just months before I nearly lost my life in a shooting. On January 20, 2017, I was shot in the chest by a sixteen-year-old who was attempting to steal my car. Miraculously, I lived," he said.
"This moment in my life created my new center of gravity and re-ordered my whole view and understanding of everything I've experienced in this lifetime," he said of the near-death experience. "Many people who experience an acute trauma go through somewhat of a euphoric period immediately after the incident occurs, and this was definitely my experience. Call it a spiritual awakening, or the result of adrenaline and endorphins gone wild, or even just the natural result of a near-death story with a happy ending. Whatever it was, this event threw me into a span of six months where it felt as if I was on a honeymoon with myself. The level of peace I felt was something I had never touched before. I wrote profusely, I gardened, I brought new life and vigor to my musical ventures, and I made peace with complicated friendships. More than anything, I found a level of great self-acceptance, and this created space for me to begin to learn how to live this life."
Things grew more complex as time wore on. "This era ended abruptly when PTSD showed up unexpectedly one day—about six months after I was shot. It was—no doubt—the most difficult time I've ever faced," he said. "It made me question just about everything. For months, my entire consciousness felt as if it had been turned upside down, and I couldn't find a way to articulate the horrors I was experiencing. This kind of trauma is a knot you can only untangle with slow and patient work, and with the help of saints. Thankfully, I know a lot of saints," he said. Fortunately, "I'm now on the other side of that long nighttime," he said, "and I'm so excited to sing these nine songs again—for anyone who will listen. Nobody Cries Today contains every bit of earnestness, desire, and love that I have to give. These are songs that have brought me so much joy and healing over the years."
Nobody Cries Today is out on June 5th. The first single, "90 Proof," is a more solemn contribution than "Alligator Lilly." Whereas the latter is a light, effervescent montage of memories, "90 Proof" is a more soul-influenced breakup tune. Still, both are defined by Lovell's sensitive musicality, his effortlessly gentle voice and his ability to transmute feeling into song—all star-making qualities that offer necessary healing for these times.
Matt Lovell - 90 Proof (Official Music Video) www.youtube.com
Follow Matt on his website, Facebook, Instagram, and YouTube.
Related Articles Around the Web