CULTURE
Kaling quoted Toni Morrison and called out the academy for attempting to exclude her from a list of "The Office" producers.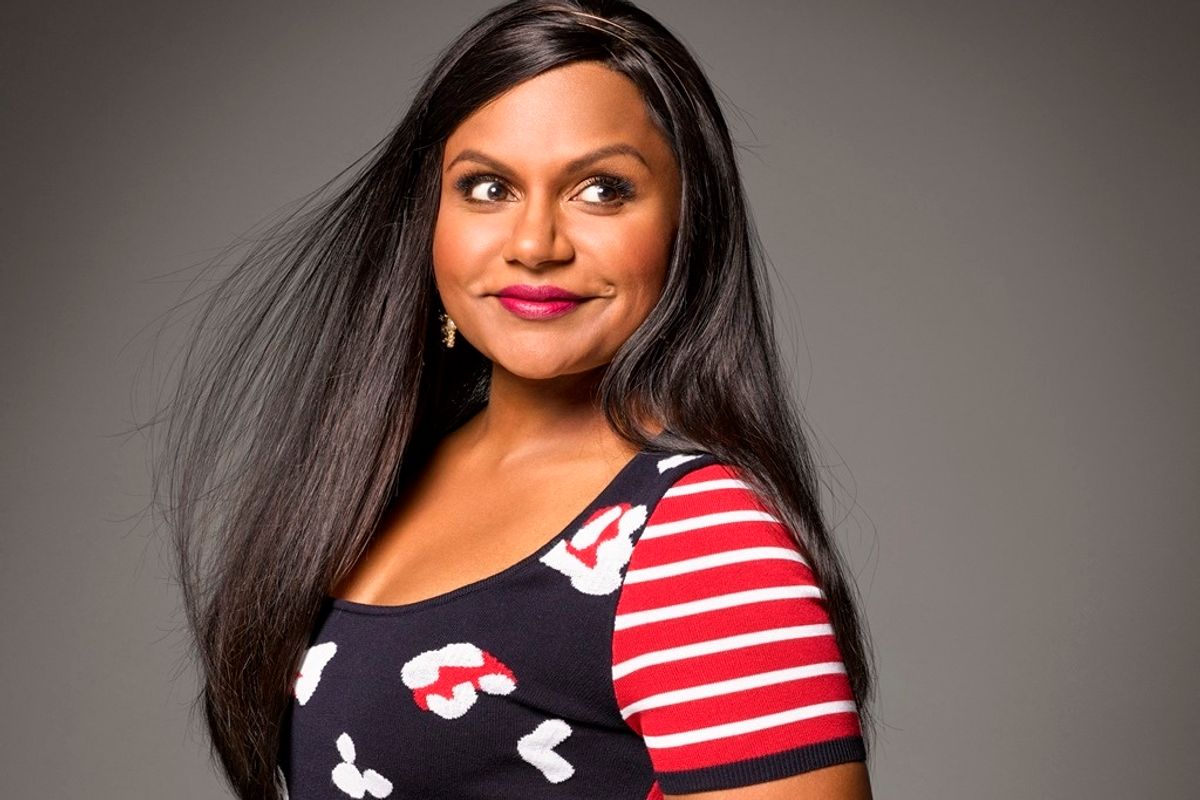 Mindy Kaling told Elle that when The Office was nominated for an Emmy, the organization in charge of the awards attempted to remove her name from the show's list of producers.
At the time, Kaling was the only woman of color on the team.
"They made me, not any of the other producers, fill out a whole form and write an essay about all my contributions as a writer and a producer," Kaling said. "I had to get letters from all the other male, white producers saying that I had contributed, when my actual record stood for itself."
In response, the academy delivered a statement that completely denied that racial bias had any part in the claims. "There was an increasing concern years ago regarding the number of performers and writers seeking producer credits," it read.
"I *was* singled out," Kaling responded this afternoon. "There were other Office writer-performer-producers who were NOT cut from the list. Just me. The most junior person, and woman of color. Easiest to dismiss. Just sayin'." She continued to Tweet, "The point is, we shouldn't have been bailed out because of the kindness [of] our more powerful white male colleagues," she added. "Not mentioning it seemed like glossing over my story. This was like ten years ago. Maybe it wouldn't happen now. But it happened to me."
Respectfully, the Academy's statement doesn't make any sense. I *was* singled out. There were other Office writer-p… https://t.co/sTn9kyd6L1

— Mindy Kaling (@Mindy Kaling) 1570647625.0
I've never wanted to bring up that incident because The Office was one of the greatest creative experiences of my l… https://t.co/Ur8n5hrJsy

— Mindy Kaling (@Mindy Kaling) 1570648115.0
(2) But I worked so hard and it was humiliating. I had written so many episodes, put in so much time in the editing… https://t.co/wVtKvH37Y0

— Mindy Kaling (@Mindy Kaling) 1570648554.0
(3) The point is, we shouldn't have be bailed out because of the kindness our more powerful white male colleagues.… https://t.co/dwuth30YVj

— Mindy Kaling (@Mindy Kaling) 1570648703.0
Kaling was quick to emphasize the fact that this is a systemic issue. Though recent diversity initiatives may be improving things, the fact is that writers and producers of color in Hollywood—specifically women of color—still face steep barriers to success. "In this country, American means white. Everybody else has to hyphenate," Kaling said, quoting Toni Morrison. She added, "It really doesn't matter how much money I have ... I'm treated badly with enough regularity that it keeps me humble."

While Hollywood has made a conscious effort to perform and prioritize diversity in the past decade, many Hollywood TV writers still face an uphill battle. A March 2019 report from the Think Tank for Inclusion and Equity stated that diverse writers—a term that includes people of color, queer and nonbinary people, and people with disabilities—are "routinely isolated within writers rooms, often relegated to lower levels where writers possess little agency or power to contribute."
The report found that the "diversity hire" position, a staff writer position typically reserved for a person of color, is almost always an entry-level position at the lowest pay grade. According to WGA West's Inclusion Report for 2017-2018, while people of color made up 45% of TV writers' room staff, they made up only 12% of executive producers and showrunners.
Some writers of color who have been given this position have complained of feeling stigmatized for being chosen for it. Recently, writer and actress Amanda Idoko told the Chicago Tribune that "There's definitely an implicit bias in the system. There are shows that have a revolving door diversity slot — they hire a new diverse writer from one of the diversity programs every year, immediately let them go as soon as they are no longer free, and repeat," she said. "Instead of actually investing in the diverse writers they hire, these shows cycle diverse writers, usually POC, in and out, with no intention of actually promoting them, slowing down the advancement of their careers. It's a disgusting abuse of a system that was put in place to promote diversity, and it needs to stop."
And let us not forget that even these "diversity hire" positions came after intense struggle and protestation from people who had been systematically kept out of the industry since its inception, as Mindy Kaling was during her years spent helping The Office become the beloved if poorly aged phenomenon that it was and is.
Hollywood can't use the excuse that women of color aren't writing and producing great content, of course, and things are changing for the better. With shows like Jane the Virgin and Black-ish knocking ratings off the charts and star producers like Shonda Rhimes and Ava DuVernay making waves in every aspect of the industry, it's clear that times are changing. But as Mindy Kaling reminds us, it's taken us a long time to get there—and there's a very long way to go.