MUSIC
The little prodigy is blowing our minds with her covers.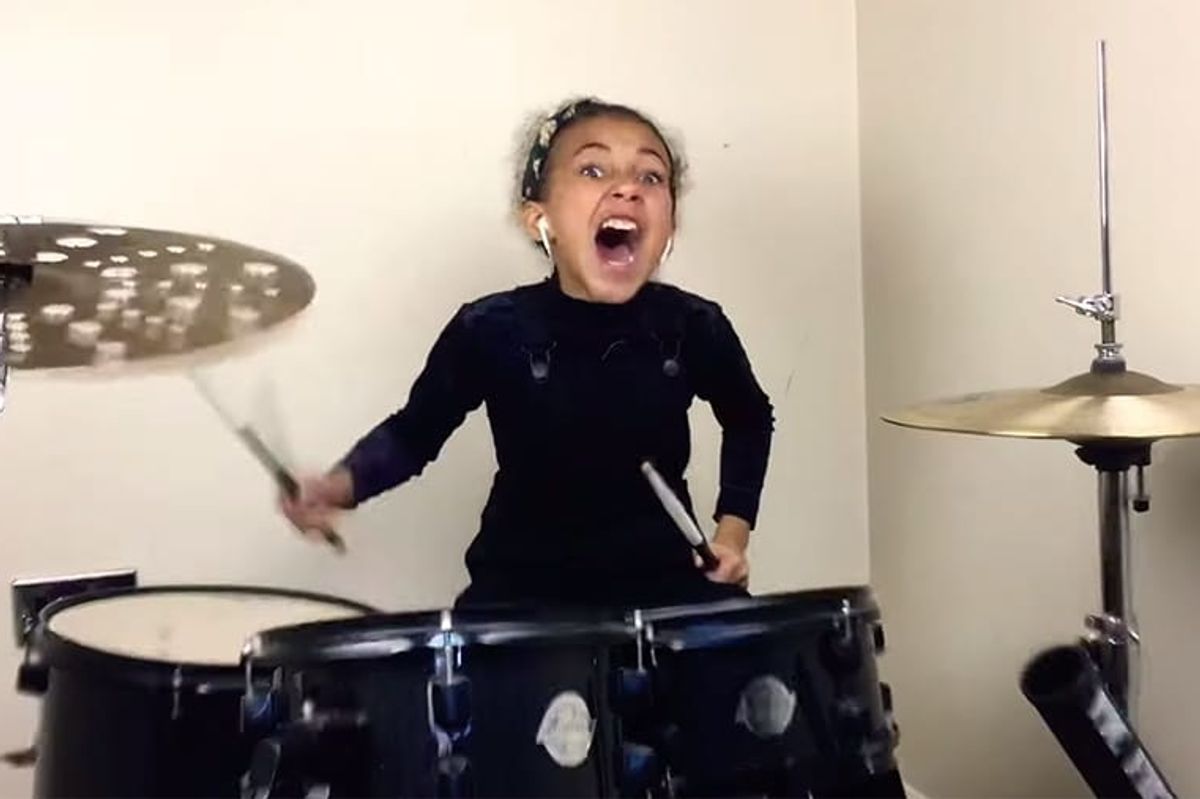 If you're at all in tune with the music side of Twitter, you've likely come across a video of this girl's cover of Nirvana's "In Bloom."
I can jam to Nirvana In Bloom all day! I LOVE NIRVANA ❤️ Nirvana are in my top 5 bands so far. I just found out Dav… https://t.co/HKqw8znghH

— Nandi Bushell (@Nandi Bushell) 1573499776.0
This is Nandi Bushell, a tiny 9-year-old rock extraordinaire. According to her social media run by her parents, she lives in Ipswich, England, a riverside town about 65 miles northeast of London. "I can jam to Nirvana In Bloom all day," Bushell wrote along with the clip. "Nirvana are in my top 5 bands so far. I just found out Dave [Grohl] also played with Jack Black in Tenacious D, Foo Fighters and Queens of the Stone Age!!!! The film school of rock is the best film in the world." (My favorite part of the caption is that she specifies "top 5 bands so far"—she's plenty aware of how young she is and how much she's yet to discover.) Her chops give Grohl a run for his money as she thrashes along perfectly on beat. She gives the track her own twist with ferocious screams and facial expressions, proving that she's not only adorable, but already way more badass than we'll ever be. Even with her immense talent, the highlight of the video might be her beaming smile at the end: the face of a kid who's simply having a blast.

And people are having a blast watching. Bushell posted the video on Monday, November 11; by Friday afternoon, it amassed almost eight million views, almost 50 thousand favorites, and over 10 thousand retweets, not to mention countless responses cheering her on. "In Bloom" might've gained Bushell wider attention on Twitter, but this isn't her first rodeo. She's also very active on Instagram, where she's covered anything from "Chop Suey" by System of a Down to Prince's "Kiss" and Billie Eilish's recent No. 1 hit "bad guy." She's been posting these covers since she was six, and her videos have caught the attention of Zildjian and Vic Firth—cymbal and drumstick brands, respectively—who have each sent her shiny new gear so she can keep rocking out. The pros are catching on to her gift, too: within the last year, she's performed with Lenny Kravitz, hung out with Roots drummer Questlove, and her videos have been shared by Rage Against the Machine's Tom Morello and the Red Hot Chili Peppers' Flea, just to name a few. Most recently, she was featured in a Christmas commercial for British retailer Argos and is taking up guitar, too.
Basically, there's no reason not to be obsessed with Bushell. We're so inspired by how much she's accomplished in her short nine years, and we can't wait to see where her drumming takes her next.