Film Reviews
The Lonely Island's new rom-com offering broke Hulu's record for most streams in a debut weekend—but a closer look at the existentially chaotic film reveals overwhelming whiteness in all its ironic obsessions, privileges, and physics-defying problems.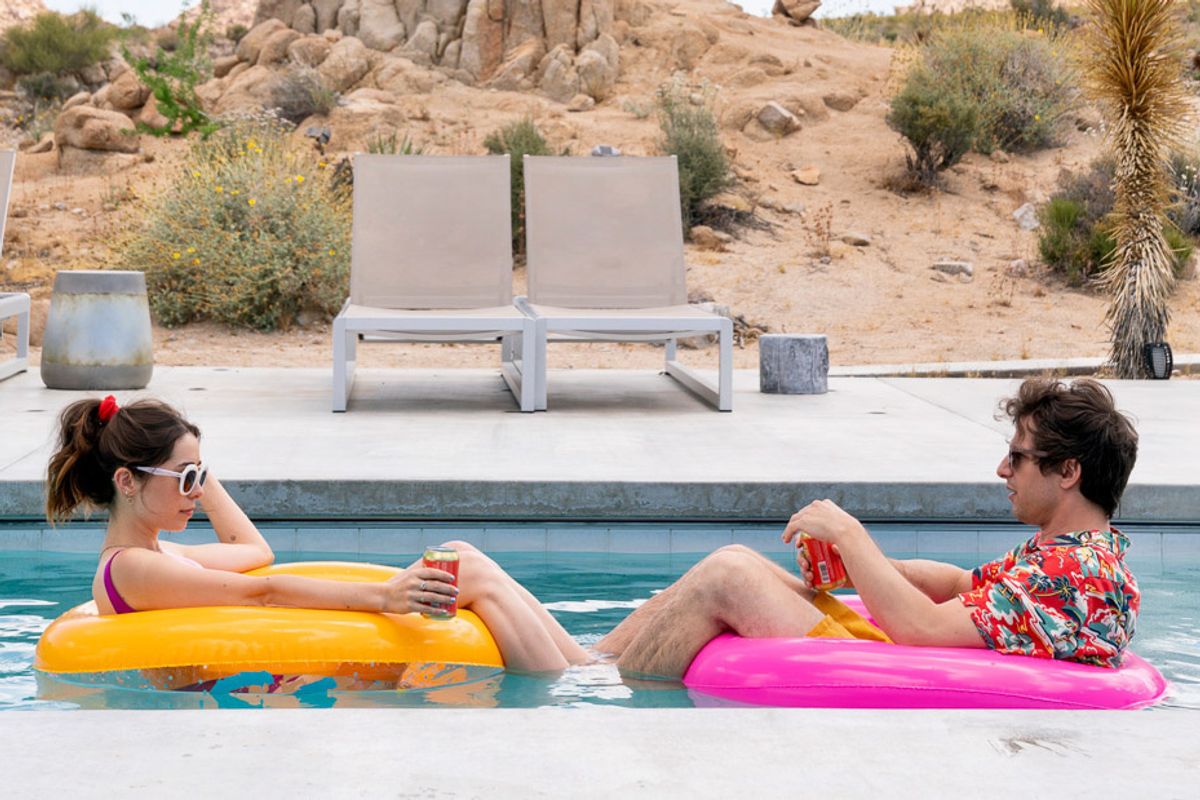 Sundance Film Festival
"Like no place else."
That's the motto of Palm Springs, according to their Bureau of Tourism, which also pridefully advertises the Southern California desert resort city as a balmy oasis with a rich heritage, iconic modernist aesthetics, and an ever-increasing cultural appeal to both hipsters on holiday leave and influencers on business trips.
For a place like Palm Springs, these attractive qualities are not merely marketing angles, but famed truths. The city was established atop land belonging to Native Americans thousands of years before it became a hotspot for Golden Age cinema stars, tourists, and retirees, while its preservation of mid-century modern architecture and design creates a feeling that its visitors are escaping the now and cruising into a sequestered gem of retro charm. And, for its youthful crowd of millennials and early zoomers, there's a bit of everything, from swanky boutique hotels and Airbnb rentals, to art museums, street fairs—and oh, a little music festival called Coachella a short 29 miles away.
---
So, yes, it's hard to deny that the Palm Springs is unlike any place else. But in Andy Siara's film of the same name, starring Andy Samberg and Cristin Milioti as jaded millennials Nyles and Sarah, the location's charisma quickly tumbleweeds away as the opposites endure life in a one-day time-loop; that one day is Sarah's sister's wedding, and the location is, you guessed it, Palm Springs.
But purely coincidental is the way Palm Springs pointedly mirrors the real-life Palm Spring's tourism slogan so eerily. Living the same, exact day indefinitely, Sarah, in particular, grows tired of the very place sold as somewhere you'd never want to leave. With every do-over, her younger sister's destination wedding is more bothersome, poolside afternoons spent with canned beer and a floaty get old quick, and the natural wonders of the Colorado Desert become petrifying, rather than awe-inspiring. In fact, within that dry terrain lies a magical cave that curses any of its curious visitors with the temporal-loop treatment.
Despite its plot built atop the capers and calamities of an overall bad time, the rom-com itself (which is available for streaming on Hulu) is a pretty good time—darkly funny enough to spend a Friday night watching indoors, even if we were allowed outside. Samberg, who depicts the kinda-boyfriend of a bridesmaid, incites genuine, uproarious laughter in his usually goofy way, while Milioti's performance shines through every emotion that wreaks havoc on Sarah, from sadness to anger, cynicism to hopefulness. And, again, Siara's Californian interpretation of an ephemeral heaven becoming an eternal hell is ingenious.
But, like most things, Palm Springs isn't flawless—and while this is not to say that the 90-minute feature was expected to be perfect, its "Certified Fresh" score on Rotten Tomatoes is arguably an exaggeration of excellence.
For starters, the film is awfully white. Both its screenwriter, Siara, and director, Max Barbakow, are white men, the primary demographic responsible for the film industry's overwhelming whiteness; hence, the movie's super-white cast is unsurprising. But it's still imperative to hold these men accountable—and the lack of racial inclusion in Palm Springs is as wearisome as it is avoidable.
Sure, there was likely no budging on the casting of Andy Samberg. He, along with his like-minded chortle chums, Akiva Schaffer and Jorma Taccone (all of whom famously make up The Lonely Island) co-produced the film; and Samberg is a household name, after all. But the role of Sarah could have easily been played by an actress of color (despite what the film and TV industry will lead its audiences to believe, there are, in fact, numerous women of color who would have happily, and quite skillfully, assumed the role). The lack of racial representation in Palm Springs exemplifies manifest negligence in creating a more racially inclusive Hollywood.
Even more maddening is this lack of diversity when amongst the secondary, but nevertheless important, characters—particularly those that comprise Sarah's family. And though it's obvious that a white woman like Milioti would have an equally white on-screen family, this correlation further verifies that creating a truly diverse Palm Springs would have been an easy feat—if only its creators would have tried.
Indeed, "if only" is a phrase that pops up pretty frequently when eyeing Palm Springs through a pair of nifty, anti-racist binoculars. If only at least one of its two lead roles were given to someone who wasn't white. If only Sarah's husband-to-be wasn't also white. If only Roy, the other guy stuck in the time-loop, could have–maybe by a stroke of luck as unlikely as getting stuck in a time-loop–not been white. And lastly, if only the three people of color in the entire film—one of whom was not an actor, but instead real-life theoretical physicist Clifford V. Johnson—had more screen time. If only the white brains behind Palm Springs were racially aware.
Alas, like too many film producers, they aren't. It's this purported obliviousness that brings a new kind of hilarious irony to the film, one that could be considered an inside joke amongst folks who must bear the brunt of white privilege's toxic effects. When stripped away of its smart one-liners, juicy sibling secrets, budding romances, and quixotic physics, Palm Springs is simply a movie about two white people held captive in a geographical space that white folks have historically obsessed over in the contexts of both colonialism and modern escapism.
The Cahuilla people peacefully and solely occupied the Coachella Valley for hundreds of years, but by the late 19th century—less than 90 years after coming into contact with European explorers—a smallpox outbreak killed thousands of natives (now, only a little over 10 percent of the city is considered protected reservation land). In the 20th century, Palm Springs began booming with luxury hotels, resorts, casinos, nightclubs, and architecturally savvy homes, attracting the film industry's biggest stars, along with businessmen and politicians.
Today, the desert city is slowly but steadily becoming more diverse in its racial demographics, but with approximately 75 percent of its residents identifying as white, it's still a patch of paleness in California (a state in which only 35 percent of residents are white). And though this white majority is largely the runoff result of the city becoming a popular retirement destination from the mid-20th century and onward, it's still a testament to Palm Springs as a white favorite—at least for those who haven't entered its creepy, temporal loop.
As a person of color, it's almost impossible to not snicker at the idea of two, fictitious white people leading a life of torment in a place that usually represents halcyon and diversion, even if the characters' general likeability could have just about anyone rooting for their collective and eventual happiness. But, once more, Nyles and Sarah's discomfort appears as inadvertent social commentary when the duo's biggest quandary as white people is having to escape a situation that would literally—no, physically—never happen. In this sense, the time-loop plot device is so impractical, so absurd, that it smartly imitates ideas like white oppression or reverse racism—other imaginary concepts that do not exist.

Over the last few weeks, plenty of people have noted that a film like Palm Springs is exactly what society needs right now. Like many of us, the movie's characters are aimlessly floating in an in-ground pool of existential dread, while its inventive story arc imitates the sickening homogeneity of real-life wrought by COVID-19. But for some, chiefly those who have been directly affected by both the pandemic and the most recent wave of the Black Lives Matter movement, Palm Springs is a thought-provoking watch in a dissimilar way. Best exemplifying this alternate perspective is one of the film's most quietly meaningful scenes, in which Milioti and Samberg's characters are talking about normalcy, or a world and life sans the time-loop. "[That's] a world of death, poverty, and debilitating emotional distress," Nyles argued to Sarah, who was still yearning for the way things were before that strange night in the cave.
Nyles isn't wrong—but there's a handful of scenes in Palm Springs that suddenly remind viewers of how harrowing the world isn't as long as you aren't brown or black. Perhaps one of the film's most intense moments is when Sarah, behind the steering wheel of an old Volkswagen, races down the road in a lunatic attempt to get pulled over by a highway patrol officer. After stopping the car, she then lies to the policeman and says Nyles is trying to murder her. The cop orders Nyles to exit the vehicle with his hands on his head. Another police officer appears, Sarah tells him to suck her dick, and shortly thereafter, he tases Nyles.
The police scene is chaotic and lighthearted, another sprinkle of violence in a thoroughly lawless flick. Yet, in that moment, I, a black woman, wondered how that desert pavement would have looked if things were a bit darker—if Sarah looked like me, or if Nyles looked like my brother. And though within that time-loop, a police murder or two would have spurred nothing other than the start of another day in paradise, I couldn't help but reimagine the scene with a different complexion.
For those who aren't white, death happens without provocation all too often—so if our current world is one that even a white dude like Nyles wouldn't dare return to, then what about those of us who are stuck here?