Sports
"Gritty" joins the NHL mascot family — but we're not quite sure what he is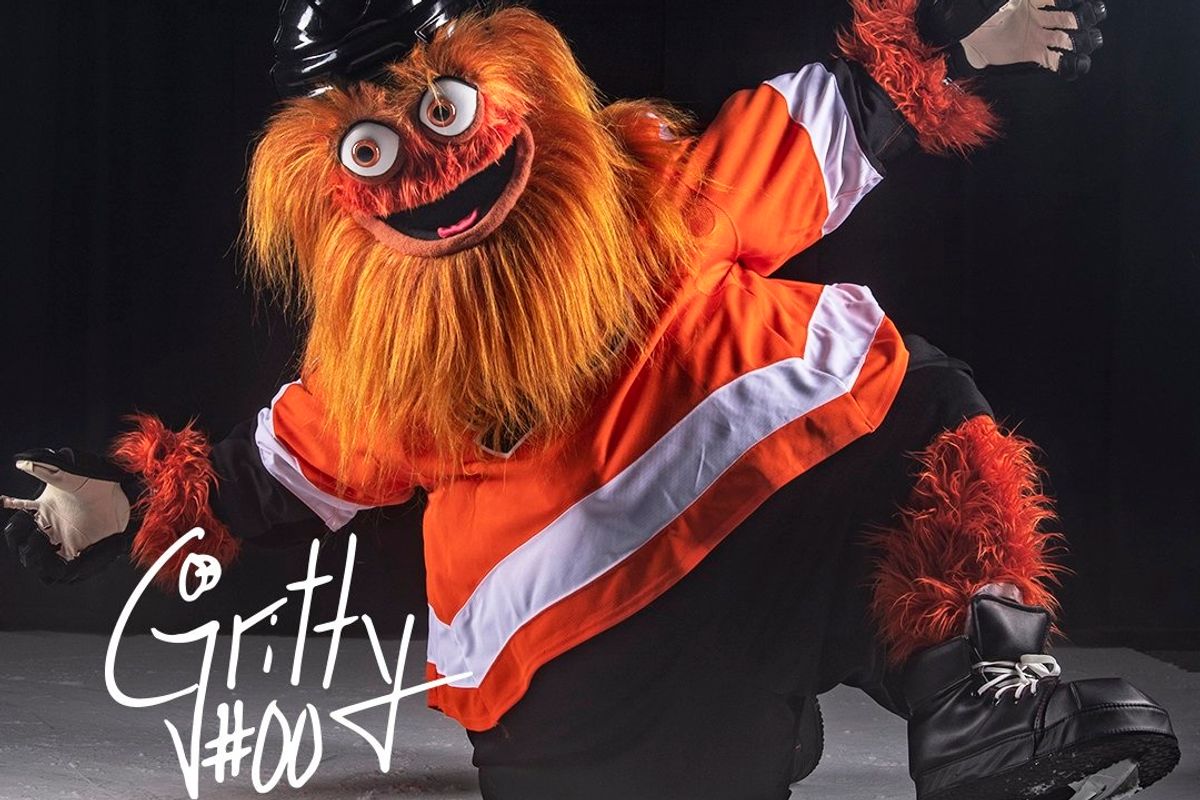 Getty Images
The Philadelphia Flyers introduced "Gritty" as their new mascot today at the Please Touch Museum's Hamilton Hall.
He is the second mascot of the Flyers, replacing "Slapshot," who debuted in 1976.
"Slapshot" was a neat, turtle-like mascot with reddish orange fur and a flying cap. Assumed to be a pilot, "Slapshot" fit the team pretty well. However, "Gritty" looks like a Muppet that had a few too many cups of coffee and perhaps even beer...that gut didn't come from nowhere.

"Gritty" has orange fur and wears what seems to be either a construction helmet or a hockey helmet — the latter probably makes more sense. The mascot wears the team's jersey coupled with black skates and gloves. However, the most striking part of this character is probably the eyes — almost circular and paired with a too-wide smile, some kids are definitely going to have nightmares tonight.
Join us in welcoming the newest member of the #Flyers Family, @GrittyNHL!! Learn more about Gritty:… https://t.co/MtnH9XbM6V

— Philadelphia Flyers (@Philadelphia Flyers) 1537802276.0
"His father was a "bully," so naturally he has some of those tendencies - talented but feisty, a fierce competitor, known for his agility given his size," said NHL in his bio. "He's loyal but mischievous; the ultimate Flyers fan who loves the orange and black, but is unwelcoming to anyone who opposes his team. Legend has it he earned the name "Gritty" for possessing an attitude so similar to the team he follows."

Apparently, our furry friend with daddy issues has always been around — we just haven't seen him because he was hiding. The NHL claims that recent construction at the Wells Fargo Center forced him to go out of hiding and into the public eye. His favorite foods are snow from the zamboni machine and hot dogs at the "Flyers Dollar Dog Night."
Twitter definitely had fun with "Gritty," comparing him to the clown from It and implying heavy drug use. I can't say I don't agree with most of these memes.
@HLLivingLoco @candyrocketship https://t.co/ttuqSzqyWr

— Ian (@Ian) 1537803164.0
Faces of Meth https://t.co/YNanOtAJ0Y

— Pete Blackburn (@Pete Blackburn) 1537803507.0
"HERE'S GRITTY!" https://t.co/DFIIn1Qlli

— Matt Mullin (@Matt Mullin) 1537804706.0
"Gritty" will make his debut tonight at 7PM during a hockey game against the Boston Bruins at the Wells Fargo Center. You can also follow "Gritty" on his Twitter and Instagram, or check him out on the NHL website — you can even book him for an event.
---
Amber Wang is a freelancer for Popdust, Gearbrain and various other sites. She is also a student at NYU, a photographer and a marketing intern.
---
POP⚡DUST | Read More ...

Suge Knight Pleads No Contest to Manslaughter
PlayStation to Release Mini Version of Original Model