A city of diverse racial, educational, religious, and socioeconomic backgrounds, NYC eats inclusivity for breakfast.
Originally a vignette series on Vimeo, Katja Blichfeld and Ben Sinclair, then married, were picked up by HBO to film High Maintenance in a 30-minute format. As an anthology series, Blichfeld and Sinclair decided that season 2 would mirror their real-world divorce with stories reflecting a heartbroken, shambled New York post-election. Equipped with an actual writers' room and multiple directors for season 2, High Maintenance has easily become one of the best series on HBO.
Season 2 begins with a national crisis—though it's never fully revealed in the episode, one can assume it's the election, a natural disaster, or news of sexual misconduct in Hollywood—and The Guy (Ben Sinclair), Brooklyn's reliable pot dealer (and communal therapist for some of his needier customers), experiences a surge of business from New York's most whimsical potheads. It's one of the cheeky ways High Maintenance references pop culture without emphatically gesturing toward it. Some of his clients are self-medicating after breakups or bouts of unemployment; some are on nervous Tinder dates; some are simply adulting and enjoy weed like it's wine or coffee; some are just trying to feel the vibes—you get the gist. Weed is not the main character in High Maintenance and neither is The Guy, floating in and out of the narrative, a drifter on a bike who's got your monthly eighth of Skywalker, or whatever the kids are smoking these days.
As one tenant returns from an Ayahuasca trip, another departs and Airbnbs his room to make the month's rent; these are vignettes of normal, day-to-day people whose stories intertwine with one another like in real life. Whether or not The Guy can meet a yogi, a heartbroken artist, and kush-loving realtor in 30 minutes is simply kismet. Like an innocuous edible, High Maintenance creeps up on you in mundanity; the high hits you, but in a where-are-the-cookies-and-can-we-order-pizza-too? way. Sinclair and Blichfeld celebrate New York City's zeitgeist and liberalism through unremarkable encounters: Familiar, real-life scenarios play out in each vignette, but there is nothing vacuous or space-cadet about The Guy and his idiosyncratic customers. Their narcism speaks volumes about human nature, a youthful type of entitlement most of the characters display and are oblivious to. Neither jovial nor stoic, The Guy gets up for his job like it's a 9-to-5 and is reluctantly pulled into his customers' lives, a weed-dealing pacifier for angst-ridden New Yorkers.
HBO's Room 104—another unconventional show about contemporaries—barely scratches the surface of what an anthology series is capable of doing, relying on absurdism and soft-porn aestheticism to fill up creative gaps in the writers' room; High Maintenance, on the other hand, isn't a one-trick pony, and its episodes engender sentimentality and charm without slapping you across the face with can-you-believe-HBO-greenlit-season-2 gags. (Seriously though, Room 104 is renewed for a second season.)
High Maintenance is really about voyeurism, observing how communities digest social tragedies at a micro level, what political discussions sound like in commute, and how small businesses and regular people adjust to New York's unstable economic climate. A city of diverse ethnic, educational, religious, and socioeconomic backgrounds, NYC eats inclusivity for breakfast. There's a reason why it's one of the best cities in the world, and The Guy's weed route just so happens to service many of the city's most endearing, if not, empathetic potheads.
The tonal shift in season 2 is unbelievably refreshing and telling of cultural shifts in Trump's era. Sinclair's and Blichfeld's breakup turned out to be High Maintenance's catharsis, showcasing NYC's eccentricities through a non-judgmental perspective. The Guy is just doing his job and everyone's just trying to live…one toke at a time.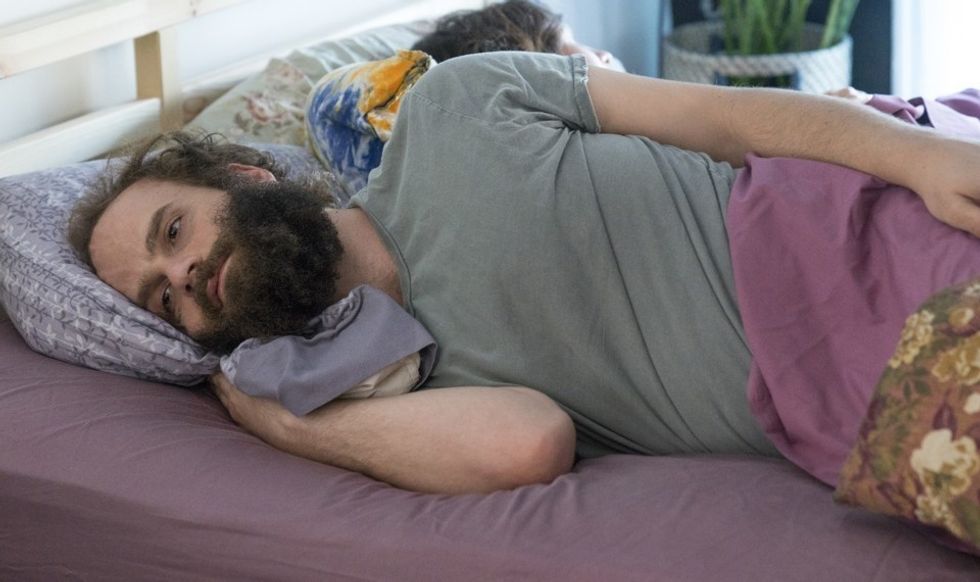 'High Maintenance'HBO
POP⚡ DUST Score: ⚡⚡⚡⚡⚡
---
Shaun Harris is a poet, freelance writer, and editor published in avant-garde, feminist journals. Lover of warm-toned makeup palettes, psych-rock, and Hilton Als. Her work has allowed her to copyedit and curate content for various poetry organizations in the NYC area.
---
POP⚡ DUST | Read More About Film/TV...
BOX OFFICE BREAKDOWN | What's coming to theaters this weekend?
What To Watch This Valentine's Day
THE REAL REEL | Landline Takes Us Back 30 Years