Top Stories
The country singer enjoys his first #1 hit single with the autobiographical stunner "Five More Minutes."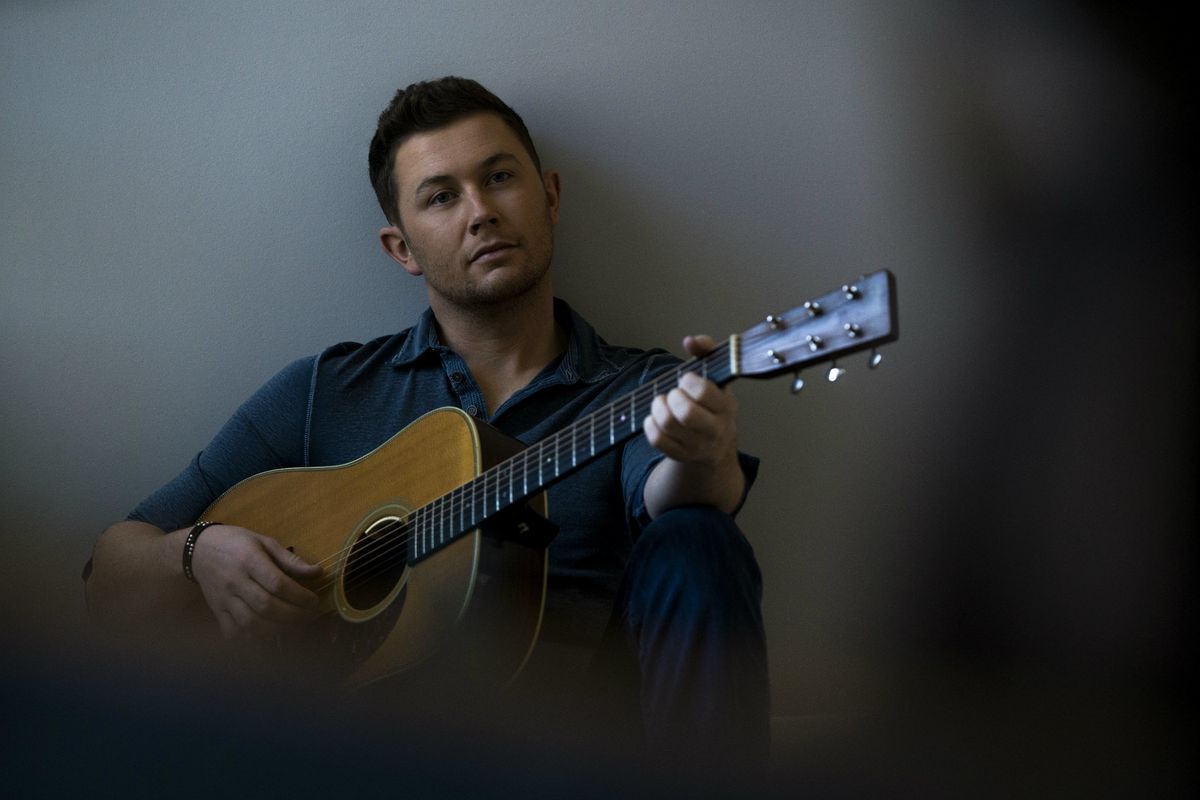 Jeff Ray
McCreery's long-awaited studio record flourishes with simple poeticism.
"When you feel the cold metal of a gun on your forehead, you're gonna wake up pretty fast and realize what's important and what's not," Scotty McCreery talks pointedly about that moment ⎯⎯ of getting robbed at gunpoint by four masked intruders back in 2014 ⎯⎯ and despite his usually jovial exterior, there is a solemn inflection to his speech. Amidst his fast 'n furious press tour this week, in celebration of his first album in five years, Seasons Change, the singer-songwriter stops for a few moments to catch his breath and reflect on how his life flashed before his eyes. "I definitely have a better appreciation for family, friends and living in the now and enjoying every second," he tells Popdust over a phone call.
His determination ebbs and flows in his endearing little way. It's that posture which has led to his string of success so far. According to the Recording Industry Association of America (or RIAA), he has one platinum album (2011's Clear As Day), one gold album (2012's Christmas with Scotty McCeery), and three platinum singles and three gold ones, including "Five More Minutes," a gloriously moving ballad about his grandfather's death in early 2015, which recently became McCreery's first ever No. 1 hit at country radio. To say it's been a long time coming is an understatement. His battle against his former record label, which dropped him in 2016, is well documented, but that year was also one wrought with far more transformative struggles than he could have imagined. "I wasn't having fun by any means, even on the road," he says.
But it was his band and crew who kept him grounded while away from home. "We've been together for seven years now. I still enjoyed hanging with them. When you're not seeing a light at the end of the tunnel, and it's nothing but bad news this and bad news that, you think you're making progress ⎯⎯ but nope, another step back. That year kind of sucked," he says, matter-of-factly.

"Wintertime, springtime, summertime, fall / Good times, bad times, been through 'em all / Just when you think you can't make it through the rain, the seasons change," he sings on the album's title cut, opening the record with sunny optimism. He embraces the storm he weathered, and it shows throughout much of Seasons Change, his debut for Thirty Tigers. His feel-good disposition continues as his guiding light, but now, at 24, he has a wealth of sorrow from which to draw, fusing his phrasing with well-threaded wisdom. Co-written with trusty songwriters James McNair (Luke Combs, Kane Brown) and Tommy Cecil (Luke Bryan, Jake Miller), "Seasons Change" was the first song McCreery wrote after leaving Mercury Nashville, and it opened the flood gates, so to speak. "That was my first day meeting them. We really hit it off," he says.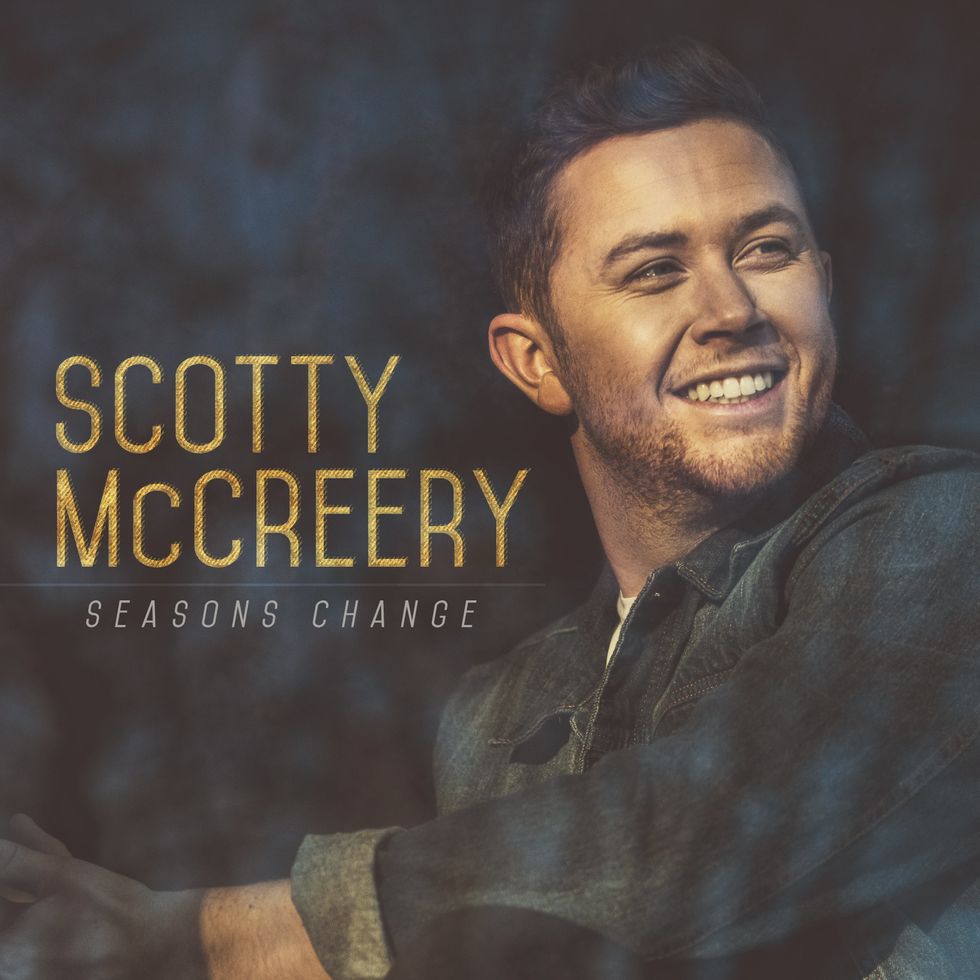 Jeff Ray for Triple Tigers Records / Sony Music Entertainment
Cecil and McNair quickly became among his go-to collaborators, not only for the new album but for a slew of tracks which didn't even make the cut. "I think I was just in a mood that day. I was talking to them about everything that was going on in my life ⎯⎯ in between deals, attorneys. I thought, 'Things are going to pan out. It's not feeling so great right now, but I'll keep on trucking.' We were finally starting to get a little bit of confidence back under us. I was optimistic when I wrote that song."

He quickly adds, "The thunderstorm [heard in the song's cinematic introduction] is very symbolic of what I had to go through to get this record done. It made sense" as the title song, he notes.
With the dust of "Five More Minutes" settling on the minds of country fans, McCreery turns his attention to the follow-up, the sweeping ballad "This is It," which he calls his "proposal song." He tenderly unfurls the day he popped the question to fiancé Gabi Dugal, crooning, "No, we're not there yet, just a few more steps / Baby wait, OK / You can open your eyes / This is it, this is now / This is what I've been talking 'bout / Looking out, can't you see forever." The song, expected to go for radio adds next month, was co-written with two of the album's producers, Frank Rogers (Brad Paisley, Josh Turner) and Aaron Eshuis (A Thousand Horses, Joe Nichols). Guitarist Derek Wells (Rascal Flatts, Brett Eldredge) also earns producer credit.

"It was another personal song that I think a lot of folks will relate to. Timeline wise in my life, it feels right. I love my songs to line up with things like [my wedding]," he says of the choice to pick it as the next single. "Outside (and inside) of the album, the most important thing in my life right now is planning a wedding. I'm excited to share that with everybody through this song."

Below, McCreery opens up about how his faith led him through a valley of darkness, the scripture he turned to most, his plans for the rest of his 20s and the time Nashville Songwriter Hall of Fame member Tom Douglas praised his songwriting.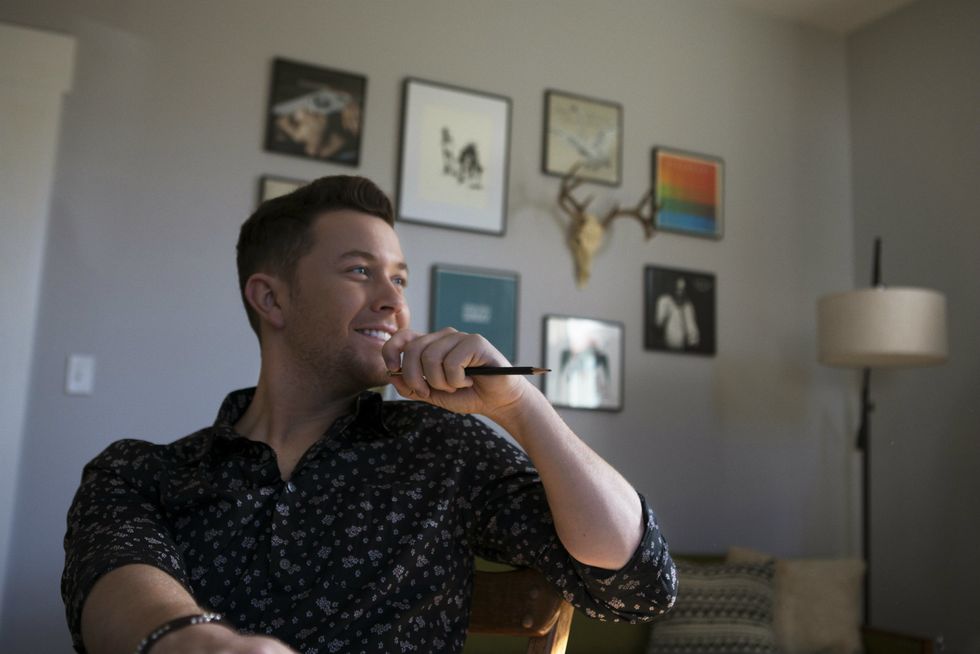 Jeff Ray
In an interview with Entertainment Tonight, you touched on this briefly, but do you feel this album needed to be a restart for you?

It's a restart, a rebirth. It's almost a reintroduction to people for who I am. As an artist, I think this record as a whole gives people a better understanding of what I'm about, what I want to say and where my head is, musically. I'm extremely proud of this record. I'm listening to it myself every day and trying to learn it for the show. I'm enjoying jamming out.
What can even your most loyal fans learn about you on this album?
The main thing is that I've grown up. I'm still young. I would like to say I was mature for my age at 17, but I still had a long way to go. I learned a lot about life and been through a bunch of life experiences, highs and lows. Everything you go through in life you should learn from.
What is the biggest lesson you learned from 17 to 24?
Nothing is going to be handed to you. I might have had that false idea early on that coming off ['American Idol'] things might have been a little easier for me. That's just not how it is. Life is going to have obstacles, and you have to jump over them and figure out your own path. You have to work hard in life.
How did your faith help you through 2016?
It was huge. I started a Bible study with my dad. All of us meet up on Monday night for it. Every night, they were praying for me, just because they knew what I was going through. That was definitely reassuring. It gives you better perspective. I had faith everything was going to pan out. My faith definitely helped me when things were really bad off and gave me something to lean on.
What are your favorite scriptures?

Oh, a bunch. The one I always go back to is Philippians 4:13: "I can do all things in Christ who strengthens me." Folks confuse that and think, "Well, if I want to go out there and throw a hundred miles an hour fast ball, as long as I trust in the Lord, I can do it." It's not that. The Lord can work through you how He wants to work through you, as long as you're following Him. That's what that verse is really supposed to mean. It helped me really rely on my faith. I did a lot of praying in 2016.
"Boys from Back Home" captures your charm so well. What was it like writing with Dan Isbell (Craig Campbell, Justin Moore) and Jason Gantt (Danielle Bradbery, Jordan Davis)?
That song actually took awhile to write. I was the only one who knew my guys and story. I was having to articulate what stories I wanted to put into song and who did what. They were trying to understand my life. It took awhile. I remember we got Jersey Mike's [Subs]. I had never had it before. We don't normally eat lunch while we're writing. It was fun for me to reminisce back on the good times with the guys.
Do you stay pretty connected to all your friends back home then?
We've got a group text. I probably have a million texts i it. I have to put my phone on Do Not Disturb often because that thing is always blowing up. Whenever I am back in [North] Carolina, I have a place with a couple guys I live with. We're all extremely tight.
"Barefootin'" is such a fun, breezy song, one of the album's best moments. The horns add such a big band sound. Was that your decision?
It's very beachy, for sure. It was [written by] me and Frank [Rogers] and David Lee Murphy. Beach music is such a huge thing in the Carolinas. Frank is from South Carolina, so we both saw eye to eye on that. We knew we wanted to write a beach music song. From the rough mix without horns to the final mix, it was night and day.
In the song, you sing about shag dancing on the sand. When did you learn to shag?
I remember my first time was in high school. A lot of my buddies were into the beach music scene, and they'd go out to the Carolina Beach Music Festival. Thousands of people go out there and dance. There was Beach Music Thursdays at North Hills Mall in Riley. It's a huge thing. You either learn it or not hang out with your friends.
Will you shag at your wedding?
We'll play some beach music at the wedding, for sure. We won't be at the beach, but we'll be in the mountains. I'm sure some shag dancing will be going on.
"Home in My Mind" closes the record and really exposes your vulnerability in missing home. Was there a specific moment or circumstance that inspired it?

It was just my life. I travel so dang much. It's my favorite and least favorite thing to do. I love to travel, see places I would never get the opportunity to see otherwise, explore cultures and meet new people. But also, I do love home, my family and my friends. Especially right now with the album launch, it's awesome, and everything is going great. But it's like a three to four week run for me away from home.
In the song you mention some specific things that you miss, like "sweet tea, porch swing, supper on the stove. What other things do you miss the most?
It's mainly the people. One of things I love about that song is how it's talking about Timber Drive, the main road through Garner. It's always fun to sing that. I visualize home with that. My time there is what makes me me.
Do you have any standout songwriting sessions from this record?
There's a song we wrote in 2015 that didn't make the record. It just didn't really fit what we were doing. Writing with Tom Douglas [Tim McGraw, Miranda Lambert, Lady Antebellum] and Allen Shamblin [Randy Travis, Mark Wills, Lambert] was really inspiring and helpful. Those are two Hall of Fame songwriters. With the last song we wrote, I was about to leave Tom's studio, and he looked at at me and said, "Scotty, don't let anybody tell you that you're not a songwriter. What we got today is poetry, man." That was huge for me, as a guy who really wanted to work on my songwriting and become better at my craft. That gave me a lot of confidence to keep going.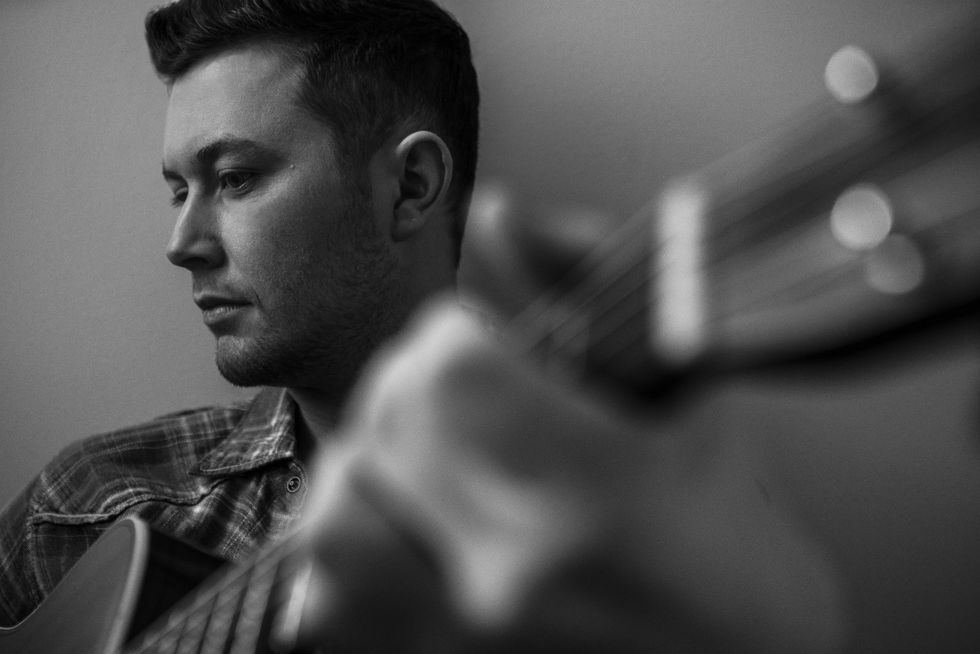 Jeff Ray
Outside of "Five More Minutes," what is your proudest moment on this album?

I really love the sequencing of "In Between," "This is It" and "Wrong Again." There's a line with "In Between" that goes "far cry from being a one-night stand but I ain't ready for a ring on my hand." That was where I was in 2015. Then, obviously, I'm engaged now, and "This is It" is my proposal song for Gabi. "Wrong Again" talks about how I didn't think I would get on one knee. It gives you a good glimpse into my life and how things changed over the last few years.
How did you know these 11 songs fit together?
The album has an optimistic sound and feel. That was how I tried to remain through 2016. I was down, but I had faith things would come out alright. When we were making this record, there were sad songs, sure, but I was in a good spot. I want it to be feel good. These songs make you smile, dance and hopefully bob your head. They fit like a glove.
As you're moving through your 20s now, what do you want to accomplish, personally and professionally?
I'm getting married this year. We've got a place in Carolina, but we're looking to potentially make that full-time move to Nashville. Gabi's trying to figure out her work situation in the hospitals there. Hopefully, that'll be alright. We'll settle down there. Career-wise, I want to keep what we've got now rolling. You taste a little bit of this, and you don't want to slow down. We're staying busy this year. Hopefully, "This is It" will follow up "Five More Minutes" well and get to the top. It'll be hard work.
---
Jason Scott is a freelance music journalist with bylines in Billboard, PopCrush, Ladygunn, Greatist, AXS, Uproxx, Paste and many others. Follow him on Twitter.

---
POP⚡DUST | Read More…
PREMIERE | Antoniette Costa & TK Wonder empower with 'Find Another Girl' video
EXCLUSIVE | Betty Who shares 7 essential health products for the road
PREMIERE | David Morris takes a trip with a 'Pretty Rider' in new music video
---